/
Blog
/
Can Ozempic improve cardiovascular health?
Can Ozempic improve cardiovascular health?
5 Jul 2023

Stefano Mirabello
Pharmacist / B.Pharm
If you're a patient with type 2 diabetes, you may have heard about Ozempic, a medication that's becoming increasingly popular. Ozempic is an injectable medication that helps regulate blood sugar levels and promotes weight loss. However, there's more to this medication than meets the eye. There's a therapeutic benefit that's been studied – its effect on cardiovascular health. In this blog post, we'll dive into the research and explore whether Ozempic can potentially improve cardiovascular health.
What is Ozempic?
Ozempic is a diabetes drug manufactured by Novo Nordisk for the treatment of type 2 diabetes. It is suitable for use in combination with other diabetes medicines, such as metformin. Ozempic is not for the treatment of type 1 diabetes. It is taken as a weekly injection that contains the active ingredient semaglutide. It's part of a class of drugs called glucagon-like peptide-1 receptor agonists and works by stimulating insulin release in response to high blood glucose levels.
Ozempic is indicated as an adjunct to diet and exercise to improve blood glucose control in adults with type 2 diabetes mellitus and to reduce the risk of major adverse cardiovascular events in adults with type 2 diabetes mellitus and established CVD.
Ozempic is the same medication as the popular weight loss drug Wegovy for obesity, just at a lower dose. It is used for chronic weight management for overweight people with a BMI (body mass index) of 27 to 29, who also have weight-related medical problems, such as high blood pressure. Wegovy provides a higher dose of semaglutide than Ozempic; 2.4 milligrams of semaglutide in Wegovy compared with 0.5 milligrams, 1 milligram or 2 milligrams of semaglutide in Ozempic.
Before we dive into how Ozempic affects cardiovascular health, it's important to explain how type 2 diabetes is a major risk factor for cardiovascular disease (CVD). Diabetes contributes to heart disease by causing damage to the blood vessels and making them more prone to injury. This damage can lead to hardened or narrowed arteries, which can increase the risk of heart attack or stroke.
How does semaglutide help heart health?
Enter Ozempic. As a GLP-1 agonist, Ozempic enhances the production of GLP-1 hormones which stimulate insulin production, decrease glucagon production, and slow gastric emptying. All of these functions work together to lower blood sugar levels, which ultimately decreases the strain on the cardiovascular system. Let's take a look at the evidence.
Clinical trials
The study on Ozempic's effect on cardiovascular health is called SUSTAIN-6, a placebo-controlled study involving over 3,000 patients. The study found that patients taking Ozempic had a significantly lower risk of major adverse cardiovascular events (MACE) such as cardiovascular death, non-fatal heart attack or non-fatal stroke, compared to those taking a placebo, regardless of baseline blood sugar or kidney function. The estimated relative risk reduction of MACE was 26% for Ozempic versus placebo, with the primary composite outcome occurring in 6.6% of patients treated with Ozempic vs 8.9% with placebo. Additionally, those taking Ozempic had a lower risk of death from cardiovascular causes. This cardiovascular outcomes trial (CVOT) demonstrated that Ozempic is effective in reducing cardiovascular risk, which can be a significant issue for patients with type 2 diabetes.
The PIONEER 6 trial evaluated the efficacy and safety of oral semaglutide marketed as Rybelsus, in treating cardiovascular events in patients with type 2 diabetes. The results of the trial were highly encouraging, as oral semaglutide was found to significantly reduce the risk of CV events (cardiovascular events).
But how does Ozempic achieve this? The answer is through its effects on gut hormones such as glucagon-like peptide-1 (GLP-1). GLP-1 is a hormone that's released in response to food intake and has various benefits, such as promoting insulin secretion, reducing glucagon secretion, and increasing satiety. GLP-1 also has cardiovascular benefits, including reducing inflammation, improving endothelial function, and reducing blood pressure. Ozempic is a GLP-1 receptor agonist, which means it mimics and enhances the effects of GLP-1.
Apart from the SUSTAIN-6 clinical trial, there are also other studies supporting the cardiovascular benefits of GLP-1 receptor agonists like Ozempic. In the LEADER trial, liraglutide, another GLP-1 receptor agonist, was shown to reduce the risk of MACE in patients with type 2 diabetes. Furthermore, the REWIND study showed that dulaglutide, also a GLP-1 receptor agonist, had a similar cardiovascular benefit.
What are the side effects of Ozempic?
While the benefits of Ozempic on cardiovascular health are promising, it's essential to note that the medication is not without side effects. The most common side effects are gastrointestinal including nausea, diarrhoea, vomiting, and constipation, which can be mild to moderate. Some people may also experience more serious side effects, such as an allergic reaction causing hives, or tightness and difficulty breathing. Hypoglycemia may also occur if this drug is prescribed with other diabetes medications. If you notice these symptoms after taking Ozempic, contact your doctor immediately for advice.
Who should not take Ozempic?
People that are pregnant or breastfeeding, those undergoing dialysis or those who have severe kidney problems, or severe liver problems, and any person under 18 years of age, should not take Ozempic. Additionally, individuals with a history of serious pancreatitis, a family history of medullary thyroid carcinoma (thyroid cancer), gallbladder disease, diabetic retinopathy (damage to the eyes caused by diabetes) and certain inherited diseases (multiple endocrine neoplasia syndrome type 2 or MEN 2), should also avoid treatment with this medication.
Final word
In conclusion, the cardiovascular benefits of Ozempic are promising, with the SUSTAIN-6 study demonstrating its effectiveness in reducing the risk of MACE in patients with type 2 diabetes. The medication achieves this by enhancing the benefits of GLP-1, a gut hormone with known cardiovascular effects. However, like all medications, Ozempic comes with side effects and patients need to be aware of them.
If you're a patient with type 2 diabetes and are considering Ozempic, it's vital to speak to your healthcare provider to determine whether it's safe and appropriate for you. When it comes to managing your diabetes, you want to make sure that you have all the necessary information to ensure success and safety. That's why it's important to always refer to the prescribing information when using Ozempic. Your healthcare professional has the knowledge and expertise to guide you through the process, so don't hesitate to reach out and ask for help.
About Now Patient
Now Patient's online services are available in the US and UK. We help you manage your prescriptions, doctor appointments, test results, health risks and a lot more, all in one place for FREE. US prescriptions are available on a discounted 'cash' basis and delivered across all 50 states by our network of pharmacy providers dispensing FDA-approved generic and branded medications. We do not currently handle commercial insurance, Medicare or Medicaid. UK NHS and private prescriptions are delivered FREE of charge across England & Wales by our UK regulated online pharmacy.
Sources
Disclaimer
Now Patient has taken all reasonable steps to ensure that all material is factually accurate, complete, and current. However, the knowledge and experience of a qualified healthcare professional should always be sought after instead of using the information in this page. Before taking any drug, you should always speak to your doctor or another qualified healthcare provider.
The information provided here about medications is subject to change and is not meant to include all uses, precautions, warnings, directions, drug interactions, allergic reactions, or negative effects. The absence of warnings or other information for a particular medication does not imply that the medication or medication combination is appropriate for all patients or for all possible purposes.
WHY WE BUILT NOW PATIENT
To improve the lives of everyone by making high-quality care accessible and convenient
As technologists and clinicians, we built Now Patient to be more than just an online pharmacy. We are here to improve lives. Our service gives you access to smart features & resources that can help empower you to take control of your health and improve your health outcomes. All this, in one place, for FREE. We strive to bring a fresh perspective to managing health. Not play by the rules. Now Patient can be accessed by downloading the App or using your web browser.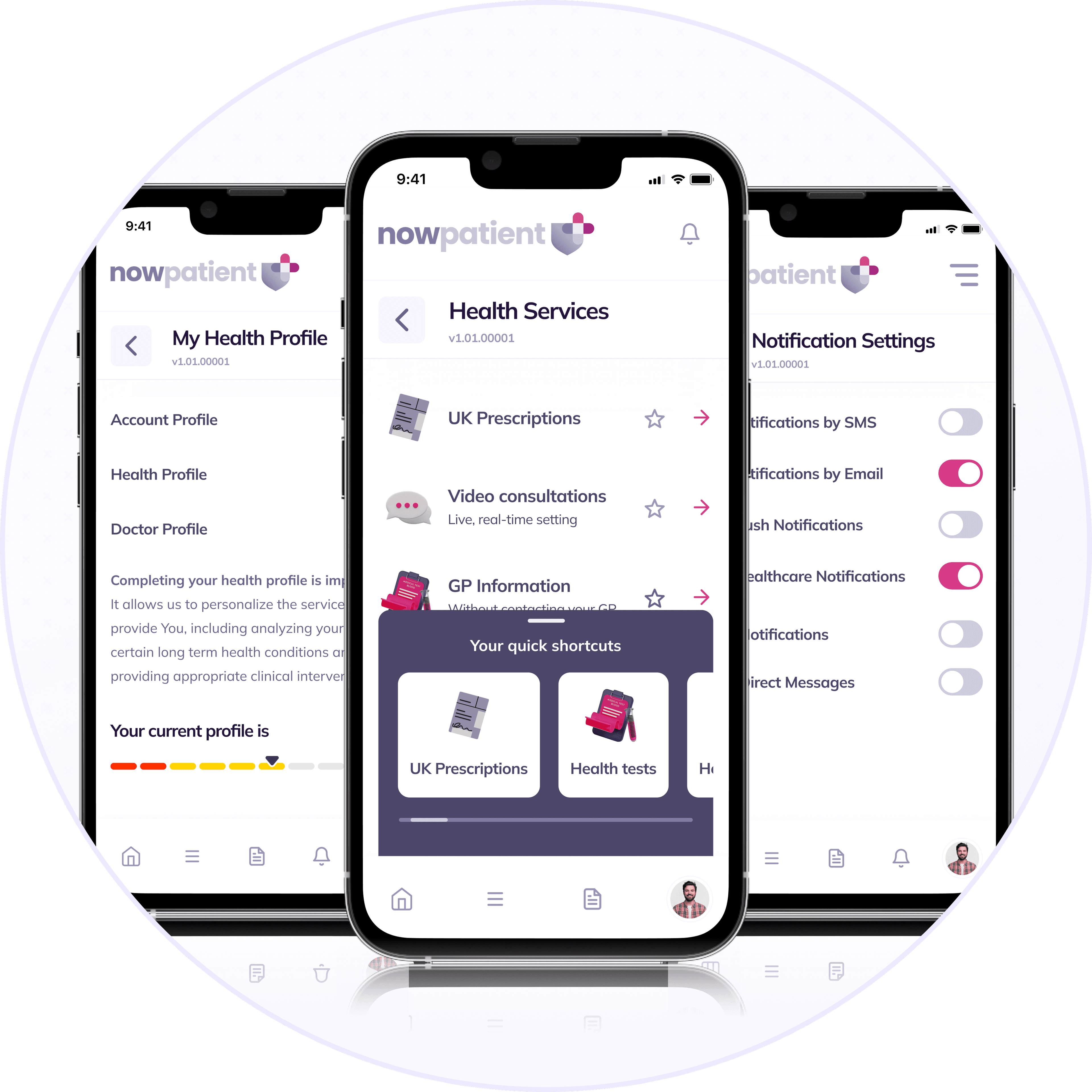 NOW PATIENT
Join the thousands of happy customers in the US and UK already using Now Patient
Manage your health and prescriptions all in one place for FREE. Available to use by downloading the App, or using your web browser.
Your Questions Answered
For your peace of mind, we can answer your health questions quickly
If you want to learn more about the range of services that we provide which can help manage and improve your health, then just click the button below.
Find your answers