/
Blog
/
Semaglutide's breakthrough in cardiovascular health
Semaglutide's breakthrough in cardiovascular health
10 Aug 2023

Stefano Mirabello
Pharmacist / B.Pharm
Image source: Semaglutide – MACE
In a landmark development for cardiovascular health, Novo Nordisk's semaglutide 2.4 mg has been shown to significantly reduce the risk of major adverse cardiovascular events (MACE) by 20% in adults with overweight or obesity. This finding, based on the results of the SELECT cardiovascular outcomes trial, is a significant stride forward in the treatment of cardiovascular disease (CVD) in overweight and obese individuals.
The SELECT trial
The SELECT trial, a comprehensive, double-blind study, compared the effects of semaglutide 2.4 mg with a placebo. The trial participants consisted of adults aged 45 years or older, who were overweight or obese, and had established CVD without any prior history of diabetes.
The study's primary objective was to assess the comparative effectiveness of semaglutide 2.4 mg and placebo in preventing MACE over a span of up to five years. The primary endpoint of the study was defined as the first occurrence of MACE, which includes cardiovascular death, non-fatal myocardial infarction, and non-fatal stroke.
Superior reduction in MACE
The SELECT trial successfully achieved its primary goal by demonstrating a statistically significant and superior reduction in MACE of 20% for individuals treated with semaglutide 2.4 mg compared to those on the placebo. The composite outcome of the trial was made up of the first occurrence of MACE, which was defined as cardiovascular death, non-fatal myocardial infarction, or non-fatal stroke. Each of these three components contributed to the superior MACE reduction demonstrated by semaglutide 2.4 mg. A total of 1,270 first MACEs were reported during the trial.
Safety profile of semaglutide 2.4 mg
The safety and tolerance of semaglutide 2.4 mg were also examined in the trial. The results show that semaglutide 2.4 mg aligns well with the safe and well-tolerated profile seen in previous trials involving the drug.
Semaglutide 2.4 mg: A potential game-changer
The results of the SELECT trial have generated considerable excitement among medical professionals. People living with obesity have an increased risk of cardiovascular disease but to date, there are no approved weight management medications proven to deliver effective weight management while also reducing the risk of heart attack, stroke or cardiovascular death," said Martin Holst Lange, executive vice president for Development at Novo Nordisk. "SELECT is a landmark trial and has demonstrated that semaglutide 2.4 mg has the potential to change how obesity is regarded and treated."
Anticipated regulatory approvals
Given the promising results from the SELECT trial, Novo Nordisk anticipates filing for regulatory approvals for a label indication expansion for semaglutide 2.4 mg in the US and the EU in 2023. More detailed findings from the SELECT trial are expected to be presented at a scientific conference later in 2023.
The SELECT trial: A closer look
The SELECT trial was a randomized, parallel-group, placebo-controlled study designed to evaluate the efficacy of semaglutide 2.4 mg versus placebo as an adjunct to standard of care for the prevention of MACE in individuals with established CVD, overweight or obesity, and no prior history of diabetes. The trial participants were aged 45 years or older with a BMI of 27 kg/m2 or higher.
The trial's primary objective was to demonstrate the superiority of semaglutide 2.4 mg compared to placebo in reducing the incidence of three-point MACE. The study also had several secondary objectives, including comparing the effects of semaglutide 2.4 mg to placebo with regards to mortality, cardiovascular risk factors, glucose metabolism, body weight, and renal function.
The trial was conducted across 41 countries at over 800 investigator sites and enrolled a total of 17,604 adults. The SELECT trial was initiated in 2018.
About Wegovy®
Wegovy® (semaglutide 2.4 mg, once-weekly subcutaneous) is a GLP-1 receptor agonist indicated as an adjunct to a reduced calorie diet and increased physical activity for chronic weight management in adults. It's indicated for adults with a BMI of 30 kg/m2 or greater (obesity), adults with a BMI of 27 kg/m2 or greater (overweight) in the presence of at least one weight-related comorbid condition, and pediatric patients aged 12 years and older with an initial BMI at the 95th percentile or greater for age and gender (obesity). Wegovy® has been launched in the US, Denmark, Norway, and Germany.
Novo Nordisk: A global healthcare leader
Novo Nordisk, a leading global healthcare company, was founded in 1923 and is headquartered in Denmark. Their purpose is to drive change to defeat diabetes and other serious chronic diseases such as obesity and rare blood and endocrine disorders. They aim to achieve this by pioneering scientific breakthroughs, expanding access to their medicines, and working to prevent and ultimately cure disease. Novo Nordisk employs about 57,100 people in 80 countries and markets its products in around 170 countries.
Conclusion
The results of the SELECT trial represent a significant advancement in the treatment of cardiovascular disease in overweight and obese individuals. The trial's findings indicate that semaglutide 2.4 mg has the potential to usher in a new era in the treatment of obesity, shifting the paradigm of how this condition is regarded and managed. These findings could have significant implications for the millions of people worldwide living with obesity and CVD.
About Now Patient
Now Patient's online services are available in the US and UK. We help you manage your prescriptions, doctor appointments, test results, health risks, and a lot more, all in one place for FREE. If you are in the United States, you could enjoy savings using Now Patient's mail-order pharmacy or use the Now Patient Rx Advantage Card at over 65,000 pharmacies, with savings of up to 90% on popular FDA-approved brand and generic medications like Ozempic, Mounjaro, clopidogrel and lots more. We do not currently handle commercial insurance, Medicare or Medicaid. UK NHS and private prescriptions are delivered FREE of charge across England & Wales by our UK NHS online pharmacy.
Sources
Disclaimer
Now Patient has taken all reasonable steps to ensure that all material is factually accurate, complete, and current. However, the knowledge and experience of a qualified healthcare professional should always be sought after instead of using the information in this page. Before taking any drug, you should always speak to your doctor or another qualified healthcare provider.
The information provided here about medications is subject to change and is not meant to include all uses, precautions, warnings, directions, drug interactions, allergic reactions, or negative effects. The absence of warnings or other information for a particular medication does not imply that the medication or medication combination is appropriate for all patients or for all possible purposes.
WHY WE BUILT NOW PATIENT
To improve the lives of everyone by making high-quality care accessible and convenient
We are here to improve lives. Our service gives you access to smart features & resources that can help empower you to take control of your health and improve your health outcomes. All this, in one place, for FREE. We strive to bring a fresh perspective to managing health. Not play by the rules. Now Patient can be accessed by downloading the App or using your web browser.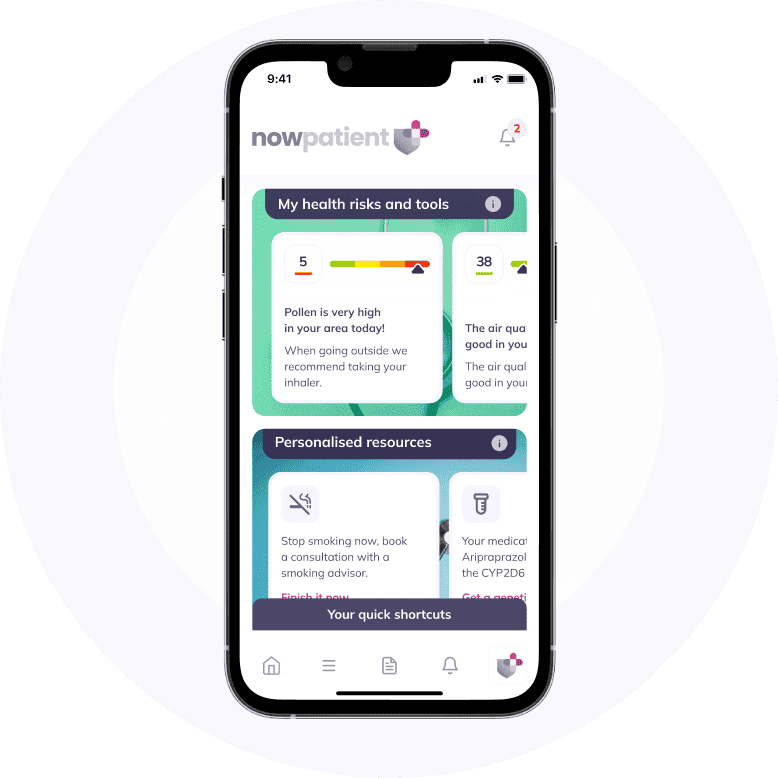 Your Questions Answered
For your peace of mind, we can answer your health questions quickly
If you want to learn more about the range of services that we provide which can help manage and improve your health, then just click the button below.
Find your answers