Stefano Mirabello
Pharmacist / B.Pharm
Most people use the words disease and illness interchangeably. Illness is sometimes used as a synonym of disease alongside words such as malady or ailment but there are subtle differences. We think of illness as something that is contagious and can be passed from person to person, like the flu. However, illness can also refer to any type of physical or mental disorder that causes discomfort or distress.
Disease, on the other hand, is a specific type of illness that is caused by an underlying medical condition that causes abnormality or dysfunction. Diseases can be classified based on their cause, symptoms, or treatment. For example, cancer is a disease that is caused by the abnormal growth of cells, while Alzheimer's disease is a degenerative disease that leads to memory loss and cognitive decline. While all diseases are illnesses, not all illnesses are diseases. Treatment for an illness may only require rest and home care, while treatment for a disease may require medication, surgery, or other medical intervention. Let's take a deeper look at how diseases are defined.
The definition of disease?
The word disease originally comes from the Middle English word disease. The study of disease is called pathology. It involves the determination of the cause (etiology) of the disease, the understanding of the disease process (pathogenesis), the structural changes associated with the disease process (morphological changes), and the functional consequences of these changes.
There is no one definitive answer to this question, as the definition of disease can vary depending on who you ask. Some may define the term 'disease' as the opposite of health. In general, however, most people would agree that a disease is a condition that causes impairment of the normal structure or function of any body part, organ, or system. In other words, the disease is an abnormal condition that affects the body's organs or tissues and interrupts their normal functions. Signs and symptoms are both outward indications of a disease. They are different, however, in that signs are observable by others, while symptoms are experienced only by the individual with the disease.
There are many different types of diseases, ranging from infectious diseases, such as the flu, to chronic diseases, such as heart disease. This can be due to a wide variety of causes, including infection, injury, genetic defects, and environmental factors. Some diseases are temporary and can be cured, while others are incurable and may result in death. No matter what type of disease it is, however, all diseases disrupt the normal functioning of the body in some way. Diseases can affect both individuals and entire populations, and they can range in severity from mild to fatal.
The medical dictionary definition of disease
Definition:
A definite pathological process having a characteristic set of signs and symptoms. It may affect the whole body or any of its parts, and its etiology (cause), pathology, and prognosis may be known or unknown.
WHO (World Health Organisation) definition of disease
WHO doesn't seem to have a distinct definition of disease, but it does have a definition of health. The WHO definition is holistic and an all-embracing definition.
Definition:
Health is a state of complete physical, mental and social well-being, not merely the absence of disease or infirmity.
How are diseases categorised?
Diseases can be categorised into two simple groups:
Communicable diseases
A communicable disease is any disease that can be transmitted from one person to another. The most common type of transmission is through contact with bodily fluids, such as blood or saliva. However, communicable diseases can also be spread through the air, either through coughing or sneezing. In some cases, communicable diseases can also be transmitted through food or water that has been contaminated with bacteria or viruses. The microorganisms that cause these diseases are known as pathogens and include varieties of bacteria, viruses, protozoa, and fungi.
Some of the common diseases include:
Common cold
Influenza
Chickenpox
Measles
Mumps
Rubella
Strep throat
Tuberculosis
Whooping cough
Each of these diseases is caused by a different virus, and each can cause serious health complications. Measles, for example, is a highly contagious disease that can cause severe respiratory problems, including pneumonia. Mumps is another viral disease that can cause fever, headaches, and swelling of the glands. Rubella is yet another communicable disease that can lead to birth defects if a pregnant woman becomes infected.
There are a variety of communicable diseases, ranging from the common cold to more serious illnesses such as HIV/AIDS and tuberculosis. In general, the symptoms of a communicable disease will depend on the specific illness. However, some common symptoms include fever, coughing, and difficulty breathing. Treatment for a communicable disease will also vary depending on the specific illness but may include antibiotics or antiviral medication. Prevention of communicable diseases is typically through vaccination and good hygiene practices.
Non-communicable diseases
Non-communicable diseases (NCDs), also known as chronic diseases, are characterized by their long duration and slow progression. The four main types of NCDs are:
Cardiovascular diseases, such as heart attack and stroke
Cancers such as breast cancer, lung cancer, and colon cancer
Chronic respiratory diseases such as asthma and COPD
Diabetes mellitus
These conditions are often caused by a combination of genetic and lifestyle factors, such as smoking, high blood pressure, an unhealthy diet, obesity, and a lack of physical activity. A genetic disease is caused by one or more genetic mutations.
NCDs are responsible for the majority of deaths worldwide. However, NCDs are largely preventable through changed behaviours and there are several key steps that people can take to reduce their risk. These include maintaining a healthy weight, eating a balanced diet, exercising regularly, and avoiding tobacco use. By raising awareness of risk factors and taking preventive measures, we can help to reduce the burden of NCDs worldwide.
The role of The World Health Organisation in disease
The World Health Organisation (WHO) is a United Nations agency that works to promote global health. While specific governments assess disease patterns within their own country, the WHO assesses disease patterns across all countries.
One of its key roles is to monitor diseases and their spread around the world. WHO does this by collecting data from member countries, as well as from other sources. This information is used to create maps and charts that show the distribution of diseases. WHO also uses this data to identify trends and possible outbreaks. In addition, WHO provides advice on how to prevent and control diseases. This includes issuing guidelines on vaccinations and infection control. For example, when the Ebola virus outbreak occurred in 2014, the WHO published guidance on how to manage patients and protect healthcare workers. It also sent experts to West Africa to help with the response.
The WHO plays an essential role in global public health, and its work helps to save lives around the world. WHO also runs programs to help countries improve their healthcare systems. These efforts are essential in combating disease and protecting the health of people around the world.
Diseases can be caught in the early stages. Always speak to your healthcare provider if you are concerned about any signs or symptoms. Often different diseases have similar symptoms, so it is important you seek medical advice in order to arrive at the correct diagnosis. Your doctor has many options for treatment such as medication and other therapies.
About Now Patient
Now Patient's online services are available in the US and UK. We help you manage your prescriptions, doctor appointments, test results, health risks and a lot more, all in one place for FREE. US prescriptions are available on a discounted 'cash' basis and delivered across all 50 states by our network of pharmacy providers dispensing FDA-approved generic and branded medications. We do not currently handle commercial insurance, Medicare or Medicaid. UK NHS and private prescriptions are delivered FREE of charge across England & Wales by our UK regulated online pharmacy.
Sources
Disclaimer
Now Patient has taken all reasonable steps to ensure that all material is factually accurate, complete, and current. However, the knowledge and experience of a qualified healthcare professional should always be sought after instead of using the information in this page. Before taking any drug, you should always speak to your doctor or another qualified healthcare provider.
The information provided here about medications is subject to change and is not meant to include all uses, precautions, warnings, directions, drug interactions, allergic reactions, or negative effects. The absence of warnings or other information for a particular medication does not imply that the medication or medication combination is appropriate for all patients or for all possible purposes.
WHY WE BUILT NOW PATIENT
To improve the lives of everyone by making high-quality care accessible and convenient
As technologists and clinicians, we built Now Patient to be more than just an online pharmacy. We are here to improve lives. Our service gives you access to smart features & resources that can help empower you to take control of your health and improve your health outcomes. All this, in one place, for FREE. We strive to bring a fresh perspective to managing health. Not play by the rules. Now Patient can be accessed by downloading the App or using your web browser.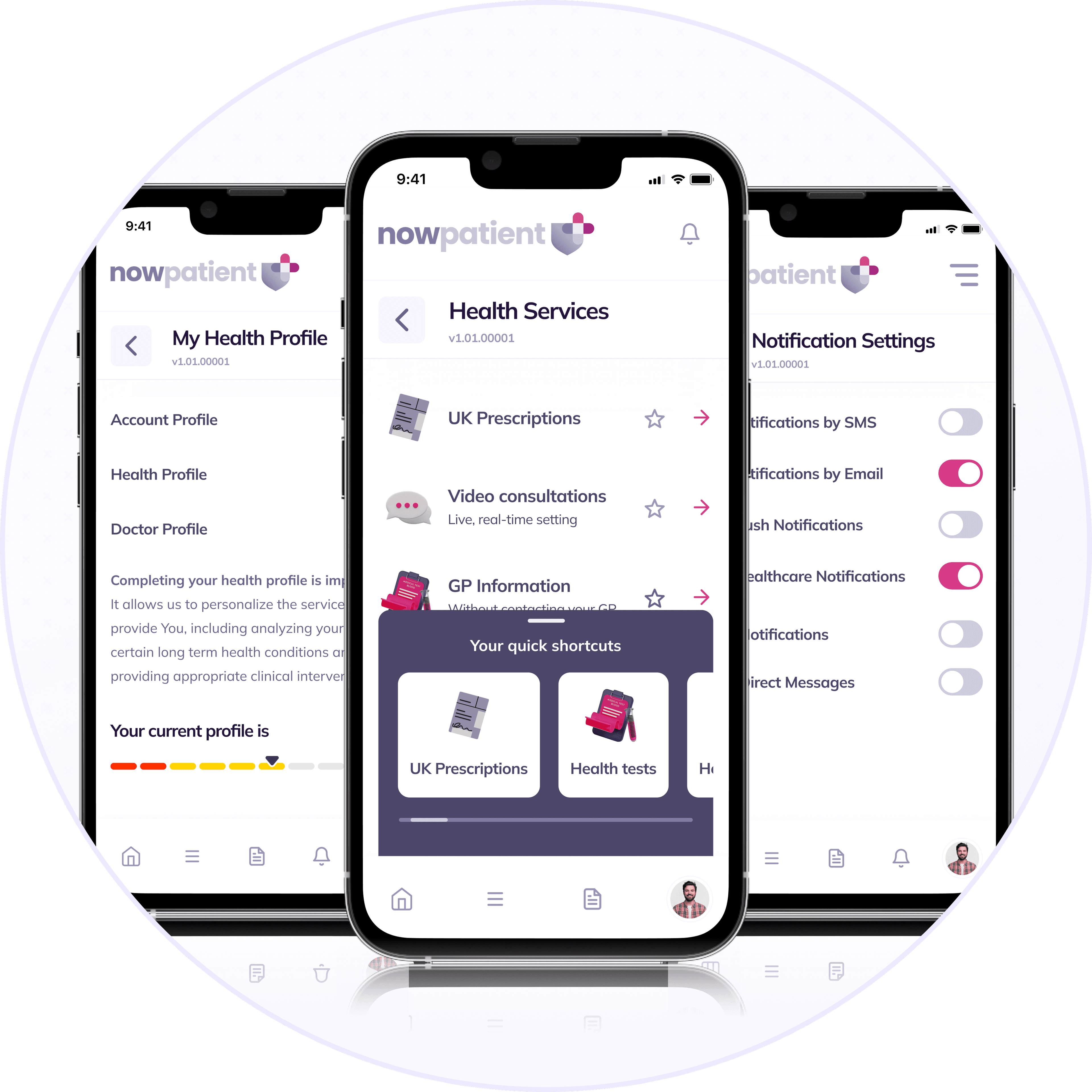 NOW PATIENT
Join the thousands of happy customers in the US and UK already using Now Patient
Manage your health and prescriptions all in one place for FREE. Available to use by downloading the App, or using your web browser.
Your Questions Answered
For your peace of mind, we can answer your health questions quickly
If you want to learn more about the range of services that we provide which can help manage and improve your health, then just click the button below.
Find your answers