Stefano Mirabello
Pharmacist / B.Pharm
Sexist question one might think… Diabetes is diabetes, why would a chronic condition discriminate?
I don't live with diabetes. However, I'm committed to supporting the mission Now Patient embarked on 4 years ago. This led me to wonder how different the experience of living with diabetes mellitus is, whether you're male or female. Turns out, there are plenty of differences.
So with International Women's Day around the corner, I decided I needed to investigate a bit more. I looked online and women like Renza highlighted issues I certainly didn't know about, but most importantly hadn't emerged in my initial research about what it's like to live with diabetes in my first 6 months of working for Now Patient.
The side effects of diabetes for women
Insulin-treated diabetes is an autoimmune condition in which the immune system attacks and destroys the cells in the pancreas that make insulin. It has major side effects on women yet, as Renza points out in the tweet below, some of these issues – such as sexual health – are under-researched and barely discussed by healthcare providers.
When asked, the answers were different for every woman with diabetes I talked to. Body image, being stared at, sex, menopause, pregnancy, love… All these themes emerged as the conversations went on and I felt the anecdotes needed to be captured and shared.
Sexual difficulties
Women with Type 1 diabetes may have concerns about their sexual health. One study found that women with Type 1 diabetes were more likely to report having difficulties with sexual arousal, orgasm, and pain during sex than women without diabetes. Additionally, they were also more likely to report lower levels of satisfaction with their sex life. While the exact cause of sexual problems in women with diabetes is not known, it is thought that diabetic neuropathy (nerve damage) may play a role. High blood sugar levels (hyperglycemia) can cause damage to the nerves and blood vessels, which can lead to problems with sexual function. Diabetic neuropathy can affect the nerves that are responsible for sending signals of arousal from the brain to the genitals. This can result in decreased sensation and difficulty becoming aroused.
Additionally, women with Type 1 diabetes may also be at higher risk for vaginal dryness due to changes in hormone levels. Fortunately, there are treatments available for these sexual difficulties. For example, lubricants can help to reduce discomfort during sex, and therapies can help to improve sexual satisfaction. If you are experiencing any problems with your sexual health, be sure to speak with your healthcare provider.
Many women with Type 1 diabetes will experience yeast infections at some point. While yeast infections are not unique to women with diabetes, the condition can be more difficult to treat in this population. This is because recurring high blood sugar levels can damage the cells that line the vagina, making it more vulnerable to infection. Women with diabetes may also be more likely to develop a more severe form of yeast infection known as invasive candidiasis. This condition occurs when the yeast infection spreads beyond the vagina and into the bloodstream. Invasive candidiasis is a serious medical emergency that can be fatal if left untreated.
Pregnancy complications
Diabetes management during pregnancy can be an especially difficult time for women with type 1 diabetes. Hormonal changes during pregnancy can cause blood glucose levels to fluctuate widely. This can lead to serious complications of diabetes such as diabetic ketoacidosis (a build-up of acids (ketones) in the blood) and pre-eclampsia (a condition characterized by high blood pressure and protein in the urine) and another type of diabetes called gestational diabetes. In addition, women with uncontrolled type 1 diabetes are at an increased risk for miscarriage and delivering a baby with birth defects. However, by working closely with a diabetes educator and carefully managing blood sugar levels, many women with type 1 diabetes are able to have healthy pregnancies and babies.
Polycystic Ovary Syndrome
Polycystic ovary syndrome (PCOS) is a common condition that affects women of childbearing age. While the exact cause of PCOS is unknown, it is thought to be related to an imbalance of the hormones involved in ovulation. Women with PCOS often have enlarged ovaries that contain small cysts. They may also have irregular periods, excess hair growth, and difficulty conceiving. PCOS can be a serious condition, as it is associated with an increased risk of heart disease, type 2 diabetes, , obesity and endometrial cancer. Women with Type 1 diabetes are especially at risk for developing PCOS. This is because insulin resistance, which is common in women with Type 1 diabetes, can lead to an imbalance of the hormones involved in ovulation. As a result, women with Type 1 diabetes should be sure to monitor their hormone levels and see their doctor regularly for checkups. With early diagnosis and treatment, the symptoms of PCOS can be managed and the risks associated with the condition can be reduced.
If you are a woman with type 1 diabetes, ask your endocrinologist or gynaecologist if PCOS is something you should be screened for. Work with your healthcare team to develop a treatment plan that includes lifestyle changes such as weight loss, keeping cholesterol in a healthy range, healthy eating, regular physical activity, and medications (if necessary). With proper treatment, you can help control your symptoms and reduce risk factors for complications.
Menopause
Menopause is a natural occurrence that happens to all women as they age. For women with Type 1 diabetes, menopause can pose some unique challenges. One of the most common symptoms of menopause is hot flashes, which can cause night sweats and disturbed sleep. This can be particularly difficult for women with Type 1 diabetes, as hot flushes can trigger episodes of low blood sugar (hypoglycemia). In addition, menopause can cause changes in mood and energy levels, which can impact diabetes self-management. It is important for women with Type 1 diabetes to stay on top of their diabetes care during menopause, as both their risk of developing complications and their need for insulin may change
Luckily, two remarkable women agreed to discuss these on camera.
Kate Parsley, has been living with type 1 diabetes for over 20 years, does online advocacy and offers coaching support to other people with diabetes. She's a public health practitioner so she embraced the opportunity to not only share her story but also give a voice to women living with a condition many don't understand.
Zoe Morris was diagnosed later in life. She also feels being a woman with type 1 diabetes has many disadvantages men wouldn't have to face, and being a mum carries even more stigma when accessing health services. She talks about her journey in her blog, The blog of a Type 1 diabetic.
International Women's Day
So as we celebrate International Women's Day — and this year's theme is #BalanceForBetter — I invite you to listen to these women's voices and do what you can to foster change. They – of course – do not claim to summarise the experience of all women with diabetes and there will be disparities. Some women with diabetes might feel they have never experienced any of these issues, but everyone deserves to be heard. To those who faced these challenges, we believe you.
So if you've been discriminated against, patronised, stared at, or just been dismissed as damaged not only because of diabetes but also because you are a woman, please rest assured that there are people out there who see you, appreciate you, value you, support you and admire you.
Now Patient x Women
Everything we're doing at Now Patient is for you. Whether it is amplifying Kate's and Zoe's voices and ensuring women like you are heard, or just working away tirelessly – as a tech company – using science, engineering and design to support men and women living with insulin-treated diabetes. We hope to turn your very human experience into a new science that can advance diabetes research. We're a long way from achieving that ambitious goal, but we believe that we will get there with your help, feedback, and contribution to our research and app.
Happy International Women's day.
About Now Patient
Now Patient's online services are available in the US and UK. We help you manage your prescriptions, doctor appointments, test results, health risks, and a lot more, all in one place for FREE. If you are in the United States, you could enjoy savings using Now Patient's mail-order pharmacy or use the Now Patient Rx Advantage Card at over 65,000 pharmacies, with savings of up to 90% on popular FDA-approved brand and generic medications like Ozempic, Mounjaro, clopidogrel and lots more. We do not currently handle commercial insurance, Medicare or Medicaid. UK NHS and private prescriptions are delivered FREE of charge across England & Wales by our UK NHS online pharmacy.
Sources
Disclaimer
Now Patient has taken all reasonable steps to ensure that all material is factually accurate, complete, and current. However, the knowledge and experience of a qualified healthcare professional should always be sought after instead of using the information in this page. Before taking any drug, you should always speak to your doctor or another qualified healthcare provider.
The information provided here about medications is subject to change and is not meant to include all uses, precautions, warnings, directions, drug interactions, allergic reactions, or negative effects. The absence of warnings or other information for a particular medication does not imply that the medication or medication combination is appropriate for all patients or for all possible purposes.
WHY WE BUILT NOW PATIENT
To improve the lives of everyone by making high-quality care accessible and convenient
We are here to improve lives. Our service gives you access to smart features & resources that can help empower you to take control of your health and improve your health outcomes. All this, in one place, for FREE. We strive to bring a fresh perspective to managing health. Not play by the rules. Now Patient can be accessed by downloading the App or using your web browser.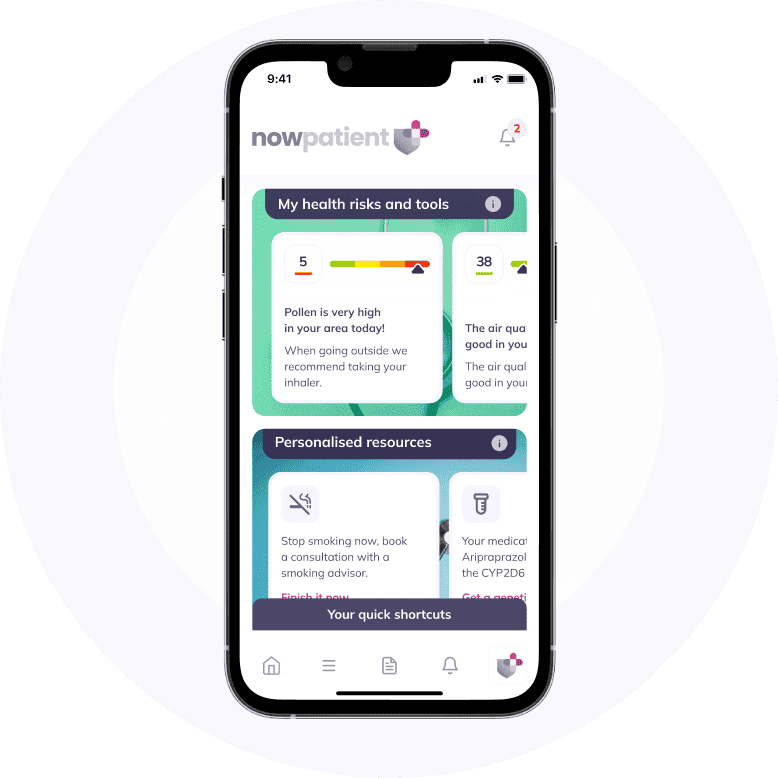 Your Questions Answered
For your peace of mind, we can answer your health questions quickly
If you want to learn more about the range of services that we provide which can help manage and improve your health, then just click the button below.
Find your answers