Stefano Mirabello
Pharmacist / B.Pharm
If you often experience skin problems such as rashes, psoriasis or eczema, then you've probably heard about Eumovate cream. This over-the-counter medication is a popular solution for many patients who want a fast and effective way to manage skin irritations. What is Eumovate cream, and how can it benefit you? Is Eumovate cream a steroid? In this post, we'll explore everything you need to know about this cream, including its uses, benefits and potential side effects.
What is Eumovate cream?
Eumovate cream is a topical steroid cream that is manufactured by GlaxoSmithKline. It contains the active ingredient clobetasone butyrate. This medication falls under a group of drugs known as corticosteroids, which work by reducing inflammation and itchiness in the skin. Eumovate cream is available over the counter (OTC) and requires no prescription, but needs to be purchased under the supervision of a pharmacist. It comes in different forms, including cream and ointment, and is suitable for individuals aged 12 years and above.
What is Eumovate cream used for?
Many healthcare professionals recommend Eumovate cream for managing different skin conditions such as:
Eczema (allergic, atopic, irritant, photo or seborrheic)
Skin rash due to allergy or a substance that irritates your skin (irritant and allergic contact dermatitis)
Psoriasis
Dermatitis
Prurigo nodularis (itchy nodules on the arms or legs)
Inflammation of the outer ear
Insect bites
Nappy rash
For children, Eumovate cream is used for dermatitis that has not responded to milder steroid creams.
Eumovate cream is not recommended to be used for:
Rosacea
Acne
Itchy skin which is not inflamed
Infected skin
Fungal infections such as athlete's foot or thrush
Bacterial infections such as impetigo
Viral infections such as chickenpox, cold sores
How does Eumovate work?
The active ingredient in this cream is clobetasone butyrate, a type of steroid that works by reducing inflammation, swelling, redness and itching. When applied to your skin, this cream is quickly absorbed and works by binding to specific receptor proteins in your skin cells. This triggers a complex cascade of reactions that ultimately help to reduce the production of inflammatory chemicals in your skin, resulting in an overall improvement of your symptoms. Eumovate can start working within a few hours, providing relief from the symptoms.
How to use Eumovate cream?
If you have been prescribed Eumovate cream for your skin condition, it is important to use it correctly to ensure it is effective in relieving your symptoms:
Wash your hands and affected area with mild soap and warm water
Gently dry the skin with a clean towel
Squeeze a small amount of cream onto your fingertip and apply a thin layer to the affected area
Rub in gently until it is fully absorbed
After the cream has been absorbed, an emollient (moisturising) cream can be applied to the same area if necessary
It is important to only use Eumovate cream as prescribed by your doctor or pharmacist and to avoid using it on your face, broken skin or genitals unless instructed otherwise. This medication is designed for short-term use only and should not be used for more than 7 days without medical advice. It's also important to wash your hands before and after applying Eumovate cream to prevent cross-contamination and to avoid using it on the broken or infected skin. Always read the patient information leaflet carefully before using Eumovate cream and if you have any concerns, speak to your doctor or pharmacist for further advice.
Can I buy Eumovate cream over the counter?
Yes, you can buy Eumovate cream over the counter without a prescription from your pharmacist. Eumovate cream is a potent medicine and should only be used as directed to avoid adverse side effects. Your pharmacist will be able to advise you on the proper use of the cream and how long you should use it for your specific condition. Rest assured, if you need Eumovate cream, you can purchase it at your local pharmacy, where the knowledgeable staff can assist you in your purchase.
Eumovate ointment is thicker and greasier than the cream making it more appropriate for dry, flaky areas of skin. Eumovate ointment is only available on NHS prescription from your doctor and can not be bought over the counter.
What is the difference between Eumovate and hydrocortisone?
Both of these products are topical corticosteroids used to treat eczema and other inflammatory skin conditions, but there are some key differences between them. Eumovate contains clobetasone butyrate, a stronger steroid than the hydrocortisone found in many over-the-counter products. This means that Eumovate may be more effective for severe cases of eczema or other skin conditions. However, it's also important to note that clobetasone butyrate should only be used for short periods, as prolonged use can lead to skin thinning and other side effects.
Hydrocortisone on the other hand, is a milder steroid that can be used for longer periods. It's typically found in over-the-counter creams and ointments and may be a good option for mild cases of eczema or other skin conditions. So, if you're experiencing a particularly nasty flare-up, Eumovate may be the better option for you. However, if your eczema is less severe or if you're sensitive to stronger steroid creams, hydrocortisone may be a more suitable choice. Ultimately, the choice between Eumovate and hydrocortisone will depend on your specific needs and the advice of your healthcare provider.
Can you use Eumovate cream for thrush?
Eumovate cream is not effective or indicated for the treatment of thrush or other fungal infections such as ringworm or athlete's foot. If you are looking for an effective treatment for thrush, antifungal cream like itraconazole prescribed by your doctor is usually the most appropriate. There are also other home remedies you can try in conjunction with your normal hygiene routine to help keep the infection at bay, such as avoiding tight clothing, changing underwear daily and keeping the genital area clean and dry.
What is the recommended dosage for Eumovate cream?
Eumovate cream is usually used once or twice a day. The number of times you use your medicine may be reduced as your skin gets better. Determining the correct amount of topical steroid to apply can be a tricky business. Healthcare professionals have come up with a handy measurement tool – the fingertip unit (FTU). A single FTU is the amount of cream or ointment that can be squeezed out onto an adult's fingertip, from the end of the finger to the first crease. One FTU is enough to cover an area twice the size of an adult's hand. So, depending on the size of the affected area, your doctor will advise how many FTUs you should be applying.
What are the side effects of using Eumovate cream?
Like any medication, Eumovate cream has some side effects that you need to be aware of before using it. You may experience burning, itching, stinging or redness after applying the medication. Rarely, you may develop other side effects such as skin thinning, stretch marks or excessive hair growth. This is caused by repeated courses of topical steroids over a long period of time.
Eumovate cream contains other ingredients such as chlorocresol, cetostearyl alcohol, beeswax substitute 6621, citric acid monohydrate and glycerol that can occasionally cause allergic reactions.
If any of these symptoms persist, contact your doctor immediately to advise you on the next step.
What are the possible risks of using Eumovate cream?
When using Eumovate cream, there are some precautions you need to take to ensure maximum safety and effectiveness. Firstly, you should avoid using Eumovate cream on broken skin or a skin infection, as this can increase the risk of side effects and worsen the condition. You should also avoid using Eumovate cream around the eyes, as it can cause glaucoma or cataracts. If you are pregnant or breastfeeding, you should consult your doctor before using Eumovate cream, as it can pass through the placenta or breastmilk and harm your baby.
Eumovate cream should not be used on large areas of skin, underneath airtight dressings or on or near open wounds such as active leg ulcers or for long periods.
Speak to your pharmacist
Eumovate cream is a helpful medication which can provide relief for common skin conditions. The cream works by reducing inflammation, swelling and redness. It is safe to use but should only be used as instructed by your doctor or pharmacist. If you experience side effects or your condition does not improve, it is essential to seek medical attention. By following your doctor's instructions, you can use Eumovate cream safely and effectively.
About Now Patient
Now Patient's online services are available in the US and UK. We help you manage your prescriptions, doctor appointments, test results, health risks and a lot more, all in one place for FREE. US prescriptions are available on a discounted 'cash' basis and delivered across all 50 states by our network of pharmacy providers dispensing FDA-approved generic and branded medications. We do not currently handle commercial insurance, Medicare or Medicaid. UK NHS and private prescriptions are delivered FREE of charge across England & Wales by our UK regulated online pharmacy.
Sources
Disclaimer
Now Patient has taken all reasonable steps to ensure that all material is factually accurate, complete, and current. However, the knowledge and experience of a qualified healthcare professional should always be sought after instead of using the information in this page. Before taking any drug, you should always speak to your doctor or another qualified healthcare provider.
The information provided here about medications is subject to change and is not meant to include all uses, precautions, warnings, directions, drug interactions, allergic reactions, or negative effects. The absence of warnings or other information for a particular medication does not imply that the medication or medication combination is appropriate for all patients or for all possible purposes.
WHY WE BUILT NOW PATIENT
To improve the lives of everyone by making high-quality care accessible and convenient
As technologists and clinicians, we built Now Patient to be more than just an online pharmacy. We are here to improve lives. Our service gives you access to smart features & resources that can help empower you to take control of your health and improve your health outcomes. All this, in one place, for FREE. We strive to bring a fresh perspective to managing health. Not play by the rules. Now Patient can be accessed by downloading the App or using your web browser.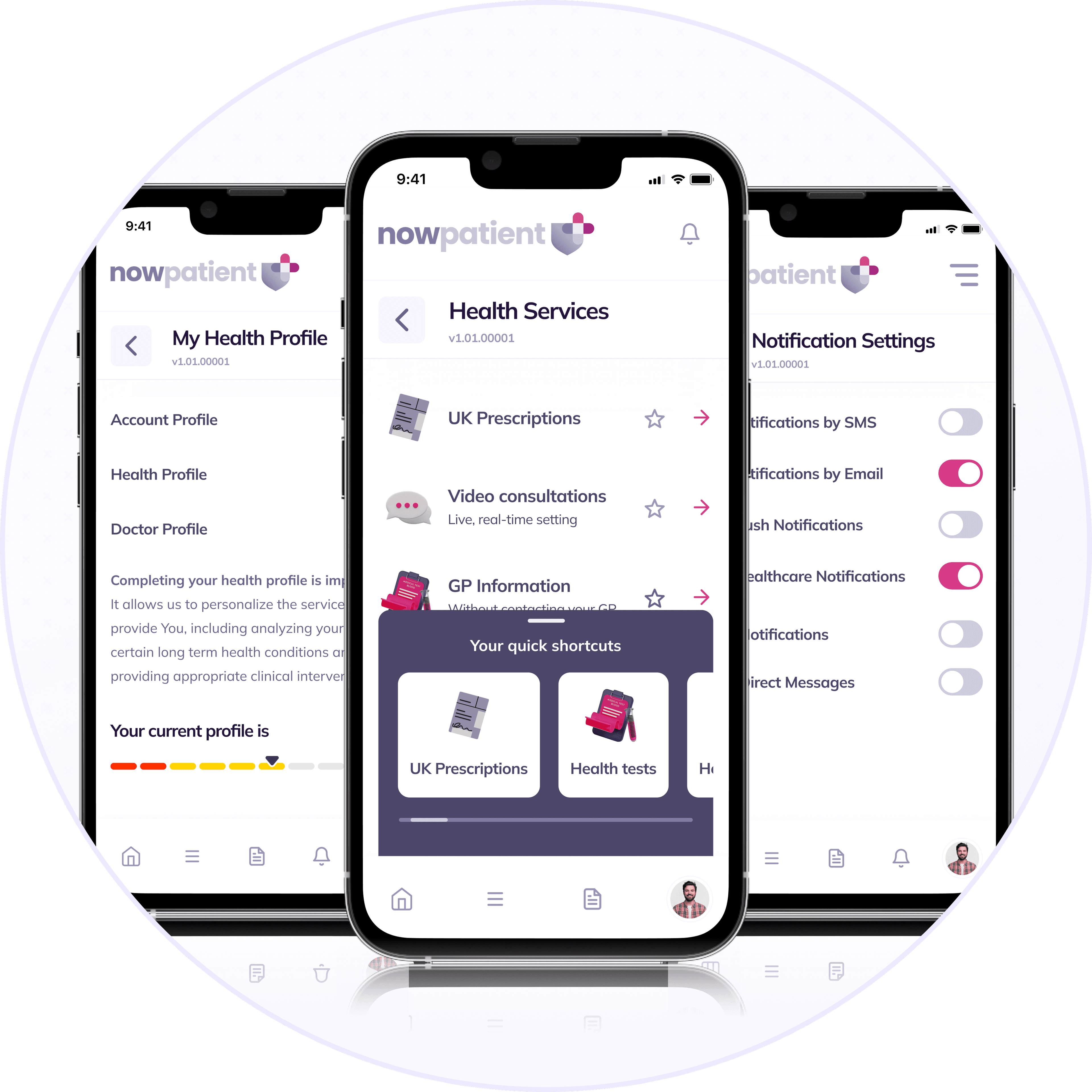 NOW PATIENT
Join the thousands of happy customers in the US and UK already using Now Patient
Manage your health and prescriptions all in one place for FREE. Available to use by downloading the App, or using your web browser.
Your Questions Answered
For your peace of mind, we can answer your health questions quickly
If you want to learn more about the range of services that we provide which can help manage and improve your health, then just click the button below.
Find your answers