/
Blog
/
Is there a Wegovy shortage in the United States?
Is there a Wegovy shortage in the United States?
10 Aug 2023

Stefano Mirabello
Pharmacist / B.Pharm
Photo: Wegovy-injection – semaglutide
The weight-loss industry has been hit with a significant disruption, as the supply of the highly sought-after weight loss drug, Wegovy, struggles to meet the soaring demand. This article explores the root causes of the current Wegovy shortage, its impact on patients and the pharmaceutical industry, and what the future holds.
The rise of Wegovy
Wegovy, a semaglutide-based medicine manufactured by Novo Nordisk, gained significant traction after it was approved for chronic weight management by the U.S. Food and Drug Administration (FDA). It is indicated for adults with obesity or overweight with weight-related medical problems. The drug garnered substantial attention for its efficacy in helping patients shed up to 15% of their weight, coupled with diet and exercise changes.
However, it is important to note that Wegovy is the only semaglutide-based Novo Nordisk product approved for chronic weight management. Other semaglutide-based products like Ozempic and Rybelsus, used for type 2 diabetes, are not FDA-approved for this purpose. Patient safety is paramount, and the use of these drugs should be under direct consultation with a healthcare provider.
The current supply-demand imbalance
With obesity affecting around 42.4% of adults in the United States, the demand for an effective weight loss solution like Wegovy has surged. In the first quarter of 2022 alone, Wegovy was prescribed to over 1.2 million people in the U.S. However, the supply chain has struggled to keep up with this explosive demand, leading to a significant Wegovy shortage.
The manufacturer, Novo Nordisk, has been grappling with this high demand and global supply issues. The company is currently unable to meet the demand for the drug, particularly for the lower doses or "starter" doses (0.25mg, 0.5mg, and 1mg). This shortage has affected new patients who are prescribed the drug, as the treatment regimen typically starts with lower doses and gradually increases.
Impact of the shortage on patients
The scarcity of Wegovy has serious implications for patients relying on the drug for weight management. The inability to access the drug has forced many patients to switch to less effective weight-loss alternatives. The shortage has also led to patients missing their Wegovy injections at the prescribed weekly intervals, leading to potential health risks such as worsening gastrointestinal side effects.
Moreover, new patients face a significant hurdle as the production of lower-level doses is currently limited, making it difficult for them to start their treatment. Patients who have not been able to fill their prescriptions have been forced to delay their injections, sometimes for as long as four days. This has resulted in increased anxiety and frustration among patients who fear regaining weight if their refill does not arrive in time.
Addressing the shortage: Novo Nordisk's response
Novo Nordisk is taking decisive steps to tackle the Wegovy shortage. The company is investing in new manufacturing facilities in the U.S., increasing production at existing facilities, and securing additional supplies of raw materials and components. They aim to have Wegovy production levels meet demand by September 2023. However, the shortage could potentially last longer.
In addition to ramping up production, Novo Nordisk is also managing Wegovy shipments to wholesalers in the U.S. with a plan to create a more steady level of inventory. Furthermore, the company is pausing some key Wegovy promotional efforts to avoid stimulating further demand during this challenging period.
The Wegovy-Ozempic conundrum
While Wegovy faces supply issues, its diabetes counterpart, Ozempic, also manufactured by Novo Nordisk, has been prescribed off-label for weight loss. This has led to an increased demand for Ozempic and, consequently, a shortage of this drug as well. Both Wegovy and Ozempic contain semaglutide, but they are not interchangeable and are indicated for different health conditions. Therefore, using Ozempic as a substitute for Wegovy is not recommended.
Looking towards the future: Generic semaglutide
At present, there is no generic form of Semaglutide available on the market. However, some health and wellness spas have been advertising generic semaglutide injections. These are formulas created by compounding pharmacies, which can be challenging to regulate due to their lack of transparency.
The FDA and Novo Nordisk have issued warnings against using these products, as they may not contain the same active ingredient as FDA-approved semaglutide products and may not be safe and effective. Novo Nordisk has even begun filing lawsuits against health and wellness spas promoting generic forms of Semaglutide and the compounding pharmacies producing them.
The long-term outlook
According to DrugPatentWatch.com, Wegovy will be eligible for patent challenges only after December 5, 2031. Therefore, a generic version of Wegovy is not expected to be available until then. This timeline could change due to patent challenges or generic licensing.
A call to action
The current Wegovy shortage underlines the need for a robust and reliable supply of essential medications. Obesity is a significant health problem, and having access to effective treatments is paramount. It is hoped that the measures being taken by Novo Nordisk will soon resolve the current shortage, ensuring that patients who need this life-changing medication can access it without interruption.
Concluding remarks
The Wegovy shortage has brought attention to critical issues in the pharmaceutical industry regarding supply chain management and the importance of anticipating demand. As the manufacturer works to increase production, patients and healthcare providers alike must navigate these challenges in the pursuit of effective
About Now Patient
Now Patient's online services are available in the US and UK. We help you manage your prescriptions, doctor appointments, test results, health risks and a lot more, all in one place for FREE. US prescriptions are available on a discounted 'cash' basis and delivered across all 50 states by our network of pharmacy providers dispensing FDA-approved generic and branded medications. We do not currently handle commercial insurance, Medicare or Medicaid. UK NHS and private prescriptions are delivered FREE of charge across England & Wales by our UK regulated online pharmacy.
Sources
Disclaimer
Now Patient has taken all reasonable steps to ensure that all material is factually accurate, complete, and current. However, the knowledge and experience of a qualified healthcare professional should always be sought after instead of using the information in this page. Before taking any drug, you should always speak to your doctor or another qualified healthcare provider.
The information provided here about medications is subject to change and is not meant to include all uses, precautions, warnings, directions, drug interactions, allergic reactions, or negative effects. The absence of warnings or other information for a particular medication does not imply that the medication or medication combination is appropriate for all patients or for all possible purposes.
WHY WE BUILT NOW PATIENT
To improve the lives of everyone by making high-quality care accessible and convenient
As technologists and clinicians, we built Now Patient to be more than just an online pharmacy. We are here to improve lives. Our service gives you access to smart features & resources that can help empower you to take control of your health and improve your health outcomes. All this, in one place, for FREE. We strive to bring a fresh perspective to managing health. Not play by the rules. Now Patient can be accessed by downloading the App or using your web browser.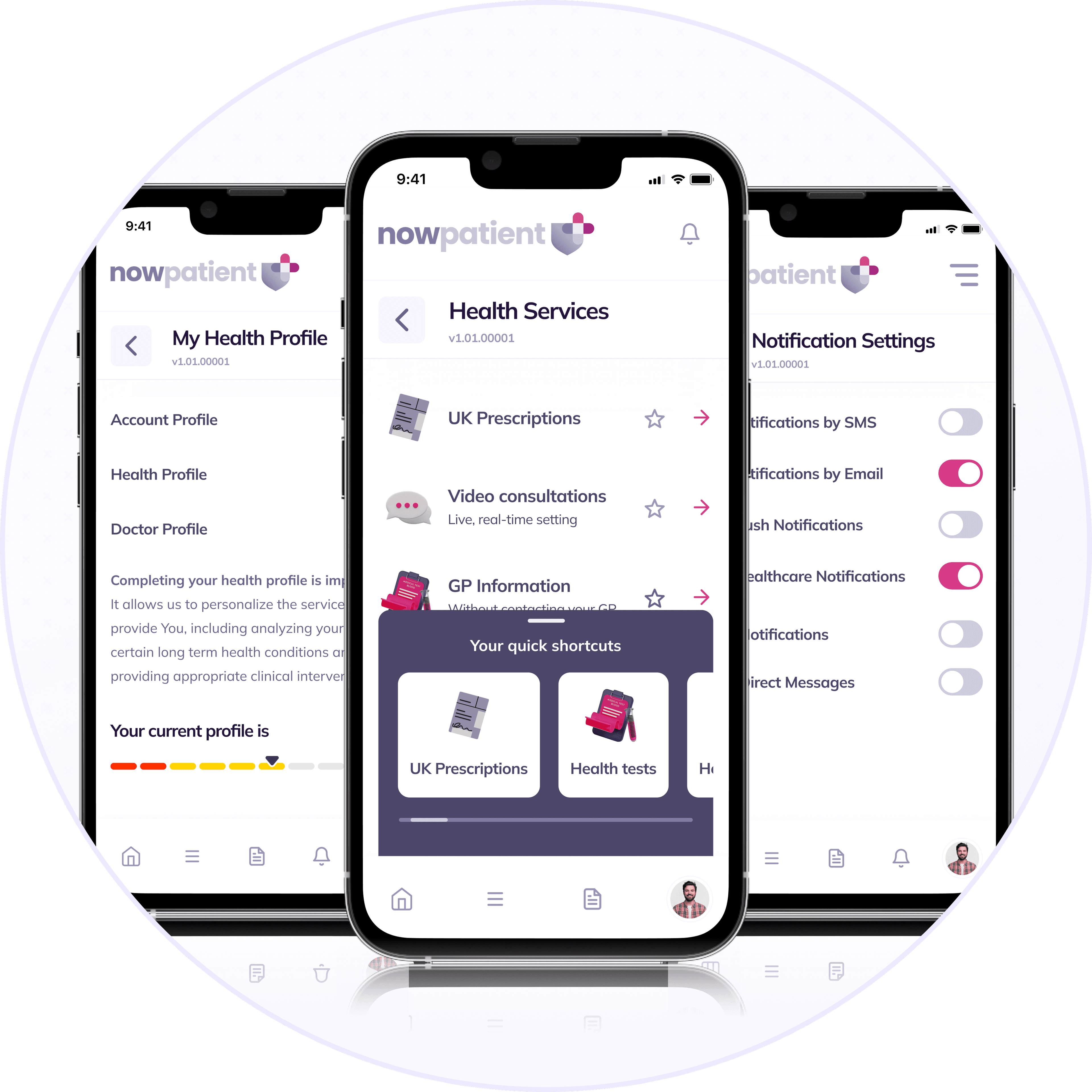 NOW PATIENT
Join the thousands of happy customers in the US and UK already using Now Patient
Manage your health and prescriptions all in one place for FREE. Available to use by downloading the App, or using your web browser.
Your Questions Answered
For your peace of mind, we can answer your health questions quickly
If you want to learn more about the range of services that we provide which can help manage and improve your health, then just click the button below.
Find your answers