Stefano Mirabello
Pharmacist / B.Pharm
For many men, erectile dysfunction is a very real thing. Problems getting or maintaining an erection can happen to anyone.
So, if it's happened to you, it doesn't have to be a big deal. Loads of guys go through it. But if the problem persists, it can interfere with your sex life and your mental health, plus it could also be a symptom of something much more serious.
That means it's not something you should ignore.
Here we'll help you understand what might be causing it and what you can do to overcome it.
ED symptoms
First it's important to know the symptoms of erectile dysfunction. They might include:
Trouble getting an erection
Trouble maintaining an erection during sexual activity
Reduced sexual desire
If you experience any of these symptoms regularly, it's likely that you have erectile dysfunction.
What causes erectile dysfunction?
To get and stay hard, you need a good circulatory system, a healthy brain and nerves, the right hormones at the right levels, a good mindset, and a decent lifestyle.
If you have issues with any of these, you can have problems with your erections. There are lots of possible causes of erectile dysfunction, both physical and psychological.
Physical causes of erectile dysfunction
You get an erection when more blood flows into your penis than leaves it, making it swell and fill with blood. Anything that interferes with the flow of blood inside your body can cause ED and is the main cause of erectile dysfunction in men over 40. This includes:
Diabetes
Obesity
Smoking
Heart problems
Being treated for prostate cancer can also cause erectile dysfunction, particularly if the blood vessels or nerves leading to the penis are damaged.
Erectile dysfunction can also be caused by neurological conditions, essentially physical issues with your brain and the nerves which carry signals around your body. You may want to get hard, but the signals from your brain might not be getting to the right place. Neurological conditions can include:
Damage to your spine
Brain damage, including strokes
Getting aroused and sustaining an erection also requires the right levels of certain hormones, such as testosterone. Anything that interferes with your body's ability to produce hormones can mess with your erections. These include:
Hypogonadism (a condition which causes your testes to produce lower levels of sex hormones like testosterone)
An overactive or underactive thyroid gland
Cushing's disease (affects your adrenal glands)
Declining levels of testosterone as you age (particularly for men over 45)
Also, physical problems with your penis can affect your erections, such as:
Peyronie's disease (the growth of hard tissue inside the penis which can change its shape and interfere with erections)
Having a foreskin that is too tight
Psychological causes of erectile dysfunction
Your mindset can have a big impact on your erections. For men under 40, the leading cause of erectile dysfunction is psychological; so take note. This can include:
Performance anxiety and doubting your sexual ability is one of the most common causes of ED. You need to be relaxed to get hard, and any worries you have about your ability to satisfy your partner can interfere with your erections
Mental health problems which affect your mood, such as depression are related to erectile dysfunction
Too much stress in areas of your life outside the bedroom, such as work demands and money worries, can distract you and lower your sex drive
Problems in your relationship, outside of sex, can also affect your erections
Lifestyle causes of erectile dysfunction
How you live your life can also play its part.
Poor diet and not enough exercise can lead to you being overweight and having high blood pressure, which can affect the flow of blood to your penis. Smoking can have the same effect. Quitting smoking and opting for healthy, nutritious foods can get you on the right track for ED recovery.
Recreational activities can also cause ED. Drinking too much alcohol can have a temporary impact while viewing porn has also been associated with erectile dysfunction.
Drugs, both legal and illegal, can interfere with your circulatory and nervous systems, as well as your hormones, which can have a knock-on effect when it comes to ED. The following drugs have all been associated with erectile dysfunction, but this list isn't exhaustive. Remember to check the side effects of any medication you're taking and speak to your doctor if you think it might be causing you problems.
Medications and prescription drugs:
Antiandrogens
Anticonvulsants
Antidepressants
Antihistamines
Antihypertensives
Antipsychotics
Beta-blockers
Corticosteroids
Diuretics
Fibrates
Recreational drugs:
Marijuana
Cocaine
Heroin and methadone
Steroids
What are the top risk factors for erectile dysfunction?
We've looked at some of the main physical, psychological and lifestyle causes of ED, but what are the top risk factors that can cause erectile dysfunction in men of all ages?
Smoking
Being overweight or obese
Living a sedentary lifestyle
Drinking too much alcohol
Using illegal drugs
Medication side effects
Diabetes
Stress/anxiety
How can I improve my erectile dysfunction?
First of all, don't stress. Erectile dysfunction is a common problem and is curable. It's something that you can handle and beat, often with simple lifestyle changes including:
Cutting down on unhealthy food, alcohol, cigarettes, and avoid recreational drugs
Making sure you exercise and get enough sleep
Erectile dysfunction treatments such as sildenafil (Viagra), tadalafil (Cialis) and vardenafil (Levitra) are very effective at treating the condition in the short term. However, there are many possible causes of ED; some of them are more serious than others. If you are experiencing erectile dysfunction regularly make sure you speak to your doctor. They will check for underlying medical conditions that could be the source of the problem. They can also advise on whether any medication you're taking could be an issue too.
If you're given the all-clear and the problem's still there, try speaking to a psychologist or a therapist to explore your mental state to see if the cause of your erectile dysfunction is psychological.
Even if you have a physical condition, it can still help to talk to a mental health professional, as there may be multiple causes, both physical and mental. If you think about it too much, ED can become a self-fulfilling prophecy.
About Now Patient
Now Patient's online services are available in the US and UK. We help you manage your prescriptions, doctor appointments, test results, health risks, and a lot more, all in one place for FREE. If you are in the United States, you could enjoy savings using Now Patient's mail-order pharmacy or use the Now Patient Rx Advantage Card at over 65,000 pharmacies, with savings of up to 90% on popular FDA-approved brand and generic medications like Ozempic, Mounjaro, clopidogrel and lots more. We do not currently handle commercial insurance, Medicare or Medicaid. UK NHS and private prescriptions are delivered FREE of charge across England & Wales by our UK NHS online pharmacy.
Sources
Disclaimer
Now Patient has taken all reasonable steps to ensure that all material is factually accurate, complete, and current. However, the knowledge and experience of a qualified healthcare professional should always be sought after instead of using the information in this page. Before taking any drug, you should always speak to your doctor or another qualified healthcare provider.
The information provided here about medications is subject to change and is not meant to include all uses, precautions, warnings, directions, drug interactions, allergic reactions, or negative effects. The absence of warnings or other information for a particular medication does not imply that the medication or medication combination is appropriate for all patients or for all possible purposes.
WHY WE BUILT NOW PATIENT
To improve the lives of everyone by making high-quality care accessible and convenient
We are here to improve lives. Our service gives you access to smart features & resources that can help empower you to take control of your health and improve your health outcomes. All this, in one place, for FREE. We strive to bring a fresh perspective to managing health. Not play by the rules. Now Patient can be accessed by downloading the App or using your web browser.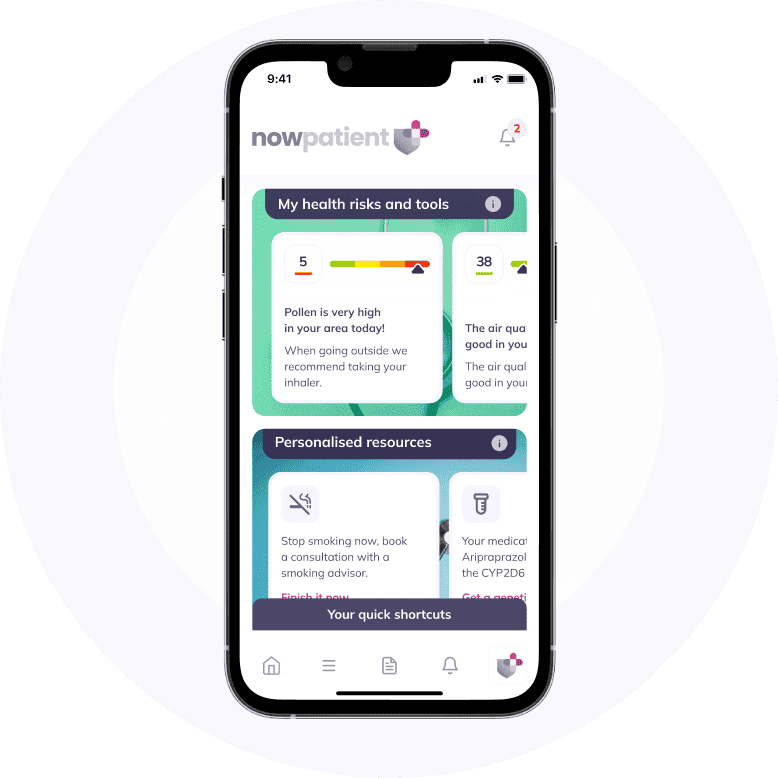 Your Questions Answered
For your peace of mind, we can answer your health questions quickly
If you want to learn more about the range of services that we provide which can help manage and improve your health, then just click the button below.
Find your answers