/
Blog
/
All you need to know about viagra and alcohol
All you need to know about viagra and alcohol
30 Jun 2023

Stefano Mirabello
Pharmacist / B.Pharm
For many people alcohol and sex go together. And you know what, we get it. Alcohol can lower your inhibitions and make you feel less anxious and more confident. It can put you in the mood for sex. Perfect. But can you still drink alcohol if you take Viagra and if you do, is it dangerous? Here's all you need to know about Viagra and alcohol.
Does alcohol cause erectile dysfunction?
Erectile dysfunction is when a man can't get or keep an erection that's firm enough for sex. Alcohol is often said to cause erectile dysfunction as too much of it can decrease blood flow to your penis.
There is also the possibility that alcohol could counter the effects of Viagra. Viagra makes it easier to get an erection, alcohol makes it harder, so it makes sense that the two cancel each other out. But is this true?
Well, there's been no specific research that definitively says alcohol can stop Viagra from working, but there is plenty of research on the effects of alcohol on men's erections.
First off, research shows that regularly drinking large amounts of alcohol can make ED more likely. Over time alcohol can even damage the nerves and blood vessels in your penis, meaning that heavy drinkers can even find it hard to get an erection when they're sober. But this is alcohol abuse. What if you're not a heavy drinker? What if you want to drink a few beers over the course of the evening and then pop a Viagra when you get home?
Well here the research gets a little more interesting. When men drink less alcohol the effects aren't so clear cut. Some studies show that drinking low to moderate amounts of alcohol does make it more difficult to get an erection, but others found a small amount of alcohol can actually help men get erections.
Confused? We don't blame you. This is a reminder that life is complicated and things are rarely simple, especially where our bodies are concerned.
Can Viagra and alcohol interact?
Sometimes alcohol can interact with other drugs, changing the way they work and making side effects more likely. So is this the case with Viagra?
Both alcohol and Viagra can lower your blood pressure, so drinking with Viagra may make certain side effects more likely, like dizziness, fainting, headaches and heart palpitations. You should be aware of these side effects and be careful when getting up from sitting or lying down.
So can I drink alcohol with viagra?
Although there isn't conclusive research on this, drinking heavily with Viagra sounds like a bad idea. Drinking large amounts of alcohol will likely make it harder for you to get an erection, potentially wiping out the benefit of Viagra. It may also make the side effects of Viagra worse.
Drinking small to moderate amounts of alcohol is less clear cut. You'll likely get the most out of Viagra if you stay sober, but if you really want to drink some alcohol with Viagra, then it's probably best to be cautious. If you're new to Viagra try taking it a few times without alcohol to see how you react to the meds. Then if you want to take it with alcohol you could introduce it slowly, as little as possible at first, so you can see if the Viagra and alcohol interact for you.
Don't forget you can always talk to our doctors and get their advice on taking Viagra with alcohol.
Can I drink alcohol and take cialis or levitra?
There's no conclusive research that shows alcohol has a different effect with Cialis and Levitra than it does with Viagra, so the same advice also applies to these ED meds. Don't drink to excessively, if you drink a small amount you'll probably be fine. Introduce the alcohol slowly until you're confident the two work together for you.
Will food stop viagra from working?
Food, especially high-fat food can slow down how quickly Viagra is absorbed into your system. If you take Viagra with a meal take it two hours before you want to have sex, rather than one hour.
When should I take viagra for the best results?
Most importantly, always take your Viagra as prescribed. In most cases you will swallow a Viagra pill with water one hour before you want to have sex. After you've taken it you need to be aroused for Viagra to take effect, so do whatever turns you on. You'll probably see the best results if you take Viagra without food and alcohol too.
Chances are you'll get the most out of Viagra if you take it without any alcohol. You may find a small amount of alcohol has no effect though, but everyone responds to alcohol and Viagra differently, so caution is the best approach. Try to drink as little as possible, especially until you know how you react to Viagra and alcohol when you take them together.
About Now Patient
Now Patient's online services are available in the US and UK. We help you manage your prescriptions, doctor appointments, test results, health risks, and a lot more, all in one place for FREE. If you are in the United States, you could enjoy savings using Now Patient's mail-order pharmacy or use the Now Patient Rx Advantage Card at over 65,000 pharmacies, with savings of up to 90% on popular FDA-approved brand and generic medications like Ozempic, Mounjaro, clopidogrel and lots more. We do not currently handle commercial insurance, Medicare or Medicaid. UK NHS and private prescriptions are delivered FREE of charge across England & Wales by our UK NHS online pharmacy.
Sources
Disclaimer
Now Patient has taken all reasonable steps to ensure that all material is factually accurate, complete, and current. However, the knowledge and experience of a qualified healthcare professional should always be sought after instead of using the information in this page. Before taking any drug, you should always speak to your doctor or another qualified healthcare provider.
The information provided here about medications is subject to change and is not meant to include all uses, precautions, warnings, directions, drug interactions, allergic reactions, or negative effects. The absence of warnings or other information for a particular medication does not imply that the medication or medication combination is appropriate for all patients or for all possible purposes.
WHY WE BUILT NOW PATIENT
To improve the lives of everyone by making high-quality care accessible and convenient
We are here to improve lives. Our service gives you access to smart features & resources that can help empower you to take control of your health and improve your health outcomes. All this, in one place, for FREE. We strive to bring a fresh perspective to managing health. Not play by the rules. Now Patient can be accessed by downloading the App or using your web browser.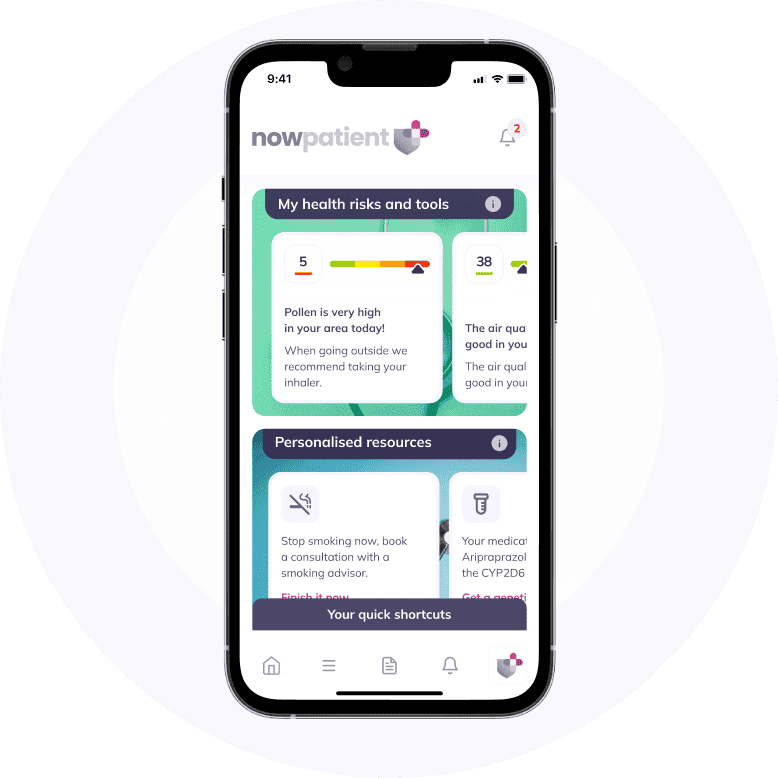 Your Questions Answered
For your peace of mind, we can answer your health questions quickly
If you want to learn more about the range of services that we provide which can help manage and improve your health, then just click the button below.
Find your answers