Stefano Mirabello
Pharmacist / B.Pharm
Everyone knows about Viagra. You pop a little blue pill, you get hard, and you can go all night. Right?
That's not exactly it.
Unfortunately, there are some misconceptions around Viagra and how it works. So, let's get to it. Here we'll explain how long Viagra lasts, what impacts its effectiveness, and we'll even answer some other frequently asked questions about Viagra.
How long does Viagra last for?
For most men with erectile dysfunction (ED), the effects of Viagra last for up to five hours.
This doesn't mean you'll have an erection for five hours though, that would be bad for your health. Viagra doesn't make your erections last longer, but it should make it easier for you to get an erection in this five-hour period (if you have erectile dysfunction). You may even be able to get more than one erection in this time.
But remember, this is an average. How long Viagra lasts for you can depend on a range of factors like the dose you take and how you respond to the meds. We'll look at some of these factors in more detail:
what can affect how long Viagra lasts for?
How long Viagra lasts will vary between men, and it will even vary for the same man on different occasions. It can be affected by:
The dose you take. Viagra comes in three strengths, 25 mg, 50 mg, and 100 mg. Whilst Viagra may last longer for you if you take a higher dose, this won't be suitable for everyone. Higher doses can increase the risk of side effects, including the more serious ones. Viagra is a prescription medication. This means that you should always take the dose as directed by the doctor who prescribes it to you. Talk to the doctor if you think your dose isn't right
Specific health conditions. Some health conditions can make Viagra less effective and stop it from working for as long as it should. These include health conditions that impede your blood flow like diabetes and heart disease, those that interfere with your nervous systems such as multiple sclerosis, or conditions that disrupt your hormones like an overactive or underactive thyroid gland
Your general health. Keeping your weight down, exercising regularly, getting enough sleep, eating a balanced diet, not smoking, avoiding recreational drugs, and limiting how much alcohol you drink can all make it easier to get and maintain an erection. If you can get erections more easily, you may find Viagra lasts longer for you. Learn more about general health and your erections (link to Erections 101: How to Get Stronger Erections)
Medications. Some drugs can interact with Viagra and change how it affects you. Medications like nitrates, taken for angina, Ritonavir for HIV/AIDS, and CYP3A4 inhibitors taken for a range of conditions, can dramatically enhance the effects of Viagra. This isn't good. These drugs can increase the risk of Viagra side effects, including the more serious ones. You should never try and take another medication to alter how Viagra works, and you should let your doctor know about all the medications and supplements you take
Your age. As you age, your metabolism can slow down. Viagra may last longer as your body metabolizes it more slowly, particularly once you're over the age of 65
Your mental state. Viagra may not work as well and last as long if you're anxious, depressed, or otherwise emotionally off-balance
What you've eaten and drunk. If you take Viagra with a heavy meal, especially with foods high in fat, it can slow down how fast you absorb it. This can delay the effects of Viagra and may make it last for longer. Alcohol may have the opposite effect. It can make it harder to get an erection and may stop Viagra from working for as long
Your response to Viagra. Everyone reacts to medications differently. In addition to the above, your genetics and other aspects of your biology can influence how you respond to Viagra. You may find it works for longer than five hours for you, or for less than five hours
How long does it take for Viagra to work?
On average, Viagra takes between 30 to 60 minutes to start working. It can take up to two hours for some men though, and even longer for others.
Viagra won't give you an automatic erection after you take it. You need to be in the mood for sex, and you'll probably need to be stimulated. Viagra just makes it easier for you to get an erection.
Again though, this time frame is an average. This will vary by man. It's important to note that the above-mentioned factors that alter how long Viagra lasts can also change how quickly it works.
How can you make Viagra last for longer?
It's not a good idea to try and alter how prescription drugs work.
Viagra is a safe medication for most people, but it can have side effects. Trying to prolong how long Viagra works for may increase your risk of side effects, including some of the more serious ones.
You should take Viagra exactly as the prescribing doctor directed you to. If you feel it's not working long enough as you'd like, you can discuss changing your dose with a doctor. Never change your dose yourself, say by taking more than one pill. Talk to a doctor first.
How long do other ED medications last?
We've focused on Viagra here, but other ED medications are also available, like Cialis and Levitra.
Levitra is similar to Viagra, in that it takes around 30 minutes to work, and lasts on average for up to five hours.
Cialis is a little different. A single-dose Cialis pill takes longer to work, around two hours, but lasts much longer up to 36 hours. You can also take a low-strength daily Cialis pill that lasts all day.
ED medication FAQs
Does Viagra make you last longer?
No. There's no evidence that Viagra can make your erections last longer. Viagra is an ED medication that helps you get an erection if you have ED. Viagra can reduce the time it takes you to get an erection again (your refractory period), and you may be able to get more than one erection after taking Viagra. It won't otherwise improve your sexual performance, however.
How should I take Viagra for best results?
For best results, take your Viagra between 30 minutes and four hours before you plan to have sex. Don't take it with alcohol, as alcohol can make it harder to get an erection. You can take Viagra with food, but if you eat a large, high-fat meal, it can take longer to work. After you've taken Viagra, you need to get sexually stimulated for it to work. Do whatever you need to do to make that happen.
How much Viagra should I take the first time?
You should take the exact dose you were prescribed. The typical starting dose for Viagra is one 50 mg pill, but you may be prescribed more (100 mg) or less (25 mg) than this. Never take more Viagra than you were prescribed.
How long does Levitra last?
Levitra has similar timings to Viagra. Levitra takes around 30 minutes to work and can last up to five hours. Remember, these are average times, and they will vary by man.
How long does Cialis last?
If you take a single-use Cialis pill, it can take around two hours to work, and can last up to 36 hours. You can also take a low-strength daily Cialis pill that lasts around 24 hours.
Order an ED medication from Now Patient
If you have ED and you're interested in trying an ED medication, you can order them directly Now Patient. You can order:
Sildenafil (Viagra)
Vardenafil (Levitra)
Tadalafil (Cialis)
Start your online consultation and enter your medical history and symptoms. If approved, you'll receive a treatment plan from our doctors within two hours. Your medication will then be shipped for free to your door.
About Now Patient
Now Patient's online services are available in the US and UK. We help you manage your prescriptions, doctor appointments, test results, health risks, and a lot more, all in one place for FREE. If you are in the United States, you could enjoy savings using Now Patient's mail-order pharmacy or use the Now Patient Rx Advantage Card at over 65,000 pharmacies, with savings of up to 90% on popular FDA-approved brand and generic medications like Ozempic, Mounjaro, clopidogrel and lots more. We do not currently handle commercial insurance, Medicare or Medicaid. UK NHS and private prescriptions are delivered FREE of charge across England & Wales by our UK NHS online pharmacy.
Sources
Disclaimer
Now Patient has taken all reasonable steps to ensure that all material is factually accurate, complete, and current. However, the knowledge and experience of a qualified healthcare professional should always be sought after instead of using the information in this page. Before taking any drug, you should always speak to your doctor or another qualified healthcare provider.
The information provided here about medications is subject to change and is not meant to include all uses, precautions, warnings, directions, drug interactions, allergic reactions, or negative effects. The absence of warnings or other information for a particular medication does not imply that the medication or medication combination is appropriate for all patients or for all possible purposes.
WHY WE BUILT NOW PATIENT
To improve the lives of everyone by making high-quality care accessible and convenient
We are here to improve lives. Our service gives you access to smart features & resources that can help empower you to take control of your health and improve your health outcomes. All this, in one place, for FREE. We strive to bring a fresh perspective to managing health. Not play by the rules. Now Patient can be accessed by downloading the App or using your web browser.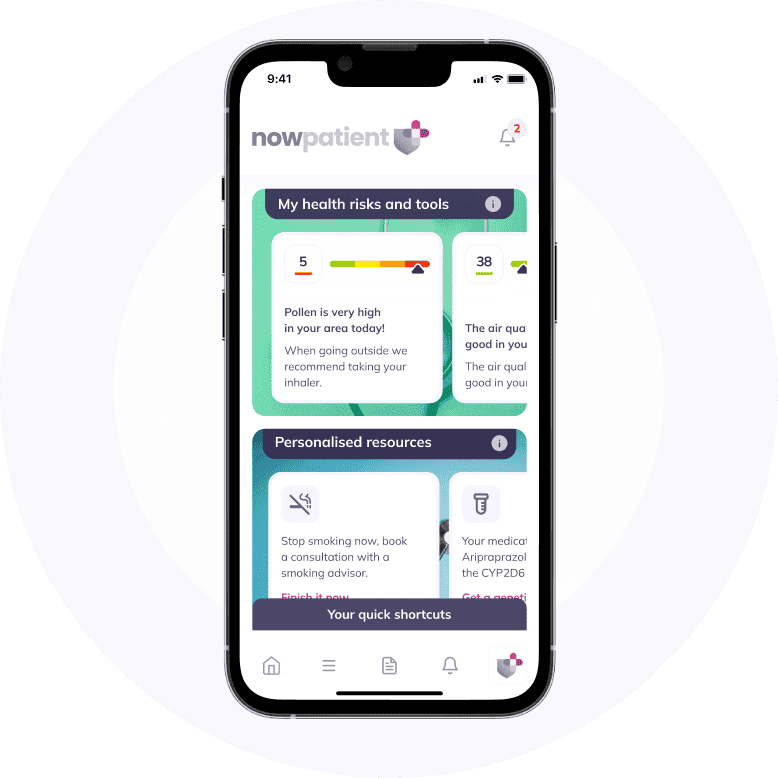 Your Questions Answered
For your peace of mind, we can answer your health questions quickly
If you want to learn more about the range of services that we provide which can help manage and improve your health, then just click the button below.
Find your answers