Stefano Mirabello
Pharmacist / B.Pharm
You've heard of Viagra, right? Everyone has. It's one of the most famous and successful prescription drugs ever made. And there's a reason for that. Because it works.
Viagra is a safe and effective treatment for erectile dysfunction. But like all medications, Viagra can cause side effects. Here we explain what those side effects are and what you can do to prevent them.
What are the side effects of Viagra?
Viagra (also available as the generic drug sildenafil) is a prescription treatment for erectile dysfunction (ED). It works by improving the flow of blood to and in your penis. This helps it to get and stay erect. But it isn't without its side effects.
Common Viagra side effects
Most people who take Viagra don't experience any side effects at all. Or if they do they're only mild. Around 1 in 10 people (10%) who take Viagra experience:
Headaches
A blocked nose
Sickness (nausea)
Dizziness
Indigestion
Facial flushing
Hot flushes (sudden feeling of heat in the face and chest)
Effects on the eyes including blurred vision and blue color tinge to vision
These side effects usually pass quickly after you've taken Viagra and they typically don't stop people from using Viagra.
Less common Viagra side effects
Around 1 in 100 people (1%) who take Viagra experience:
Being sick (vomiting)
A stomach ache
Acid reflux/heartburn
A pounding heartbeat or rapid heartbeat
Muscle pain
Skin rashes
A reduced sense of touch
Ringing in the ears
Presence of blood in the urine
Pain in the arms or legs
Nosebleeds
Feeling tired and sleepy
Feeling hot
Effects on the eyes including irritation, bloodshot and red eyes, eye pain, seeing flashes of light, increases in brightness, light sensitivity, and watery eyes
As with the common side effects of Viagra, these less common side effects are short-lasting and usually disappear within a few hours of you taking Viagra.
Rare Viagra side effects
Around 1 in 1,000 people (0.1%) who take Viagra experience:
Fainting
Seizures
Strokes
A long-lasting erection (over four hours) that can damage your penis (priapism)
Penile bleeding and presence of blood in semen
Irregular heartbeat
Passing memory loss
A sudden decrease or loss of hearing
Effects on the eyes including double vision, abnormal sensations in the eye, bleeding at the back of the eye, reduced sharpness of vision, and swelling of the eye or eyelid. You might also experience small particles or spots in your vision, seeing halos around lights, and inflammation of the eyes
How to get rid of Viagra side effects
Most of the side effects caused by Viagra are short-lasting and will disappear after a few hours of taking it. If you're experiencing unpleasant side effects that aren't medically serious your best course of action is to lie down and rest it off. Drinking water can help. If you're experiencing side effects that affect your vision it may help to lie in darkness or low light.
If you've taken Viagra and you're experiencing medically serious side effects, don't try and deal with it yourself. Call an ambulance or get someone to drive you to the nearest ER.
How to prevent Viagra side effects
Reducing your chances of side effects can help you get the most out of Viagra. You can do the following to keep any side effects to a minimum:
Take your Viagra exactly as prescribed: Your doctor chose the dose of Viagra they think is best for you. If you take your Viagra exactly as they described then you minimize your chances of side effects
Don't drink alcohol whilst taking Viagra: Alcohol can make some side effects of Viagra worse, such as dizziness and sickness. For the best results don't drink alcohol when you take Viagra
Don't take Viagra with certain medications: Medications like nitrates, nitric oxide donors (including the inhaled recreational drug poppers), and riociguat can interact with Viagra and make some side effects more likely. Make sure you don't take any of these with Viagra
Take Viagra with food: Food (particularly fatty food) can slow down how quickly Viagra is absorbed. Taking Viagra with a meal means you may have to wait a little longer for it to take effect but you may experience fewer or milder side effects too
Can Viagra be harmful?
Viagra is a safe and effective treatment for erectile dysfunction for most men. Like all medications, it can cause side effects but they are usually mild and short-lasting. Viagra can cause serious side effects that result in lasting harm including strokes and heart attacks but these are rare.
Who should not take Viagra?
Viagra isn't suitable for everyone. You should only take Viagra if you're an adult man with erectile dysfunction. You shouldn't take Viagra if:
You have ever had an allergic reaction to Viagra
You have severe heart or liver problems
You have low blood pressure
You have ever had a stroke or heart attack
You have an eye disease or any vision loss
You also can't take Viagra if you're taking a nitric oxide donor medication, an angina medicine called a nitrate, or a drug called riociguat.
Is heartburn a side effect of Viagra?
Heartburn or indigestion is a reasonably common side effect of Viagra that affects around one in 10 men who take it. It usually passes within an hour or two of taking Viagra.
Can you take two Viagra pills at once?
No, don't take more than one Viagra pill at a time. Always take the dose of Viagra you were told to take by the person who prescribed it to you. Taking more Viagra increases your risk of side effects including more serious side effects. If you think your prescribed dose of Viagra is too low don't change it yourself. Talk to your doctor first.
What happens if you take Viagra and you don't need it?
Viagra has been designed and tested to treat erectile dysfunction (ED). This is the only reason you should take Viagra. Despite what you might have heard Viagra doesn't make you last longer or otherwise improve your sexual performance. If you take Viagra and you don't have ED you'll experience no benefits. But you will put yourself at risk of side effects.
Are there alternatives to Viagra?
Viagra is the most famous prescription ED medication, but there are alternatives available such as:
Cialis (tadalafil)
Levitra (vardenafil)
Viagra, Cialis, and Levitra work in a similar way but they contain different active ingredients. You may find you get better results with one over the others.
About Now Patient
Now Patient's online services are available in the US and UK. We help you manage your prescriptions, doctor appointments, test results, health risks and a lot more, all in one place for FREE. US prescriptions are available on a discounted 'cash' basis and delivered across all 50 states by our network of pharmacy providers dispensing FDA-approved generic and branded medications. We do not currently handle commercial insurance, Medicare or Medicaid. UK NHS and private prescriptions are delivered FREE of charge across England & Wales by our UK regulated online pharmacy.
Sources
Disclaimer
Now Patient has taken all reasonable steps to ensure that all material is factually accurate, complete, and current. However, the knowledge and experience of a qualified healthcare professional should always be sought after instead of using the information in this page. Before taking any drug, you should always speak to your doctor or another qualified healthcare provider.
The information provided here about medications is subject to change and is not meant to include all uses, precautions, warnings, directions, drug interactions, allergic reactions, or negative effects. The absence of warnings or other information for a particular medication does not imply that the medication or medication combination is appropriate for all patients or for all possible purposes.
WHY WE BUILT NOW PATIENT
To improve the lives of everyone by making high-quality care accessible and convenient
As technologists and clinicians, we built Now Patient to be more than just an online pharmacy. We are here to improve lives. Our service gives you access to smart features & resources that can help empower you to take control of your health and improve your health outcomes. All this, in one place, for FREE. We strive to bring a fresh perspective to managing health. Not play by the rules. Now Patient can be accessed by downloading the App or using your web browser.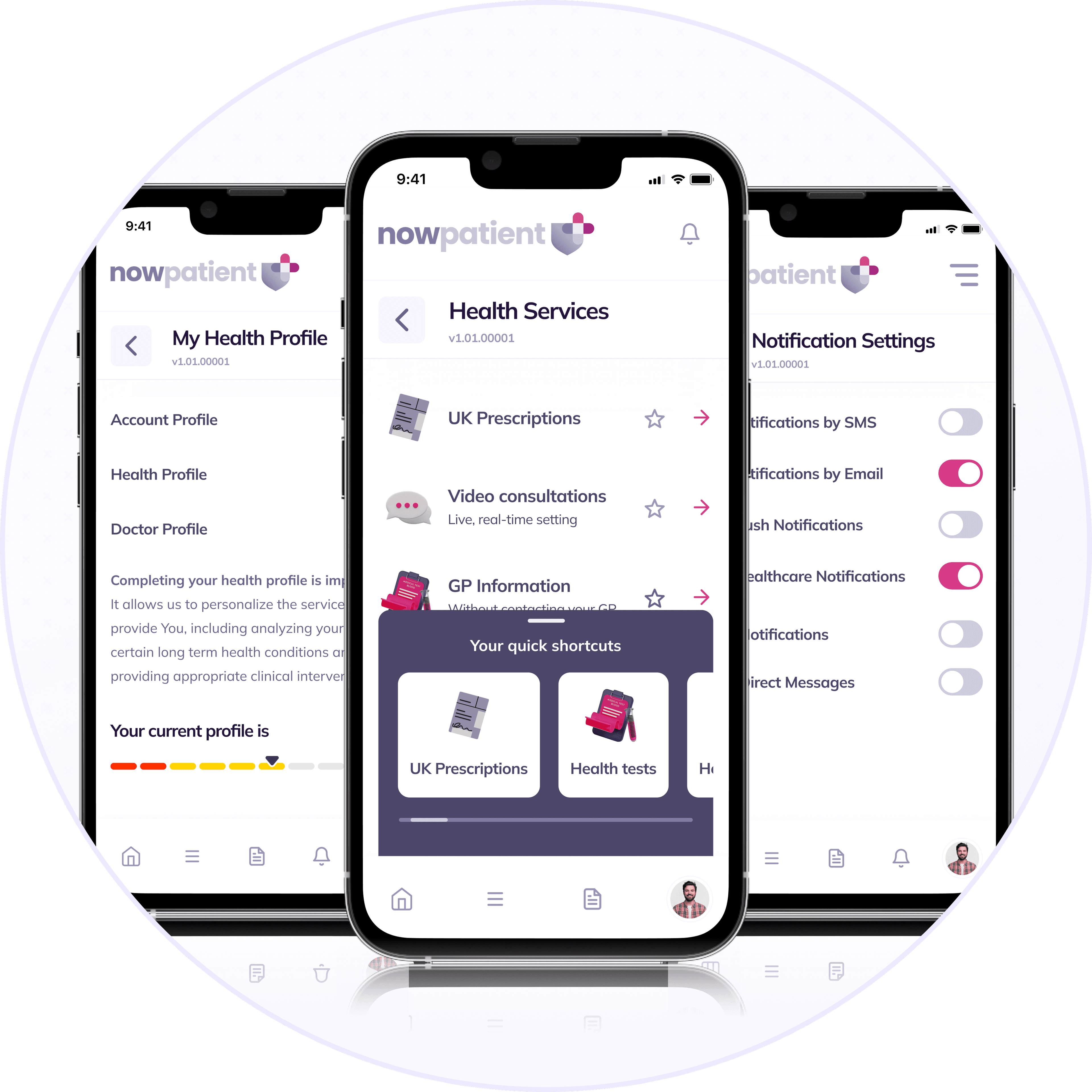 NOW PATIENT
Join the thousands of happy customers in the US and UK already using Now Patient
Manage your health and prescriptions all in one place for FREE. Available to use by downloading the App, or using your web browser.
Your Questions Answered
For your peace of mind, we can answer your health questions quickly
If you want to learn more about the range of services that we provide which can help manage and improve your health, then just click the button below.
Find your answers