Stefano Mirabello
Pharmacist / B.Pharm
Priapism is the medical name for a long-lasting erection. That might sound like a good problem, but trust us, it's not. Priapism is often painful and it can damage your penis. That damage can even give you erectile dysfunction (ED). So definitely not one of those good problems.
If priapism happens to you, you need to seek urgent medical treatment to stop or limit any tissue damage happening. You should make sure you know the symptoms of priapism, what causes it and what to do about it.
Priapism symptoms
The main symptoms of priapism are:
An erection that lasts for more than 4 hours
An erection that isn't associated with sex
Progressively worse pain in your penis
Priapism can also be divided into two types depending on your erection:
Ischaemic priapism, also called low-flow priapism, is when you're erect, and your penis is fully rigid. Around 95% of cases of priapism are ischaemic priapism
Nonischaemic priapism, also called high-flow priapism, is when you're erect, but not fully rigid. It's usually less painful too
There's also a type of priapism called stuttering priapism or intermittent priapism. It's usually a form of ischaemic priapism. With stuttering priapism you get repeated episodes of priapism. At first you may get unwanted painful erections that last for shorter periods, perhaps only a few minutes. These episodes may increase in frequency and duration though until you have full-on priapism.
Priapism causes
So, what causes priapism? You get an erection when your penis fills with blood. When you get aroused signals from your brain and nerves trigger a cascade of events. This causes the flow of blood to your penis to increase and the arteries and spongy tissues to relax and fill with blood. At the same time valves close on the blood vessels that carry blood out of your penis. This traps blood in your penis, making it swell and harden.
You get priapism when too much blood stays in your penis. It can happen for a range of reasons. Here we'll divide them up by ischaemic and nonischaemic priapism.
Causes of Ischaemic Priapism
With ischaemic (low-flow) priapism the valves that trap blood in your penis don't open up when they're supposed to. Usually, when the sex or masturbation has finished the values open up, the excess blood flows out of your penis and your erection subsides. If this doesn't happen your erection doesn't subside, even though the stimulation has stopped.
Ischaemic (low-flow) priapism can be caused by medical conditions, prescription medications, recreational drugs and even venom. Here are some of the most common culprits:
Medical conditions that could cause priapism
Blood disorders, like leukaemia, multiple myeloma, and sickle cell anaemia (around 42% of men with sickle cell anaemia experience priapism)
Neurological disorders, particularly ones caused by spinal cord injuries
Metabolic disorders, like amyloidosis and gout
Prescription drugs that can cause priapism
Antidepressants, including fluoxetine, bupropion, and sertraline
ADHD medications, like methylphenidate and atomoxetine
Anti-anxiety and anti-psychosis medications, like clozapine, chlorpromazine, hydroxyzine, olanzapine, lithium, and thioridazine
Alpha-blockers, including prazosin, terazosin, and doxazosin
Anticoagulants, like heparin and warfarin
Hormone therapies, like testosterone and gonadotropin-releasing hormones
Erectile dysfunction medications based on phosphodiesterase type 5 inhibitors, like sildenafil and tadalafil
Recreational drugs
Illegal drugs, like cocaine and marijuana
Alcohol
Venom
Venom, poisons, or other toxic infections, including spider bites and scorpion stings
Causes of Nonischaemic Priapism
Nonischaemic (high-flow) priapism can happen when your blood flow isn't regulated properly. This means that blood isn't trapped in the penis, but more may flow into it than flows out. It's caused most often when an injury around your penis, testicles, perineum or anus damages an artery and stops blood flowing normally.
Can Priapism cause ED?
Yes, unfortunately priapism can cause erectile dysfunction.
The cells in your body need oxygen to function. Blood is the way your body delivers oxygen to your cells. If blood stays in your penis for too long all the oxygen it contains can be used up. Your cells then start to become oxygen deprived, leading to cell death, tissue damage and even scaring inside your penis. This damage and scaring can harm your ability to get and stay hard (erectile dysfunction).
This is most likely to happen with ischaemic (low-flow) priapism.
Should you avoid ed medications?
Whilst PDE5 inhibitors like Viagra (sildenafil), Cialis (tadalafil), and Levitra (vardenafil), can cause priapism, this is a very rare side effect. Most men never experience it.
The key thing you need to know is that you don't need to avoid these medications unless you have a condition that makes priapism more likely. If you do have a condition that makes it more likely, talk to your doctor about taking PDE5 inhibitor ED medications.
Can you die from Priapism?
Most people recover fully from priapism if it's treated quickly enough. Priapism can cause lasting tissue damage to your penis though and it could potentially cause a blood clot that could lead to gangrene of the penis. In extremely rare cases the clot could travel to another area of your body and cause damage, but death is very very unlikely.
How to treat Priapism?
The goal here is to make your erection subside before any lasting damage occurs. Most people recover well from priapism if it's treated quickly.
How do you treat Priapism at home?
Priapism can sometimes get better on its own within a couple of hours. There are a number of things you can try at home to ease the pain and reduce your erection:
Try urinating
Have a warm bath or shower
Drink lots of water
Try gentle exercises such as walking or running on the spot
Take painkillers like paracetamol to help relieve pain
If your priapism lasts for more than two hours you should seek urgent medical attention.
Medical Priapism treatments
Once you're in front of a doctor they have a number of options to treat you:
Removing blood from your penis – a doctor may numb your penis, then remove blood with a syringe
Medications – a doctor may give you an alpha-agonist medication as a pill or an injection into your penis. This causes the blood vessels that carry blood into your penis to narrow, and the ones carrying blood out of your penis to expand
A surgical shunt – a surgeon may cut an opening into your penis to help blood drain. This can be effective, but it can lead to ED too
Blocking or tying off an artery – if you have nonischaemic priapism caused by a damaged artery, a surgeon can block the artery or tie it off
Priapism can be very serious. If you think you have it, make sure you seek medical attention.
About Now Patient
Now Patient's online services are available in the US and UK. We help you manage your prescriptions, doctor appointments, test results, health risks, and a lot more, all in one place for FREE. If you are in the United States, you could enjoy savings using Now Patient's mail-order pharmacy or use the Now Patient Rx Advantage Card at over 65,000 pharmacies, with savings of up to 90% on popular FDA-approved brand and generic medications like Ozempic, Mounjaro, clopidogrel and lots more. We do not currently handle commercial insurance, Medicare or Medicaid. UK NHS and private prescriptions are delivered FREE of charge across England & Wales by our UK NHS online pharmacy.
Sources
Disclaimer
Now Patient has taken all reasonable steps to ensure that all material is factually accurate, complete, and current. However, the knowledge and experience of a qualified healthcare professional should always be sought after instead of using the information in this page. Before taking any drug, you should always speak to your doctor or another qualified healthcare provider.
The information provided here about medications is subject to change and is not meant to include all uses, precautions, warnings, directions, drug interactions, allergic reactions, or negative effects. The absence of warnings or other information for a particular medication does not imply that the medication or medication combination is appropriate for all patients or for all possible purposes.
WHY WE BUILT NOW PATIENT
To improve the lives of everyone by making high-quality care accessible and convenient
We are here to improve lives. Our service gives you access to smart features & resources that can help empower you to take control of your health and improve your health outcomes. All this, in one place, for FREE. We strive to bring a fresh perspective to managing health. Not play by the rules. Now Patient can be accessed by downloading the App or using your web browser.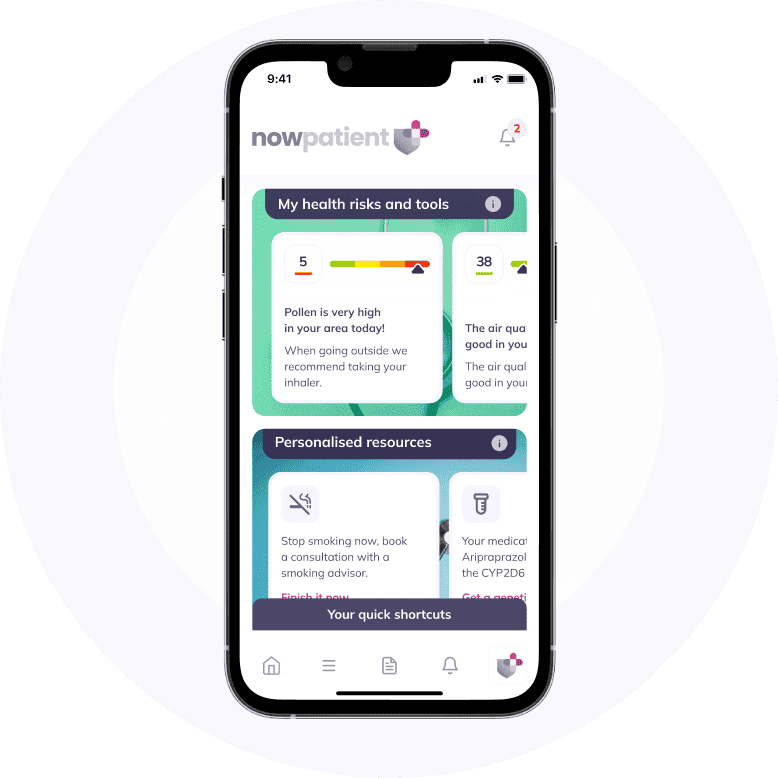 Your Questions Answered
For your peace of mind, we can answer your health questions quickly
If you want to learn more about the range of services that we provide which can help manage and improve your health, then just click the button below.
Find your answers