/
Blog
/
Sildenafil vs viagra: What's the difference?
Sildenafil vs viagra: What's the difference?
30 Jun 2023

Stefano Mirabello
Pharmacist / B.Pharm
Viagra is the best-known erectile dysfunction (ED) medication on the market. It's probably one of the best-known medications of all time. Everyone knows what it is and what it does.
But it's not alone. You may have heard of an ED med called sildenafil mentioned alongside Viagra.
So, what's the deal? Are they the same medication?
Sildenafil is a copy of Viagra. It's basically the exact same product. Technically, sildenafil is a generic version of Viagra. We'll explain…
Medications can have two names. A scientific one, and a brand name. The scientific name is the name of the active ingredient in the medication, which is the substance that gives the medication its effect. The brand name is the name the company that makes the medication chooses to give it.
With Viagra, its scientific name is sildenafil citrate. Viagra is the brand name given to the medication by Pfizer, the pharmaceutical company that developed and first sold it. You've got to admit, Viagra does sound better, and is more memorable, than sildenafil citrate.
So if sildenafil citrate is the scientific name for Viagra, why can you buy a pill called sildenafil? This is because sildenafil is a non-branded version of Viagra. It's the same active ingredient as Viagra and is essentially the same product, but it doesn't have a brand name, so it's just called sildenafil.
In the simplest terms, sildenafil is a generic copy of Viagra, sometimes called 'generic Viagra'.
What is a generic medication?
A generic medication is a legal copy of a branded medication. They have the same active ingredient as the branded version. Both meds have the same effect and the same side effects and come in identical strengths and doses (25 mg, 50 mg, and 100 mg in the case of Viagra and sildenafil). And you guessed it, you take them in the same way too.
Basically sildenafil is effectively identical to Viagra. Except it usually costs a lot less.
Why is sildenafil so much cheaper than viagra?
The reason for this is because the companies that make sildenafil simply copied a drug that already exists. Whilst Pfizer (the company that developed Viagra) had to invest a huge amount of time and money to first bring it to the market.
Medications can take many years and cost billions to develop. Pharmaceutical companies have to invest in research, in clinical trials, and in marketing and advertising. This pushes the price of their product up, as they have to recoup this investment. But companies that make the generic versions don't have these costs, so they can afford to charge a lower price.
Also, some people are simply willing to pay a higher price for branded products than generic ones.
How are generic medications legal?
It doesn't sound legal, does it? Pfizer spends all that time and money to make Viagra, then other companies can make copies of it and sell them at a lower price.
But it is completely legal, although the process is not quite as simple as that.
When a pharmaceutical company first makes a new drug, they can apply for a patent in the countries they sell it in. This patent is like a license to sell the drug for a number of years, and only the original manufacturer has it. This means the pharmaceutical company has a certain amount of time in which they're the only company that can sell the medication.
Pfizer had a patent to sell Viagra in the UK from 1998 to June 2013. They had 15 years of exclusivity to make as much money as they could from Viagra. After the patent has expired, other companies are then allowed to sell generic versions of the medication, to increase competition. This gives consumers more options, particularly cheaper options.
Viagra vs Sildenafil – how are they the same?
As sildenafil is generic Viagra, the same medication but without a brand name, the two are identical in most ways. They have the same:
Active ingredient (sildenafil citrate)
Effect on your body
Efficacy (they work at the same speed and last the same amount of time)
Side effects
Strength (a 50 mg Viagra pill has the same amount of active ingredient as a 50 mg sildenafil pill)
Dosages (25 mg, 50 mg, 100 mg)
Pack sizes (same number of pills)
Are there any differences between Viagra and Sildenafil?
Although they're identical in most ways there are a few differences between Viagra and sildenafil, like:
Price – sildenafil is considerably cheaper than Viagra
Inactive ingredients – the film that coats the tablets has some different ingredients, although these are to do with the colour of the tablets, rather than how the tablets work
The colour of the pills
The branding on the pills and packaging
Is Sildenafil as good as Viagra?
Some people prefer generic medications, as they have the same effect, but for a lower price. Others prefer branded medications, as they think they work better than generic medications. This is actually down to the placebo effect though, not a genuine difference between the drugs.
If you have ED and you're interested in trying an ED medication, you can order them directly FROM MARS. You can order:
Sildenafil (Viagra)
Vardenafil (Levitra)
Tadalafil (Cialis)
Simply begin with our online consultation and enter your medical history and symptoms. If approved, you'll receive a treatment plan from our doctors within two hours. Your medication will be shipped for free to your door the next day.
About Now Patient
Now Patient's online services are available in the US and UK. We help you manage your prescriptions, doctor appointments, test results, health risks, and a lot more, all in one place for FREE. If you are in the United States, you could enjoy savings using Now Patient's mail-order pharmacy or use the Now Patient Rx Advantage Card at over 65,000 pharmacies, with savings of up to 90% on popular FDA-approved brand and generic medications like Ozempic, Mounjaro, clopidogrel and lots more. We do not currently handle commercial insurance, Medicare or Medicaid. UK NHS and private prescriptions are delivered FREE of charge across England & Wales by our UK NHS online pharmacy.
Sources
Disclaimer
Now Patient has taken all reasonable steps to ensure that all material is factually accurate, complete, and current. However, the knowledge and experience of a qualified healthcare professional should always be sought after instead of using the information in this page. Before taking any drug, you should always speak to your doctor or another qualified healthcare provider.
The information provided here about medications is subject to change and is not meant to include all uses, precautions, warnings, directions, drug interactions, allergic reactions, or negative effects. The absence of warnings or other information for a particular medication does not imply that the medication or medication combination is appropriate for all patients or for all possible purposes.
WHY WE BUILT NOW PATIENT
To improve the lives of everyone by making high-quality care accessible and convenient
We are here to improve lives. Our service gives you access to smart features & resources that can help empower you to take control of your health and improve your health outcomes. All this, in one place, for FREE. We strive to bring a fresh perspective to managing health. Not play by the rules. Now Patient can be accessed by downloading the App or using your web browser.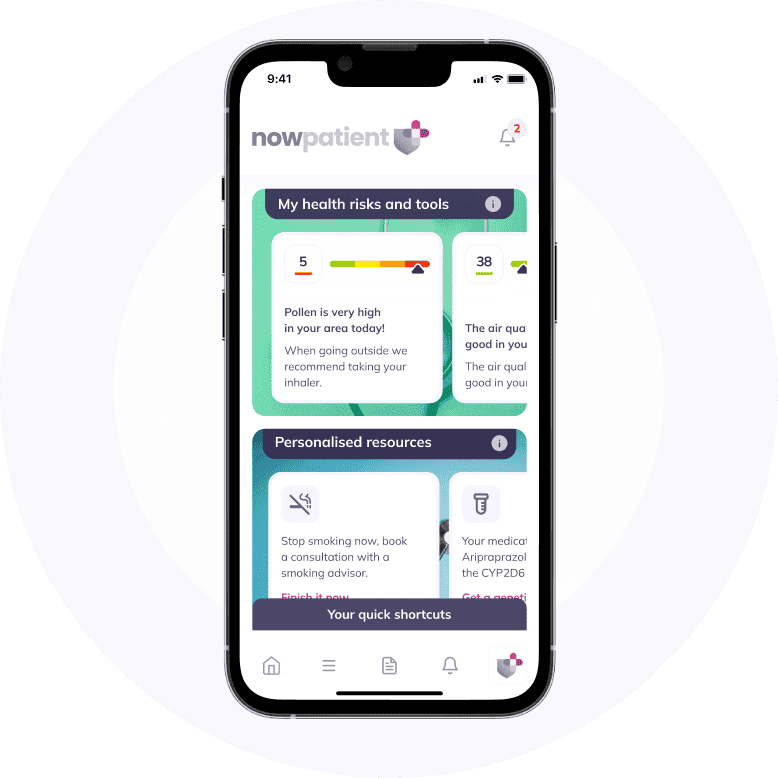 Your Questions Answered
For your peace of mind, we can answer your health questions quickly
If you want to learn more about the range of services that we provide which can help manage and improve your health, then just click the button below.
Find your answers