Stefano Mirabello
Pharmacist / B.Pharm
So you've got ED. You're thinking of taking sildenafil or maybe you're already taking it. It's really important that you understand your dosage options.
Taking the right dose for you can improve your results and minimize your chances of side effects. That's the thing, everybody is different – it's about getting the right dose for you.
You've probably thought about increasing your dose to get what you think are better results – we know, you want to last longer too. However, you shouldn't change your dose yourself. You should always listen to the medical professional that prescribes it to you and take your dose as they direct.
Here we'll tell you why.
What doses does sildenafil come in?
Sildenafil pills come in three doses, 25 mg, 50 mg and 100 mg. The mg stands for milligrams (one thousandth of a gram) and is the amount of active ingredient (sildenafil citrate) in the pill. So, a 25 mg sildenafil pill has a sildenafil citrate dosage of 25 mg.
Does Viagra come in different dosages?
Viagra has the same active ingredient as sildenafil, meaning it works in the same way. Viagra has the same dosage options as sildenafil, which contains the same amount of the active ingredient. As above, a 25 mg Viagra pill contains a sildenafil citrate dosage of 25 mg.
Do the different doses have different effects?
How you react to different doses will depend on factors including your physical condition, what other medications you're taking, your lifestyle and how your unique biology reacts to the drug.
But generally speaking, stronger doses of sildenafil will increase your chances of getting and maintaining an erection. A stronger dose won't give you a longer-lasting erection or otherwise enhance your sexual performance, it just improves your chances of overcoming ED.
But stronger doses also increase your chances of side effects. These tend to be mild and short-lasting, but they can be more serious.
This means finding the right dose of sildenafil for you is a balancing act. You want a dose that works for your erections and that doesn't give you any side effects that you can't tolerate.
What are the side effects?
Most men who take sildenafil don't experience side effects or if they do they are relatively mild and short-lasting. The most common side effects of sildenafil include headaches, hot flushes, indigestion, a blocked nose, blurred vision and color changes to your vision, like a blue tint.
In rarer cases, sildenafil can cause more serious side effects. These include a sudden loss of vision, severe skin reactions, and priapism (a long-lasting erection that can cause damage to your penis). You'll minimize your chances of side effects if you take sildenafil as prescribed. Talk to our doctors if you're worried about side effects.
Do you take the different doses in the same way?
Yes, you always take the meds in the same way, no matter what strength of sildenafil you've been prescribed. You swallow the pill between 30 minutes to one hour before you plan to have sex.
How much sildenafil should you take?
The right dose of sildenafil will depend on your medical history, if you have certain health conditions and if you take certain other medications. You don't get to pick your dose either, this will be decided upon by the doctor who prescribes sildenafil to you according to your history.
The usual starting dose for sildenafil is 50 mg. This strength is effective for most men and usually has a low risk of side effects. Depending on your situation the doctor could decide to start you on a lower dose (25 mg) or a higher dose (100 mg).
If you try a 50 mg dose and it helps with your erections but you experience off-putting side effects your doctor may lower your dose to 25 mg. This dose may still have the desired effect on your erections but may lessen your side effects.
Is it ok to take 100 mg of sildenafil?
If you tried a 50 mg pill but it didn't help with your erections and give you off-putting side effects, then your doctor may increase your dose to 100 mg. This may help you overcome ED and hopefully won't give you side effects that you can't tolerate. Only take 100 mg if you are directed to do so.
Can you change your sildenafil dosage yourself?
No. Never take more sildenafil than you were prescribed. If you want to try a different dose, talk to our doctors. They can assess your situation and change your prescription if they deem it suitable.
We get how tempting it might be to increase your dose yourself if you've taken sildenafil and it did not work as well as you wanted. However, this increases your chances of experiencing side effects, including the more serious ones. You don't know if it's right for your body.
If it's the first time you've taken sildenafil then you should wait 24 hours and try taking it again. Medications don't always work every time. They can be affected by a huge range of things, like your mental state, what you've drank and eaten and how stressful your day's been. If you try sildenafil again you may get better results.
There are actions you can take to help you get the best out of sildenafil too.
How to get the most out of sildenafil?
Try these to maximize your chances of getting and maintain a lasting erection after taking sildenafil:
Take the meds in advance and be patient
Sildenafil takes time to work. The pill should be taken between 30 to 60 minutes before you want to have sex. It can take longer to work though, sometimes up to four hours. You may have to be patient. Don't give up if your pill hasn't worked after an hour.
Make sure you're turned on
Sildenafil won't give you an automatic erection. It helps improve your chances of getting an erection when you're turned on and in the mood for sex. Do whatever you need to do to get turned on after you've taken your dose.
Take it on an empty stomach
A heavy meal, particularly a high-fat one can slow how quickly you absorb sildenafil. They'll likely work faster if you take them on an empty stomach.
Don't drink too much alcohol
A small amount of alcohol can make it easier to get an erection. Larger amounts can make it hard to get one and counter the effects of sildenafil. You can try taking it without alcohol or with a small amount to find what works best for you.
Relax
Try and relax and enjoy yourself. If you're anxious or stressed your medication may not work as well as it could.
Make changes outside of the bedroom
If you keep your weight down, exercise, eat a varied and nutritious diet, get enough sleep, don't smoke, and limit your alcohol and drug intake, you can improve your erections. If you make positive lifestyle changes, you may find sildenafil works more effectively for you.
What to do if viagra or sildenafil doesn't work for you?
You've tried Viagra or sildenafil multiple times, your prescribed dose has changed and you've taken our advice on how to get the most out of your medication. But, it still isn't working for you. What should you do?
Firstly, you should talk to a medical professional about your options. A common next step is to try a different ED medication. There are others that work in a similar way to Viagra and sildenafil that may be more effective for you, like Levitra (vardenafil) and Cialis (tadalafil).
Order an ED medication Now Patient
If you have ED and you're interested in trying ED meds, you can order them directly FROM MARS. You can order:
Sildenafil (Viagra)
Vardenafil (Levitra)
Tadalafil (Cialis)
Start your online consultation by detailing your medical history and symptoms. If approved, you'll receive a treatment plan from our doctors within two hours and your medication will be shipped to you for free.
About Now Patient
Now Patient's online services are available in the US and UK. We help you manage your prescriptions, doctor appointments, test results, health risks and a lot more, all in one place for FREE. US prescriptions are available on a discounted 'cash' basis and delivered across all 50 states by our network of pharmacy providers dispensing FDA-approved generic and branded medications. We do not currently handle commercial insurance, Medicare or Medicaid. UK NHS and private prescriptions are delivered FREE of charge across England & Wales by our UK regulated online pharmacy.
Sources
Disclaimer
Now Patient has taken all reasonable steps to ensure that all material is factually accurate, complete, and current. However, the knowledge and experience of a qualified healthcare professional should always be sought after instead of using the information in this page. Before taking any drug, you should always speak to your doctor or another qualified healthcare provider.
The information provided here about medications is subject to change and is not meant to include all uses, precautions, warnings, directions, drug interactions, allergic reactions, or negative effects. The absence of warnings or other information for a particular medication does not imply that the medication or medication combination is appropriate for all patients or for all possible purposes.
WHY WE BUILT NOW PATIENT
To improve the lives of everyone by making high-quality care accessible and convenient
As technologists and clinicians, we built Now Patient to be more than just an online pharmacy. We are here to improve lives. Our service gives you access to smart features & resources that can help empower you to take control of your health and improve your health outcomes. All this, in one place, for FREE. We strive to bring a fresh perspective to managing health. Not play by the rules. Now Patient can be accessed by downloading the App or using your web browser.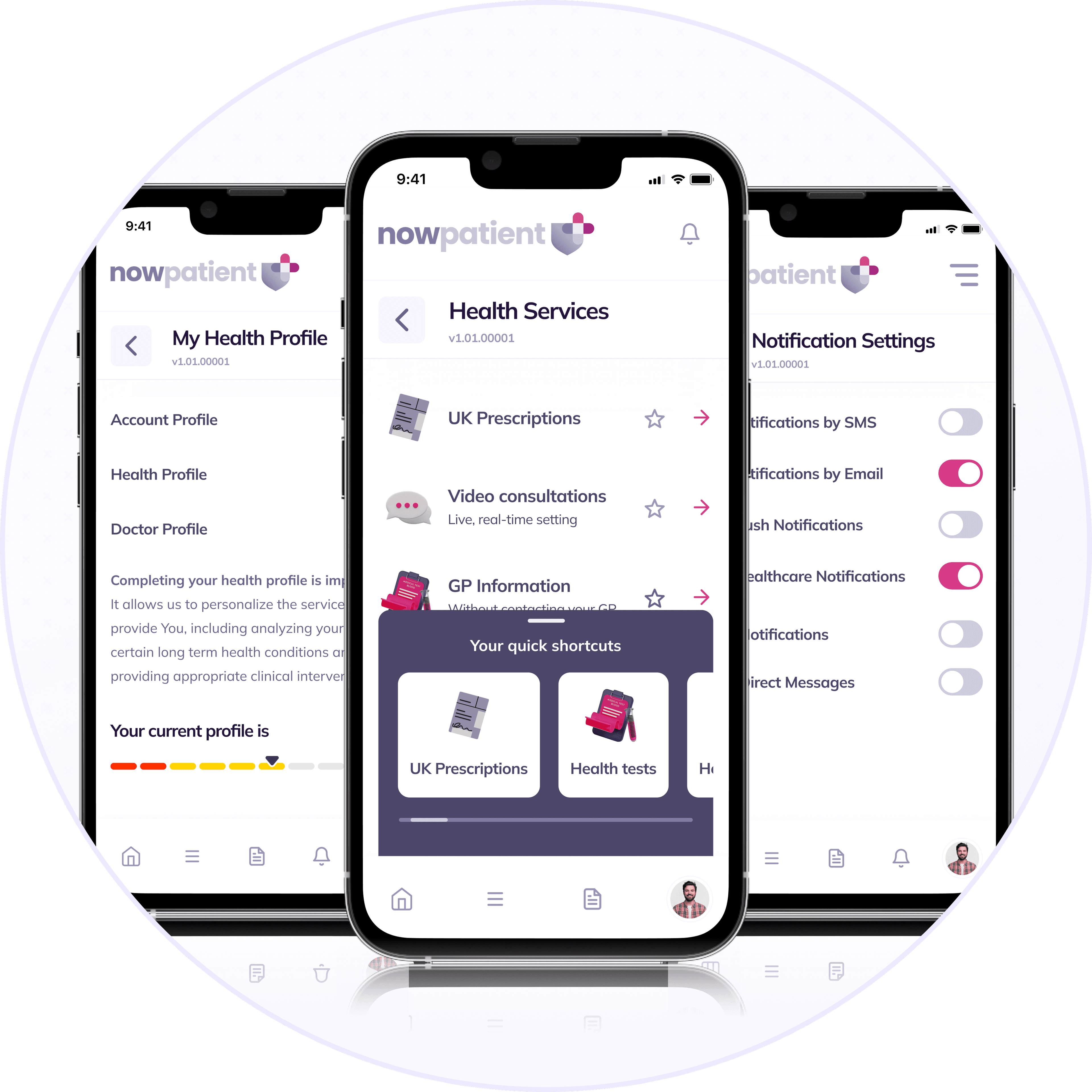 NOW PATIENT
Join the thousands of happy customers in the US and UK already using Now Patient
Manage your health and prescriptions all in one place for FREE. Available to use by downloading the App, or using your web browser.
Your Questions Answered
For your peace of mind, we can answer your health questions quickly
If you want to learn more about the range of services that we provide which can help manage and improve your health, then just click the button below.
Find your answers