/
Blog
/
What is the main cause for erectile dysfunction?
What is the main cause for erectile dysfunction?
30 Nov 2022

Stefano Mirabello
Pharmacist / B.Pharm
Erectile dysfunction (ED) is the inability to get or keep an erection firm enough for sexual intercourse. While it is often thought of as a problem that only affects older men, ED can occur at any age. It can be a sign of underlying health problems, such as heart disease or diabetes. ED can also be caused by psychological problems, such as anxiety or depression. In some cases, ED can be a side effect of certain medications. Let's take a look at some of the causes of erectile dysfunction and the treatment options available.
How does the erection process work?
The brain activates nerves in the parasympathetic nervous system as a result of some form of stimulation such as touch, sight, sound or something else. These nerves cause the muscles to relax so that blood flow into the penis greatly increases. The increased blood flow causes the penis to expand and harden, resulting in an erection. When the penis is erect it contains about eleven times more blood than when it is not erect. Once an erection has been achieved, the veins in the penis constrict, preventing blood from flowing out of the penis and maintaining the erection. With sufficient stimulation, muscles contract ejecting semen through the urethra. This is called ejaculation or orgasm.
What are the symptoms of erectile dysfunction?
There are a variety of symptoms that can be associated with ED. In some men the only symptom is difficulty getting or maintaining an erection. In other men there may also be difficulties with ejaculation or orgasm. Some men may experience a decrease in libido (sex drive) and others may have problems with pain during intercourse. If you are experiencing any of these symptoms, it is important to see your doctor for a diagnosis. ED can often be treated successfully, even if the underlying cause cannot be identified or cured.
How is erectile dysfunction diagnosed?
The diagnosis of erectile dysfunction (ED) can be a difficult and sensitive process. Many men feel embarrassed or ashamed to talk about their sexual health and as a result ED can be a hidden problem. However, it is important to remember that ED is a medical condition and like other medical conditions, it can be diagnosed by a healthcare provider. The first step in the diagnosis of ED is to take a detailed medical history. This will help to rule out any potential underlying causes of ED, such as diabetes or heart disease. Once potential underlying causes have been ruled out, a physical examination will be conducted. During the physical examination the healthcare provider will look for signs of penile damage or other problems that could contribute to ED. Finally, a series of tests may be conducted to assess blood flow and nerve function. They may also order blood tests to check for underlying health conditions. With these steps, the healthcare provider can arrive at an accurate diagnosis of ED.
What causes erectile dysfunction?
Erectile dysfunction can have a range of causes, both physical and psychological.
Physical
There are a variety of physical causes of ED, including:
Psychological
Psychological causes of ED include:
Treatment options
The good news is that there are treatments available that can help most men overcome ED. In some cases, simple lifestyle changes like exercising more and quitting smoking may be enough. For other men, oral medications, injections or implants may be necessary.
Erectile dysfunction treatment includes:
Viagra, Cialis, and vardenafil are all PDE-5 inhibitors. They work by inhibiting the enzyme PDE-5, which is responsible for the breakdown of cGMP (cyclic guanosine monophosphate). cGMP is a messenger molecule that is involved in the relaxation of smooth muscle cells. By inhibiting PDE-5, these drugs allow cGMP to build up, leading to the relaxation of smooth muscle cells and increased blood flow.
Do not take Viagra, vardenafil or Cialis if you are also taking a nitrate drug for chest pain or heart problems. This includes nitroglycerin, isosorbide dinitrate and isosorbide mononitrate. Nitrates widen the blood vessels and can cause dangerous drops in blood pressure.
Lifestyle changes
Erectile dysfunction is a common problem that can hurt both a man's quality of life and his self-esteem. While there are many potential causes of erectile dysfunction, lifestyle choices are often to blame. Making simple changes to your diet, exercise routine and sleep habits can often improve erectile function.
For example, obesity is a major risk factor for erectile dysfunction. Losing weight can help to improve blood flow and reduce inflammation throughout the body, both of which are important for maintaining normal erectile function.
Exercise is also important for improving blood flow and reducing inflammation. In addition, regular exercise can help to improve mental health and reduce stress levels, both of which can also contribute to erectile dysfunction.
Excessive drinking can also lead to erectile dysfunction by interfering with hormones and neurotransmitters that are responsible for sexual arousal. Reducing alcohol use can help.
Smoking cigarettes is another risk factor which can damage blood vessels and reduce blood flow to the penis. Reducing or stopping smoking is recommended.
Getting enough sleep is also important for maintaining normal erectile function. Sleep helps to reduce stress levels and promote healthy hormone levels, both of which are necessary for normal sexual function.
Making these lifestyle changes can be difficult, but they are often essential for improving erectile function.
Summary
In many cases, erectile dysfunction is a result of a combination of physical and psychological factors. Treatments for erectile dysfunction may include oral medications, hormone therapy, injections and surgery. The most effective treatment depends on the underlying cause of the condition. With proper treatment, medical advice from sexual health professionals and openly talking to your partner about sex and your relationship, you can still enjoy a healthy and fulfilling sex life. Always inform your healthcare provider about your medical history, health conditions and any medications you take.
About Now Patient
Now Patient's online services are available in the US and UK. We help you manage your prescriptions, doctor appointments, test results, health risks and a lot more, all in one place for FREE. US prescriptions are available on a discounted 'cash' basis and delivered across all 50 states by our network of pharmacy providers dispensing FDA-approved generic and branded medications. We do not currently handle commercial insurance, Medicare or Medicaid. UK NHS and private prescriptions are delivered FREE of charge across England & Wales by our UK regulated online pharmacy.
Sources
Disclaimer
Now Patient has taken all reasonable steps to ensure that all material is factually accurate, complete, and current. However, the knowledge and experience of a qualified healthcare professional should always be sought after instead of using the information in this page. Before taking any drug, you should always speak to your doctor or another qualified healthcare provider.
The information provided here about medications is subject to change and is not meant to include all uses, precautions, warnings, directions, drug interactions, allergic reactions, or negative effects. The absence of warnings or other information for a particular medication does not imply that the medication or medication combination is appropriate for all patients or for all possible purposes.
WHY WE BUILT NOW PATIENT
To improve the lives of everyone by making high-quality care accessible and convenient
As technologists and clinicians, we built Now Patient to be more than just an online pharmacy. We are here to improve lives. Our service gives you access to smart features & resources that can help empower you to take control of your health and improve your health outcomes. All this, in one place, for FREE. We strive to bring a fresh perspective to managing health. Not play by the rules. Now Patient can be accessed by downloading the App or using your web browser.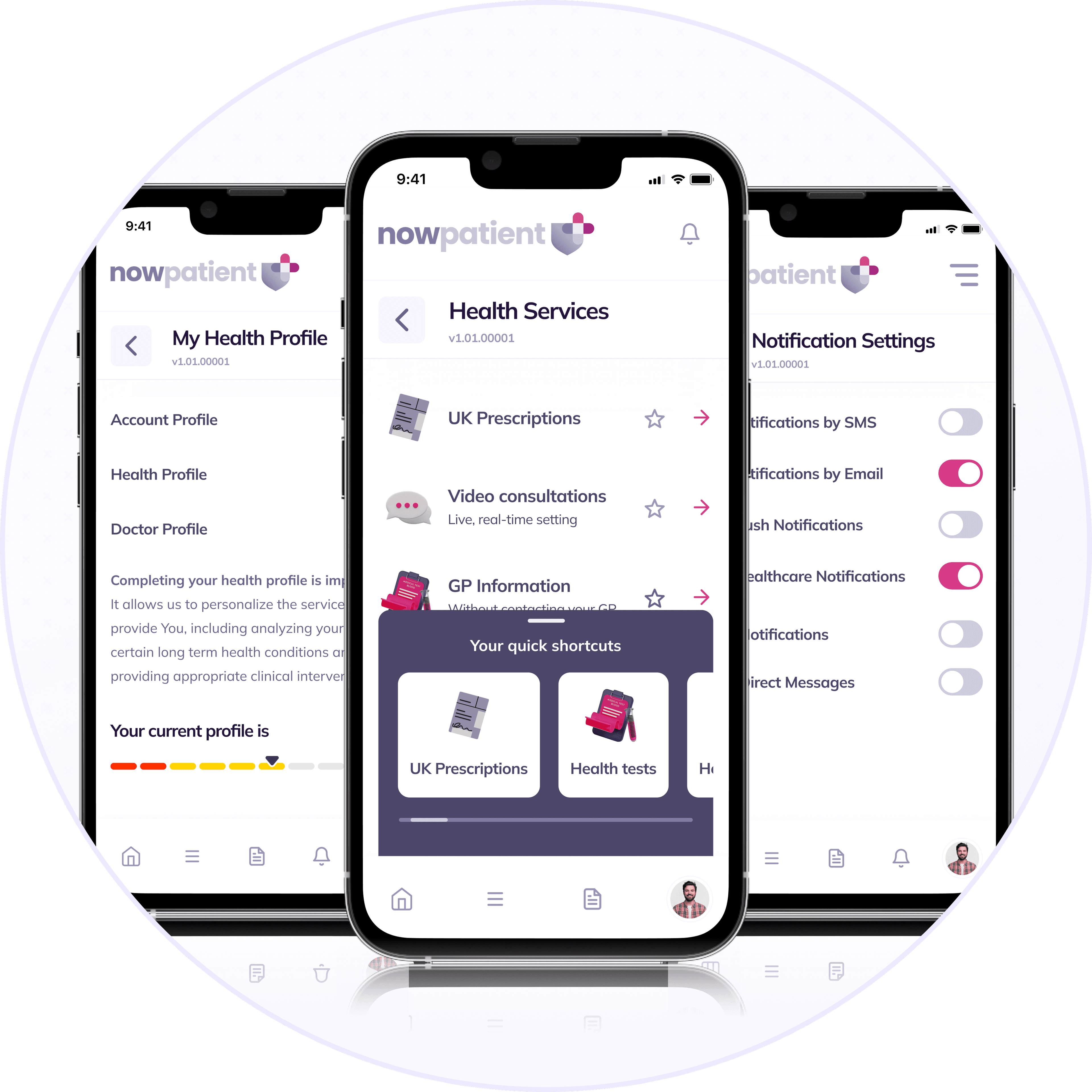 NOW PATIENT
Join the thousands of happy customers in the US and UK already using Now Patient
Manage your health and prescriptions all in one place for FREE. Available to use by downloading the App, or using your web browser.
Your Questions Answered
For your peace of mind, we can answer your health questions quickly
If you want to learn more about the range of services that we provide which can help manage and improve your health, then just click the button below.
Find your answers