Stefano Mirabello
Pharmacist / B.Pharm
What is cholesterol?
Cholesterol is a fat-like substance found in your body. Your body uses cholesterol to make hormones, vitamin D, and substances that help you digest foods. Too much cholesterol in your blood can lead to the formation of plaques, which stick to the walls of your blood vessels, causing high blood pressure. This plaque build-up is known as atherosclerosis, causing your arteries to narrow and sometimes block.
Cholesterol comes as HDL cholesterol (high-density lipoprotein) and LDL (low-density lipoprotein). Lipoproteins are a combination of lipids and proteins. HDLs are also called good cholesterol and LDLs are called bad cholesterol because LDLs can cause blockages in your arteries.
It's essential to keep your cholesterol under control because high cholesterol levels increase your risk of heart disease and stroke. Eating a healthy diet and exercising regularly can help lower your blood cholesterol.
How do I know I have high cholesterol?
Usually there are no signs or symptoms that you have high cholesterol. Your GP can give you a blood test to measure your cholesterol level. When and how often you should get this test depends on your age, risk factors and family history.
What are the best foods to lower cholesterol?
High cholesterol increases your risk of heart disease and heart attacks. You can take medication to lower your cholesterol levels, but you can also make some simple lifestyle changes to reduce your dietary cholesterol intake to improve your heart health. The best way to reduce your cholesterol levels is to have a low-fat diet:
Reducing saturated fats found mainly in red meat and full-fat dairy products such as butter, coconut oil, palm oil and most deep-fried takeaway foods
You are eating foods that contain unsaturated fat and polyunsaturated fats, such as almond and cashew nuts, sunflower and pumpkin seeds, avocados, walnut, canola, corn and olive oils
Trans fats, sometimes listed as "partially hydrogenated vegetable oil," are used in margarine and are found in processed food such as store-bought cookies, crackers and cakes. Trans fats raise your overall cholesterol levels
Triglycerides are another type of fat in our blood. Being overweight and eating a lot of food and beverages high in sugar and simple, refined carbohydrates can make you more likely to have a high triglyceride level. Triglycerides can also add to the narrowing of the artery walls, increasing your risk of heart attacks
Omega-3 fatty acids don't affect LDL cholesterol levels. They have benefits such as reducing blood pressure. Foods with omega-3 fatty acids include salmon, mackerel, herring, walnuts and flaxseeds
Increase soluble fibre. This can reduce the absorption of cholesterol into your blood. Foods containing these are whole grains, oatmeal cereals, kidney beans, lentils, Brussels sprouts, apples and pears
Whey protein is found in dairy products. Studies have shown that whey protein given as a supplement lowers both LDL cholesterol and total cholesterol as well as blood pressure
What are the best exercises to lower cholesterol?
Maintaining a healthy lifestyle isn't just about healthy eating. Moderate aerobic activity can also help raise good cholesterol. It also helps to combat obesity and aid weight loss. Physical activity, even in short intervals several times a day can help you begin to lose weight.
Work up to at least 30 minutes of exercise five times a week or vigorous aerobic activity for 20 minutes three times a week. Activities can range from walking and cycling to more vigorous exercise, such as running and energetic dancing.
What are the best supplements or treatments to lower cholesterol?
Eating the correct foods and exercising for the recommended time per week should help lower and manage your cholesterol without taking any supplements. Your GP may prescribe statins if you have been diagnosed with heart or cardiovascular disease.
Statins are usually offered to people diagnosed with coronary heart disease or another cardiovascular disease or have a family history that suggests they're likely to develop it during the next 10 years.
Certain foods have been designed to lower cholesterol, such as dairy spreads and yoghurts (Benecol) containing added ingredients called plant sterols and stanols.
There's some evidence these may help reduce the cholesterol in your blood, but there's no evidence they also reduce your risk of a heart attack or stroke. If you do eat these foods, read the label carefully. These foods need to be eaten daily and in the right amount, as too much could be harmful.
About Now Patient
Now Patient's online services are available in the US and UK. We help you manage your prescriptions, doctor appointments, test results, health risks, and a lot more, all in one place for FREE. If you are in the United States, you could enjoy savings using Now Patient's mail-order pharmacy or use the Now Patient Rx Advantage Card at over 65,000 pharmacies, with savings of up to 90% on popular FDA-approved brand and generic medications like Ozempic, Mounjaro, clopidogrel and lots more. We do not currently handle commercial insurance, Medicare or Medicaid. UK NHS and private prescriptions are delivered FREE of charge across England & Wales by our UK NHS online pharmacy.
Sources
Disclaimer
Now Patient has taken all reasonable steps to ensure that all material is factually accurate, complete, and current. However, the knowledge and experience of a qualified healthcare professional should always be sought after instead of using the information in this page. Before taking any drug, you should always speak to your doctor or another qualified healthcare provider.
The information provided here about medications is subject to change and is not meant to include all uses, precautions, warnings, directions, drug interactions, allergic reactions, or negative effects. The absence of warnings or other information for a particular medication does not imply that the medication or medication combination is appropriate for all patients or for all possible purposes.
WHY WE BUILT NOW PATIENT
To improve the lives of everyone by making high-quality care accessible and convenient
We are here to improve lives. Our service gives you access to smart features & resources that can help empower you to take control of your health and improve your health outcomes. All this, in one place, for FREE. We strive to bring a fresh perspective to managing health. Not play by the rules. Now Patient can be accessed by downloading the App or using your web browser.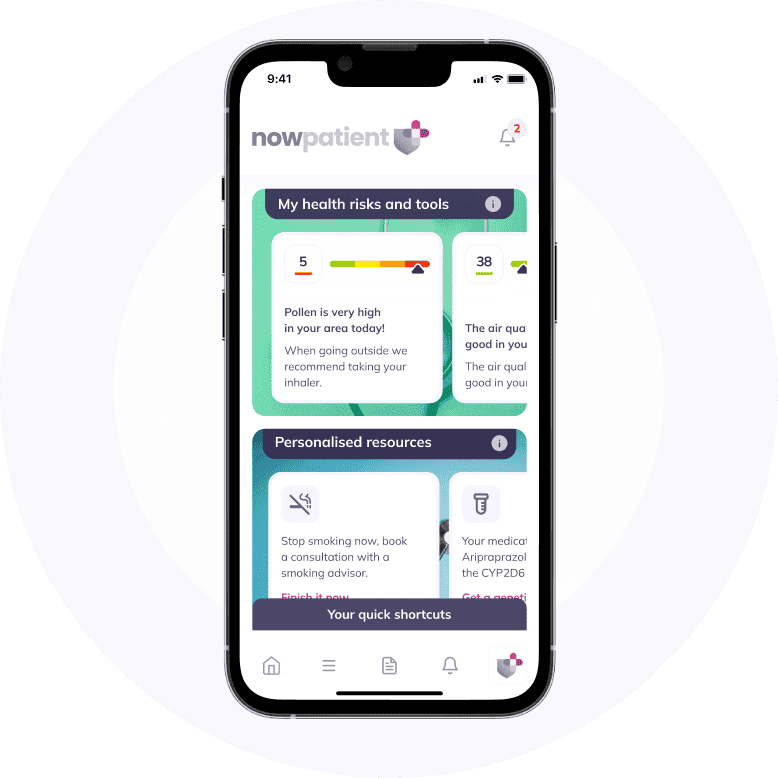 Your Questions Answered
For your peace of mind, we can answer your health questions quickly
If you want to learn more about the range of services that we provide which can help manage and improve your health, then just click the button below.
Find your answers