Stefano Mirabello
Pharmacist / B.Pharm
Image Source: FreeImages‍
Erectile dysfunction (ED) can often become a barrier to spontaneous intimacy. The good news is that there's a solution that provides you with the flexibility to be ready whenever the moment is right. Meet Cialis® Together, a medication designed to help men with erectile dysfunction maintain an erection for up to a 36-hour window.
Understanding erectile dysfunction
Erectile dysfunction (ED) is a condition that affects millions of men worldwide. It's when a man finds it challenging to get or maintain an erection firm enough for sexual intercourse. Understanding ED can help you make informed decisions about your health.
Causes of erectile dysfunction
Erectile dysfunction can be caused by various factors, including physical conditions like heart disease, diabetes, obesity, and hormonal disorders. Psychological factors such as stress, anxiety, and depression can also contribute to ED.
Treatment of erectile dysfunction
There are several treatment options for ED, including lifestyle changes, counseling, medication, and surgery. One of the most popular treatments is the use of oral medications like Cialis® Together.
Introducing Cialis® Together
Cialis® Together is an over-the-counter medication for the treatment of erectile dysfunction. It contains an active ingredient called tadalafil, which has been prescribed for over 20 years and trusted by millions of men worldwide.
How Does Cialis® Together work?
Cialis® Together works by relaxing the blood vessels in your penis, allowing blood to flow into it when you're sexually aroused. This helps you get and maintain an erection. However, remember that Cialis® Together only works when you're sexually stimulated.
Purchasing Cialis® Together
Cialis® Together will be available to purchase from pharmacies without a prescription. This decision followed a positive assessment of the safety of Cialis® Together and advice from the Commission on Human Medicines.
Consultation with a pharmacist
When purchasing Cialis® Together, you'll be required to have a discussion with the pharmacist. They will determine whether treatment is appropriate for you and can provide advice on erectile dysfunction, the usage of the medicine, potential side effects, and if a further consultation with a general practitioner is necessary.
Safety measures
Cialis® Together is not for everyone. It will not be sold to men with severe cardiovascular disorders; at high cardiovascular risk; severe kidney or severe liver failure; or those taking certain interacting medicines. The use of Cialis® Together in these groups of men must continue to be under the supervision of a doctor.
Impersonation risk
Beware of counterfeit erectile dysfunction medicines, which are an attractive target for criminals. The MHRA and UK Border Force seize millions of pounds worth of unlicensed and counterfeit erectile dysfunction medicines every year.

Authority statement
"This decision is good news for men's health" said Dr Laura Squire, MHRA's Chief Officer for Healthcare, Quality, and Access. "Men who suffer from erectile dysfunction will be able to obtain this treatment safely and conveniently from their local pharmacy without a prescription, which not only gives them greater control over their choices but increases awareness of erectile dysfunction."
Regulatory bodies and their roles
The Medicines and Healthcare products Regulatory Agency (MHRA) https://www.gov.uk/government/organisations/medicines-and-healthcare-products-regulatory-agency regulates all medicines and medical devices in the UK. It ensures that they work and are acceptably safe.
The Commission on Human Medicines advises ministers on the safety, efficacy, and quality of medicinal products. Following their advice, the MHRA has decided to make Cialis® Together available from pharmacies without a prescription for adult men with erectile dysfunction.
What you should know before taking Cialis® Together
Before you start taking Cialis® Together, it's crucial to read the patient leaflet that comes with the medication carefully. It contains vital information that you need to be aware of.
Contents of the leaflet
The leaflet provides information about what Cialis® Together tablets are and what they are used for, what you need to know before you take Cialis® Together tablets, how to take Cialis® Together tablets, possible side effects, how to store Cialis® Together tablets, and the contents of the pack and other information.
Warnings and precautions
Do not take Cialis® Together if you do not have an erection problem, are allergic to tadalafil, or any of the other ingredients in this medicine, take any medicines called nitrates or nitric oxide donors, have been advised by your doctor to avoid sexual activity because of a problem with your heart or blood vessels.
Storing Cialis® Together
Store Cialis® Together in the original package to protect it from moisture. Do not store above 30°C. Do not use this medicine after the expiry date stated on the carton and blister.
Cialis® Together: A step towards spontaneous intimacy
Cialis® Together is here to help you forget about ED for up to 36 hours, giving you the freedom to choose when the moment is right for both you and your partner. It's a step towards a more spontaneous and fulfilling intimate life.
About Now Patient
Now Patient's online services are available in the US and UK. We help you manage your prescriptions, doctor appointments, test results, health risks, and a lot more, all in one place for FREE. If you are in the United States, you could enjoy savings using Now Patient's mail-order pharmacy or use the Now Patient Rx Advantage Card at over 65,000 pharmacies, with savings of up to 90% on popular FDA-approved brand and generic medications like Ozempic, Mounjaro, clopidogrel and lots more. We do not currently handle commercial insurance, Medicare or Medicaid. UK NHS and private prescriptions are delivered FREE of charge across England & Wales by our UK NHS online pharmacy.
Sources
Disclaimer
Now Patient has taken all reasonable steps to ensure that all material is factually accurate, complete, and current. However, the knowledge and experience of a qualified healthcare professional should always be sought after instead of using the information in this page. Before taking any drug, you should always speak to your doctor or another qualified healthcare provider.
The information provided here about medications is subject to change and is not meant to include all uses, precautions, warnings, directions, drug interactions, allergic reactions, or negative effects. The absence of warnings or other information for a particular medication does not imply that the medication or medication combination is appropriate for all patients or for all possible purposes.
WHY WE BUILT NOW PATIENT
To improve the lives of everyone by making high-quality care accessible and convenient
We are here to improve lives. Our service gives you access to smart features & resources that can help empower you to take control of your health and improve your health outcomes. All this, in one place, for FREE. We strive to bring a fresh perspective to managing health. Not play by the rules. Now Patient can be accessed by downloading the App or using your web browser.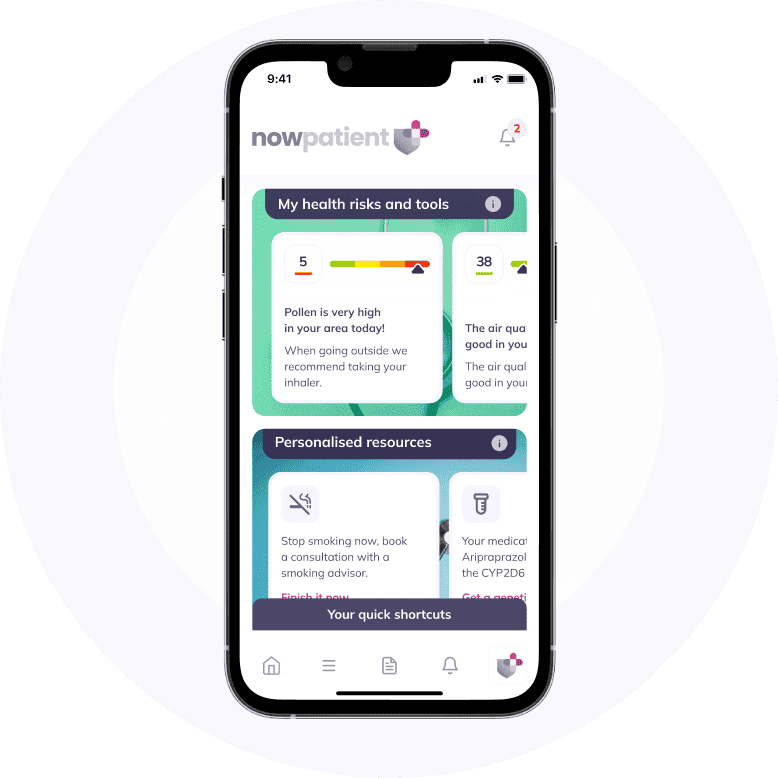 Your Questions Answered
For your peace of mind, we can answer your health questions quickly
If you want to learn more about the range of services that we provide which can help manage and improve your health, then just click the button below.
Find your answers