/
Blog
/
How long does Viagra last and when should you take it?
How long does Viagra last and when should you take it?
30 Jun 2023

Stefano Mirabello
Pharmacist / B.Pharm
Viagra is a world-famous treatment for erectile dysfunction. And it really works too! But to get the most from your Viagra you need to know how best to use it. That includes understanding how long Viagra lasts and when is the best time to take Viagra.
That's what we're here for. Here we explain when to take your Viagra to get the most benefit from it.
How Viagra works
Viagra – also sold as the generic drug sildenafil – is a prescription treatment for erectile dysfunction.
It works by increasing the flow of blood to your penis so you can get and keep an erection more easily. Remember you need to be turned on for this. Now for the science bit.
The active ingredient in Viagra – sildenafil – is the wonder substance. It works by increasing the amount of cGMP (cyclic guanosine monophosphate) in and around your penis. This attaches to the inside of your blood vessels which relaxes muscle tissue and causes your blood vessels to open up and widen.
And it does this by blocking a specific enzyme called PDE5 (phosphodiesterase type 5) that usually breaks down cGMP. By blocking this it causes cGMP to build up in your blood vessels for a short time. This is why Viagra is called a PDE5-inhibitor.
Still with us? Basically, what you need to know is that Viagra works. Sweet!
How long does it take for Viagra to work?
Viagra begins blocking PDE5 enzymes quickly after you take it but it takes time for cGMP levels to rise.
Science aside, the big question is when you'll start to see a difference downstairs. Viagra begins to work after around 30 minutes but it can take 60 to 120 minutes for your cGMP levels to reach their maximum concentration. This means that some guys will get lasting erections after 30 minutes and some after 60 minutes. For others it can take closer to 120 minutes.
These numbers are just averages. The time it takes Viagra to work will vary by man. And it can be influenced by:
The dose you take
Your age
Your general health
Any medical conditions you have
Any medications you are taking
Your mental state and stress levels
Whether you've drunk any alcohol
Whether you've taken your Viagra with a meal
How long does Viagra last?
Again, this varies by man but the effects of Viagra usually last between four to five hours.
You may be able to get more than one erection in this time and research has shown that Viagra can help some men get an erection again faster after an orgasm. The exact length of time Viagra lasts will again vary by man. It can depend on your health, mindset, and how your body reacts to Viagra.
The dose of Viagra you take can also influence Viagra timings. Viagra comes in 25 mg, 50 mg, and 100 mg doses. 50 mg is the most common. And the higher the dose, generally the longer Viagra lasts. But even if you feel your prescribed dose isn't right for you don't be tempted to take more Viagra. Talk to your doctor first to minimize your risk of side effects.
How long does Viagra stay in your system?
Viagra has a half-life of around four hours. This means after four hours half of the Viagra you've taken has been broken down and cleared from your body. After eight hours 75% of the Viagra has been broken down and by 24 hours it has almost entirely gone.
How long do other ED medications last?
Viagra is one erectile dysfunction medication but there are others available. These include Cialis (tadalafil) and Levitra (vardenafil).
Levitra (vardenafil) is similar to Viagra in terms of how long it lasts – it takes around 30 minutes to work and lasts on average for up to five hours. Cialis (tadalafil) is a little different. It takes longer to work (around two hours) but lasts much longer – often for 24 hours but even up to 36 hours. Cialis has been dubbed the 'weekend pill' as you can take it at the start of the weekend and enjoy its effects for a day or more.
Viagra FAQs
1. Does Viagra really work?
Viagra really works for most men as long as you take it for the right reasons. It is an effective treatment for erectile dysfunction. However, if you take Viagra because you think it's going to make you last longer, have a higher sex drive, have a bigger erection, or otherwise improve your sexual performance then we're sorry to tell you that this is not what Viagra does.
2. Does Viagra work instantly?
Viagra usually takes between 30 to 120 minutes to work. Viagra won't give you an instant erection. You have to be in the mood for sex and your body has to be sending the right signals. Then Viagra makes it more likely those signals will result in a lasting erection.
3. Does Viagra make you last longer?
No, Viagra doesn't make you last longer. Despite what tall tales you might have heard about Viagra that's not what it is for or what it does. Viagra is a prescription medication used to treat erectile dysfunction. It won't make you last longer in bed than you normally would.
4. Does Viagra keep you hard after you come?
No. Viagra makes it easier for you to get and keep an erection that's hard enough for sex but it won't keep you hard after you've come. Some research has shown that Viagra can help men get hard again faster than they normally would after they've ejaculated but this effect wasn't found in all studies. So don't take it as a promise.
5. How long can Viagra side effects last?
Like all medications, Viagra can cause side effects in some men. These side effects are usually mild and short-lasting and disappear as Viagra breaks down in your body. Most side effects don't last longer than 60 minutes to four hours.
About Now Patient
Now Patient's online services are available in the US and UK. We help you manage your prescriptions, doctor appointments, test results, health risks and a lot more, all in one place for FREE. US prescriptions are available on a discounted 'cash' basis and delivered across all 50 states by our network of pharmacy providers dispensing FDA-approved generic and branded medications. We do not currently handle commercial insurance, Medicare or Medicaid. UK NHS and private prescriptions are delivered FREE of charge across England & Wales by our UK regulated online pharmacy.
Sources
Disclaimer
Now Patient has taken all reasonable steps to ensure that all material is factually accurate, complete, and current. However, the knowledge and experience of a qualified healthcare professional should always be sought after instead of using the information in this page. Before taking any drug, you should always speak to your doctor or another qualified healthcare provider.
The information provided here about medications is subject to change and is not meant to include all uses, precautions, warnings, directions, drug interactions, allergic reactions, or negative effects. The absence of warnings or other information for a particular medication does not imply that the medication or medication combination is appropriate for all patients or for all possible purposes.
WHY WE BUILT NOW PATIENT
To improve the lives of everyone by making high-quality care accessible and convenient
As technologists and clinicians, we built Now Patient to be more than just an online pharmacy. We are here to improve lives. Our service gives you access to smart features & resources that can help empower you to take control of your health and improve your health outcomes. All this, in one place, for FREE. We strive to bring a fresh perspective to managing health. Not play by the rules. Now Patient can be accessed by downloading the App or using your web browser.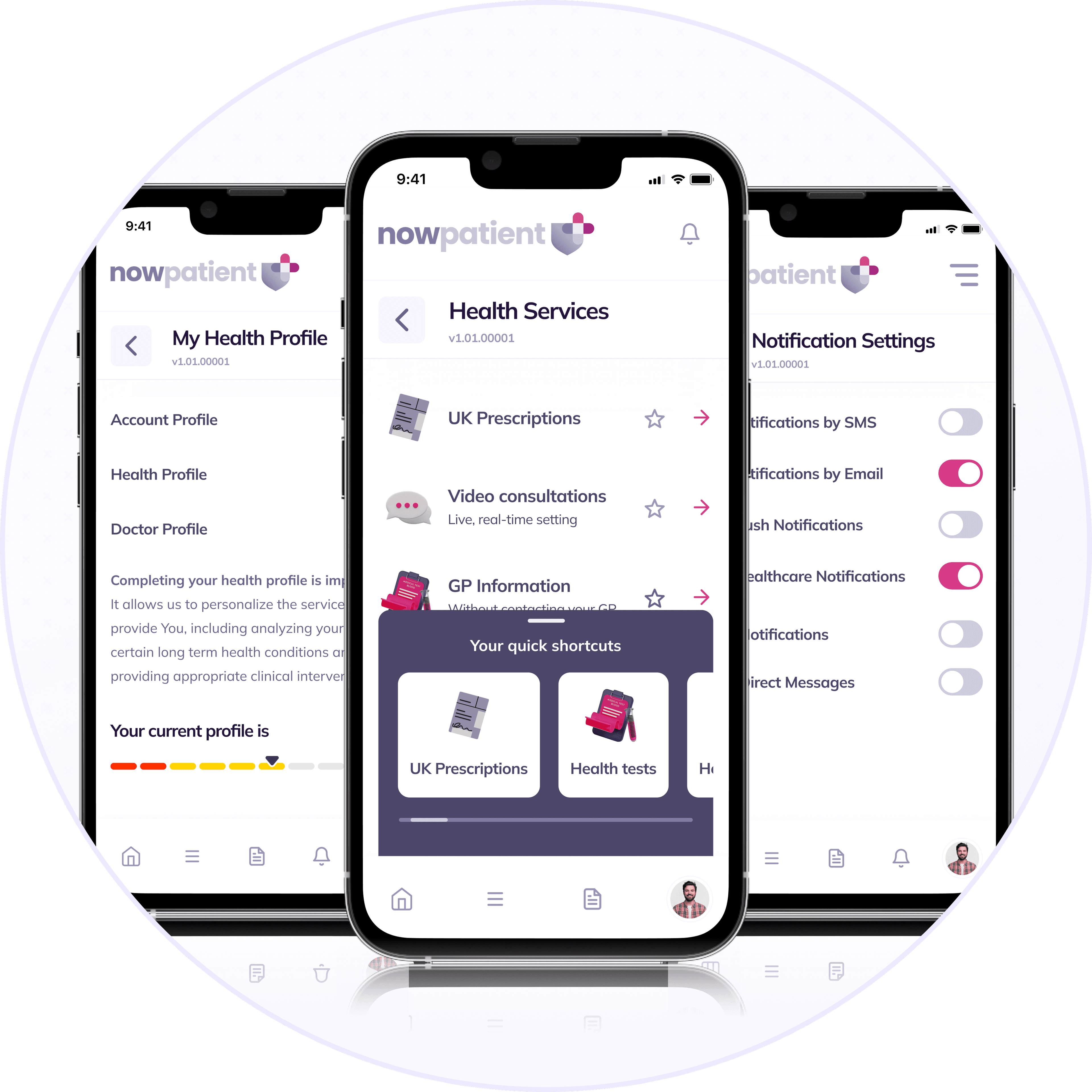 NOW PATIENT
Join the thousands of happy customers in the US and UK already using Now Patient
Manage your health and prescriptions all in one place for FREE. Available to use by downloading the App, or using your web browser.
Your Questions Answered
For your peace of mind, we can answer your health questions quickly
If you want to learn more about the range of services that we provide which can help manage and improve your health, then just click the button below.
Find your answers