Stefano Mirabello
Pharmacist / B.Pharm
Most people think acne is something only teenagers get. But that isn't true, acne is common among adults as well. It's perfectly normal to have acne once your teenage years are behind you. Here we'll explain what causes adult acne and how to get rid of adult acne.
What is adult acne?
Acne is a skin condition that causes spots and inflammation in your skin. You most often get it on your face, but it can affect other areas too, like your back and chest. More severe cases can cause widespread inflammation and large stubborn spots that can leave permanent scars.
Adult acne is when you have acne in your adult years. This could be in your 20s, 30s, 40s or beyond. Some people have adult acne because their teenage acne has stayed with them. Others didn't have acne in their teens but develop it as adults (called adult-onset acne).
Adult acne causes: why do I have adult acne?
Adult acne is brought on by the same things that cause acne in teenagers – dead skin, oil and products on your skin blocking your pores, causing spots and inflammation. This can be made more likely by hormonal changes, stress and eating the wrong foods.
What causes your spots?
Spots form when pores in your skin get blocked. This is usually down to dead skin cells, any products you put on your face or by the oil your skin produces (sebum).
The bacteria that naturally live on your skin then build up inside the pore as it feeds on whatever's blocking it. Your immune system responds and attacks the bacteria build-up, creating inflammation and pus, resulting in raised red spots filled with yellow fluid.
With acne you can have many blocked pores and a lot of spots. If the infection spreads into the deeper layers of your skin it can lead to more widespread inflammation and bigger spots, like pustules, cysts and nodules. For more information check out our guide on the different types of acne.
We're sure you've heard that hormones are involved in acne too and that can be the case. The following can make it more likely you'll develop acne:
Hormones
High and fluctuating levels of hormones can make your skin produce more sebum and become more sensitive to inflammation, which can lead to acne. Hormones are a common cause of acne in teens, but your hormone levels can change in your adult years too in response to causes like your lifestyle, illnesses and ageing.
Stress
Stress isn't just in your mind. It triggers various changes in your body too. Stress can alter your hormones and increase inflammation, both bad news for acne. This stress could be emotional, but it can also result from physical causes, like illnesses and not getting enough sleep.
Medications
Certain medications can trigger acne in some people as a side effect. Common culprits are antidepressants and corticosteroids. To find out more you can check the side effects of any medications you're taking by looking in the leaflet that comes with it or by asking your doctor.
Diet
The link between diet and acne is long and often controversial, but there is good evidence now that some foods can cause acne or make it worse. Science says you should avoid sugar, refined carbohydrates, fast food, dairy and chocolate. Read more on how different foods can affect your skin.
Skin products
Some products that you put on your face can block your pores and cause or contribute to acne. You should avoid products that are particularly oily or harsh on your skin.
Shaving
Anything that irritates and harms your skin can increase inflammation. Sebum production and shaving is a prime candidate. Dragging a dulled razor over your face every day as you apply various products can take a toll on your skin and can lead to acne.
What causes sudden acne breakouts in adults?
Acne breakouts can be triggered by a range of causes, like hormonal changes, stress, a bad diet, medication and using oily and harsh irritating products on your face. These can lead to your pores becoming blocked resulting in spots and inflammation.
Why do I still get acne at 35?
You can get acne at any age. It doesn't just affect teenagers. You get acne when the pores in your skin get blocked and bacteria grow in them. This can be triggered by hormonal changes, stress, a poor diet, illnesses, medication, even by shaving and putting products on your face.
Will I have acne forever?
If you have acne in your adult years, especially if it carried over from your teens, it may feel like you're going to have acne for the rest of your life. But don't let your acne get you down. It's rare for people to have such long-lasting acne and there's a lot you can do to fight back and treat it.
How to treat adult acne
If you have adult acne you have options to help you deal with it:
Start a daily skincare routine
This is step 1 in your fight against acne. A good daily skincare routine can clear sebum and excess skin from your face, calm irritation and help your skin stay hydrated and healthy. Wash your face every morning using a cleanser and use a non-oil-based moisturizer. You can try other products like toners and astringents. Read more about skincare for acne.
Try a prescription acne medication: what is the best acne treatment for adults?
There's no single treatment that works best for all adults. You can buy a range of over-the-counter face care and acne treatments that you can incorporate into your daily skincare routine. You may also find that prescription acne medication is more effective, like tretinoin (Retin-A).
Change your diet
Cut sugar, refined carbs, fast food, dairy and chocolate from your diet. Eating more whole grains, fruit and veg and lean cuts of meat is also a good place to start. You may find this helps with your acne while eating better can have a whole host of other health benefits too, so it's a double win.
De-stress
Life can be hectic and demanding, so we know this is easier said than done. But if you can reduce your stress levels it can help with your acne. You can try to acknowledge what's making you feel stressed, rather than ignoring it and then come up with strategies to help you reduce your stress and unwind.
Other adult acne treatment options
As well as the above, you can also try:
Talking to your doctor about changing medications if you think yours are giving you acne
Swapping out any products you use on your face for less abrasive or oily alternatives
Shaving less often to give your skin time to recover
About Now Patient
Now Patient's online services are available in the US and UK. We help you manage your prescriptions, doctor appointments, test results, health risks and a lot more, all in one place for FREE. US prescriptions are available on a discounted 'cash' basis and delivered across all 50 states by our network of pharmacy providers dispensing FDA-approved generic and branded medications. We do not currently handle commercial insurance, Medicare or Medicaid. UK NHS and private prescriptions are delivered FREE of charge across England & Wales by our UK regulated online pharmacy.
Sources
Disclaimer
Now Patient has taken all reasonable steps to ensure that all material is factually accurate, complete, and current. However, the knowledge and experience of a qualified healthcare professional should always be sought after instead of using the information in this page. Before taking any drug, you should always speak to your doctor or another qualified healthcare provider.
The information provided here about medications is subject to change and is not meant to include all uses, precautions, warnings, directions, drug interactions, allergic reactions, or negative effects. The absence of warnings or other information for a particular medication does not imply that the medication or medication combination is appropriate for all patients or for all possible purposes.
WHY WE BUILT NOW PATIENT
To improve the lives of everyone by making high-quality care accessible and convenient
As technologists and clinicians, we built Now Patient to be more than just an online pharmacy. We are here to improve lives. Our service gives you access to smart features & resources that can help empower you to take control of your health and improve your health outcomes. All this, in one place, for FREE. We strive to bring a fresh perspective to managing health. Not play by the rules. Now Patient can be accessed by downloading the App or using your web browser.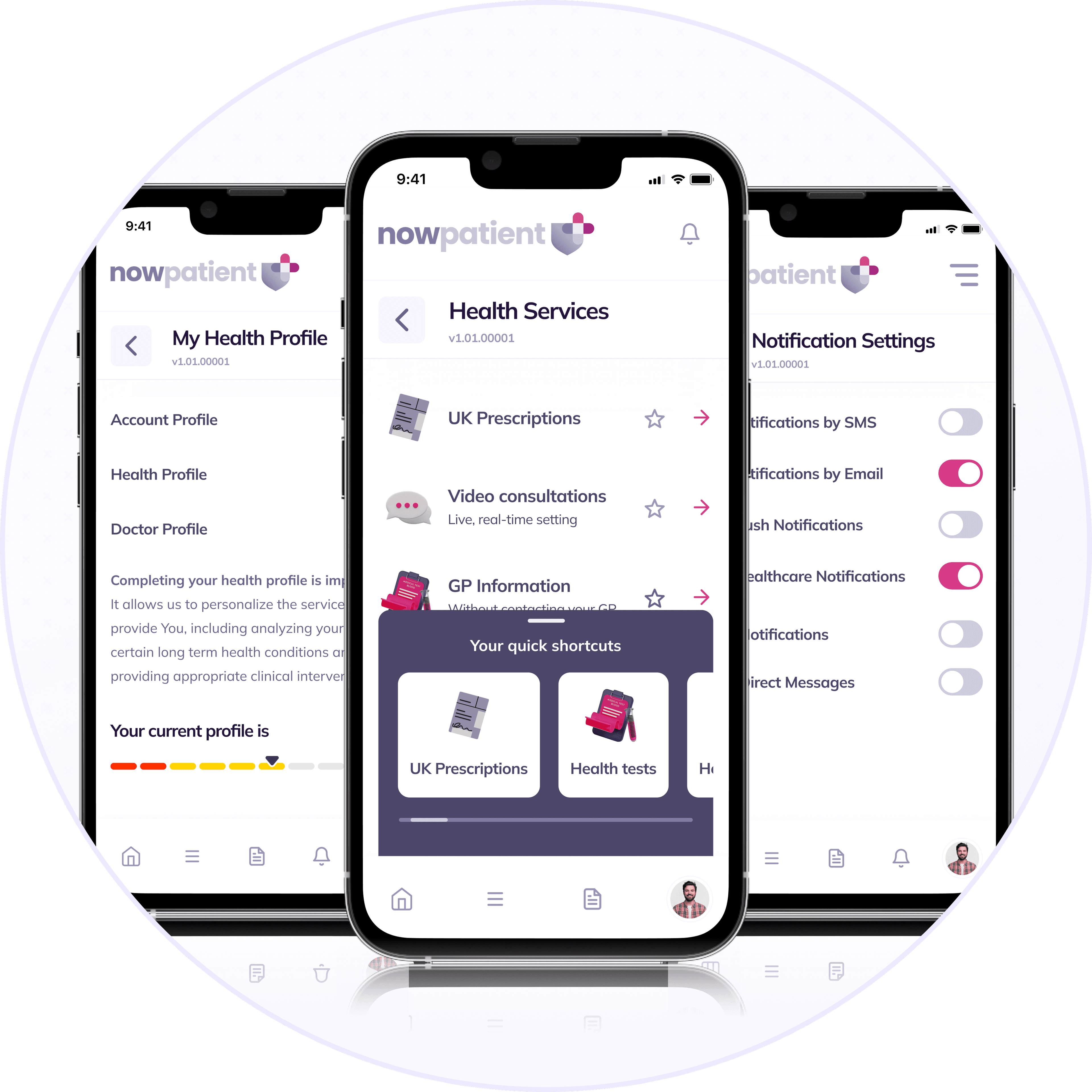 NOW PATIENT
Join the thousands of happy customers in the US and UK already using Now Patient
Manage your health and prescriptions all in one place for FREE. Available to use by downloading the App, or using your web browser.
Your Questions Answered
For your peace of mind, we can answer your health questions quickly
If you want to learn more about the range of services that we provide which can help manage and improve your health, then just click the button below.
Find your answers