/
Blog
/
What's the difference between retinol and retin-A?
What's the difference between retinol and retin-A?
30 Jun 2023

Stefano Mirabello
Pharmacist / B.Pharm
If you've got acne, you may have heard that Retin-A is an effective treatment for it. We've got good news for you, you've heard right! Retin-A is proven to reduce the severity of acne outbreaks and even stop them happening.
But skincare products can be complicated. Not least because they contain similar sounding ingredients. As well as Retin-A, you've also got retinol and retinoids too.
So, we're here to help. We're going to explain the differences between Retin-A, retinol, and retinoids, and we'll tell you which is the best for fighting acne.
What are Retinoids?
We'll start with retinoids, as they're the group that the other ingredients belong to.
Retinoid is the name given to a family of compounds that are types of vitamin A, or derived from vitamin A. Natural forms of vitamin A that are found in food are retinoids, as are synthetic (man-made) versions of vitamin A.
You can find retinoids in a huge variety of skin care products because they do so much for your skin. They can increase the production of new blood vessels, collagen, and possibly even elastin in your skin. Retinoids also increase the rate at which old skin cells are lost and replaced by new ones (cell turnover). Because of these effects, retinoids have been found to:
Remove dead skin cells and oil from your face
Clear your skin follicles
Reduce inflammation
Reduce the severity of acne outbreaks
Prevent acne outbreaks
Reduce the appearance of wrinkles and scars
Reduce the appearance of blemishes and dark spots
Smooth rough skin
Improve the texture and tone of the skin
Ok, not bad for a single ingredient. Now let's look at two common retinoids – retinol and Retin-A.
What is Retinol?
Retinol is a type of retinoid. It's a natural form of vitamin A (vitamin A1) that's found in food.
While it has all the benefits of retinoids, it is generally considered a milder retinoid. When it's applied to your face, enzymes in your skin convert retinol into retinoic acid. Because of this conversion, retinol takes time to work and is gentler than some other retinoids, but generally has fewer side effects (like dryness and itching).
You can buy skincare products that contain retinol over the counter without a prescription.
Is Retin-A different to Retinol?
Retin-A is another retinoid. It's a synthetic form of vitamin A, developed in the 1950s and is also called tretinoin. To keep things clear, Retin-A is the brand name for the drug, while tretinoin is the scientific name for it. This is why you can also buy generic versions of Retin-A called tretinoin.
Whereas retinol needs to be converted by skin enzymes into retinoic acid to work, Retin-A is already a retinoic acid, so it gets to work on your skin right away. On average, Retin-A is approximately 20 times stronger than retinol. It means it has a more pronounced effect on your skin. Sometimes it can, however, have stronger side effects.
Retin-A is effective at treating acne. It can:
Remove the dead skin cells and natural oils from your skin that can block your follicles and cause acne
Halt the development of spots into more severe forms of acne
Reduce the inflammation caused by more severe forms of acne
Reduce the appearance of acne scars
Scientific study after study has shown Retin-A reduces the number and severity of acne outbreaks, as well as generally improving the quality of your skin.
Because Retin-A is stronger than retinol, products that contain Retin-A require a prescription.
Retin-A vs Retinol: which is stronger?
Retin-A is stronger than retinol. Approximately 20 times as strong. Retinol is milder as it has to be converted to a retinoic acid by enzymes in your skin before it can work. This means it's being converted bit by bit, so gives your skin less of a retinoic acid hit. Retin-A is already a retinoic acid, so has a more immediate impact when applied.
Will Retinol give the same results as Retin-A?
No. Although retinol and Retin-A work in essentially the same way, Retin-A is stronger and gives more pronounced results. Products containing retinol are generally used to improve the quality of your skin and reduce signs of ageing, whereas Retin-A is more likely to be used to reduce the visibility of blemishes and scars and to treat acne.
Retinol vs Retin-A: which is the right product for you?
This depends on your skin and what you want.
If you want to improve the quality of your skin, reduce some of the signs of ageing, and don't have any particular skin problems, then retinol is the ingredient for you. Look for creams, serums, and other skincare products that contain retinol like retinal, retinyl linoleate, retinyl palmitate, and retinyl acetate.
If you're looking for effective acne treatment, then we recommend you try Retin-A cream (the branded product) or tretinoin cream (the generic product).
You can order both Retin-A cream and tretinoin cream directly FROM MARS, as our doctors are licensed to make prescriptions. Simply start your online consultation today.
About Now Patient
Now Patient's online services are available in the US and UK. We help you manage your prescriptions, doctor appointments, test results, health risks, and a lot more, all in one place for FREE. If you are in the United States, you could enjoy savings using Now Patient's mail-order pharmacy or use the Now Patient Rx Advantage Card at over 65,000 pharmacies, with savings of up to 90% on popular FDA-approved brand and generic medications like Ozempic, Mounjaro, clopidogrel and lots more. We do not currently handle commercial insurance, Medicare or Medicaid. UK NHS and private prescriptions are delivered FREE of charge across England & Wales by our UK NHS online pharmacy.
Sources
Disclaimer
Now Patient has taken all reasonable steps to ensure that all material is factually accurate, complete, and current. However, the knowledge and experience of a qualified healthcare professional should always be sought after instead of using the information in this page. Before taking any drug, you should always speak to your doctor or another qualified healthcare provider.
The information provided here about medications is subject to change and is not meant to include all uses, precautions, warnings, directions, drug interactions, allergic reactions, or negative effects. The absence of warnings or other information for a particular medication does not imply that the medication or medication combination is appropriate for all patients or for all possible purposes.
WHY WE BUILT NOW PATIENT
To improve the lives of everyone by making high-quality care accessible and convenient
We are here to improve lives. Our service gives you access to smart features & resources that can help empower you to take control of your health and improve your health outcomes. All this, in one place, for FREE. We strive to bring a fresh perspective to managing health. Not play by the rules. Now Patient can be accessed by downloading the App or using your web browser.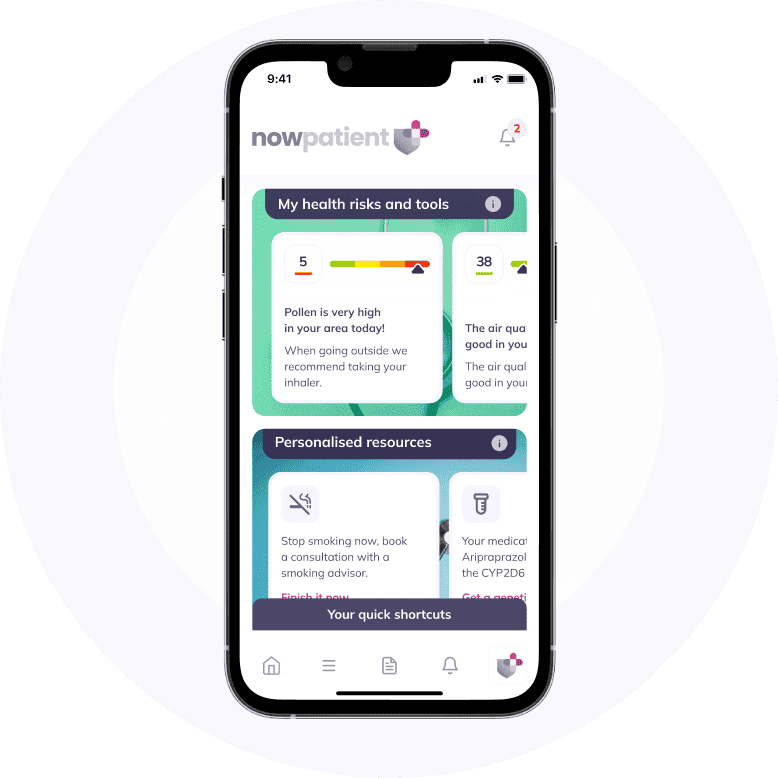 Your Questions Answered
For your peace of mind, we can answer your health questions quickly
If you want to learn more about the range of services that we provide which can help manage and improve your health, then just click the button below.
Find your answers