/
Blog
/
The ultimate anti-aging skin care guide for men
The ultimate anti-aging skin care guide for men
6 Jun 2023

Stefano Mirabello
Pharmacist / B.Pharm
Guys, let's be honest. Our skincare routine can be a little lacking. We maybe add a dab of moisturizer after shaving, but anything more than that is treated as an unnecessary extravagance.
But if you take care of other parts of your body by working out, eating as best you can, looking after your teeth, there's no reason why you shouldn't take care of your skin too. Looking after your skin is just like looking after any other aspect of your health. And besides, there's nothing wrong with wanting to look your best.
Here we cut through a lot of the nonsense that surrounds skincare and explain how you can look after your skin with 10 simple tips.
What are the signs of skin aging?
As you age the outer layers of your skin (your epidermis) become thinner, and the connective tissues beneath (mostly made of collagen protein) weaken. The layer of fat beneath your skin also reduces and your skin produces less sebum oil. The muscle tissue in your skin also becomes less supple.
All of this can cause your skin to lose its elasticity and to sag and wrinkle over time. Your jawline may not be as sharp as it once was, you start to develop crow's feet and other lines, and you may start to get jowls.
Your skin also produces fewer pigment cells as you age, so it can lighten with time and become more translucent. The pigment cells that remain can grow, giving you more moles, age spots, and liver spots.
Lifestyle changes that take care of your skin
So how can men prevent aging? First things first. Your lifestyle is your foundation for taking care of your skin and your body. If you haven't fixed your foundation, any products you use will be a waste of time. Try to:
Drink enough water: Every cell in your body needs water to function properly, including the cells in your skin. If you drink enough water each day to properly hydrate your skin, it can improve your complexion and skin elasticity. It can also reduce the appearance of fine lines. There's so much advice out there about how much you should drink, but the truth is it varies depending on how big you are and how much you sweat. You can tell if you're properly hydrated by the color of your pee. It should be pale yellow. Any darker and you need to drink some water
Eat a healthy diet: The food you eat has a big impact on the health of your skin. Fruits and vegetables are packed full of the vitamins, minerals, and other phytonutrients your skin needs to be at its healthiest. Phytonutrients like antioxidants can protect your skin cells from internal damage by free radicals, whilst others can reduce damage caused by inflammation. Fatty oils in fish can help your skin retain more moisture. Overall, try to eat a range of fruits, vegetables, pulses, nuts, and whole grains, and stick to fish and lean meat over red and processed meats
Exercise regularly: Research has shown that a sedentary lifestyle can make people age prematurely. Other research has also demonstrated that exercise can improve the supply of nutrients to your skin cells and increase the production of various substances that keep your skin in good condition, like collagen
Get enough sleep: Sleep is vital to your health, and not getting enough of it can increase the signs of skin aging. Most people need around seven to nine hours of sleep a night. Make sure you get enough sleep that you feel rested when you wake in the morning
Don't smoke or drink excessively: As well as all the other harm that smoking causes, it can age and yellow your skin too. Quitting smoking is amongst the healthiest things you can do. Alcohol can also prematurely age your skin, so try to drink in moderation
Skincare products for taking care of your skin
Once you've laid a foundation for good skin through your lifestyle habits, you can build on this by adding skincare products to your morning or evening routine. You can buy various anti-aging creams for men, and other anti-aging products for men, but a lot of these are unnecessary. You don't need to spend big either. Sticking to trusted brands and their basic product lines is usually more than enough. Try to:
Use a cleanser to keep your skin clean and clear: The skin on your face is subjected to a daily assault from the weather, allergens, and pollutants. Keeping it clean can remove harmful substances from your face and limit the damage they cause. Steer clear of soap and hot water that can dry your skin. Use a gentle facial cleanser and lukewarm water
Moisturize your skin: A daily moisturizer can help keep your skin hydrated and supple. Again, you don't need an expensive moisturizer – the basic products are usually just as effective as the more expensive ones
Wear sunscreen: Ultraviolet (UV) light in sunlight can damage your skin, both on the outside and in the deeper layers of your skin, making it age prematurely. To protect your skin you should wear sunscreen, even on cloudy days, with a minimum sun protection factor (SPF) of 15. Plenty of moisturizers also contain UV blocking agents, so using one of these helps you kill two skincare birds with one stone
Try a retinol skincare product: Retinols are a form of vitamin A that you can find in some over-the-counter skincare products, usually creams or serums. Unlike most products that claim to slow and reverse the signs of aging, retinols are backed by scientific evidence. They can increase the rate at which new skin cells replace old ones, as well as increase the production of new blood vessels and proteins in your skin. Retinols have been shown to reduce the appearance of fine lines and wrinkles, improve skin tone, and lessen skin discoloration and blemishes
Trying a prescription retinoid product. Retinoids, like retinols, are also a form of vitamin A, but they're stronger and faster-acting than retinols. They were developed to fight acne, but they have the same anti-aging skin benefits as retinols – the big difference is that these benefits are often seen faster and to a greater degree. Because of their strength, retinoid products can't be bought over the counter, so you'll need a prescription from a doctor before you can buy them. You can order a retinoid skincare product directly from Now Patient called tretinoin, also sold as Retin A
What is the best anti-aging skin care routine?
You don't need to spend a fortune on a huge array of supposed-miracle skincare products to fight the signs of aging on your face. You can just add a few products to your morning or evening routine to reap the benefits, including a gentle skin cleanser, a moisturizer, and sunscreen. On top of this, try a skincare product that contains retinol or retinoid, as these are scientifically proven to reduce the signs of aging.
About Now Patient
Now Patient's online services are available in the US and UK. We help you manage your prescriptions, doctor appointments, test results, health risks and a lot more, all in one place for FREE. US prescriptions are available on a discounted 'cash' basis and delivered across all 50 states by our network of pharmacy providers dispensing FDA-approved generic and branded medications. We do not currently handle commercial insurance, Medicare or Medicaid. UK NHS and private prescriptions are delivered FREE of charge across England & Wales by our UK regulated online pharmacy.
Sources
Disclaimer
Now Patient has taken all reasonable steps to ensure that all material is factually accurate, complete, and current. However, the knowledge and experience of a qualified healthcare professional should always be sought after instead of using the information in this page. Before taking any drug, you should always speak to your doctor or another qualified healthcare provider.
The information provided here about medications is subject to change and is not meant to include all uses, precautions, warnings, directions, drug interactions, allergic reactions, or negative effects. The absence of warnings or other information for a particular medication does not imply that the medication or medication combination is appropriate for all patients or for all possible purposes.
WHY WE BUILT NOW PATIENT
To improve the lives of everyone by making high-quality care accessible and convenient
As technologists and clinicians, we built Now Patient to be more than just an online pharmacy. We are here to improve lives. Our service gives you access to smart features & resources that can help empower you to take control of your health and improve your health outcomes. All this, in one place, for FREE. We strive to bring a fresh perspective to managing health. Not play by the rules. Now Patient can be accessed by downloading the App or using your web browser.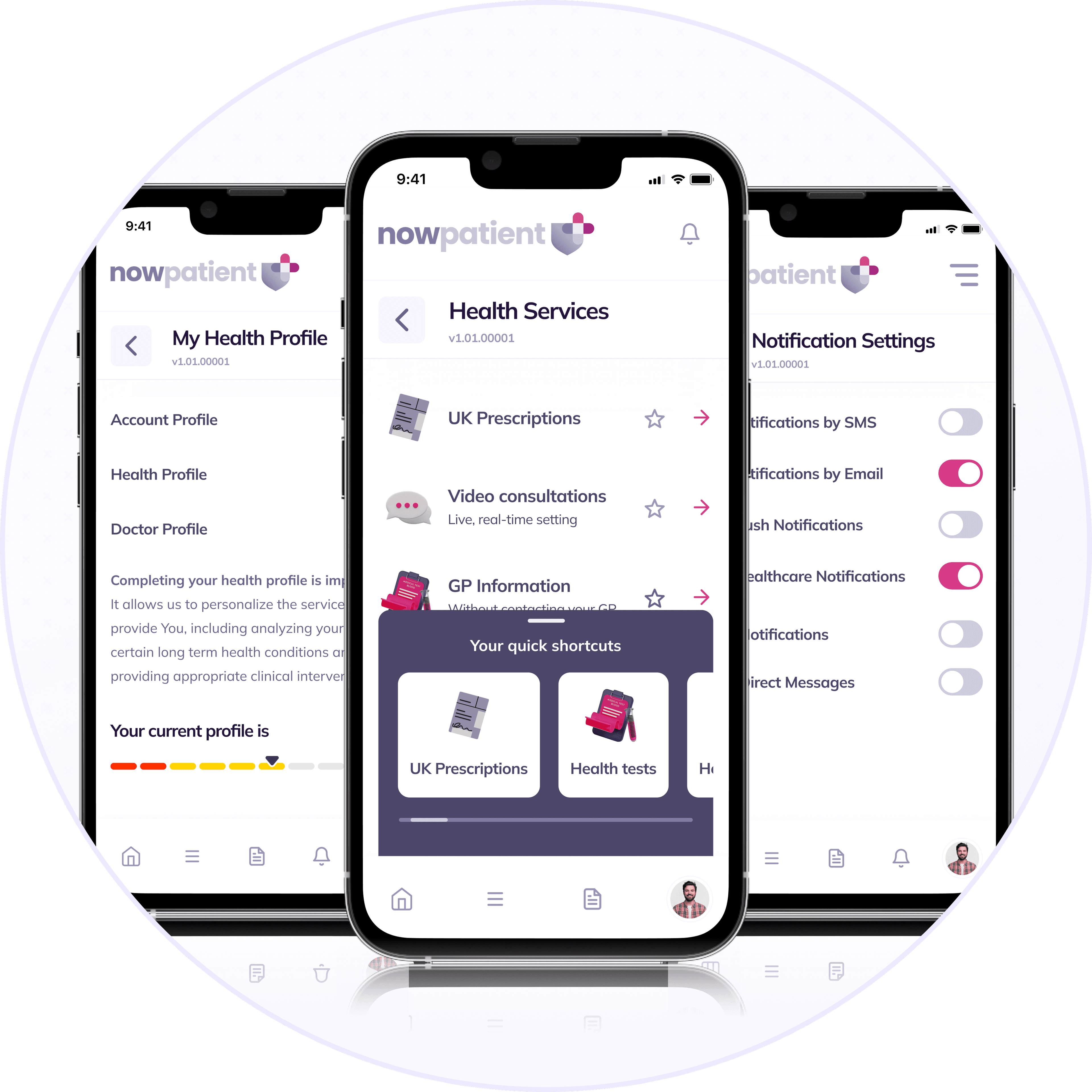 NOW PATIENT
Join the thousands of happy customers in the US and UK already using Now Patient
Manage your health and prescriptions all in one place for FREE. Available to use by downloading the App, or using your web browser.
Your Questions Answered
For your peace of mind, we can answer your health questions quickly
If you want to learn more about the range of services that we provide which can help manage and improve your health, then just click the button below.
Find your answers