/
Blog
/
Tips for taking rybelsus medication for optimal results
Tips for taking rybelsus medication for optimal results
6 Jul 2023

Stefano Mirabello
Pharmacist / B.Pharm
Image source: Canva photo – Rybelsus tablets
If you have been diagnosed with type 2 diabetes, chances are that you have been prescribed Rybelsus a diabetes medication to help manage your blood glucose levels. This medication works by helping your pancreas produce more insulin and decrease the amount of glucose produced by your liver. However, taking Rybelsus correctly is necessary to achieve optimal results. In this blog post, we have outlined some essential tips that patients should follow when taking Rybelsus medication to ensure its efficacy. Before we dive in let us take a look at what Rybelsus is.
What is Rybelsus?
Rybelsus is a brand-name prescription drug manufactured by Novo Nordisk that is taken orally. It is used to lower blood sugar levels in adults with type 2 diabetes and contains the active ingredient semaglutide. Semaglutide belongs to a group of medications known as glucagon-like peptide-1 receptor agonists (GLP-1 receptor agonists).
Rybelsus tablets contain the same active ingredient as the Wegovy and Ozempic injections. Wegovy is approved for weight management, and Ozempic is approved for type 2 diabetes.
Rybelsus is not indicated for use in patients with type 1 diabetes mellitus or the treatment of patients with diabetic ketoacidosis. Rybelsus is not approved as a weight loss medication. However, clinical trials have shown that semaglutide can cause a loss in body weight with reduced calorie intake and exercise changes.
What are the common side effects of Rybelsus?
While the medication can be effective in controlling blood sugar, it may cause some side effects that patients should be aware of. Common side effects of Rybelsus include nausea, diarrhoea, constipation and abdominal pain. However, these symptoms usually improve over time as the body adjusts to the medication.
What are the serious side effects of Rybelsus?
Some of these can be serious and may require immediate medical attention. For example, animal studies have shown that Rybelsus can increase the risk of a type of thyroid cancer called medullary thyroid carcinoma (MTC), particularly in people with a certain type of genetic disorder called multiple endocrine neoplasia syndrome type 2. If you have a family history of this condition, it is especially important to speak with your healthcare provider about the potential risks and benefits of taking Rybelsus.
Additionally, some patients may experience serious side effects such as hypoglycemia (low blood sugar). The risk of hypoglycemia is increased when Rybelsus is used in combination with insulin or sulfonylureas such as metformin. Other serious side effects include pancreatitis, allergic reactions, kidney problems and worsening diabetic retinopathy.
Tips for taking Rybelsus
Take Rybelsus as prescribed
The first and most important tip for taking Rybelsus medication is to always follow your prescriber's dosage instructions. The medication should be taken once daily with water on an empty stomach, at least 30 minutes before the first meal of the day with plain water. Patients should not break, crush, or chew the tablets. It is recommended to swallow the tablet whole. Patients should also avoid taking the medication with high-fat meals, as it can reduce the effectiveness of Rybelsus. After 30 minutes of taking the Rybelsus tablet, you may eat, drink or take other oral medications.
Be consistent with the timing
To get optimal results from Rybelsus, patients need to take the medication at the same time each day. This helps maintain a consistent level of medication in the bloodstream. Patients should set a reminder on their phones or incorporate the medication into their daily routine to help them remember. Missing doses of Rybelsus can lead to fluctuations in blood sugar levels, which can be harmful to patients.
Monitor blood sugar levels
Patients taking Rybelsus need to regularly monitor their blood sugar levels to see if the medication is working effectively. Monitoring blood sugar levels also allows patients to identify any potential medication side effects. Patients should work with their healthcare provider to determine the appropriate frequency of blood sugar monitoring.
Be aware of possible side effects
Rybelsus needs to be started slowly on a 3 mg dose once a day. Starting at a lower dosage helps the body get used to taking the medicine and reduces the risk of digestive side effects, such as nausea, belly pain, diarrhoea, decreased appetite, vomiting, and constipation. If you miss a dose, the missed dose should be skipped, and the next dose should be taken the following day.
Communicate with Healthcare Providers
Lastly, patients taking Rybelsus should always communicate with their healthcare provider for medical advice. If patients experience any side effects, have trouble remembering to take the medication, are not seeing the desired results or are worried about drug interactions they should speak with their healthcare provider. Patients should always inform healthcare professionals about medical conditions if they are pregnant or breastfeeding and if prescription drugs, over-the-counter meds and supplements are being taken.
Taking Rybelsus medication properly is critical to achieving optimal results and controlling blood sugar levels in patients with type 2 diabetes. Patients should take the medication as prescribed, be consistent with timing, monitor their blood sugar levels, and communicate with their healthcare provider to ensure the medication works effectively. By following these tips, patients can maximise the benefits of Rybelsus and improve their overall health and well-being.
About Now Patient
Now Patient's online services are available in the US and UK. We help you manage your prescriptions, doctor appointments, test results, health risks, and a lot more, all in one place for FREE. If you are in the United States, you could enjoy savings using Now Patient's mail-order pharmacy or use the Now Patient Rx Advantage Card at over 65,000 pharmacies, with savings of up to 90% on popular FDA-approved brand and generic medications like Ozempic, Mounjaro, clopidogrel and lots more. We do not currently handle commercial insurance, Medicare or Medicaid. UK NHS and private prescriptions are delivered FREE of charge across England & Wales by our UK NHS online pharmacy.
Sources
Disclaimer
Now Patient has taken all reasonable steps to ensure that all material is factually accurate, complete, and current. However, the knowledge and experience of a qualified healthcare professional should always be sought after instead of using the information in this page. Before taking any drug, you should always speak to your doctor or another qualified healthcare provider.
The information provided here about medications is subject to change and is not meant to include all uses, precautions, warnings, directions, drug interactions, allergic reactions, or negative effects. The absence of warnings or other information for a particular medication does not imply that the medication or medication combination is appropriate for all patients or for all possible purposes.
WHY WE BUILT NOW PATIENT
To improve the lives of everyone by making high-quality care accessible and convenient
We are here to improve lives. Our service gives you access to smart features & resources that can help empower you to take control of your health and improve your health outcomes. All this, in one place, for FREE. We strive to bring a fresh perspective to managing health. Not play by the rules. Now Patient can be accessed by downloading the App or using your web browser.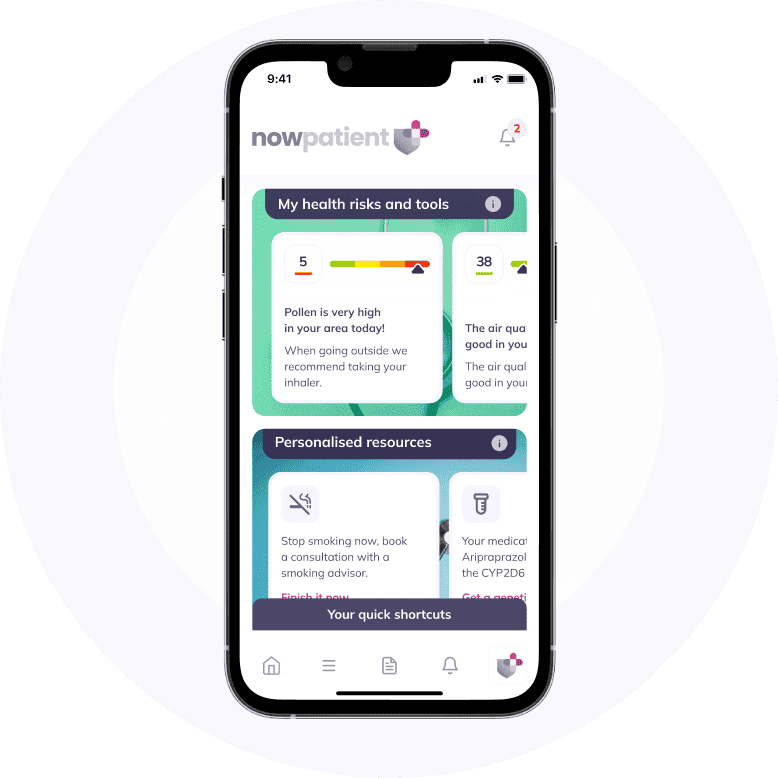 Your Questions Answered
For your peace of mind, we can answer your health questions quickly
If you want to learn more about the range of services that we provide which can help manage and improve your health, then just click the button below.
Find your answers