Stefano Mirabello
Pharmacist / B.Pharm
For anyone suffering from skin problems, Betnovate might be a term that you have heard before. It is a topical steroid that is extensively used for treating skin diseases such as eczema, psoriasis and dermatitis. It is vital to know the facts about Betnovate before using it, this blog post aims to provide you with all the necessary information. In this blog post, we will talk about what Betnovate is, how it works, its uses, recommended dosage and possible side effects.
What is Betnovate?
Betnovate is a brand name for the active ingredient betamethasone valerate. It is a potent anti-inflammatory medication that is used to treat inflammatory skin conditions, such as eczema, psoriasis, atopic dermatitis (also known as contact dermatitis) and other skin allergies.
Is Betnovate a steroid cream?
Yes. It contains a potent steroid called betamethasone, which means that it contains a higher concentration of the active ingredient than milder steroids. It works by reducing inflammation and suppressing the immune system response, thus reducing the symptoms of inflammation such as itchy and inflamed skin. Betnovate is a topical corticosteroid that comes in different forms such as creams, ointments and lotions. Your doctor will prescribe the appropriate form based on your skin condition.
Is Betnovate a hydrocortisone cream?
When it comes to topical creams, it can be confusing to know what each one is specifically meant to do. One frequently asked question is whether Betnovate is a hydrocortisone cream. The answer to that is no. While both of these creams are used to treat certain skin conditions, they are not interchangeable. Betnovate contains betamethasone, a strong steroid that is effective in reducing inflammation and itching. Hydrocortisone on the other hand, is a milder steroid that is more commonly used for less severe skin conditions. It's important to consult with your doctor or pharmacist to determine which cream is best suited for your individual needs.
How does Betnovate work?
The active ingredient of Betnovate is betamethasone valerate, which is a type of corticosteroid. It works by reducing inflammation, redness and swelling within the skin. The skin cells stop releasing inflammatory substances and the affected area calms down.
Betamethasone is similar chemically to the natural hormone cortisol, which is produced by the body's adrenal glands. Cortisol has a potent anti-inflammatory effect on the body. By mimicking the hormone cortisol, betamethasone significantly reduces inflammation and helps the skin to heal.
What is Betnovate used for?
Betnovate is used to treat skin inflammation and itching associated with severe forms of inflammatory skin conditions such as eczema, psoriasis, dermatitis and other skin allergy problems.
Eczema usually appears on parts of the body that bend, like the inner elbow, behind the knees, wrists, ankles or on your neck.
Psoriasis can occur on various parts of the body, including the scalp, elbows, knees and lower back. Some people may only have psoriasis in one or two areas, while others may have it all over their bodies.
Dermatitis can vary from person to person, but it commonly occurs in areas where the skin is thin and sensitive, such as the hands, face, neck and folds of the skin.
Betamethasone will not help with skin conditions such as impetigo, rosacea, acne, perioral dermatitis, itching around the back passage or genital areas, infected skin or itchy skin that isn't inflamed.
Recommended Dosage
The recommended dosage of Betnovate is to apply a thin layer of the cream to the affected skin areas once or twice a day to prevent flare-ups. It is crucial to apply the cream sparingly and not cover the treated area unless instructed by a doctor. Betnovate is absorbed through the skin and is distributed throughout the body, which is why it should be used sparingly and not for a long period.
If you're prescribed Betnovate cream or ointment, your doctor may advise you to apply it using fingertip units. This simple method involves using the amount of cream or ointment that fills the tip of an adult's index finger, from the tip to the first crease.
For children, use the finger size appropriate to their age. This unit of measure is a great way to ensure you are applying the right amount of medication and not overusing it, which can potentially cause harm to your skin.
How to apply Betnovate
Applying Betnovate is relatively straightforward:
Firstly, make sure to wash and dry the affected areas of the body before applying the medication
Then, apply a thin layer of the cream, ointment or lotion to the affected area, but avoid getting it into your eyes, nose or mouth
After the cream has been absorbed, an emollient (moisturising) cream can be applied to the same area if necessary
Don't cover the area being treated with airtight dressings such as bandages or other dressings unless directed by a doctor
Betnovate cream is of a lighter consistency and is more easily absorbed by the skin, making it suitable for use on areas that are more prone to sweating or rubbing. On the other hand, Betnovate ointment is thicker and greasier, making it more effective for dry and scaly areas. Betnovate lotion is better for treating large or hairier areas of skin. Betnovate also comes as a scalp application to treat skin conditions affecting the scalp, such as dermatitis or psoriasis.
You should also avoid using Betnovate on broken skin, acne, near active leg ulcers and cold sores or skin infections. Additionally, make sure to use the medication as directed by your doctor and do not apply more than the prescribed dose.
You should avoid smoking or going near naked flames when using Betnovate. The cream and ointment are flammable.
Are there any side effects of Betnovate?
Like all medications, Betnovate can cause side effects in some people. The most common side effects of Betnovate include:
Itching or burning sensation
Stinging
Redness at the site of application
These side effects are usually mild and go away on their own.
Betnovate can also lead to a more severe risk of side effects such as:
Skin-thinning
Allergic reactions
Stretch marks
Blood vessels under the surface of your skin may become more noticeable
Increase or reduction in hair growth or hair loss at the application site
Changes in skin colour
Many of these side effects are related to long-term use. You should contact your doctor immediately if you experience any of these side effects.
Who is unsuitable for Betnovate?
Betnovate should not be used:
If you have a viral infection affecting the dermis, such as herpes or chickenpox
If you have rosacea, acne or bacterial conditions on the skin. You should avoid using Betnovate because it may exacerbate symptoms
If you take certain medications such as ritonavir and itraconazole
if you are pregnant or think you might be pregnant, or are breastfeeding or planning to breastfeed, unless you have been specifically advised to do so by your doctor
If you are allergic to any of the ingredients found in the cream liquid paraffin and white soft paraffin
Consult with your dermatologist before using it. Overall, it's crucial to follow your doctor's instructions and communicate any concerns you may have regarding your condition or medication.
Speak to a healthcare professional
It's important to note that Betnovate is a prescription-only medication and should only be used as directed by your healthcare provider. You should not use it for longer than recommended and you should never share it with anyone else, even if they have the same skin condition. Always follow your healthcare provider's instructions when using Betnovate. When used correctly, Betnovate can significantly alleviate skin allergies' symptoms and help to restore the affected skin areas. However, it is essential to be aware of the possible side effects that may arise, even when using the cream under medical supervision. By following these simple guidelines, you can use Betnovate with confidence and expect to see positive results.
FAQ's
Can I use Betnovate on my face?
Many people wonder if they can use Betnovate cream on their faces. The answer is not a simple yes or no, as it depends on your skin type and the severity of your condition. Betnovate contains a potent steroid called betamethasone, which can be too harsh on some people's delicate facial skin. It's always best to consult with a doctor or dermatologist before using any medication on your face. They can advise you on the proper dosages and how to use the cream safely to avoid any potential side effects. It's important to take care of your skin and seek professional medical advice when needed.
Does Betnovate remove dark spots?
While Betnovate may help to reduce inflammation and redness, it's not specifically designed to address dark spots or hyperpigmentation. As always, it's important to talk to your doctor, pharmacist or dermatologist about the best treatment options for your individual needs. They can help you determine if Betnovate is the right choice for you or if other options may be more effective for addressing your dark spots.
How long can I use Betnovate scalp application?
It's important to consult with your doctor or pharmacist for specific instructions and duration of use. Generally, Betnovate should not be used for more than four weeks at a time, as prolonged usage can lead to thinning of the hair or other unwanted side effects. Remember to always follow the recommended dosage and seek medical advice if your symptoms persist or worsen.
About Now Patient
Now Patient's online services are available in the US and UK. We help you manage your prescriptions, doctor appointments, test results, health risks and a lot more, all in one place for FREE. US prescriptions are available on a discounted 'cash' basis and delivered across all 50 states by our network of pharmacy providers dispensing FDA-approved generic and branded medications. We do not currently handle commercial insurance, Medicare or Medicaid. UK NHS and private prescriptions are delivered FREE of charge across England & Wales by our UK regulated online pharmacy.
Sources
Disclaimer
Now Patient has taken all reasonable steps to ensure that all material is factually accurate, complete, and current. However, the knowledge and experience of a qualified healthcare professional should always be sought after instead of using the information in this page. Before taking any drug, you should always speak to your doctor or another qualified healthcare provider.
The information provided here about medications is subject to change and is not meant to include all uses, precautions, warnings, directions, drug interactions, allergic reactions, or negative effects. The absence of warnings or other information for a particular medication does not imply that the medication or medication combination is appropriate for all patients or for all possible purposes.
WHY WE BUILT NOW PATIENT
To improve the lives of everyone by making high-quality care accessible and convenient
As technologists and clinicians, we built Now Patient to be more than just an online pharmacy. We are here to improve lives. Our service gives you access to smart features & resources that can help empower you to take control of your health and improve your health outcomes. All this, in one place, for FREE. We strive to bring a fresh perspective to managing health. Not play by the rules. Now Patient can be accessed by downloading the App or using your web browser.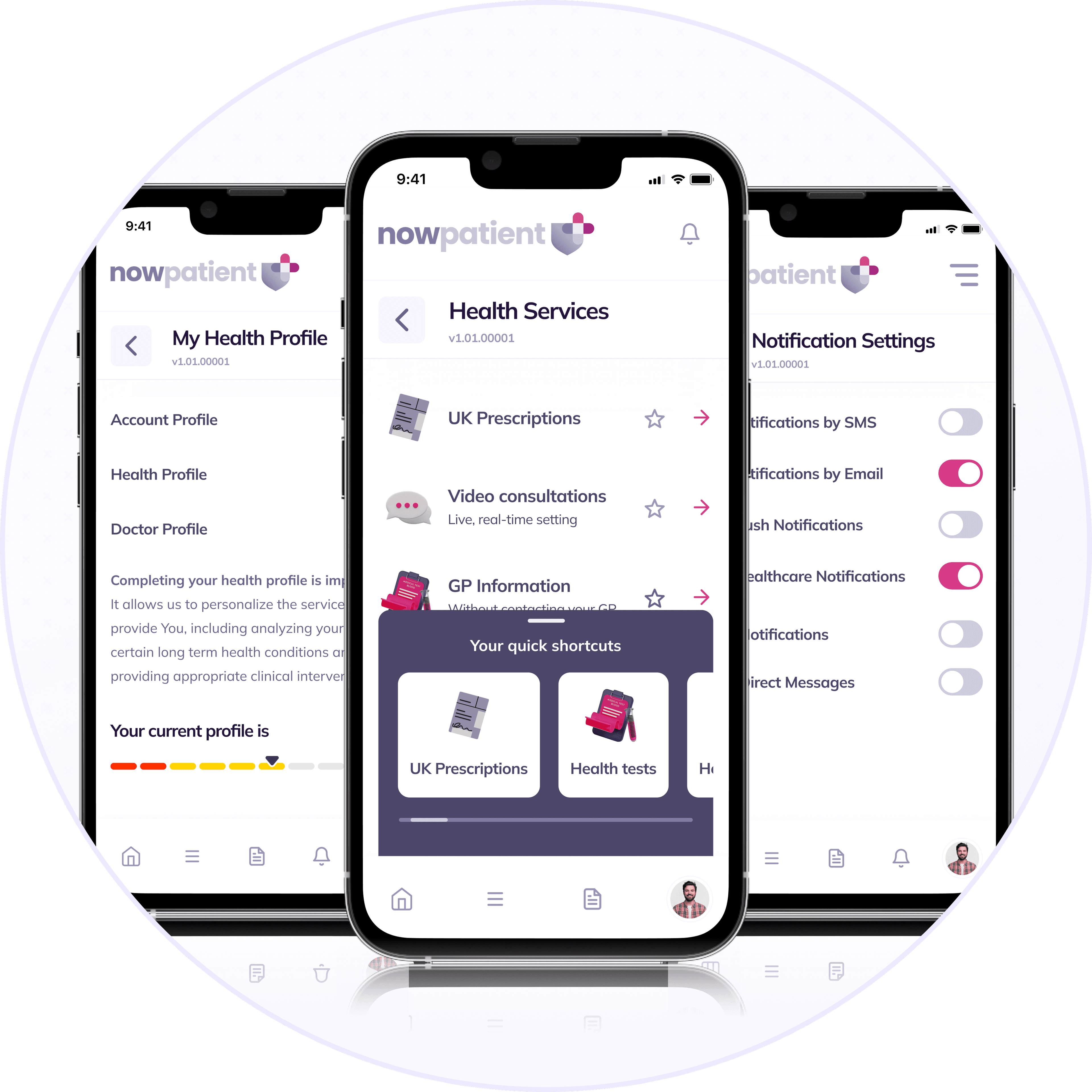 NOW PATIENT
Join the thousands of happy customers in the US and UK already using Now Patient
Manage your health and prescriptions all in one place for FREE. Available to use by downloading the App, or using your web browser.
Your Questions Answered
For your peace of mind, we can answer your health questions quickly
If you want to learn more about the range of services that we provide which can help manage and improve your health, then just click the button below.
Find your answers