Stefano Mirabello
Pharmacist / B.Pharm
Losing my hair after a diabetes diagnosis at 23 years old is something that I've never imagined would happen to me, but who would?
In the months leading to my diagnosis, my hair was the best it had ever been. Then something just changed and I didn't know what it was. I bought a box dye and thought that would solve my problems, alas I was wrong. Around 2 months after diagnosis, I went to visit my trusted hairdresser. She knew everything about my hair and I realised as soon as I sat in the chair that something was not right. You see your hair every day, and it is normal to not notice changes, but she did a colour test and said that my hair turned into a chewing gum-like substance. I was so confused! She asked me if I had been unwell recently, which obviously I had. I was not able to have my hair dyed, and had to undergo various keratin treatments to save my hair in the interim while we figured out what was happening.
Not long after this, I noticed my hair thinning and falling out a lot. I was on Google every night after work researching what was going on, which led me nowhere really. I felt so self-conscious and embarrassed. It wasn't until I plucked up the courage to speak to my diabetes management nurse and people on Instagram about it, that I realised it is actually quite common! I felt so validated and hearing other peoples' experiences made me feel much less alone and isolated. It was nice to bond with people over something that was difficult to process.
The link explained
Since then, I've done more research into how diabetes causes hair loss and the treatment options and it is very interesting. Here are some common causes:
Hair loss can be a symptom of both type 1 and type 2 diabetes. High blood glucose levels in type 1 and type 2 diabetes due to insulin resistance or lack of insulin is one of main causes of hair loss. Excess sugar in the body can disrupt the hair growth cycle in several ways. First, it can cause the hair follicles to shrink, which leads to thinning hair, weaker hairs on all parts of the body. Second, diabetes affects the production of keratin, a protein that is essential for healthy hair growth. Finally, diabetes can damage the blood vessels restricting blood flow and the supply of nutrients to the hair follicles, leading to poor circulation and further hair loss.
I also found that alopecia areata is an autoimmune disease that causes patchy hair loss and is more common in people with type 1 diabetes. Type 1 diabetes is a condition in which the body does not produce insulin, and it is managed through a strict regime of diet and exercise. People with type 1 diabetes are also more likely to suffer from other autoimmune conditions, such as thyroid disease or vitiligo. While the exact cause of alopecia areata is unknown, it is believed to be related to an overactive immune system. In people with type 1 diabetes, the immune system attacks the hair follicles mistakenly, resulting in hair loss. While there is no cure for alopecia areata, treatments are available that can help to reduce hair loss and promote regrowth.
Diabetics are more susceptible to hormone imbalances because their bodies cannot produce or properly use insulin. One such condition related to hormone imbalances is androgenetic alopecia. Androgenetic alopecia is a condition that can affect both men and women. It is characterized by thinning hair and steady hair loss. Although the exact cause of androgenetic alopecia is not known, it is thought to be related to a combination of genetic and hormonal factors. Men with androgenetic alopecia (male pattern baldness) typically have higher levels of the hormone testosterone, which can contribute to hair loss. Women with androgenetic alopecia (female pattern hair loss) may have higher levels of the hormone estrogen, which can also lead to hair loss. In addition, people with androgenetic alopecia often have a family history of the condition. Finally, thyroid problems are also common in diabetics, and an imbalance in thyroid hormones can also lead to hair loss.
My research found that the type of hair loss treatments prescribed will depend on your age and the risks of side effects. Some of the following treatments may be suggested by your healthcare provider or dermatologist:
Topical medications to apply to the area such as minoxidil (Rogaine)
Oral treatments such as finasteride and minoxidil
Vitamin B12 supplements
Biotin supplements
Hair transplants in some cases
Diabetes takes such a toll, it's no surprise that this can happen! This is what happened to me, it just left me feeling miserable and seriously lacking in confidence.
How I dealt with diabetes hair loss
Hair is such a huge part of people's identity. With my hair changing the way it was, on top of all the feelings I had about my diagnosis, it started to become quite a dark time in my life. I decided to bite the bullet and have it all cut off into a pixie cut, which at the time felt incredibly empowering. However, after the novelty wore off, and lockdowns made it difficult to maintain, I gradually went back to feeling how I did before the cut. I didn't recognise myself anymore and felt like a shell of myself. This was around the time my mental health and relationship with diabetes was at an all-time low. I decided to try and treat my hair at home with a keratin shampoo, and just take it day by day. I was repairing my hair but also my relationship with myself, and over time both have improved massively.
It has taken just over a year for my hair to start reliably growing back, and I am at the growth stage now where I have a very tiny bob style and I'm loving it.
It is honestly mind-blowing that diabetes amongst many things can cause hair loss. You just are not told about any of it at diagnosis. Even when I queried it, the team was unsure about it. Finding out about this more on Instagram has helped me so much and definitely made me feel less alone. I think it's important to remember though, that everybody has a totally different experience with diabetes, and that is ok.
About Now Patient
Now Patient's online services are available in the US and UK. We help you manage your prescriptions, doctor appointments, test results, health risks and a lot more, all in one place for FREE. US prescriptions are available on a discounted 'cash' basis and delivered across all 50 states by our network of pharmacy providers dispensing FDA-approved generic and branded medications. We do not currently handle commercial insurance, Medicare or Medicaid. UK NHS and private prescriptions are delivered FREE of charge across England & Wales by our UK regulated online pharmacy.
Disclaimer
Now Patient has taken all reasonable steps to ensure that all material is factually accurate, complete, and current. However, the knowledge and experience of a qualified healthcare professional should always be sought after instead of using the information in this page. Before taking any drug, you should always speak to your doctor or another qualified healthcare provider.
The information provided here about medications is subject to change and is not meant to include all uses, precautions, warnings, directions, drug interactions, allergic reactions, or negative effects. The absence of warnings or other information for a particular medication does not imply that the medication or medication combination is appropriate for all patients or for all possible purposes.
WHY WE BUILT NOW PATIENT
To improve the lives of everyone by making high-quality care accessible and convenient
As technologists and clinicians, we built Now Patient to be more than just an online pharmacy. We are here to improve lives. Our service gives you access to smart features & resources that can help empower you to take control of your health and improve your health outcomes. All this, in one place, for FREE. We strive to bring a fresh perspective to managing health. Not play by the rules. Now Patient can be accessed by downloading the App or using your web browser.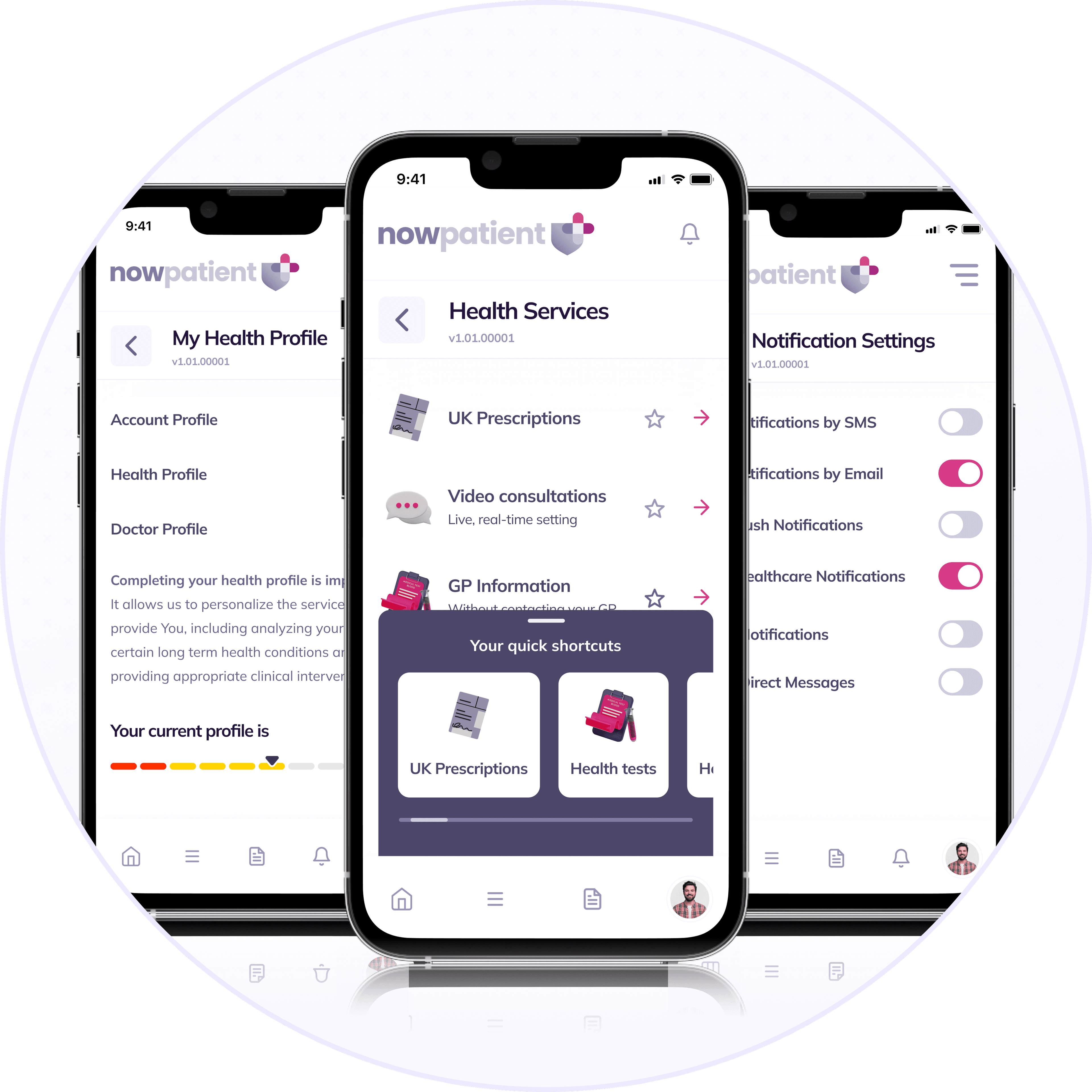 NOW PATIENT
Join the thousands of happy customers in the US and UK already using Now Patient
Manage your health and prescriptions all in one place for FREE. Available to use by downloading the App, or using your web browser.
Your Questions Answered
For your peace of mind, we can answer your health questions quickly
If you want to learn more about the range of services that we provide which can help manage and improve your health, then just click the button below.
Find your answers