Stefano Mirabello
Pharmacist / B.Pharm
Diabetes decisions 
A big part of self-managing diabetes is not discussed enough. Research from Stanford University in 2014 found that people living with type 1 diabetes make an extra 180 health-related decisions a day than someone without diabetes.
That's an extraordinary amount of extra decisions to be made – about once every 5 minutes you are awake. And diabetes doesn't go away when you're in bed. Those early morning hypo-alert reaction decisions need to be made despite your brain still being half-asleep. If you have type 1 or type 2 diabetes mellitus your daily decisions can be divided into four main categories: self-care, treatment, food and nutrition, and lifestyle.
Self-care includes such choices as whether to monitor blood sugar levels for hyperglycemia or hypoglycemia or take medication. Treatment decisions include choosing which type of insulin to use or deciding when to see a clinician. Food and nutrition choices range from what to eat for breakfast to how many carbohydrates to consume at each meal. Lifestyle choices encompass everything from whether to exercise to how to deal with stress. Making all of these choices can be daunting, but it's important to remember that each decision is an opportunity to improve your health.
This extra pressure on people with diabetes is still not widely recognised. Hypoglycemia, or "going low," is one of the most frightening events that a person with diabetes can experience. The general understanding among people without diabetes is that insulin solved the problem of diabetes. Even the medical industry seems to believe carb counting and the right carb ratio algorithms are good enough. If only they would listen to more people with diabetes, they'd know it's not that simple.
Diabetes decisions: All day, every day
You're making diabetes decisions from the moment you wake up:
Do I get the kids ready first or do I have time to take my long-acting insulin now?
Can I eat breakfast yet or do I need to wait for my blood sugar to go down?
Do I need less short-acting insulin because I'm going to have a hot shower?
Until the time you go to bed:
Should I have a low-carb dinner so I'm not high too late?
What time should I check my blood sugar before bed?
Did I take my long-acting insulin this evening or should I double-check?
and into the night:
How much of my hypo treatment do I need at 2:30 am that isn't too much?
Do I go back to sleep or wait until my blood sugar is a bit higher?
These are the decisions most commonly associated with living with diabetes. There are a huge number of diabetes decisions which are less obvious to people without the condition:
Can I go for a walk with my family if I'm heading low?
Will I be judged for injecting in public?
What will my friends think if I ask the waiter about the carb content of this meal?
Can I record my insulin on my phone at work with my boss watching?
What do I have to change about my plans because it's hot and sunny today?
How do I adjust my diet and insulin today because I was low this morning?
Do I eat more this morning because I went cycling yesterday afternoon?
Should I apply for this job or are they going to discriminate against me?
How will this cold or illness or puberty or menstrual cycle or lack of sleep or allergies affect me differently today than it did yesterday?
All of these decisions need to be made because of diabetes. Nobody wants to make these decisions, and the dream remains a cure, but until that day, the health industry should support you with your own decision-making process and not tell you what to do.
The importance of shared decision making
Shared decision-making (SDM) is a process that aims to reduce decisional conflict allowing patients and their healthcare providers to make clinical decisions together about their care. SDM is based on the premise that patients should be involved in decisions about their treatment because they are the ones who will live with the consequences of those decisions. This is an important element of the patient-centred care approach.
When it comes to managing a chronic disease like diabetes, SDM can help patients to choose the treatment plan that best meets their needs and preferences using patient decision aids. For example, some patients may prefer a more hands-on approach to their care, while others may prefer to delegate more responsibility to their diabetes care team. Patient preferences remain at the core as well as patient education.
SDM can also help patients to understand the risks and benefits of different diabetes treatment options so that they can make an informed decision about their care. Healthcare providers will consider individual patient comorbidities, current treatment adherence and HbA1c levels. SDM requires repeated follow-up, with frequent re-calibration of goals and treatments and diabetes education.
Ultimately, SDM is a process that can empower patients to take control of their diabetes management and treatment regimens, including glycemic control and medication adherence. This patient-centered approach aims to improve the quality of care for patients with diabetes and other chronic conditions.
The importance of raising awareness
While there are many diabetes medication choices available to help manage the condition, living with diabetes can still be a challenge. From counting carbohydrates at every meal to dealing with the constant threat of serious complications, managing diabetes is a full-time job. Unfortunately, many people don't understand the difficulties that diabetics face on a daily basis. By raising awareness of the everyday realities of living with diabetes, we can help make life a little easier for those dealing with the condition. Here are just a few of the challenges that diabetics face on a daily basis:
• Constant monitoring: Diabetic patients need to monitor their blood glucose levels constantly, which can be a time-consuming and stressful task if there is low health literacy
• Difficult dietary restrictions: In order to keep their blood sugar levels under control, diabetics often have to make major changes to their diet. This can be difficult to adhere to and can lead to feelings of frustration and deprivation
• Risk of complications: One of the most serious risks associated with diabetes is the increased risk of developing complications such as heart disease, stroke, and kidney disease. This can lead to anxiety and fear about the future
By raising awareness of these everyday challenges, we can help make life a little easier for those living with diabetes.
It's important to acknowledge that diabetes decisions are a major part of living with diabetes. Without this acceptance, we can't move on to solving the challenge of improving the overall quality of life with diabetes.
The health industry and clinical practice have made the big first step in primary care – it can keep people alive. But none of us just want to survive. We want to live. Experience all that life has to offer. We want to focus on the things that matter – friends, family, work, art, sport, entertainment – whatever life means to you.
Diabetes decisions should not be holding you back.
This is the challenge that Now Patient is taking up. We don't want you looking at the past. We want you to think about your present and future, to give you informed consent and be able to plan your day without worry. We want to replace your usual care of stress, anxiety and depression associated with diabetes with patient-centred care, comfort, confidence and happiness. We know this isn't easy, but why should people with diabetes settle for any less?
The Now Patient app remembers your past for you and shows your future so that you can make diabetes decisions quicker and get back to living your life. We have big plans for pushing out new features each month to add more support for your diabetes decision. None of them involves telling you what to do. We trust you to know what's best for your life.
About Now Patient
Now Patient's online services are available in the US and UK. We help you manage your prescriptions, doctor appointments, test results, health risks and a lot more, all in one place for FREE. US prescriptions are available on a discounted 'cash' basis and delivered across all 50 states by our network of pharmacy providers dispensing FDA-approved generic and branded medications. We do not currently handle commercial insurance, Medicare or Medicaid. UK NHS and private prescriptions are delivered FREE of charge across England & Wales by our UK regulated online pharmacy.
Disclaimer
Now Patient has taken all reasonable steps to ensure that all material is factually accurate, complete, and current. However, the knowledge and experience of a qualified healthcare professional should always be sought after instead of using the information in this page. Before taking any drug, you should always speak to your doctor or another qualified healthcare provider.
The information provided here about medications is subject to change and is not meant to include all uses, precautions, warnings, directions, drug interactions, allergic reactions, or negative effects. The absence of warnings or other information for a particular medication does not imply that the medication or medication combination is appropriate for all patients or for all possible purposes.
WHY WE BUILT NOW PATIENT
To improve the lives of everyone by making high-quality care accessible and convenient
As technologists and clinicians, we built Now Patient to be more than just an online pharmacy. We are here to improve lives. Our service gives you access to smart features & resources that can help empower you to take control of your health and improve your health outcomes. All this, in one place, for FREE. We strive to bring a fresh perspective to managing health. Not play by the rules. Now Patient can be accessed by downloading the App or using your web browser.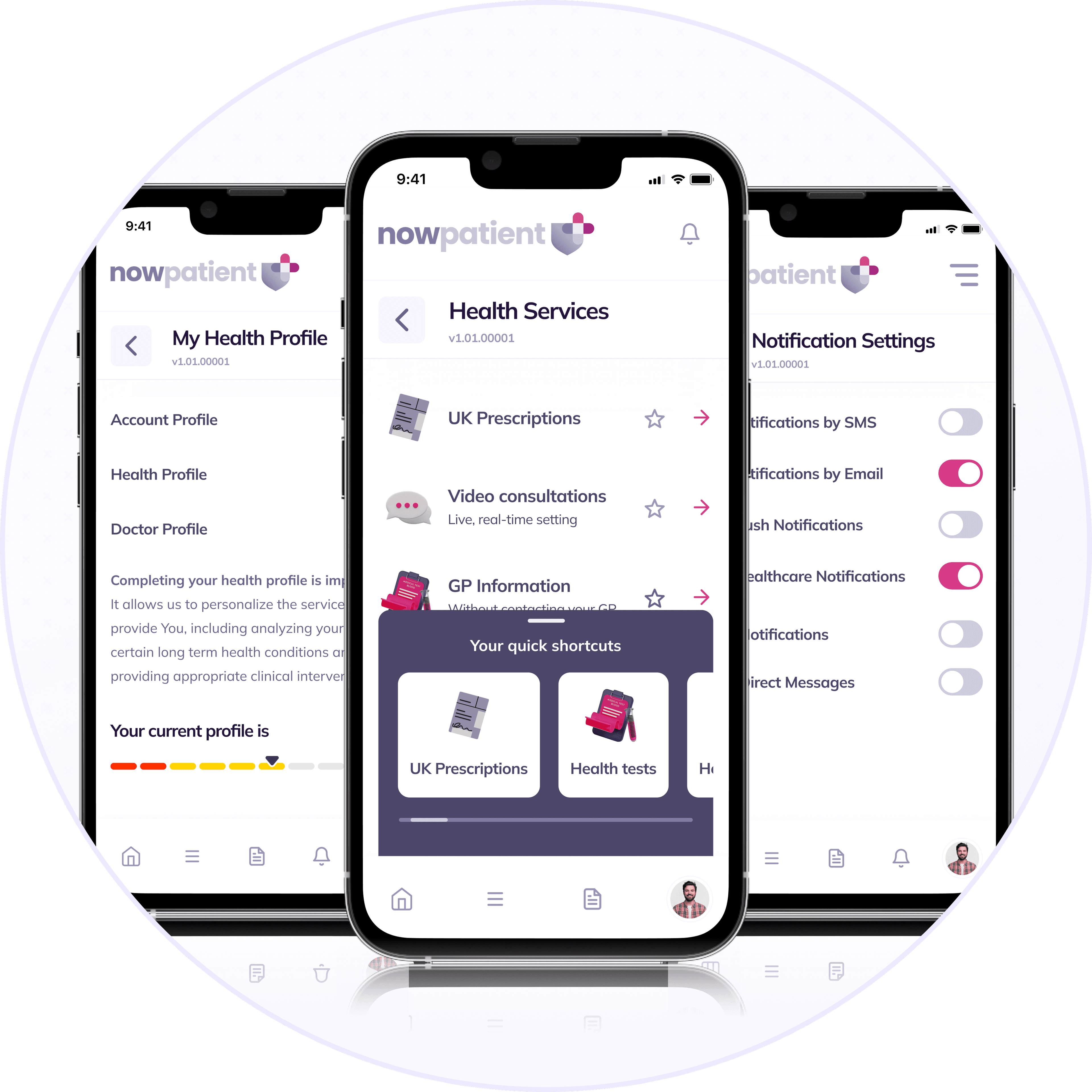 NOW PATIENT
Join the thousands of happy customers in the US and UK already using Now Patient
Manage your health and prescriptions all in one place for FREE. Available to use by downloading the App, or using your web browser.
Your Questions Answered
For your peace of mind, we can answer your health questions quickly
If you want to learn more about the range of services that we provide which can help manage and improve your health, then just click the button below.
Find your answers