/
Blog
/
Does sugar cause acne? How food affects your skin
Does sugar cause acne? How food affects your skin
27 Jun 2023

Stefano Mirabello
Pharmacist / B.Pharm
You may have heard that what you eat can affect your skin. Sugar and fast foods are often considered to be the top culprits in causing acne.
But is there actually any scientific evidence behind this? Or is it just scaremongering?
Ok, so the deal is that a lot of the old advice on diet and acne wasn't actually based on science. Some people were certain diet had an impact, but others said we couldn't say for sure as there wasn't any scientific evidence. But the good news is that scientific research has been conducted more recently, and it has found links between acne and food.
Here's what you need to know.
What is acne?
Acne is a skin disease which causes different types of spots, inflammation, and even scarring. Acne forms when the follicles in your skin, that's the small holes that hair grows out of (also called pores), get blocked by sebum oil or dead skin cells. The blocked follicles form various types of spots. They can get infected by bacteria too, causing inflammation and more serious forms of acne.
While blocked follicles cause acne, a whole host of things can make the follicles more likely to get blocked, including hormones making your skin produce more oil, certain meds, and even food.
So what kinds of foods cause acne? And which can help?
What foods can cause or make acne worse?
Sugar and refined carbohydrates
Does sugar cause acne? Two studies found that people with acne tend to eat more sugar and refined carbohydrates (like bread, cereal, pasta, rice, and pastries) than people without acne. When you eat sugar and refined carbs you get a sudden spike in blood sugar, which causes your body to release insulin to lower it again. Insulin can also cause your hormones to become more active, which could make you produce more sebum oil, which then blocks your follicles.
Dairy
A number of studies have found a link between dairy and acne. Dairy products, like milk and cheese, also make your body produce insulin, so like sugar and refined carbs, more insulin could lead to more sebum oil and more blocked follicles. Cow's milk also contains a hormone called insulin-like growth factor 1 (IGF-1) which has been linked to acne too.
Food high in Omega-6 oils
Omega oils are a type of fat your body needs to be healthy, but that it can't make itself from other fats. You need to get them from your food. You need both omega-6 and omega -3 oils in your diet, but too much omega-6 and too little omega-3 can make inflammation in your body worse, including inflammation around acne. Sunflower oil and corn oil are high in omega-6, and are found in fast food, especially fried fast food, and in processed products like cakes, pastries, and bread.
Fast food
Research shows people who eat high-calorie, high-fat food, especially fast food, are more likely to get acne. Evidence suggests that these foods can change the way your genes express and alter your hormone levels, which could result in more sebum oil being produced. They're also high in sugar and refined carbs, dairy, and omega-6 oils as well.
Chocolate
Chocolate has long been thought to be a cause of acne, and science has found there may be something to this, as studies have shown that men who eat chocolate have worse acne than those who don't. It's thought that chocolate makes the immune system more sensitive to acne bacterial infections, making inflammation worse.
What foods can help with acne?
Just as evidence shows some foods can make acne worse, there are foods which can help too. Generally, any foods that keep your blood sugar and insulin levels low, or that have anti-inflammatory benefits should help. Try and include the following in your new acne diet:
Food high in Omega-3
We mentioned before that too much omega-6 oils and too little omega-3 can contribute to acne through making inflammation worse. Well, no surprises, research has shown that increasing your omega-3 intake can reduce your chances of having acne and inflammation. Omega-3 oils are found in lots of foods, but particularly oily fish, seeds, berries, and avocados. Taking omega-3 supplements has been found to be effective too.
Foods high in vitamins A, D, E, and zinc
These nutrients are important for healthy skin and a strong immune system. Evidence has also shown they can help stop acne. Foods high in these nutrients include fish, eggs, nuts, and fruits and vegetables. You could consider taking a multivitamin too to make sure all your bases are covered.
Probiotic foods
Probiotics are foods which contain live microorganisms which are good for your gut and your health. They include probiotic yogurts and pickled food, like kefir, sauerkraut, kimchi, and gherkins. As well as being generally good for you, there's evidence that probiotics reduce inflammation and lower the risk of developing acne.
Paleo and Mediterranean diets
Certain diets such as the Paleo diet or Mediterranean diet which focus on natural foods, like lean meats, veg, nuts, fruit and contain little dairy or animal fat, have been linked to lower rates of acne. It's likely this is because the foods in these diets usually don't lead to blood sugar spikes and increased insulin production.
You can't treat acne just by changing your diet, but altering what you eat can help. That means you should make changes to your diet alongside other treatments for acne, like skincare products and acne meds such as tretinoin, and hopefully you'll see the benefits.
Changing your diet to include foods that help with acne should also make you healthier overall as well. Double win.
About Now Patient
Now Patient's online services are available in the US and UK. We help you manage your prescriptions, doctor appointments, test results, health risks, and a lot more, all in one place for FREE. If you are in the United States, you could enjoy savings using Now Patient's mail-order pharmacy or use the Now Patient Rx Advantage Card at over 65,000 pharmacies, with savings of up to 90% on popular FDA-approved brand and generic medications like Ozempic, Mounjaro, clopidogrel and lots more. We do not currently handle commercial insurance, Medicare or Medicaid. UK NHS and private prescriptions are delivered FREE of charge across England & Wales by our UK NHS online pharmacy.
Sources
Disclaimer
Now Patient has taken all reasonable steps to ensure that all material is factually accurate, complete, and current. However, the knowledge and experience of a qualified healthcare professional should always be sought after instead of using the information in this page. Before taking any drug, you should always speak to your doctor or another qualified healthcare provider.
The information provided here about medications is subject to change and is not meant to include all uses, precautions, warnings, directions, drug interactions, allergic reactions, or negative effects. The absence of warnings or other information for a particular medication does not imply that the medication or medication combination is appropriate for all patients or for all possible purposes.
WHY WE BUILT NOW PATIENT
To improve the lives of everyone by making high-quality care accessible and convenient
We are here to improve lives. Our service gives you access to smart features & resources that can help empower you to take control of your health and improve your health outcomes. All this, in one place, for FREE. We strive to bring a fresh perspective to managing health. Not play by the rules. Now Patient can be accessed by downloading the App or using your web browser.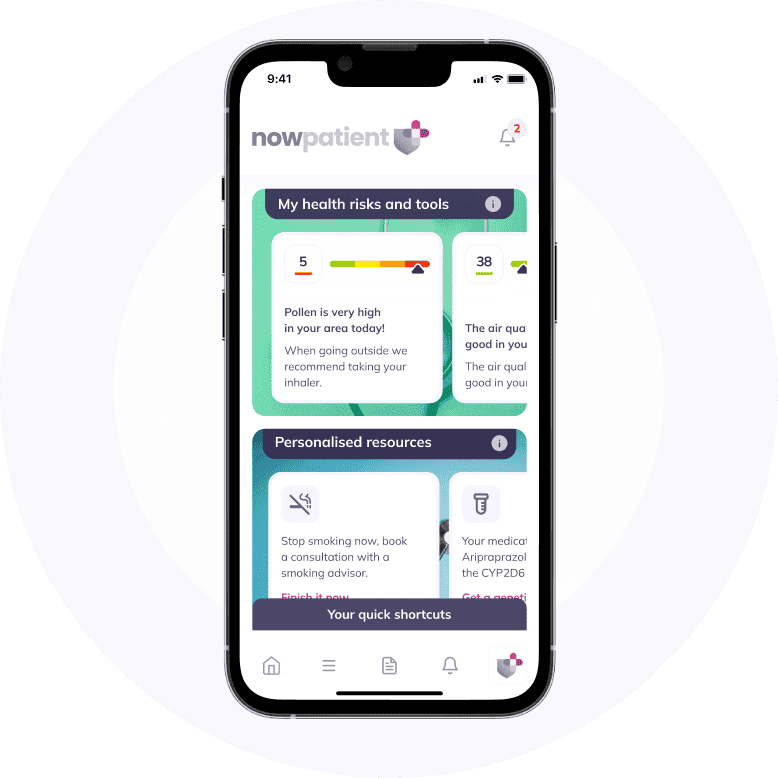 Your Questions Answered
For your peace of mind, we can answer your health questions quickly
If you want to learn more about the range of services that we provide which can help manage and improve your health, then just click the button below.
Find your answers