/
Blog
/
Herbal supplements can interact with your medication
Herbal supplements can interact with your medication
2 Dec 2022

Stefano Mirabello
Pharmacist / B.Pharm
Checking drug interactions is something we do when taking prescription drugs, but have you ever considered potential interactions with herbal supplements? Herbal remedies sometimes called alternative medicines have been used for centuries and we have the impression that herbal products are natural and safe. However, when they are taken alongside prescription meds they can change how drugs are broken down in the body, intensify their side effects or even block the intended therapeutic effect of a drug. Dangers exist with herb-drug interactions which can result in serious health problems.
Let's take a look at eight herbal medications that are known to interact with certain prescription medications.
What are herbal supplements?
Herbal supplements contain one or more varieties of herbs and are classed as a type of dietary supplement. They are thought to be useful in treating disease and keeping healthy. Most are available in health food stores and even some supermarkets. They are:
John's Wort
St. John's Wort is one of the most well-known herbal medicines and its use dates back as far as the ancient Greeks. It is a plant with yellow flowers that bloom around June.
St John's Wort is thought to be useful in treating depression, mood disorders, menopausal symptoms and other conditions. It is also available topically to treat skin conditions, bruising and muscle pain. Research indicates St. John's Wort may work in a similar way to conventional antidepressants by increasing levels of serotonin and noradrenaline in the brain.
St. John's Wort has many interactions with many commonly used prescription drugs such as:
Ginkgo biloba (gingko)
Ginkgo biloba is a species of tree native to China with fan-shaped leaves, it has a long tradition in Chinese medicine. It has been promoted as a dietary supplement for memory boosting, anxiety, eye problems, high blood pressure, allergies and other conditions. There is no significant evidence to suggest ginkgo can help with any of these conditions. It has interactions with:
A study, part-funded by the National Center for Complementary and Integrative Health (NCCIH) involving over 3000 patients looked at the long-term use of ginkgo to improve memory. No change was found in dementia patients taking ginkgo.
Evening primrose oil
Evening primrose is a yellow flowering plant native to North and South America. It contains an omega-6 fatty acid known as gamma-linoleic acid. It is often used to treat eczema, premenstrual syndrome and diabetic neuropathy but there is no research to back up its use as a treatment for these conditions.
Evening primrose oil may delay blood clotting and increase the chance of bruising or bleeding therefore shouldn't be taken with blood-thinning drugs. It may also increase the risk of seizures when taken with drugs to control epilepsy or schizophrenia. Evening primrose may have interactions with:
Ginseng
Ginseng is a herb native to the Far East. It is the root of the plant that holds the health-related benefits used in traditional Chinese medicine for thousands of years. It is thought to improve overall wellness, slow down the ageing process and improve concentration and memory to name a few conditions.
Ginseng is not suitable to take with:
Echinacea
Echinacea is a herb used traditionally by Native Americans. It stimulates the immune system and is thought to help with the common cold and other minor infections. Current evidence shows that the risk of interactions between echinacea supplements and most medications is low. Caution may be taken while on prednisone as both drugs target the immune system.
Liquorice
Liquorice is used as a flavouring in sweets, drinks and tobacco products. Its origins go back to Indian, Egyptian and Chinese cultures. The main conditions liquorice is used to treat are digestive issues, menopausal symptoms, cough, and bacterial and viral infections, but no clinical evidence is available.
Liquorice should not be taken with:
Cranberry
Something simple as cranberry can have drug interactions. It needs to be used with caution with blood thinners (anticoagulants) like warfarin.
Green tea
Green tea is a very popular choice for stomach disorders, to lower cholesterol, as an anti-cancer antioxidant, as a stimulant, and to lessen belly fat, among other uses. Green tea can interact with:
Some tips to avoid problems
There are many things you can do to stay safe and avoid dangerous interactions between herbal medication and prescription medication:
About Now Patient
Now Patient's online services are available in the US and UK. We help you manage your prescriptions, doctor appointments, test results, health risks, and a lot more, all in one place for FREE. If you are in the United States, you could enjoy savings using Now Patient's mail-order pharmacy or use the Now Patient Rx Advantage Card at over 65,000 pharmacies, with savings of up to 90% on popular FDA-approved brand and generic medications like Ozempic, Mounjaro, clopidogrel and lots more. We do not currently handle commercial insurance, Medicare or Medicaid. UK NHS and private prescriptions are delivered FREE of charge across England & Wales by our UK NHS online pharmacy.
Sources
Disclaimer
Now Patient has taken all reasonable steps to ensure that all material is factually accurate, complete, and current. However, the knowledge and experience of a qualified healthcare professional should always be sought after instead of using the information in this page. Before taking any drug, you should always speak to your doctor or another qualified healthcare provider.
The information provided here about medications is subject to change and is not meant to include all uses, precautions, warnings, directions, drug interactions, allergic reactions, or negative effects. The absence of warnings or other information for a particular medication does not imply that the medication or medication combination is appropriate for all patients or for all possible purposes.
WHY WE BUILT NOW PATIENT
To improve the lives of everyone by making high-quality care accessible and convenient
We are here to improve lives. Our service gives you access to smart features & resources that can help empower you to take control of your health and improve your health outcomes. All this, in one place, for FREE. We strive to bring a fresh perspective to managing health. Not play by the rules. Now Patient can be accessed by downloading the App or using your web browser.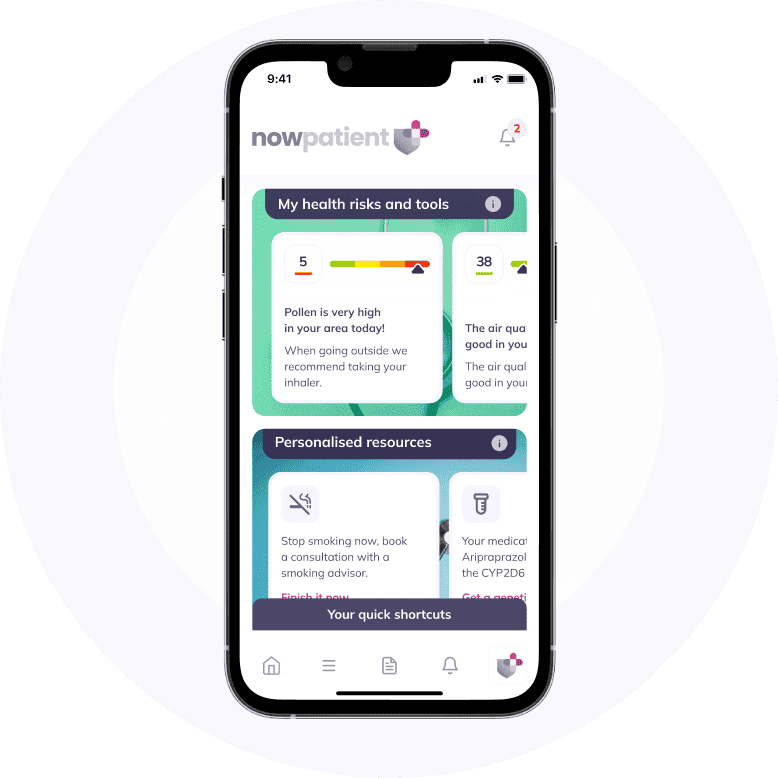 Your Questions Answered
For your peace of mind, we can answer your health questions quickly
If you want to learn more about the range of services that we provide which can help manage and improve your health, then just click the button below.
Find your answers