/
Blog
/
Depression and erectile dysfunction: The facts
Depression and erectile dysfunction: The facts
30 Jun 2023

Stefano Mirabello
Pharmacist / B.Pharm
You might not realize it, but an underlying issue could be causing your erectile dysfunction and it's not always a physical complaint like diabetes. This guide will give you the facts on ED and depression, as well as advice around treatments, to help you get back to yourself.
Can depression cause erectile dysfunction?
Depression is common in men of all ages, affecting 9% of men in the USA. But can depression really cause ED? Absolutely. Feelings of low self-esteem and mental fatigue can play a significant part in lowering your libido, making you uninterested in sex.
According to a 2018 medical study, as many as 62.5% of men with depression can also suffer from sexual dysfunction, including ED. Unfortunately, ED isn't something you can just switch on and off. So why is depression linked to erectile dysfunction?
It's all linked to the brain. You've probably heard of the feel-good chemicals it naturally produces. These are known as neurotransmitters.
There are four neurotransmitters responsible for keeping you in high spirits. They are dopamine, endorphins, oxytocin and serotonin. Each has the job of lifting your mood — and your erection — whenever you're aroused.
If you're depressed these feel-good chemicals can suffer too, making it harder for the brain to detect and respond to arousal. This can mean ED.
Can erectile dysfunction cause depression?
It's not unusual for depression to cause ED, but what about the reverse? Stage fright before sex, known as performance anxiety, is just one of many psychological reasons for ED, along with a lack of confidence.
Guys who have opened up about ED often talk about feeling less manly. Others bear the emotional burden of not being able to satisfy a sexual partner, even though most partners are understanding in reality.
You're not alone. ED affects 30 million US men every year and most don't just ignore it. Instead, they seek help.
Antidepressants and erectile dysfunction
Often antidepressants, including selective serotonin reuptake inhibitors (SSRIs) can provide the help you need to get back on your feet. Unfortunately, these can also have bedroom-related side effects for some guys. So why do antidepressants cause erectile dysfunction?
SSRIs stimulate our neural pathways. These same pathways transmit signals from the brain to the penis. But they can become congested. This can cause ED in men. Further research shows that between 25% and 73% of people experience a sexual issue downstairs after taking antidepressants.
But you don't have to stop or lower your dosage unless your doctor advises you to.
Remember, the point of antidepressants is to help you manage your depression. They're not there to stop you from having sex. If you are having problems, sildenafil (also sold under the brand name Viagra) is a good option. Sildenafil stimulates your sexual organs by increasing the flow of blood to your penis in the same time it takes to get a cab back to your place.
Common questions about erectile dysfunction and depression
1. Can erectile dysfunction be caused by depression?
Depression can cause ED, with low confidence, anxiety and other psychological factors playing a part. In short, this is due to depleted levels of the feel-good chemicals serotonin, dopamine, endorphins and oxytocin, which contribute to your positive mood and mental well-being.
When you're sexually aroused the brain sends signals to your penis, causing blood to flow into it and the penis to harden. These signals can get delayed or lost when you're feeling depressed, hence ED occurring.
2. Can antidepressants cause permanent erectile dysfunction?
Antidepressants can cause long-term ED, but there's nothing to say yours will be permanent. Taking measures to treat your depression through other means— be that through CBT, talking therapy or by working with your doctor — will naturally make you less reliant on medication and heighten your libido.
3. Can you take Viagra with antidepressants?
Just as it's suitable to take ibuprofen with acetaminophen when treating pain, there are no rules against taking Viagra with antidepressants to combat ED. Many leading health sites advocate such use, although it's worth seeking out advice from your doctor if you're unsure or have an underlying health problem — be it mental or physical.
Where to find support for erectile dysfunction and depression
A problem shared is a problem halved.
The first step is talking, whether that's to a therapist, a nurse, a health professional or a friend. In the strictest confidence of course. If you'd prefer speaking to another guy there's no shame in asking for a male doctor at your practice or sexual health clinic.
But remember, doctors of both sexes treat people with depression all the time. They can prescribe medications and help you more than internet forums.
If you're suffering from depression there are advice lines like the American foundation for Suicide Prevention and mental health charities like Mental Health America and the National Alliance on Mental Health that can help too.
Remember, you are not alone in whatever you're going through. We're all guys and sometimes we all need a little help. We're here to lift you up.
About Now Patient
Now Patient's online services are available in the US and UK. We help you manage your prescriptions, doctor appointments, test results, health risks, and a lot more, all in one place for FREE. If you are in the United States, you could enjoy savings using Now Patient's mail-order pharmacy or use the Now Patient Rx Advantage Card at over 65,000 pharmacies, with savings of up to 90% on popular FDA-approved brand and generic medications like Ozempic, Mounjaro, clopidogrel and lots more. We do not currently handle commercial insurance, Medicare or Medicaid. UK NHS and private prescriptions are delivered FREE of charge across England & Wales by our UK NHS online pharmacy.
Sources
Disclaimer
Now Patient has taken all reasonable steps to ensure that all material is factually accurate, complete, and current. However, the knowledge and experience of a qualified healthcare professional should always be sought after instead of using the information in this page. Before taking any drug, you should always speak to your doctor or another qualified healthcare provider.
The information provided here about medications is subject to change and is not meant to include all uses, precautions, warnings, directions, drug interactions, allergic reactions, or negative effects. The absence of warnings or other information for a particular medication does not imply that the medication or medication combination is appropriate for all patients or for all possible purposes.
WHY WE BUILT NOW PATIENT
To improve the lives of everyone by making high-quality care accessible and convenient
We are here to improve lives. Our service gives you access to smart features & resources that can help empower you to take control of your health and improve your health outcomes. All this, in one place, for FREE. We strive to bring a fresh perspective to managing health. Not play by the rules. Now Patient can be accessed by downloading the App or using your web browser.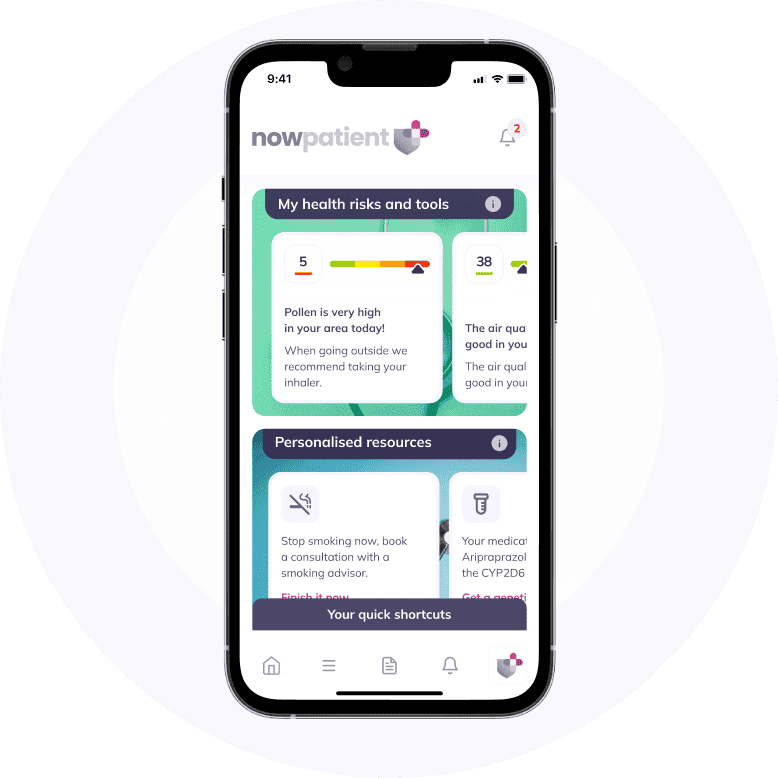 Your Questions Answered
For your peace of mind, we can answer your health questions quickly
If you want to learn more about the range of services that we provide which can help manage and improve your health, then just click the button below.
Find your answers