/
Blog
/
Viagra vs cialis vs levitra: which is best?
Viagra vs cialis vs levitra: which is best?
30 Jun 2023

Stefano Mirabello
Pharmacist / B.Pharm
Everyone's heard of Viagra. It's the most famous erectile dysfunction medication, hands down.
But it's not the only player on the market. There are also Cialis and Levitra; both effective and popular ED medications.
So which one is best? It's time to find out.
What are Viagra, Cialis, and Levitra?
Viagra, Cialis, and Levitra are all prescription medications used to treat erectile dysfunction (ED).
The three drugs also come in cheaper, but equally effective, generic versions too. You can buy Viagra as sildenafil, Cialis as tadalafil, and Levitra as vardenafil.
The generic versions are medically the same as the branded ones, so when we mention the brand names here, we're talking about both the branded and generic versions.
How do viagra, Cialis, and Levitra work?
Viagra, Cialis, and Levitra all belong to the same class of drugs, called PDE5 inhibitors. They contain different active ingredients, but they all work in essentially the same way.
When you're sexually stimulated, your body releases a substance called cGMP into the blood and tissues in and around your penis. cGMP relaxes muscle tissue in the arteries that supply blood to your penis and in the spongy material inside your penis.
This relaxation makes your arteries widen, increasing the flow of blood to your penis. It also makes cavities in your penis open up, allowing it to better fill with blood. This is what gives you an erection.
Your body continually breaks down cGMP though, using an enzyme called PDE5. This is where Viagra, Cialis, and Levitra get to work. They block the PDE5 enzyme, stopping it working. This causes concentrations of cGMP to build up, improving the flow of blood to your penis and its capacity to hold blood, making it easier for you to get an erection.
Viagra, Cialis, and Levitra won't give you an automatic erection after you take them. You'll need to be in the mood for sex and you'll probably need some stimulation, then these drugs make it more likely your desire results in a lasting erection.
How do you take Viagra, Cialis, and Levitra?
The three drugs work in the same way, and you take them in the same way too, by swallowing them as a pill before you plan to have sex.
However there are some differences between strengths, doses, when to take them, and how long they last.
What strengths do Viagra, Cialis, and Levitra come in?
The three drugs work in the same way, but as they contain different active ingredients, they come in different strengths:
Viagra pills come in 25 mg, 50 mg, and 100 mg strengths.
Cialis pills come in 5 mg, 10 mg, and 20 mg strengths. You can also buy lower-strength 2.5 mg version of Cialis that you take every day.
Levitra comes in 5 mg, 10 mg, and 20 mg strengths.
What are the typical doses of Viagra, Cialis, and Levitra?
The doctor who prescribes your ED medication will decide on a suitable dose for you depending on your situation and medical history. The typical starting dose for each drug is:
Viagra – 50 mg
Cialis – 10 mg (unless you're taking the 2.5 mg daily version)
Levitra – 10 mg (sometimes 5 mg for men who are over 65 years old)
You can see the typical starting dose for each medication is usually the middle strength available. This means your doctor can up the dose if it's not strong enough for you (from 50 mg to 100 mg for Viagra, for example), or reduce it if it's too strong (from 50 mg to 25 mg for Viagra).
When do you take Viagra, Cialis, and Levitra?
You take Viagra, Cialis, and Levitra before you plan to have sex (unless you're taking the daily version of Cialis). You have to wait for the medication to take effect, and here's where the three start to differ more.
For most people, Viagra and Levitra are faster acting, taking around 30 minutes to take effect. Cialis takes longer though, around two hours.
How long do Viagra, Cialis, and Levitra last for?
This is the biggest difference between the medications.
On average, Viagra and Levitra last around five hours. This doesn't mean you'll get a five hour erection (how long you last shouldn't change), but that you should be able to get and keep an erection more easily during this time. You may be able to get more than one erection in this period.
Cialis lasts for much longer, up to 36 hours. This has led to some people calling it the 'weekend pill', as you can take it at the start of the weekend and enjoy the benefits until Sunday.
What side effects do Viagra, Cialis, and Levitra have?
As the drugs work in broadly the same way, they have similar side effects. Most are relatively mild, like headaches, a stuffy or runny nose, facial flushes, an upset stomach, and back pain.
There are some differences in side effects though. Viagra is more likely to cause vision changes, like blurred vision or a blue tint to your vision. Cialis can cause pain in your arms and legs. Cialis and Levitra are more likely to cause indigestion, while Levitra and Viagra are more likely to cause dizziness.
Side effects are difficult to predict as people respond differently to medications. You might get no side effects at all, or you might get more side effects with one drug than the other. You won't know until you try them.
Which is better, Viagra, Cialis, or Levitra?
Truth is, there is no simple answer. We can't say that one of them is always better than the others for every man that takes them.
All three medications are medically proven to help you get and keep an erection if you have ED. No one ED drug is universally better than the others though. Different men have success with different medications. One of the three may be more effective for you, but you'd need to try all of them to know for sure.
Which is best for me?
This depends on you.
The main difference between these three ED medications is that Viagra and Levitra are faster acting than Cialis, but Cialis lasts for longer. If you know when you're going to have sex, Viagra or Levitra may be the more suitable option. If you want more spontaneity, and you want the option of having sex at any point over a few days, Cialis might suit you better.
You may also find you simply react better to one of the medications. Everyone responds differently to drugs. You may get better results with one of three, or you may get less side effects with one of them.
To start the process, you can have an online consultation with our doctors. They'll assess your needs, your medical history, and they may recommend one of the three as more suitable. They are here to help you find which medication works best for you.
About Now Patient
Now Patient's online services are available in the US and UK. We help you manage your prescriptions, doctor appointments, test results, health risks, and a lot more, all in one place for FREE. If you are in the United States, you could enjoy savings using Now Patient's mail-order pharmacy or use the Now Patient Rx Advantage Card at over 65,000 pharmacies, with savings of up to 90% on popular FDA-approved brand and generic medications like Ozempic, Mounjaro, clopidogrel and lots more. We do not currently handle commercial insurance, Medicare or Medicaid. UK NHS and private prescriptions are delivered FREE of charge across England & Wales by our UK NHS online pharmacy.
Sources
Disclaimer
Now Patient has taken all reasonable steps to ensure that all material is factually accurate, complete, and current. However, the knowledge and experience of a qualified healthcare professional should always be sought after instead of using the information in this page. Before taking any drug, you should always speak to your doctor or another qualified healthcare provider.
The information provided here about medications is subject to change and is not meant to include all uses, precautions, warnings, directions, drug interactions, allergic reactions, or negative effects. The absence of warnings or other information for a particular medication does not imply that the medication or medication combination is appropriate for all patients or for all possible purposes.
WHY WE BUILT NOW PATIENT
To improve the lives of everyone by making high-quality care accessible and convenient
We are here to improve lives. Our service gives you access to smart features & resources that can help empower you to take control of your health and improve your health outcomes. All this, in one place, for FREE. We strive to bring a fresh perspective to managing health. Not play by the rules. Now Patient can be accessed by downloading the App or using your web browser.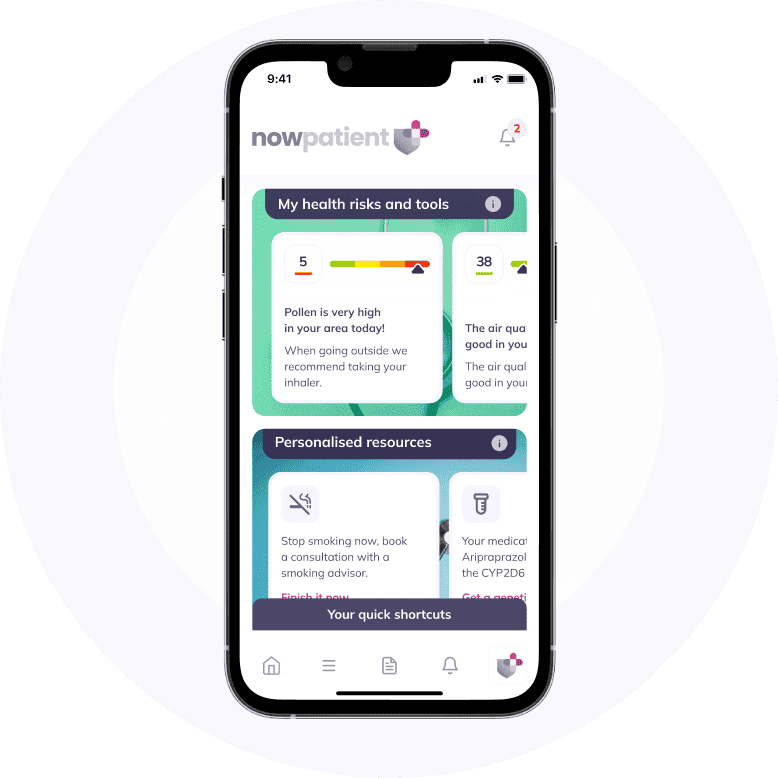 Your Questions Answered
For your peace of mind, we can answer your health questions quickly
If you want to learn more about the range of services that we provide which can help manage and improve your health, then just click the button below.
Find your answers