Stefano Mirabello
Pharmacist / B.Pharm
Over 35 million men in the US are obese and over 54 million are overweight. We're sure you know being overweight or obese is bad for your health, but what about your erections? Can obesity or being overweight cause erectile dysfunction?
To find out, let's look at the links between being overweight or obese and erectile dysfunction (ED). We'll also look at what you can do to improve the quality of your erections.
What is obesity?
Just so we're clear over what we're talking about here. Obesity is a health condition caused by having too much body fat. It's usually diagnosed using your body mass index (BMI). This is your weight divided by your height squared. A BMI of 30 or over is usually considered obese. Head to the CDC website to calculate your BMI.
 Can being obese cause ED? Is obesity linked to erectile dysfunction?
Obesity and erectile dysfunction are closely linked. Research has shown that if you're obese, you're around three times more likely to develop ED. Your risk of ED also increases as your BMI increases. Your weight may even predict your risk of ED better than your age.
But what about if you're not obese, just a little heavier than you should be? Can being overweight cause ED Unfortunately, yes. Having a BMI in the overweight range (25 to 29.99) almost doubles your risk of developing ED.
How does being overweight and obese cause ED?
So, what's going on here? How is having too much body fat causing ED?
This is disputed. Some experts think obesity itself causes ED. Most, however, think that erectile dysfunction and obesity are related because obesity causes health problems that make it harder for you to get an erection. These include heart disease, diabetes, and high cholesterol. Here's why…
How to get an erection
To get an erection you need:
A healthy heart and blood vessels
Functioning nerves
The right levels of the right hormones (including testosterone)
Being overweight, and especially obese, can interfere with each of these. Having too much body fat puts you at an increased risk of heart disease, high blood pressure, high cholesterol, and diabetes, all of which can damage your blood vessels and heart. Diabetes can also damage your nerves.
Being overweight and obese can also reduce your testosterone levels – generally, the higher your BMI gets, the lower your testosterone.
The combination of these means being overweight or obese can really get in the way of your erections. The heavier you are, the more problems you're likely to have.
Can losing weight help with erectile dysfunction?
Time for some good news. Yes, it most likely will. Losing weight is one of the best ways to get your erections back.
Numerous studies have shown that when men lose weight, many of them reduce or banish their ED. Research indicates that losing only 10% of your body weight over a two-month period can improve your erections.
Losing weight may improve your sex life in other ways too. It can boost your testosterone levels and increase your sex drive, help lessen any mental health problems that can put you off your game, give you more stamina, and make you feel more confident. And there's a whole host of benefits for your general physical and mental health that come from losing weight too.
How to lose weight and keep it off?
There's an ocean of advice, tips, hacks, quick solutions, and magic formulas for weight loss out there. But which should you listen to? Do you need to ditch carbs or fat, or load up on protein? Should you fast or eat more often, or go Mediterranean, go paleo, or go keto? It's too much.
The reality is, there's no one best way to lose weight. You need to move more and eat less, but how you do that is up to you. You should experiment with different foods and types of exercise to find what works best for you. The best diet, and the best types of exercise, are ones you enjoy and those you'll stick with.
A good place to get started with weight loss is to see your doctor. They can advise you on appropriate ways for you to lose weight, and they may be able to refer you to weight loss groups or other weight loss support organizations.
You should also see your doctor if you have ED. Losing weight can help, but ED has a lot of potential causes, including some serious medical conditions. You need to get yourself checked out to make sure your ED isn't an early warning sign of a serious disease.
How else can you improve the quality of your erections?
Losing weight can work wonders for your erections, but these other lifestyle changes can also help:
Taking regular exercise, at least 30 minutes, five times per week can raise your testosterone levels, and improve the health of your heart and your circulatory system
Eating a diet rich in vitamins and other nutrients can boost testosterone and help improve blood flow
Getting enough sleep each night is associated with a reduced risk of ED
Quitting smoking, avoiding recreational drugs, and limiting your alcohol intake can all help reduce ED too
Try an ED medication
If losing weight, or any of the above, doesn't help with your ED, you can also try ED medications like sildenafil (Viagra), tadalafil (Cialis), or vardenafil (Levitra).
You can order these medications directly Now Patient. You'll have an online consultation with one of our doctors, and if they deem it suitable, they can issue you a prescription. Your medication will be shipped discreetly to you for free within two days.
About Now Patient
Now Patient's online services are available in the US and UK. We help you manage your prescriptions, doctor appointments, test results, health risks and a lot more, all in one place for FREE. US prescriptions are available on a discounted 'cash' basis and delivered across all 50 states by our network of pharmacy providers dispensing FDA-approved generic and branded medications. We do not currently handle commercial insurance, Medicare or Medicaid. UK NHS and private prescriptions are delivered FREE of charge across England & Wales by our UK regulated online pharmacy.
Sources
Disclaimer
Now Patient has taken all reasonable steps to ensure that all material is factually accurate, complete, and current. However, the knowledge and experience of a qualified healthcare professional should always be sought after instead of using the information in this page. Before taking any drug, you should always speak to your doctor or another qualified healthcare provider.
The information provided here about medications is subject to change and is not meant to include all uses, precautions, warnings, directions, drug interactions, allergic reactions, or negative effects. The absence of warnings or other information for a particular medication does not imply that the medication or medication combination is appropriate for all patients or for all possible purposes.
WHY WE BUILT NOW PATIENT
To improve the lives of everyone by making high-quality care accessible and convenient
As technologists and clinicians, we built Now Patient to be more than just an online pharmacy. We are here to improve lives. Our service gives you access to smart features & resources that can help empower you to take control of your health and improve your health outcomes. All this, in one place, for FREE. We strive to bring a fresh perspective to managing health. Not play by the rules. Now Patient can be accessed by downloading the App or using your web browser.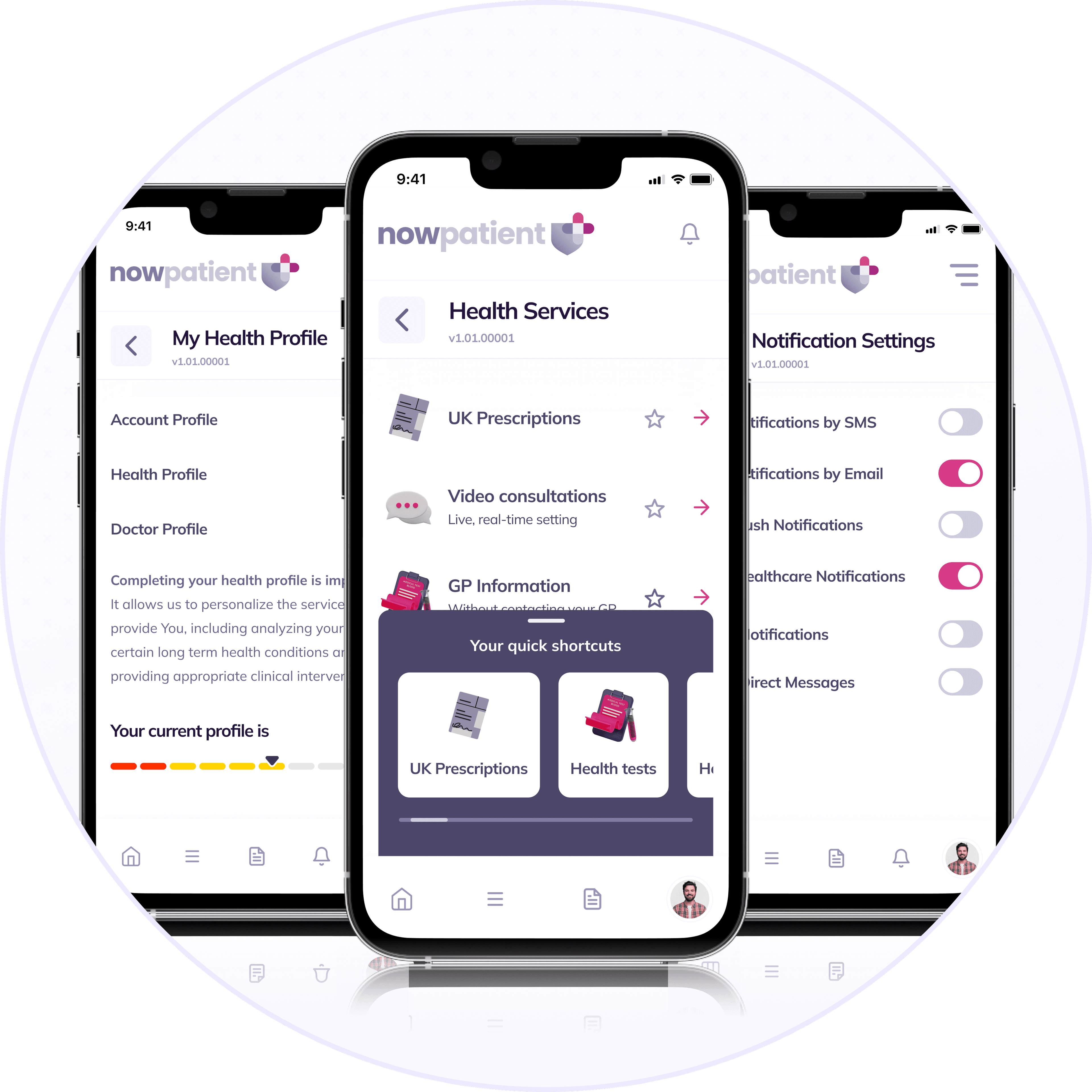 NOW PATIENT
Join the thousands of happy customers in the US and UK already using Now Patient
Manage your health and prescriptions all in one place for FREE. Available to use by downloading the App, or using your web browser.
Your Questions Answered
For your peace of mind, we can answer your health questions quickly
If you want to learn more about the range of services that we provide which can help manage and improve your health, then just click the button below.
Find your answers