/
Blog
/
What is amlodipine and what is it used for?
What is amlodipine and what is it used for?
2 Feb 2023

Stefano Mirabello
Pharmacist / B.Pharm
If you've been diagnosed with high blood pressure or hypertension, you're not alone. In fact, according to the Centers for Disease Control and Prevention (CDC), one in three adults in the UK has high blood pressure. It is a common condition that can sometimes improve with lifestyle changes such as stopping smoking, getting to a healthy weight or increasing physical activity.
All these changes will certainly help but medicines can unquestionably lower your blood pressure significantly more than lifestyle changes on their own. There are many prescription drugs available to your doctor to prescribe, including ACE (angiotensin-converting enzyme) inhibitors, ARB (angiotensin receptor blockers) and CCB (calcium channel blockers). Let us take a look at amlodipine, a commonly prescribed drug from the calcium channel blocker class of drugs.
What is high blood pressure?
As the symptoms of high blood pressure are subtle they can often go unnoticed. You may not be aware of having high blood pressure until it is checked as part of your NHS Health Check, at a GP/Nurse appointment or possibly at a pharmacy.
When your blood pressure is taken you will be given two separate numbers for its measurement. You will be given the systolic pressure and the diastolic pressure. According to Blood Pressure UK: the systolic pressure (top number) measures the highest force of pressure your blood reaches when beating and forcing blood around the body. The diastolic pressure (bottom number) measures the lowest force of pressure your blood reaches as your heart relaxes between beats.
As a general guide the NHS consider:
High blood pressure to be 140/90mmHg or higher (or 150/90mmHg or higher if you're over the age of 80)
At risk of developing high blood pressure between 120/80mmHg and 140/90mmHg
Ideal blood pressure to be between 90/60mmHg and 120/80mmHg
Treatment for high blood pressure
There are two main options for treating high blood pressure:
Changes to lifestyle would involve eating a healthy diet, reducing salt intake, increasing consumption of fruit and veg, increasing physical activity, aiming for a healthier weight, reducing or cutting out alcohol, limiting caffeine intake and stopping smoking
Medication. The choice of medicine will depend on which option is best for you after a discussion with your healthcare professional. Your age, the condition being treated, how high your blood pressure is, other medical conditions you have and your ethnicity are factors that will be taken into consideration when medication is prescribed
About Amlodipine
Amlodipine is a prescription drug that can be used alone or in addition to other blood pressure-lowering drugs. In the long-term the aim of lower blood pressure is to help prevent heart attacks, strokes, heart failure, coronary artery disease and kidney problems.
Amlodipine can be used in adults and children six years or older to treat:
High blood pressure (hypertension)
Angina pectoris (chest pain caused by blockages in the arteries leading to the heart)
Vasospastic angina pectoris (or Prinzmetal's angina)
Ingredients
Amlodipine can be called a few different names due to the different salts available: amlodipine besylate, amlodipine maleate or amlodipine mesilate. It is a generic drug, but it is also commercially available under the brand name Istin in the UK and Norvasc in the US.
In simple terms, the drug works by relaxing blood vessels so blood can flow more easily. Calcium is an essential component to allow the movement of muscles. Calcium channel blockers like amlodipine block calcium from entering muscle cells of the heart and blood vessels. This results in the heart beating with less pressure and helping the blood vessels relax.
Dosage
Amlodipine is available as 2.5 mg, 5 mg and 10 mg tablets or oral suspension/oral solution by special order. It is usually taken once a day but always follow the instructions given by your healthcare professional. The usual starting dose of amlodipine is 5mg once a day. If there is a missed dose of more than 12 hours skip that dose and take the next dose at your regular time.
Ideally, your dose should be taken at the same time each day, with or without food. It must be remembered to avoid consuming grapefruit or grapefruit juice while you are taking amlodipine as the fruit can increase the level of amlodipine in the body, making you more likely to suffer from side effects.
Store the medicine in a closed container at room temperature, away from heat, moisture, and direct light.
Common side effects
Some possible side effects of Amlodipine include:
Fatigue
Weakness
Ankle swelling
Muscle cramps
Gastrointestinal problems – abdominal pain, nausea, dyspepsia, altered bowel habits, diarrhoea and constipation
Shortness of breath
Heart palpitations
Visual disturbance including double vision
Dizziness
Headache
Drowsiness
Flushing
Serious side effects of amlodipine are not typical and you should seek medical advice immediately including:
Chest pain that's worse than usual
low blood pressure (hypotension)
allergic reaction skin rash itchiness flushing
What should I discuss with my healthcare provider before I start taking amlodipine?
Adverse effects of drug interactions and supplements
Discuss with your doctor all the medications you currently including prescription, over-the-counter and supplements. Some common interactions occur with the following drugs:
Clarithromycin, ketoconazole and itraconazole – are drugs that block an enzyme CYP3A4 (CYP3A4 inhibitors)
Rifampicin – drugs that induce an enzyme CYP3A4 (CYP3A4 inducers)
Cyclosporine and tacrolimus – immunosuppressant drugs
Sildenafil, tadalafil, avanafil and vardenafil are used to treat erectile dysfunction
Simvastatin is used at high doses to treat high

cholesterol

St John's Wort (a herbal remedy)
Pregnancy and breastfeeding
You should inform your doctor if you are pregnant, plan to become pregnant or are breastfeeding. Some clinical studies have shown that amlodipine passes into breast milk in small amounts. You may need to decide with your doctor whether to stop breastfeeding or stop taking this medication.
Health conditions
Liver disease or liver problems
The liver is the primary site for drug metabolism. With this in mind if your liver is not working optimally, amlodipine may stay in your body longer than required. For that reason, it puts you at risk for more side effects. Your doctor may consider a lower dose of amlodipine if you have severe liver problems.
Heart problems or heart disease
Heart problems, such as the narrowing of your arteries, may increase your risk of health problems when taking amlodipine. There is potential for developing low blood pressure, worsening chest pain or suffering a heart attack after commencing treatment with this drug or increasing your dosage.
It would be best if you inform your doctor and any other healthcare professional involved in your care about all medical conditions you may have including medications you take.
Other groups, amlodipine is a contraindication for:
Those allergic to amlodipine or any of the excipients resulting in symptoms such as hives and trouble breathing
Children younger than six years of age
Pregnant women or women who are breastfeeding
Those with significantly low blood pressure (hypotension)
Heart failure patients following a heart attack
Patients with heart valve problems (e.g. aortic stenosis)
Other calcium channel blockers
Amlodipine is one of many calcium channel blockers available to your doctor to prescribe. Other calcium channel blockers include nifedipine, felodipine, lercanidipine, diltiazem and verapamil. Some may be better suited for you than others. Always speak to our healthcare professional for advice on medication or call your doctor.
Get your medicines through Now Patient our team can work with your GP to get the medicines you need to be delivered directly to your door.
About Now Patient
Now Patient's online services are available in the US and UK. We help you manage your prescriptions, doctor appointments, test results, health risks, and a lot more, all in one place for FREE. If you are in the United States, you could enjoy savings using Now Patient's mail-order pharmacy or use the Now Patient Rx Advantage Card at over 65,000 pharmacies, with savings of up to 90% on popular FDA-approved brand and generic medications like Ozempic, Mounjaro, clopidogrel and lots more. We do not currently handle commercial insurance, Medicare or Medicaid. UK NHS and private prescriptions are delivered FREE of charge across England & Wales by our UK NHS online pharmacy.
Sources
Disclaimer
Now Patient has taken all reasonable steps to ensure that all material is factually accurate, complete, and current. However, the knowledge and experience of a qualified healthcare professional should always be sought after instead of using the information in this page. Before taking any drug, you should always speak to your doctor or another qualified healthcare provider.
The information provided here about medications is subject to change and is not meant to include all uses, precautions, warnings, directions, drug interactions, allergic reactions, or negative effects. The absence of warnings or other information for a particular medication does not imply that the medication or medication combination is appropriate for all patients or for all possible purposes.
WHY WE BUILT NOW PATIENT
To improve the lives of everyone by making high-quality care accessible and convenient
We are here to improve lives. Our service gives you access to smart features & resources that can help empower you to take control of your health and improve your health outcomes. All this, in one place, for FREE. We strive to bring a fresh perspective to managing health. Not play by the rules. Now Patient can be accessed by downloading the App or using your web browser.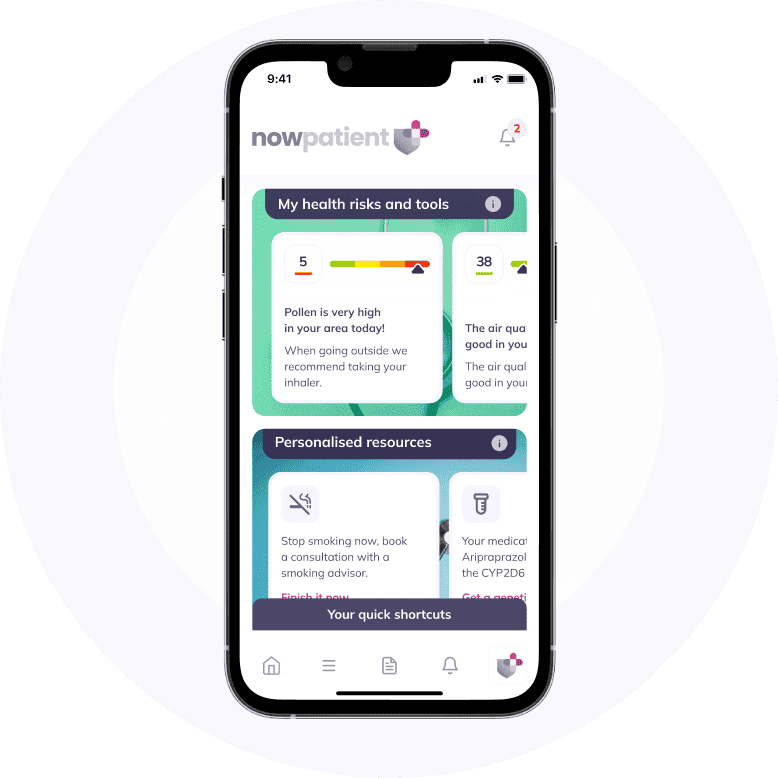 Your Questions Answered
For your peace of mind, we can answer your health questions quickly
If you want to learn more about the range of services that we provide which can help manage and improve your health, then just click the button below.
Find your answers