Stefano Mirabello
Pharmacist / B.Pharm
After the US Supreme Court voted to overturn Roe v Wade in June 2022, this may leave you wondering what the abortion laws are in the UK. 210,860 abortions were reported in England and Wales in 2020, the highest since records began. Here's a quick overview of the legal landscape surrounding abortion in the UK.
History of abortion rights in the UK
1803-1967: Illegal
Abortion was first criminalised in 1803 under the Offences Against the Person Act 1803. This Act made it a crime to deliberately terminate a pregnancy at any stage. The punishment for anyone found guilty of this crime was life imprisonment.
1967: The Abortion Act is passed, legalising abortion up to 28 weeks gestation in England, Scotland, and Wales.
1990: The Human Fertilisation and Embryology Act is passed, which among other things, banned selective abortion on the basis of gender.
2008: The Human Fertilisation and Embryology Act is amended to allow for abortion up to 24 weeks gestation in cases where there is a risk of serious disability.
The basics of abortion law in the UK
The grounds for legal abortion in the UK are set out in the Abortion Act 1967. The 1967 Abortion Act legalised abortion up to 24 weeks of pregnancy. In order to get a legal abortion, two registered medical practitioners acting in good faith must agree that one of the following grounds applies:
The continuance of the pregnancy would involve risk, greater than if the pregnancy were terminated, of injury to the physical or mental health of the pregnant woman
The termination is necessary to prevent grave permanent injury to the physical or mental health of the pregnant woman
The continuance of the pregnancy would involve risk, greater than if the pregnancy were terminated, of injury to the physical or mental health of any existing children of her family
The continuance of the pregnancy would involve a risk of injury to the physical or mental health of the pregnant woman which is attributable to abnormalities of the pregnancy itself
There is a substantial risk that the child who was born would suffer from such physical or mental abnormalities as to be seriously handicapped
After the 24 weeks time limit, an abortion may still be carried out under exceptional circumstances, such as if the woman's life is in danger or is at risk of major injury (either physical or mental). Alternatively, a late abortion may be carried out if there is a severe abnormality in the foetus.
You do not need your husband's or partner's permission to have an abortion, and they will not be told without your consent unless there are concerns about domestic violence. You also do not need parental consent if you're over 16 years old.
If you are 14-16 you have a right to confidentiality, but you will be encouraged to involve your parents or another supportive adult. If you are under 13, doctors usually need to involve a social worker and other professionals to ensure you are safe and protected.
Abortion law in Northern Ireland is different from England, Scotland and Wales. In 2020, abortion was decriminalised in Northern Ireland. The law changed to make it legal up until 11 weeks and 6 days into pregnancy. More information on this can be found on the Northern Ireland abortion page
Abortion services in the UK
There are a number of different organisations that provide abortion services in the United Kingdom. The National Health Service (NHS) provides free abortion services to women who meet certain criteria, such as being below a certain age or income level. Private abortion clinics also provide the service for a fee.
If you're considering an abortion, your first step should be to consult with a doctor or another medical professional to find out what your options are and whether you meet the criteria for a free NHS procedure. You can also contact a private clinic directly to enquire about their fees and services.
Step One: See your doctor or a sexual health clinic
The first step is to make an appointment with your doctor or a sexual health clinic. You'll need to tell them that you're considering a termination of pregnancy and why. You may also be asked about your medical history and whether you have any allergies. Be honest with your healthcare provider so that they can give you the best care possible.
Step Two: Get a referral to an abortion provider
Your doctor or clinic will then refer you to an abortion provider, such as a hospital or specialised clinic. In some cases, you may be able to self-refer. You can find a list of locations that provide abortions on the NHS website. You can self-refer by contacting an abortion provider directly – the British Pregnancy Advisory Service (BPAS), MSI Reproductive Choices UK, the National Unplanned Pregnancy Advisory Service (NUPAS)
These organisations offer a range of services, including counselling, contraception advice, and abortions. BPAS is one of the largest and most well-known providers founded in 1968. The organisation offers free confidential advice, counselling, and abortions and also provides training for health professionals on how to best support women through their abortions. MSI Reproductive Choices UK and NUPAS offer similar services to BPAS, with a focus on providing high-quality care and support to women during one of the most difficult times in their lives.
Step Three: Schedule an appointment for your abortion
Once you've been referred to an abortion provider, it's time to schedule your appointment. The provider will likely give you a few dates to choose from. It's important to remember that abortions must be performed before 24 weeks of pregnancy, so don't delay in scheduling your appointment.
Step Four: Have your abortion
On the day of your appointment, you will need to confirm that you still want to go ahead with the procedure and sign a consent form. The actual procedure usually takes around 15 minutes, after which you will be able to rest in the clinic for a short while before going home.
There are two main types of abortion procedures: medical and surgical. Medical abortions are done using medication. The most common type of medication used is called mifepristone also known as the "abortion pill". Mifepristone works by blocking the hormone progesterone, which is necessary for a pregnancy to continue. A second medication, misoprostol, is then taken 24-48 hours later to cause the uterus to contract and expel the pregnancy.
Surgical abortions are performed using suction aspiration or dilation and evacuation (D&E). Suction aspiration is usually used early in pregnancy, while D&E is used later on. During suction aspiration, a small vacuum device is inserted into the uterus to remove the pregnancy tissue. D&E involves dilating the cervix and then using instruments to remove the pregnancy tissue from the uterus.
Both medical and surgical abortions are considered safe and effective. You can discuss with your healthcare provider which type of abortion is right for you.
After an abortion
After an abortion, it is normal to feel relieved, sad, happy or a mixture of all these emotions. It is also common to have mixed feelings about abortion itself. Some women feel that they have made the right decision, while others may regret their decision. The most important thing is to give yourself time to recover emotionally and physically.
Most abortion providers in the UK offer post-abortion counselling. This can be a valuable way to explore your feelings and get support from someone who is impartial. You can also speak to your GP or another healthcare professional about how you are feeling.
In terms of physical recovery, it is important to take things easy for a few days after the abortion. This means avoiding strenuous activity, sex and using tampons. You may experience some bleeding and cramping for a week or two after the abortion, but this is completely normal. If you have any concerns about your physical recovery, do not hesitate to speak to your abortion provider or GP.
The abortion care that you receive should be tailored to your individual needs and preferences. However, in general, you can expect to be given high-quality information and support throughout the abortion process, both before and after the procedure itself.
Although abortion is now legal throughout most of the UK, it hasn't always been that way. The Abortion Act of 1967 decriminalised abortion under certain conditions, but access was still highly restricted. Since then, there have been gradual changes to make abortion more accessible to women who need it, but there is still room for improvement. If you're considering an abortion, know that you're not alone—thousands of women make this choice every year.
About Now Patient
Now Patient's online services are available in the US and UK. We help you manage your prescriptions, doctor appointments, test results, health risks and a lot more, all in one place for FREE. US prescriptions are available on a discounted 'cash' basis and delivered across all 50 states by our network of pharmacy providers dispensing FDA-approved generic and branded medications. We do not currently handle commercial insurance, Medicare or Medicaid. UK NHS and private prescriptions are delivered FREE of charge across England & Wales by our UK regulated online pharmacy.
Sources
Disclaimer
Now Patient has taken all reasonable steps to ensure that all material is factually accurate, complete, and current. However, the knowledge and experience of a qualified healthcare professional should always be sought after instead of using the information in this page. Before taking any drug, you should always speak to your doctor or another qualified healthcare provider.
The information provided here about medications is subject to change and is not meant to include all uses, precautions, warnings, directions, drug interactions, allergic reactions, or negative effects. The absence of warnings or other information for a particular medication does not imply that the medication or medication combination is appropriate for all patients or for all possible purposes.
WHY WE BUILT NOW PATIENT
To improve the lives of everyone by making high-quality care accessible and convenient
As technologists and clinicians, we built Now Patient to be more than just an online pharmacy. We are here to improve lives. Our service gives you access to smart features & resources that can help empower you to take control of your health and improve your health outcomes. All this, in one place, for FREE. We strive to bring a fresh perspective to managing health. Not play by the rules. Now Patient can be accessed by downloading the App or using your web browser.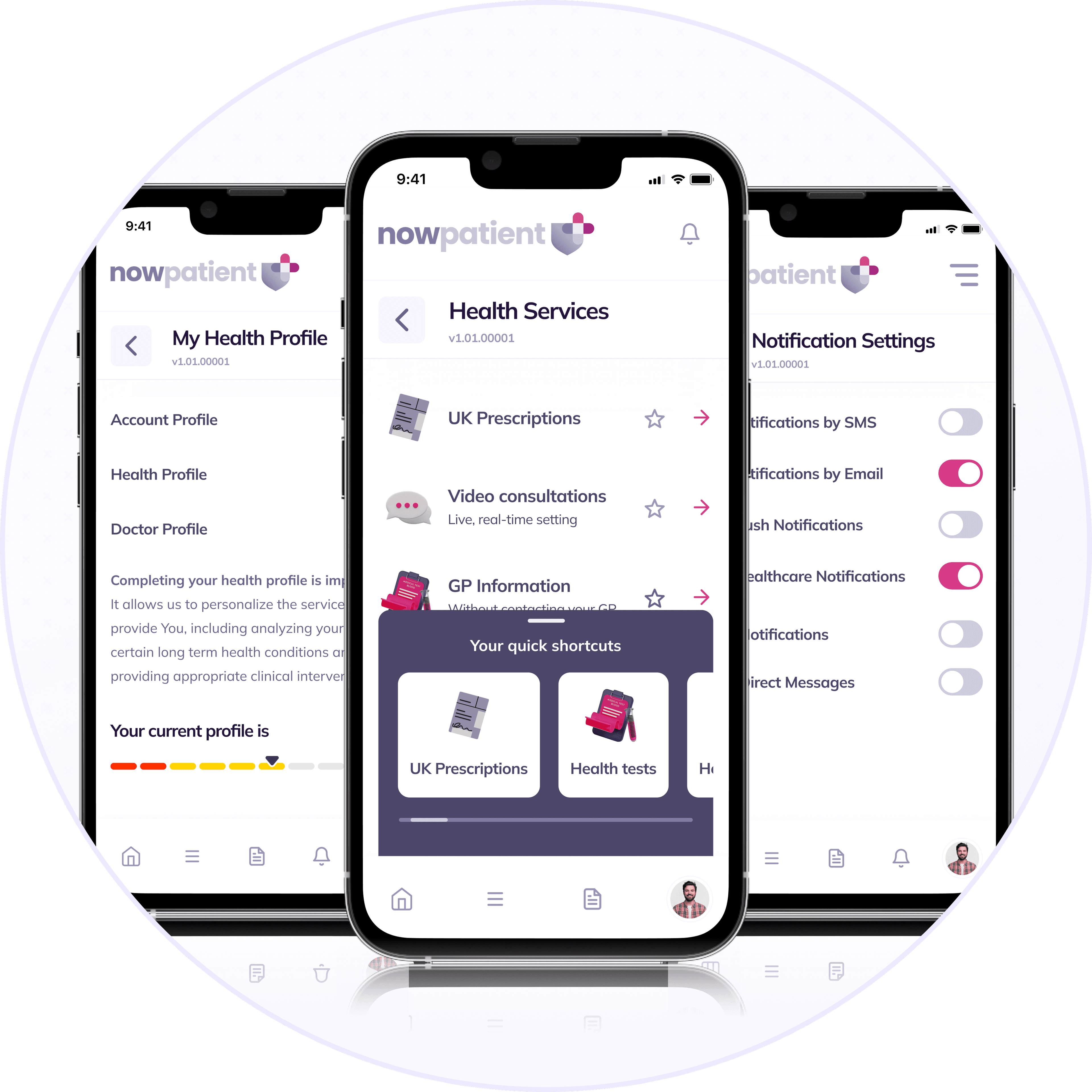 NOW PATIENT
Join the thousands of happy customers in the US and UK already using Now Patient
Manage your health and prescriptions all in one place for FREE. Available to use by downloading the App, or using your web browser.
Your Questions Answered
For your peace of mind, we can answer your health questions quickly
If you want to learn more about the range of services that we provide which can help manage and improve your health, then just click the button below.
Find your answers