/
Blog
/
Valacyclovir: how it works, dosage and side effects
Valacyclovir: how it works, dosage and side effects
23 Jun 2023

Stefano Mirabello
Pharmacist / B.Pharm
Valacyclovir is a prescription medication used to treat the herpes infections that can cause cold sores and genital herpes. You can buy a generic version of the medication – simply called valacyclovir – or a branded version called Valtrex. Both work in the same way.
If you have genital herpes or are prone to cold sores, valacyclovir is a medication you should know about. It's one of the most effective ways to treat your herpes infection. Sounds good right? Here we explain what valacyclovir is used for, how it works, its possible side effects and more.
What is Valacyclovir?
Valacyclovir is an antiviral medication used to treat the herpes infections that can give you cold sores and genital herpes. You take it as a pill and it helps your body suppress herpes outbreaks. This makes outbreaks less severe and will likely clear them up faster. The medication can also be taken to stop an outbreak from happening.
Valacyclovir is the generic version of the medicine. In the US you can also buy a branded version of valacyclovir called Valtrex. Both are pharmaceutically the same – they contain the same active ingredient and are equally as effective.
What is Herpes?
To explain how valacyclovir works it helps to first understand what herpes is.
Herpes is a family of viruses called herpes simplex viruses (HSV). They infect your skin and cause blisters to break out on the surface of infected skin. These blisters can be accompanied by itching, tenderness and pain. An infection around your mouth causes cold sores while an infection around your genital area causes genital herpes.
Unfortunately HSV infections can't be cured. Once the virus infects your skin it'll be there forever. After your first outbreak of blisters has healed the virus takes up residence in the nerve cells in your skin where your immune system can't kill it. Most of the time the virus is dormant but every now and then it reactivates and spreads through your skin cells. This is when you get another outbreak of blisters.
Being told herpes infections are incurable might sound disheartening, but herpes outbreaks can be shortened and even stopped by taking valacyclovir. Learn more about living with genital herpes.
How does Valacyclovir work?
Valacyclovir works by making it harder for herpes simplex infections to spread through your skin, curbing outbreaks and helping your immune system to clear the infection from your skin cells faster. The medication does this by blocking an enzyme (called DNA polymerase) the virus uses to make copies of itself. This slows how fast the virus can multiply and spread.
Whilst valacyclovir won't permanently cure your infection, it can make your outbreaks less severe and shorter lasting. You can also take a lower strength daily version of valacyclovir to stop outbreaks from occurring.
Is valacyclovir an antibiotic?
No. Antibiotics are used to treat bacterial infections, whilst cold sores and genital herpes are caused by viral infections. Valacyclovir is an antiviral medication.
How long does it take for valacyclovir to work?
Valacyclovir starts working as soon as it's in your system. Most people start to see a benefit within two to three days, but this can depend on a range of factors. This includes how bad your outbreak is, the dose you take and how quickly you take the medication once you realize an outbreak is coming on.
How long does valacyclovir stay in your system?
Valacyclovir is only active in your system for a short amount of time after you take it. Most of the medicine will have been cleared from your body within 24 hours.
Does valacyclovir work?
Valacyclovir is proven to help herpes outbreaks clear up faster. People respond differently to medications, but if you take valacyclovir as soon as you realize an outbreak is coming on it can reduce the duration by one to three days on average.
Taking Valacyclovir
Valacyclovir should usually be taken twice a day with each tablet spaced around 12 hours apart. The length of time you need to take the tablets will depend on your condition. The doctor who prescribes your valacyclovir to you will tell you what dose to take and for how long.
You can also get a lower strength valacyclovir tablet you take daily to prevent outbreaks.
Can you drink alcohol on valacyclovir?
Although alcohol doesn't interact directly with valacyclovir, it's recommended not to drink alcohol whilst taking it. This is because valacyclovir can cause side effects in some people such as dizziness or drowsiness that can be made worse by alcohol.
Valacyclovir side effects
Valacyclovir has been put through rigorous clinical trials and has been used to fight herpes for over two decades. It's a safe medication for the majority of people to take.
All medications can cause side effects however. Although with valacyclovir most people don't experience any and those that do usually experience only mild ones. The most common side effect caused by valacyclovir is a headache which effects around 10% of people who take it. Less common side effects include abdominal pain, constipation, feeling sick, dizziness and a sore throat.
Many medications carry warnings. Valacyclovir warnings include:
It can cause severe and dangerous allergic reactions in rare cases
It may not be suitable for people with kidney problems, advanced HIV or bone marrow problems
You can read more about the side effects and warnings for valacyclovir in the leaflet that comes with the medication.
Does Valacyclovir make you gain weight?
Whilst valacyclovir can cause some side effects including headaches, abdominal pain and nausea, it isn't thought to cause weight gain. None of the studies or clinical trials of valacyclovir found weight gain as a side effect. There have been some anecdotal reports of valacyclovir causing weight gain but there are also anecdotal accounts of it causing weight loss. All of this is unverified and the weight changes could be coincidental. Talk to your doctor if you're concerned about any valacyclovir side effects.
Does Valacyclovir cause hair loss?
In very rare cases people taking valacyclovir have experienced some hair thinning and hair loss. In clinical trials it happened so rarely it wasn't possible to estimate the percentage of people that will likely experience hair loss as a side effect. Talk to your doctor if you're concerned about valacyclovir and hair loss.
Does Valacyclovir cause acne?
There have been some cases of valacyclovir potentially causing acne, but this is thought to happen very rarely. Talk to your doctor if you're concerned about valacyclovir and acne.
What else can Valacyclovir be used for?
Valacyclovir can be used to treat a range of conditions caused by herpes simplex infections, varicella zoster infections and cytomegalovirus. This includes cold sores and genital herpes but also herpes eye infections as well as chickenpox and shingles.
About Now Patient
Now Patient's online services are available in the US and UK. We help you manage your prescriptions, doctor appointments, test results, health risks, and a lot more, all in one place for FREE. If you are in the United States, you could enjoy savings using Now Patient's mail-order pharmacy or use the Now Patient Rx Advantage Card at over 65,000 pharmacies, with savings of up to 90% on popular FDA-approved brand and generic medications like Ozempic, Mounjaro, clopidogrel and lots more. We do not currently handle commercial insurance, Medicare or Medicaid. UK NHS and private prescriptions are delivered FREE of charge across England & Wales by our UK NHS online pharmacy.
Sources
Disclaimer
Now Patient has taken all reasonable steps to ensure that all material is factually accurate, complete, and current. However, the knowledge and experience of a qualified healthcare professional should always be sought after instead of using the information in this page. Before taking any drug, you should always speak to your doctor or another qualified healthcare provider.
The information provided here about medications is subject to change and is not meant to include all uses, precautions, warnings, directions, drug interactions, allergic reactions, or negative effects. The absence of warnings or other information for a particular medication does not imply that the medication or medication combination is appropriate for all patients or for all possible purposes.
WHY WE BUILT NOW PATIENT
To improve the lives of everyone by making high-quality care accessible and convenient
We are here to improve lives. Our service gives you access to smart features & resources that can help empower you to take control of your health and improve your health outcomes. All this, in one place, for FREE. We strive to bring a fresh perspective to managing health. Not play by the rules. Now Patient can be accessed by downloading the App or using your web browser.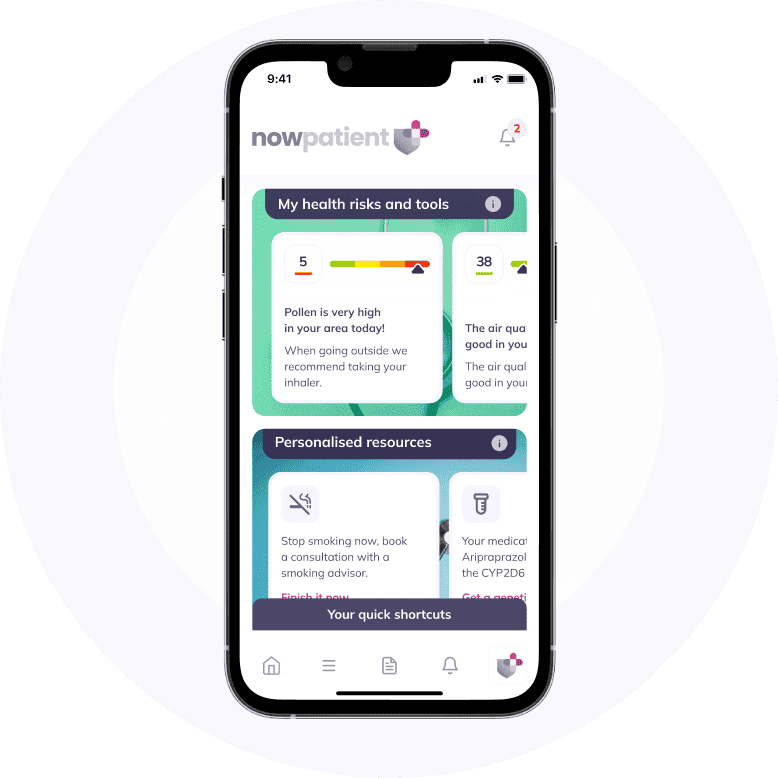 Your Questions Answered
For your peace of mind, we can answer your health questions quickly
If you want to learn more about the range of services that we provide which can help manage and improve your health, then just click the button below.
Find your answers