/
Blog
/
Adderall and erectile dysfunction: what you need to know
Adderall and erectile dysfunction: what you need to know
21 Jun 2023

Stefano Mirabello
Pharmacist / B.Pharm
Thinking about taking Adderall, but you've heard it can cause erectile dysfunction?
We can understand if you're worried. If you've been prescribed Adderall, chances are you need it, and taking it will improve the quality of your life. But will you be putting your sex life at risk? You need to know the facts. Here goes.
What is Adderall and what is it used for?
Adderall is the brand name of a prescription medication used to treat attention deficit hyperactivity disorder (ADHD) in children and adults, and narcolepsy, a sleep disorder.
Adderall is also used off label by some people to improve athletic and cognitive performance, and even as a recreational drug. We don't endorse these uses. You should always use prescription medications as directed by the healthcare professional who prescribes them to you.
What does Adderall do?
Adderall is a central nervous system stimulant that alters the balance of chemicals in your brain. These changes can increase your focus and concentration, decrease impulsiveness, make you feel more wakeful and alert, make you feel calmer, improve your reaction times, increase muscle strength, and can produce feelings of euphoria.
How does Adderall work?
The active ingredients in Adderall are a blend of amphetamine and dextroamphetamine, which increase the activity of two chemicals in your brain called norepinephrine and dopamine. These chemicals are neurotransmitters (a type of molecule which helps signals travel through your brain) and their increased activity results in more focused and controlled attention and behavior.
What side effects does Adderall have?
Adderall is generally a well-tolerated, safe, and effective drug for most people, but like all medications, it can have side effects. The most common of these, felt by more than 5% of patients during clinical trials, included headaches, a dry mouth, loss of appetite, weight loss, insomnia, and nervousness.
You can find more details on possible Adderall side effects in the patient information leaflet that comes with your Adderall. If you're worried about any of these side effects, talk to a doctor or other healthcare professional about them.
Can Adderall cause erectile dysfunction?
Erectile dysfunction is when a man can't get or keep an erection that's firm enough for sex. You can find thousands of websites and blogs about Adderall and how it causes erectile dysfunction, and the truth is, Adderall can cause it. But what most of these websites won't tell you is that erectile dysfunction is a pretty rare side effect of Adderall.
In clinical testing for Adderall, ED was reported by less than 5% of the men taking it. And research on Adderall has revealed a variety of different effects on user's sex lives, with some men reporting ED and a reduced desire for sex, but then other men have said it has the opposite effect. Adderall is even used by some people as an aphrodisiac.
So, what can you expect?
The truth is, we can't tell you with certainty. Everyone responds differently to different meds. For some people, Adderall is totally safe and has no side effects. For some men, it can cause ED, but for others, it can increase the desire for sex. You won't know how Adderall affects you until you start taking it.
How long does erectile dysfunction from Adderall last?
Most men won't get erectile dysfunction from Adderall. Of the few that do, there's no clear research on how long erectile dysfunction will last. Everyone is biologically unique, everyone reacts differently to meds, so you can't know if Adderall will cause erectile dysfunction for you until you try it.
Does Adderall restrict blood flow?
Yes, Adderall can restrict blood flow in some people, which can make it harder to get an erection. If you do experience erectile dysfunction with Adderall, then meds like Viagra may help, as they improve the flow of blood to your penis and could counter the restrictive effect of Adderall.
What should I do if I think Adderall has given me erectile dysfunction?
If you're taking Adderall, and you experience erection problems, then the first step you need to take is to find out if your ED was caused by the Adderall or by something else.
So many different things can cause erectile dysfunction, both physical and mental, and some of them can be serious, like diabetes, heart disease, and hormone problems. You need to see your physician to rule out these conditions and get to the root of what's causing your erection problems.
How can I treat erectile dysfunction?
If Adderall does make it harder for you to get and keep erections, you do have options. You should talk to your physician, or other qualified healthcare professionals about these, but consider the following:
Lead a healthier life
Your lifestyle can affect your erections. Smoking, taking recreational drugs, drinking excessive amounts of alcohol, being overweight, not eating a nutritious enough diet, and not getting enough sleep, can all contribute to erectile dysfunction. If you take better care of yourself, it can make it easier for you to get and keep an erection. And you'll likely enjoy a whole host of other health benefits too.
Change the time you take your Adderall
You may find Adderall is more likely to cause erectile dysfunction when you've recently taken it. You may get better results if you take your Adderall as far away as you can from when you plan to have sex, like taking it in the morning if you want to have sex in the evening.
Wait it out
This might not be the easiest thing to be patient about, we know, but your body may become more accustomed to Adderall over time, and you might find that side effects, like erectile dysfunction, are temporary, and that they pass.
And then there are ED meds.
Can I take viagra with Adderall?
ED meds like Viagra, also called sildenafil, and others like tadalafil, and vardenafil, are effective treatments for erectile dysfunction for many men. But can you take them alongside Adderall?
Adderall and erectile dysfunction drugs like Viagra aren't contraindicated, meaning it's not prohibited to take them together, and no adverse interactions have been reported between Adderall and Viagra. That doesn't mean interactions aren't possible though. If you'd like to take an ED med like Viagra with Adderall, you must tell us before purchasing through Now Patient or speak to your physician to get the benefit of their expert opinion.
About Now Patient
Now Patient's online services are available in the US and UK. We help you manage your prescriptions, doctor appointments, test results, health risks and a lot more, all in one place for FREE. US prescriptions are available on a discounted 'cash' basis and delivered across all 50 states by our network of pharmacy providers dispensing FDA-approved generic and branded medications. We do not currently handle commercial insurance, Medicare or Medicaid. UK NHS and private prescriptions are delivered FREE of charge across England & Wales by our UK regulated online pharmacy.
Sources
Disclaimer
Now Patient has taken all reasonable steps to ensure that all material is factually accurate, complete, and current. However, the knowledge and experience of a qualified healthcare professional should always be sought after instead of using the information in this page. Before taking any drug, you should always speak to your doctor or another qualified healthcare provider.
The information provided here about medications is subject to change and is not meant to include all uses, precautions, warnings, directions, drug interactions, allergic reactions, or negative effects. The absence of warnings or other information for a particular medication does not imply that the medication or medication combination is appropriate for all patients or for all possible purposes.
WHY WE BUILT NOW PATIENT
To improve the lives of everyone by making high-quality care accessible and convenient
As technologists and clinicians, we built Now Patient to be more than just an online pharmacy. We are here to improve lives. Our service gives you access to smart features & resources that can help empower you to take control of your health and improve your health outcomes. All this, in one place, for FREE. We strive to bring a fresh perspective to managing health. Not play by the rules. Now Patient can be accessed by downloading the App or using your web browser.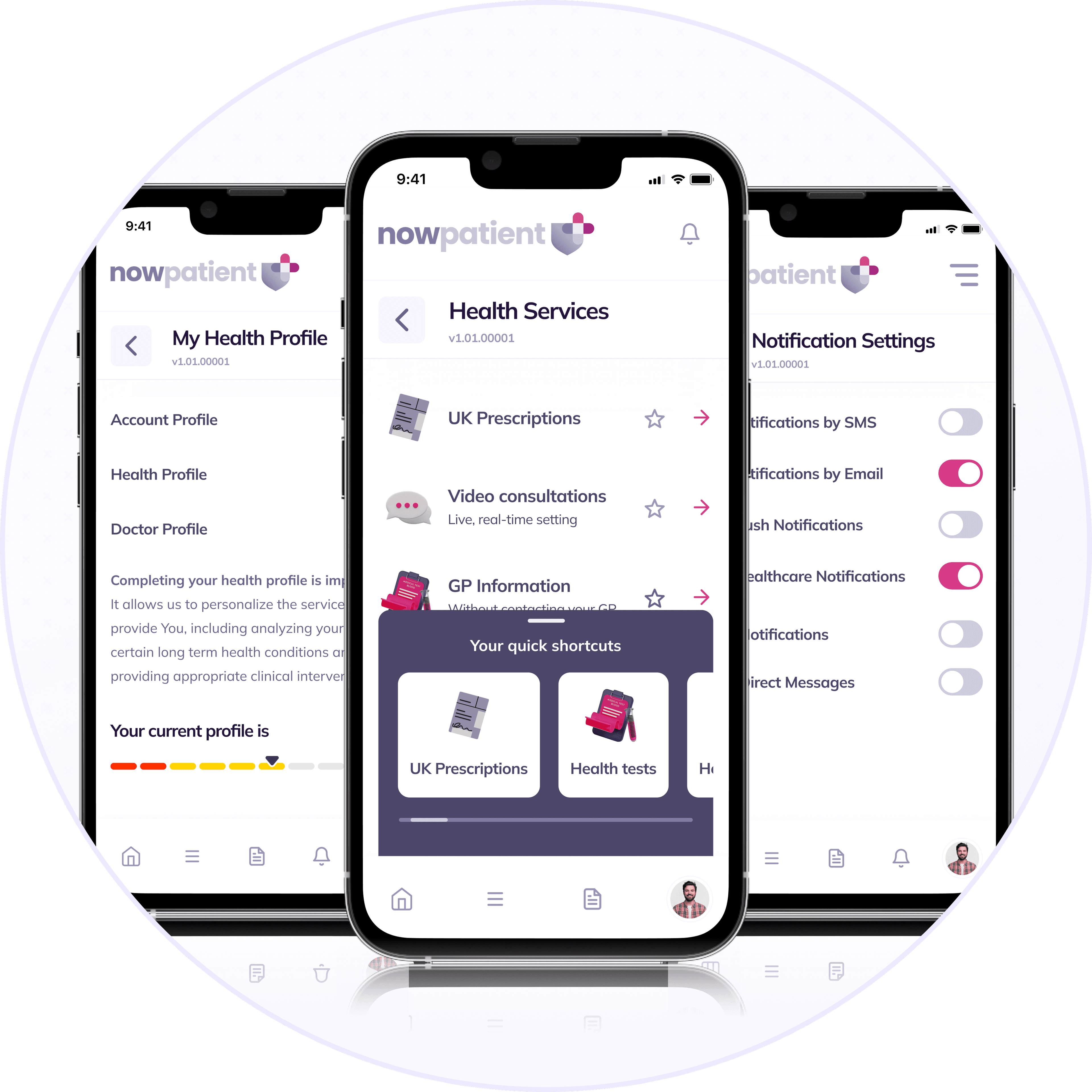 NOW PATIENT
Join the thousands of happy customers in the US and UK already using Now Patient
Manage your health and prescriptions all in one place for FREE. Available to use by downloading the App, or using your web browser.
Your Questions Answered
For your peace of mind, we can answer your health questions quickly
If you want to learn more about the range of services that we provide which can help manage and improve your health, then just click the button below.
Find your answers