Stefano Mirabello
Pharmacist / B.Pharm
Lockdown has affected us all in many ways. As we continue to adjust to our new normal, we decided to take a look at the impact that lockdown has had on our sex lives. We surveyed 1,000 adults from across the UK and got to the nitty gritty about how their desire has been impacted by Covid-19.
Sexually frustrated? You're not alone
If you've found yourself feeling sexually frustrated, you're not alone. 14% of the people we surveyed said they'd been feeling the strain while socially-isolating. And it seems as though men are finding it slightly harder than women, with 17% of men admitting to feeling sexually frustrated, compared to 11% of women.
For people self-isolating on their own, the lockdown has put a complete stop to their sex lives. While for those still living with their partner, things aren't always easier. 20% of UK men and 13% of women said the lockdown has had a negative impact on their sex lives.
Working from home?
For many Brits, this will be their first experience working from home for a prolonged period of time, which introduces its own hurdles to overcome – one of the biggest being distractions. 13% of the men we surveyed admitted to watching pornography during their normal working hours, compared to 5% of women. 19% of men and 7% of women also admitted to having masturbated during their working hours.
Finally, 8% of men admitted to sliding into the DMs of someone they fancy on social media, compared to just 4% of women.
Sex drives around the country
With the whole country on lockdown, sexual friction is being felt everywhere. But according to our survey, some cities are feeling it more than others.
Edinburgh and Southampton came out as the sexual frustration capitals of the UK, with 20% of residents in each city saying they'd felt frustrated during lockdown. At the other end of the scale, things are looking good for Leeds, with only 7% of residents saying they'd felt sexually frustrated.
When looking at the impact lockdown has had on our sex lives, it's still not good news for people in Southampton. 29% of residents said the lockdown has had a negative impact on their sex life, followed by 21% of Bristolians. Whereas in Sheffield, only 3% of people said there had been a negative impact, followed by 4% of people in Liverpool.
But it's not all doom and gloom! While many of us have been feeling sexually pent up, others have taken the opportunity to release some tension while working from home. 19% of the people we spoke to in Norwich and Plymouth said they'd had sex during their usual working hours, followed by 17% of people in Edinburgh!
Putting relationships to the test
While some people will be self-isolating with their partner, this doesn't mean they won't face their own challenges. A major change in your daily routine, as well as the ongoing uncertainty, can have an impact on your emotions and sex drive.
25% of couples self-isolating together said they felt as though the lockdown has had a negative impact on their sex life, and 17% admitting to feeling sexually frustrated because of this. 10% even said they'd argued with their partner about how much sex they've been having (or not having).
However, its not all bad news. 12% of the couples we spoke to said that the lockdown has had a positive impact on their sex lives, with 19% saying they've been having more sex since it began. 20% even said they'd taken a break to have sex during their normal office hours.
Finding ways to cope with the distance
When we spoke to couples who were not self-isolating together, 38% said they'd been feeling sexually frustrated. Luckily, thanks to the wonders of technology, there are plenty of ways couples can stay in touch.
22% of the couples we spoke to said they'd had virtual dates, using video-conferencing tools like Skype, Zoom and Houseparty, while 24% said they'd sent gifts to each other while they'd been separated. Meanwhile, 33% of couples self-isolating separately said they'd dealt with the distance by sexting, with a further 17% saying they'd shared revealing images with each other.
Just remember, you're not alone in all of this. If you're struggling with the distance, or you're concerned about your relationship, take the time to share your feelings with your partner.
Is lockdown affecting your libido? Beat erectile dysfunction with our medically proven range of treatments including sildenafil, tadalafil and vardenafil.
About Now Patient
Now Patient's online services are available in the US and UK. We help you manage your prescriptions, doctor appointments, test results, health risks, and a lot more, all in one place for FREE. If you are in the United States, you could enjoy savings using Now Patient's mail-order pharmacy or use the Now Patient Rx Advantage Card at over 65,000 pharmacies, with savings of up to 90% on popular FDA-approved brand and generic medications like Ozempic, Mounjaro, clopidogrel and lots more. We do not currently handle commercial insurance, Medicare or Medicaid. UK NHS and private prescriptions are delivered FREE of charge across England & Wales by our UK NHS online pharmacy.
Disclaimer
Now Patient has taken all reasonable steps to ensure that all material is factually accurate, complete, and current. However, the knowledge and experience of a qualified healthcare professional should always be sought after instead of using the information in this page. Before taking any drug, you should always speak to your doctor or another qualified healthcare provider.
The information provided here about medications is subject to change and is not meant to include all uses, precautions, warnings, directions, drug interactions, allergic reactions, or negative effects. The absence of warnings or other information for a particular medication does not imply that the medication or medication combination is appropriate for all patients or for all possible purposes.
WHY WE BUILT NOW PATIENT
To improve the lives of everyone by making high-quality care accessible and convenient
We are here to improve lives. Our service gives you access to smart features & resources that can help empower you to take control of your health and improve your health outcomes. All this, in one place, for FREE. We strive to bring a fresh perspective to managing health. Not play by the rules. Now Patient can be accessed by downloading the App or using your web browser.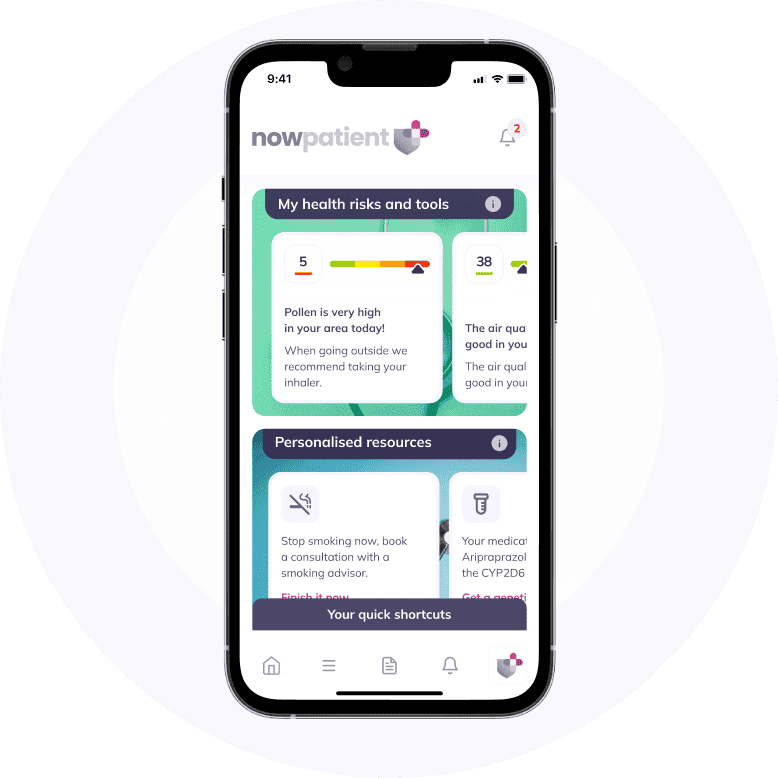 Your Questions Answered
For your peace of mind, we can answer your health questions quickly
If you want to learn more about the range of services that we provide which can help manage and improve your health, then just click the button below.
Find your answers