Stefano Mirabello
Pharmacist / B.Pharm
THE SEXIEST STAR SIGNS REVEALED
Whether we like to admit it or not, we all have a celebrity or two that we fantasize about. Well, maybe we're not all fantasizing about dinner for two with Rihanna or Chris Hemsworth, but we all have at least one celebrity crush.
What is it about these people that we find so sexy? Is it the ripped abs on Tom Hardy, or maybe the sultry smile of Beyonce? Perhaps it's even got something to do with their date of birth.
The men's health experts at Now Patient wanted to find out whether your birthday can give you a better chance of being a sexy specimen and which star signs are the true fire signs.
Looking at the birthdays of 500 of the sexiest celebs on earth, we discovered the hottest star signs and birth months, so how sexy is your sign?
The sexiest star signs
Aries's are the sexiest people in the world
Can your star sign make you sexy? Whether you believe in horoscopes or not, there's no denying that some star signs just seem to be more common amongst the sexiest people on the planet.
1. Aries – 50 celebrities
March 21 – April 19
This sign tops the list as the sexiest, and we're sure that the Aries signs out there won't be too surprised. With the likes of Pedro Pascal, Jessica Chastain and Halle Bailey being born under this sign, it is certainly the sexiest star sign.
2. Taurus – 47 celebrities
April 20 – May 20
Taurus signs may be very different in personality to Aries, but when it comes to looks, they follow as a close second, with this sign being the second most common amongst our list of 500 sexiest celebs.
Sexy Taurus celebrities include Gigi Hadid, George Clooney and Shemar Moore.
July 22 – August 22
Another fire sign, the Leos round out our top three sexiest signs with 46 of the 500 sexiest celebrities. The Leo personality is known to be flirty, entertaining and fierce, making the personality a perfect match for the looks.
Some of the sexiest Leo celebrities include Jason Momoa, Cara Delevingne and Winnie Harlow.
4. Virgo – 45 celebrities
5. Aquarius – 44 celebrities
6. Pisces – 44 celebrities
7. Libra – 43 celebrities
8. Capricorn – 41 celebrities
9. Sagittarius – 40 celebrities
10. Scorpio – 39 celebrities
11. Gemini – 32 celebrities
12. Cancer – 29 celebrities
The sexiest birth months
Maybe your star sign didn't top the list as the sexiest, but how does your birth month fare?
1. April – 60 celebrities
With the top two sexiest star signs covering the entire month of April, it should come as no surprise that this is the most common birth month for the 500 sexiest people.
Sexy celebs born in April include Michael Fassbender, Emma Watson and Gal Gadot.
2. August – 51 celebrities
These summer babies can take pride as the second sexiest birth month, with 51 of 500 sexy celebs celebrating their birthdays in August.
Some of the sexiest celebrities with August birthdays include Chris Hemsworth, Halle Berry and Blake Lively.
3. February – 49 celebrities
February is already a sexy month, with the holiday of love falling on the 14th of this month, but it also ranks as the third sexiest month for birthdays.
Some of the hottest celebs celebrate their birthdays in February, including Harry Styles, Michael B. Jordan and Rihanna.December – 47 celebrities
4. December – 47 celebrities
5. September – 44 celebrities
6. March – 42 celebrities
7. October – 41 celebrities
8. November – 39 celebrities
9. January – 35 celebrities
10. May – 33 celebrities
11. July – 30 celebrities
12. June – 29 celebrities
Methodology
Using lists of the sexiest male celebrities and sexiest female celebrities from Ranker, we compiled a list of 500 names in total. Taking the birthdays of each celebrity, we were able to figure out their star signs, taking a total of each of the 12 signs and each of the 12 months to give the sexiest star sign and sexiest birth month.
About Now Patient
Now Patient's online services are available in the US and UK. We help you manage your prescriptions, doctor appointments, test results, health risks, and a lot more, all in one place for FREE. If you are in the United States, you could enjoy savings using Now Patient's mail-order pharmacy or use the Now Patient Rx Advantage Card at over 65,000 pharmacies, with savings of up to 90% on popular FDA-approved brand and generic medications like Ozempic, Mounjaro, clopidogrel and lots more. We do not currently handle commercial insurance, Medicare or Medicaid. UK NHS and private prescriptions are delivered FREE of charge across England & Wales by our UK NHS online pharmacy.
Disclaimer
Now Patient has taken all reasonable steps to ensure that all material is factually accurate, complete, and current. However, the knowledge and experience of a qualified healthcare professional should always be sought after instead of using the information in this page. Before taking any drug, you should always speak to your doctor or another qualified healthcare provider.
The information provided here about medications is subject to change and is not meant to include all uses, precautions, warnings, directions, drug interactions, allergic reactions, or negative effects. The absence of warnings or other information for a particular medication does not imply that the medication or medication combination is appropriate for all patients or for all possible purposes.
WHY WE BUILT NOW PATIENT
To improve the lives of everyone by making high-quality care accessible and convenient
We are here to improve lives. Our service gives you access to smart features & resources that can help empower you to take control of your health and improve your health outcomes. All this, in one place, for FREE. We strive to bring a fresh perspective to managing health. Not play by the rules. Now Patient can be accessed by downloading the App or using your web browser.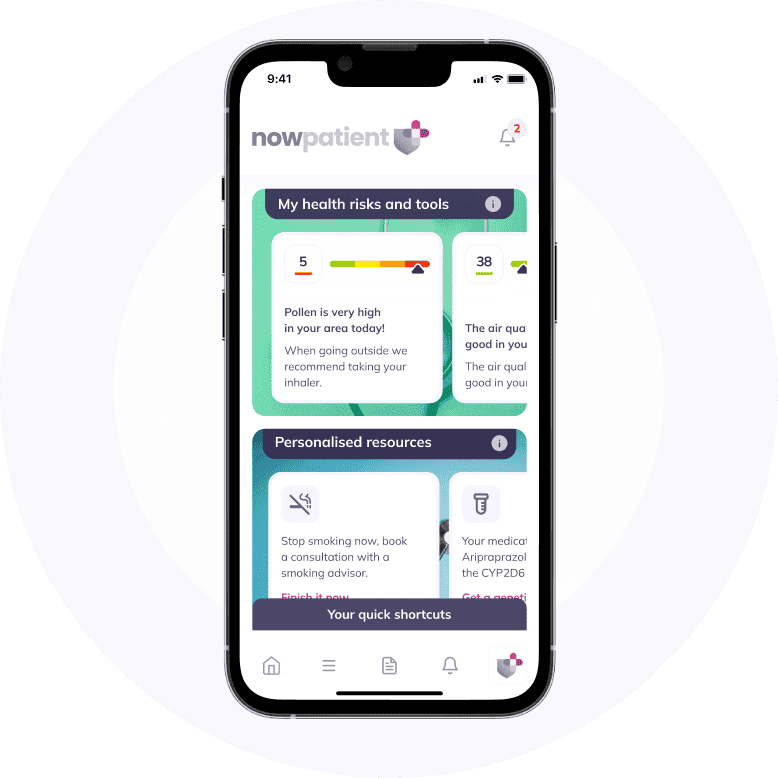 Your Questions Answered
For your peace of mind, we can answer your health questions quickly
If you want to learn more about the range of services that we provide which can help manage and improve your health, then just click the button below.
Find your answers