Stefano Mirabello
Pharmacist / B.Pharm
There are loads of reasons your hair can fall out. Some hair loss every day is normal.
But your hair usually doesn't fall out in clumps. That means if it does, you probably have a specific medical condition which is causing it to do so.
Here we'll have a look at some of the different causes of hair loss, and what you can do about them.
Everyday hair loss
The most common cause of hair loss is a natural process called shedding. Your hair goes through a growth cycle in which hair follicles in your skin produce new hairs. These hairs grow, then after a certain amount of time they stop growing and fall out. A new hair then emerges from the follicle to replace it.
Typically, you lose around 50 to 100 hairs a day to shedding, which might sound a lot, but it's less than 0.10% of the hairs on your head, so it really isn't. Shedding shouldn't result in any baldness either, as new hairs replace the ones that have fallen out, and usually the hair is lost evenly from all over your head, not in clumps.
What causes hair to fall out in handfuls?
Lots of different things can cause your hair to fall out in clumps, from sudden stressful events to problems with your diet, as well as certain medications and medical conditions. You can read more about the causes of hair loss in this article, but if you're worried about it, you should speak to a doctor.
Is it normal to lose clumps of hair in the shower?
It's normal to lose some hair in the shower, as your body naturally sheds hairs every day. This often happens when you touch and wash your scalp, but hair isn't usually lost like this in clumps. If you're losing hair in patches, you should see a doctor.
Is your hair falling out a sign of cancer?
It's unlikely. In rare cases, some cancers, like Hodgkin's Lymphoma, can cause hair loss, but it's much more likely you're losing hair due to one of the conditions described here. See a doctor though if you're worried about your hair loss.
So what causes hair to fall out in clumps?
If you notice your hair falling out in patches, you can't dismiss this as natural shedding. It's likely you've got one of the following conditions:
Telogen effluvium
Telogen effluvium is a scalp disorder that can cause your hair to thin and fall out in patches. Let's break it down. The telogen phase is actually a normal stage of the hair growth cycle where mature hairs stop growing. Telogen effluvium, on the other hand, makes your hair enter this stage of the growth cycle too quickly. It stops hairs from growing and causes them to fall out earlier than they should.
The causes of telogen effluvium aren't fully understood, but it's thought to be triggered most often by physical or emotional stress, especially by stressful events. Other causes can include hormonal changes, severe infections, major surgery, a side effect of medications (like beta-blockers and retinoids), and dietary deficiencies including a lack of iron or protein.
With telogen effluvium, hair loss usually happens some months after the event that caused it (from one to six months, with three months the most common), as it takes time for the hair that's stopped growing to fall out. The good news is that hair lost to telogen effluvium usually grows back once the cause of the condition is dealt with. If you're diagnosed with it, your doctor can help you get to the bottom of what's causing it and can advise you how to address the problem.
Alopecia areata
Alopecia areata, also called spot baldness, is another condition which can cause your hair to fall out in patches. It can make hair fall out from all areas of your body, but on your head, you will either lose all your hair (called diffuse alopecia areata) or in specific areas (called alopecia areata monolocularis). It will usually happen in patches around the size of a quarter. These patches can join up too, creating larger areas of lost hair.
Alopecia areata is caused by your immune system targeting and damaging your hair follicles, resulting in your follicles producing progressively finer hair, and eventually no hair at all. No one knows quite what causes this to happen, but it's partly genetic. This means that if other people in your family have it, you're more likely to have it too.
Unfortunately, there's no known cure. The condition can stop by itself, and hair can grow back, but it can start over again, causing more hair loss. When it's stopped, various treatments can help hair regrow quicker, like cortisone injections. But once it returns there are no treatments which can reliably stop you from losing more hair. This is one of those frustrating health conditions which comes and goes, and unfortunately, when it's present there isn't much you can do about it.
Scarring alopecia
This is a type of hair loss caused by inflammation in the scalp that destroys hair follicles and replaces them with scar tissue, hence the name scarring alopecia (there's usually no scarring visible on the scalp however as it happens within the skin). It can cause hair to fall out in patches, but more likely it will fall out in larger areas.
It's not known for sure what causes the inflammation which results in scarring alopecia. It can occur in otherwise healthy men, and it doesn't seem to run in families.
Treating scarring alopecia can be difficult. Once the scarring happens, the hair follicle is lost forever, and no hair will grow back. If the condition is diagnosed fast enough, anti-inflammatory medications may be able to stop the hair follicles from being destroyed. If you feel itching and soreness, and notice more hair falling out than usual, speak to a doctor as soon as you can.
ANAGEN EFFLUVIUM
This is a type of hair loss usually caused by medical treatments, like radiotherapy or when taking chemotherapy drugs to treat cancer. Hair can fall out in clumps at first, but typically hair falls out all over the scalp. It's called anagen effluvium, as the anagen phase is the growing phase of the hair cycle, meaning hair is lost as it's still growing.
As hair follicles aren't usually damaged with anagen effluvium, the lost hair usually grows back once the medical treatment has ended.
MALE PATTERN BALDNESS
Male pattern baldness (MPB), also called androgenetic alopecia, is the most common cause of baldness in men. MPB mainly causes your hair to thin and recede in specific areas though, rather than falling out in clumps.
MPB is caused by a sensitivity to a hormone called dihydrotestosterone (DHT), which causes the hair follicles on your head to shrink, making hair thin over time and eventually stop growing altogether. Thankfully, hair loss with MPB can be stopped and even reversed by using prescription medications like finasteride, also sold as under the brand name Propecia.
What should i do if i'm losing my hair in clumps?
Your first step should be to see a doctor. They can either diagnose you themselves or can refer you to a specialist, like a dermatologist, who can make a diagnosis.
Your options then will depend on that diagnosis. Some conditions will be treatable, others might have more limited options. If your hair is falling out in clumps, you could have scarring alopecia, anagen effluvium, or male pattern baldness, but it's more likely to be either telogen effluvium or alopecia areata. The most important thing is to act quickly, as hair loss can often be treated more effectively in its earlier stages.
About Now Patient
Now Patient's online services are available in the US and UK. We help you manage your prescriptions, doctor appointments, test results, health risks and a lot more, all in one place for FREE. US prescriptions are available on a discounted 'cash' basis and delivered across all 50 states by our network of pharmacy providers dispensing FDA-approved generic and branded medications. We do not currently handle commercial insurance, Medicare or Medicaid. UK NHS and private prescriptions are delivered FREE of charge across England & Wales by our UK regulated online pharmacy.
Sources
Disclaimer
Now Patient has taken all reasonable steps to ensure that all material is factually accurate, complete, and current. However, the knowledge and experience of a qualified healthcare professional should always be sought after instead of using the information in this page. Before taking any drug, you should always speak to your doctor or another qualified healthcare provider.
The information provided here about medications is subject to change and is not meant to include all uses, precautions, warnings, directions, drug interactions, allergic reactions, or negative effects. The absence of warnings or other information for a particular medication does not imply that the medication or medication combination is appropriate for all patients or for all possible purposes.
WHY WE BUILT NOW PATIENT
To improve the lives of everyone by making high-quality care accessible and convenient
As technologists and clinicians, we built Now Patient to be more than just an online pharmacy. We are here to improve lives. Our service gives you access to smart features & resources that can help empower you to take control of your health and improve your health outcomes. All this, in one place, for FREE. We strive to bring a fresh perspective to managing health. Not play by the rules. Now Patient can be accessed by downloading the App or using your web browser.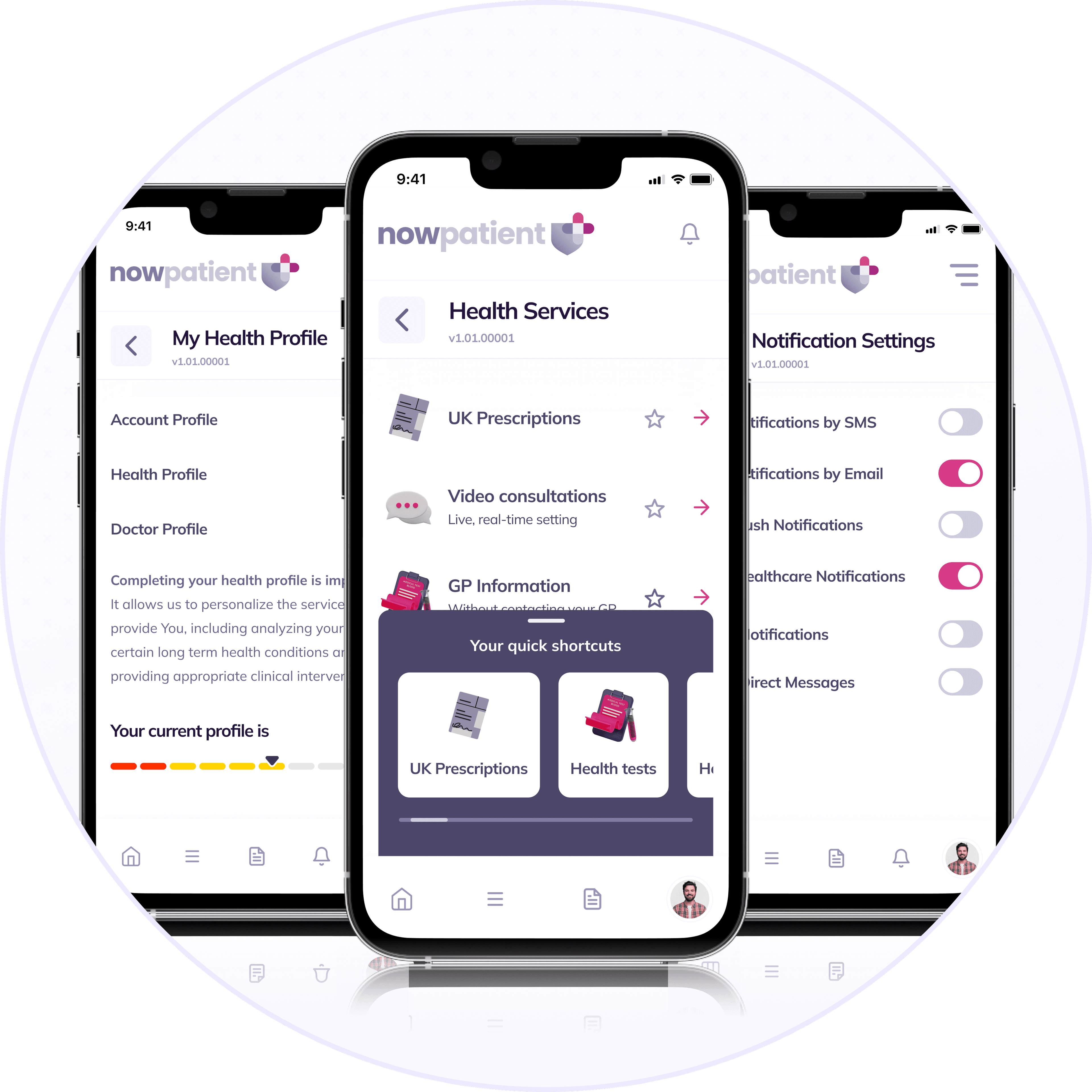 NOW PATIENT
Join the thousands of happy customers in the US and UK already using Now Patient
Manage your health and prescriptions all in one place for FREE. Available to use by downloading the App, or using your web browser.
Your Questions Answered
For your peace of mind, we can answer your health questions quickly
If you want to learn more about the range of services that we provide which can help manage and improve your health, then just click the button below.
Find your answers