Stefano Mirabello
Pharmacist / B.Pharm
There are loads of reasons why your hair could be falling out. Thyroid problems are one of them, but try not to worry too much – thyroid hair loss can usually be treated with hormone tablets and hair loss medication.
We're here to give you everything you need to know about your thyroid and hair loss, including a reassuring note on how common the issue is. For instance, did you know 12% of Americans will experience a thyroid issue in their life? If you're worried you might have a thyroid problem you're not alone.
What is your Thyroid?
Take your hand and place it gently on your Adam's apple. Your thyroid gland sits just beneath this. It may look small, but this butterfly-shaped piece of tissue plays a crucial part in all of your bodily functions. Your thyroid is responsible for your body's metabolism, which is how your body converts food into energy.
But the thyroid gland is also important because it produces two hormones that feed nearly every cell in your body: triiodothyronine (T3) and thyroxine (T4). T3 and T4 regulate everything from breathing to digestion, but how do they affect your hair?
How Thyroid issues affect hair loss
Each strand of hair on our bodies begins to grow at the root, located at the base of the hair follicle. Then the surrounding blood vessels 'feed' the root so that the hair can grow. The hair eventually pushes up through the skin, passing by sebaceous (oil) glands as it goes, to keep it soft and shiny. Your hair will grow for a while but eventually falls out as it's replaced by newer hairs.
However, if the production of hormones T3 and T4 is disrupted, this can affect the development of hair at the root, which can cause hair loss. As the thyroid is responsible for the production of these two hormones within our bodies issues with it can lead to hair loss,  whether it's producing too much (overactive), or not enough (underactive). So, once your hair naturally falls out at the end of its life cycle there might not be anything there to replace it. This is when hair loss happens.
But try not to worry too much as both imbalances are treatable and diagnosed by a simple blood test.
What symptoms are associated with Thyroid issues?
Hyperthyroidism, or an overactive thyroid can lead to weight loss and excessive sweating, while hypothyroidism is often associated with weight gain and constantly feeling cold. You might also experience one or several of the following symptoms:
Hyperthyroidism:
Anxiety
Rapid heart rate
Fatigue
Shaking
Increased bowel movements
Hypothyroidism:
Irritated skin
Swelling
Depression
Back pain
Muscle aches
Men who are diagnosed with one of these two conditions are also at higher risk of losing their hair. If you're worried about any of these symptoms it's worth having a chat with your GP or an endocrinologist (a specialist doctor that deals with hormones) to explore the reasons behind them.
For example, there are conditions like Hashimoto's disease and Graves' disease, where the immune system attacks healthy cells for no apparent reason. These autoimmune diseases can cause hypothyroidism and hyperthyroidism, respectively.
Can hair loss from Thyroid problems be reversed?
Yes, when given the right treatment your thyroid will eventually balance out and return to normal. This process may take several months, during which you might be given carbimazole and propylthiouracil (overactive) or levothyroxine (underactive).
What are the early warning signs of Thyroid problems?
People with thyroid issues often complain of not feeling themselves. You may be fatigued or may have gained or lost unexplained weight or muscle. You should also make a note of any sudden mood swings.
If you've been feeling tired or noticed changes to your body (in your size or any mystery aches), you should contact your doctor and ask for a blood test to check your thyroid levels.
Treatments to help Thyroid and hair loss issues
Thyroid problems aren't usually serious, but you should still get checked out by a doctor to rule out any concerns. If your thyroid is serious your doctor may put you on a course of hormone treatments to help regulate your thyroid. In terms of hair loss the treatment we provide is finasteride, also sold under the brand name Propecia. We recommend finasteride to men with hair loss issues, as it blocks the effects of the male sex hormone dihydrotestosterone (DHT). Over 80% of men who take finasteride tablets will be able to stop their hair loss. We also offer minoxidil (also sold under the brand Rogaine), a topical treatment to aid regrowth.
Try not to worry as stress can also be a considerable factor in hair loss. If you still have questions about male hair loss visit the Now Patient blog for more detailed guides on the causes and treatments available to you.
About Now Patient
Now Patient's online services are available in the US and UK. We help you manage your prescriptions, doctor appointments, test results, health risks and a lot more, all in one place for FREE. US prescriptions are available on a discounted 'cash' basis and delivered across all 50 states by our network of pharmacy providers dispensing FDA-approved generic and branded medications. We do not currently handle commercial insurance, Medicare or Medicaid. UK NHS and private prescriptions are delivered FREE of charge across England & Wales by our UK regulated online pharmacy.
Sources
Disclaimer
Now Patient has taken all reasonable steps to ensure that all material is factually accurate, complete, and current. However, the knowledge and experience of a qualified healthcare professional should always be sought after instead of using the information in this page. Before taking any drug, you should always speak to your doctor or another qualified healthcare provider.
The information provided here about medications is subject to change and is not meant to include all uses, precautions, warnings, directions, drug interactions, allergic reactions, or negative effects. The absence of warnings or other information for a particular medication does not imply that the medication or medication combination is appropriate for all patients or for all possible purposes.
WHY WE BUILT NOW PATIENT
To improve the lives of everyone by making high-quality care accessible and convenient
As technologists and clinicians, we built Now Patient to be more than just an online pharmacy. We are here to improve lives. Our service gives you access to smart features & resources that can help empower you to take control of your health and improve your health outcomes. All this, in one place, for FREE. We strive to bring a fresh perspective to managing health. Not play by the rules. Now Patient can be accessed by downloading the App or using your web browser.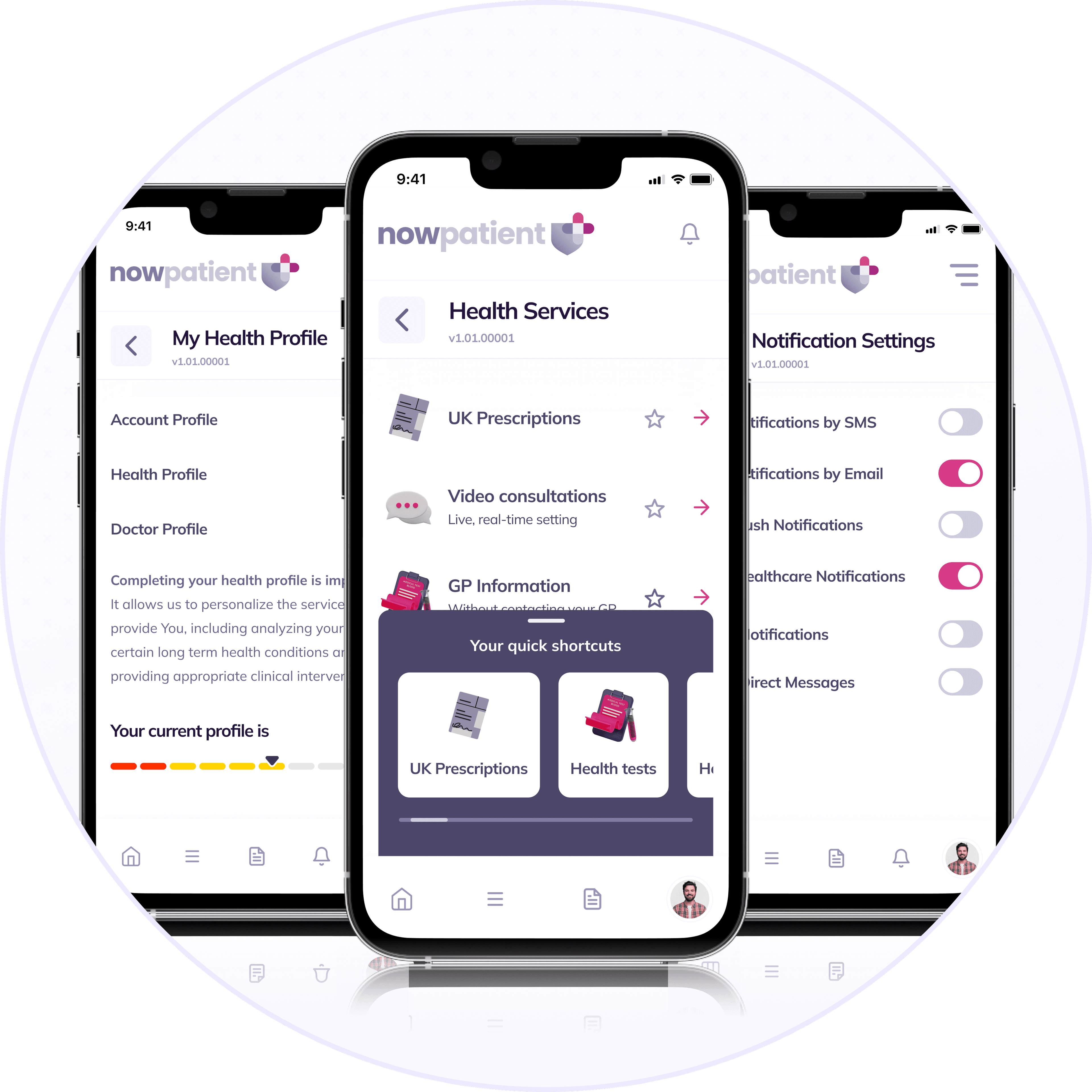 NOW PATIENT
Join the thousands of happy customers in the US and UK already using Now Patient
Manage your health and prescriptions all in one place for FREE. Available to use by downloading the App, or using your web browser.
Your Questions Answered
For your peace of mind, we can answer your health questions quickly
If you want to learn more about the range of services that we provide which can help manage and improve your health, then just click the button below.
Find your answers