Stefano Mirabello
Pharmacist / B.Pharm
Dandruff is a common scalp condition that affects plenty of men. Although its harmless dandruff is often visible and itchy. If you have dandruff it's only natural to want to get rid of it. Here we tell you everything you need to know about dandruff, including what causes dandruff and how to get rid of dandruff.
What is dandruff?
Dandruff is a skin condition that affects your scalp (the skin on your head). It causes your scalp to flake off in small patches. These patches of skin can be visible in your hair and on your clothes, usually on your shoulders. They're harmless, but they're not a great look.
Is dandruff a fungus?
Dandruff itself isn't a fungus. It's clumps of dead skin cells that fall away from your scalp as visible flakes. However, dandruff can be caused by fungus living on your scalp, particularly Malassezia fungi. These fungi produce toxins that cause inflammation in your scalp that can lead to dandruff.
What are the symptoms of dandruff?
The main symptom of dandruff is small white flakes of shed skin. Some people only shed small amounts of skin, but others can shed from their entire scalp, producing large amounts of flakes. Dandruff can also make your scalp feel itchy. In more severe cases it can cause swelling and red patches to form on your scalp.
What causes dandruff?
Dandruff is thought to be caused by skin cells on your scalp being replaced too quickly.
Your skin follows a lifecycle where skin cells are continually replaced. Layers of old skin cells die and fall away from your body and new layers of skin cells grow to take their place. When you lose old layers of skin the dead skin cells aren't visible because they usually separate as you shed them. But with dandruff your skin is replaced too quickly. When the cells are shed they're still attached to each other and form the visible white flakes.
What causes the skin on your scalp to be replaced too quickly? There's some debate around this, but likely candidates include:
A condition called contact dermatitis caused by the skin on your scalp having an allergic reaction to something you put on your scalp or something around you
Toxins produced by microorganisms living on your scalp (like fungi) that cause an inflammatory response in your skin
An autoimmune disease called psoriasis that causes your skin to be replaced too quickly
A skin condition called seborrhoeic dermatitis that causes inflammation in your scalp
Any other conditions that cause inflammation in your body, like obesity, rheumatoid arthritis, asthma or type 2 diabetes
If you find yourself asking 'why do I have dandruff?', the chances are it's caused by one of the above or a combination of factors.
The following can make your dandruff worse, but aren't actual causes:
Stress
Cold weather
Having oily skin on your head (oil can stick dead skin cells together)
Not washing your hair enough to clear away oil and dead skin
Having a compromised immune system – this could be caused by anything from an infection like a common cold to a chronic immune system disease like lupus
How do I get rid of dandruff?
So, how do you get rid of dandruff? We've got good news and bad news. We'll get the bad news out of the way first. Unfortunately there isn't a simple permanent cure for dandruff.
Now for the good news. There are plenty of things you can do to reduce dandruff and keep it at bay (although if you stop doing these things your dandruff can come back). Different dandruff solutions will work for different people. It depends on what's causing your dandruff and how your skin responds. You can experiment with the following to see what works best for you. Try using:
A regular shampoo everyday: A regular but gentle shampoo can help with cases of dandruff. It works by removing dead skin cells and oil from your scalp
An anti-dandruff shampoo: You can buy over-the-counter anti-dandruff shampoos like Head and Shoulders that can help with mild to moderate cases of dandruff
An antifungal shampoo that contains ketoconazole: If a fungal infection of your scalp causes your dandruff, shampoos that contain an antifungal medication called ketoconazole can be effective. You can buy shampoos with ketoconazole both over the counter and as prescription treatments
A shampoo that contains salicylic acid: This is a type of acid that can remove dead skin cells from your scalp before they form flakes of dandruff. Salicylic acid can dry out your scalp and may not be suitable if you have dry or sensitive skin.
A coal tar-based shampoo: Coal tar is a thick dark liquid that can slow the growth of skin cells on your scalp and prevent dandruff. It can darken lighter hair colors, so use it with caution if you have light hair
A prescription treatment for psoriasis or eczema: If your dandruff is caused by a skin condition like psoriasis or eczema, talk to your doctor about prescription treatments for your condition
Lifestyle changes to help with dandruff
Stress is thought to make dandruff worse. Inflammation in the scalp is also thought to be at the heart of dandruff. This is because inflammation is likely to be the root cause of your skin cells being replaced too quickly. The following lifestyle changes have been shown to reduce stress and inflammation. They may not banish dandruff entirely, but they're sure to help (and they'll improve your overall health and quality of life too):
Eat a healthy diet: Increase your intake of fruits and vegetables. Eat plenty of nuts, pulses, whole grains and lean meats. Limit animal fats, red meat, processed foods, high-sugar foods and high-fat dairy
Drink plenty of water to make sure you're properly hydrated
Lose excess body fat and maintain a healthy weight
Engage in regular exercise
Make sure you get enough sleep
Don't smoke
Limit how much alcohol you drink
Make sure you devote time to doing the things you enjoy in order to combat stress
How can I remove dandruff permanently?
Dandruff can't be cured permanently. For most people who have dandruff it comes and goes over time and you'll have to manage it whenever it returns. A good shampoo such as a gentle regular shampoo, an antidandruff shampoo or an antifungal shampoo can keep dandruff at bay. Positive lifestyle changes can also help to limit dandruff by reducing stress and inflammation. These include eating a nutritious diet, exercising and maintaining a healthy weight.
Can dandruff cause hair loss?
Dandruff doesn't cause hair loss. If your scalp is itchy and you scratch at it excessively you could cause some hair to fall out. This hair loss won't be permanent though. The hair will grow back if you treat your dandruff and stop scratching your scalp.
If you have dandruff and your hair is starting to thin and recede we can see why it might seem like the two are related. However they aren't related. Your hair loss is probably caused by male pattern baldness (MPB), the most common form of permanent hair loss in men.
You can fight back against MPB, but you'll need to use different products than you'd use to fight dandruff. We recommend proven prescription treatments like finasteride (Propecia) and minoxidil (Rogaine) and you can try biotin supplements to improve hair growth and quality. You can read more about them on Now Patient. If you like what you read you can order them from us directly.
About Now Patient
Now Patient's online services are available in the US and UK. We help you manage your prescriptions, doctor appointments, test results, health risks, and a lot more, all in one place for FREE. If you are in the United States, you could enjoy savings using Now Patient's mail-order pharmacy or use the Now Patient Rx Advantage Card at over 65,000 pharmacies, with savings of up to 90% on popular FDA-approved brand and generic medications like Ozempic, Mounjaro, clopidogrel and lots more. We do not currently handle commercial insurance, Medicare or Medicaid. UK NHS and private prescriptions are delivered FREE of charge across England & Wales by our UK NHS online pharmacy.
Sources
Disclaimer
Now Patient has taken all reasonable steps to ensure that all material is factually accurate, complete, and current. However, the knowledge and experience of a qualified healthcare professional should always be sought after instead of using the information in this page. Before taking any drug, you should always speak to your doctor or another qualified healthcare provider.
The information provided here about medications is subject to change and is not meant to include all uses, precautions, warnings, directions, drug interactions, allergic reactions, or negative effects. The absence of warnings or other information for a particular medication does not imply that the medication or medication combination is appropriate for all patients or for all possible purposes.
WHY WE BUILT NOW PATIENT
To improve the lives of everyone by making high-quality care accessible and convenient
We are here to improve lives. Our service gives you access to smart features & resources that can help empower you to take control of your health and improve your health outcomes. All this, in one place, for FREE. We strive to bring a fresh perspective to managing health. Not play by the rules. Now Patient can be accessed by downloading the App or using your web browser.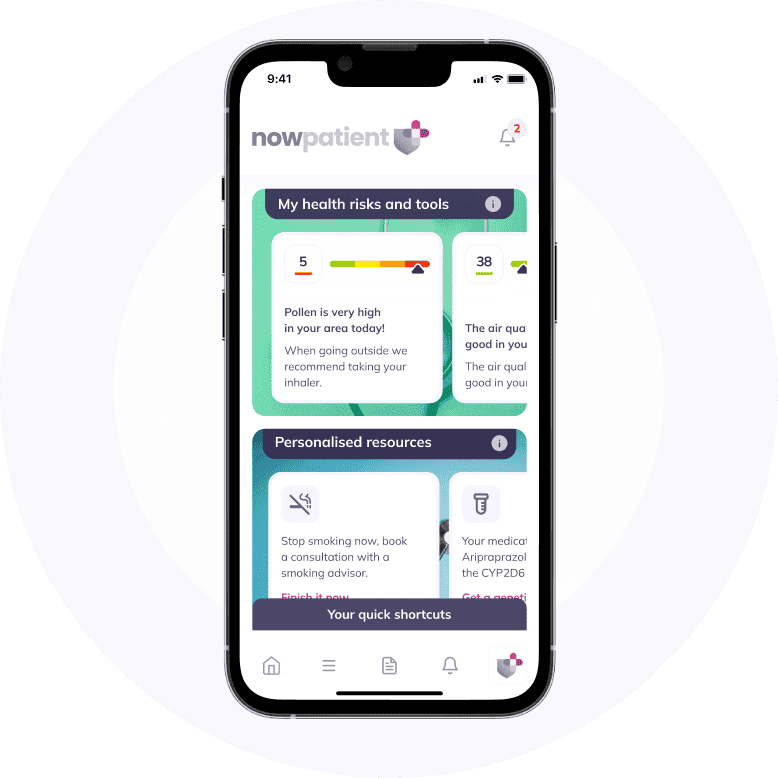 Your Questions Answered
For your peace of mind, we can answer your health questions quickly
If you want to learn more about the range of services that we provide which can help manage and improve your health, then just click the button below.
Find your answers