Stefano Mirabello
Pharmacist / B.Pharm
Your mental health is every bit as important as your physical health.
But us guys often aren't as good at taking care of our mental health as we should be. Many of us don't like talking about it or seeking help for our mental health issues. But we have to. Living with poor mental health can be miserable, and it can be fatal.
Here we're talking openly about men's mental health, including where to get help and support for mental health problems.
What is mental health?
If physical health is the health of your body, mental health is the health of what happens in your head. It includes your thoughts, emotions, motivations, and your ability to think and remember clearly.
If you have good mental health, you can be productive in your work, enjoy your pastimes, develop and deepen relationships, cope with the stress and difficulties your life throws at you, and plan for the future. You may not feel happy all the time, but you can feel happiness and other positive emotions.
If you have problems with your mental health, you may stop enjoying activities you used to enjoy. You may socially isolate and struggle to cope with stress and difficulties. You might stop feeling positive emotions and find it hard to envision a happy future too. Depending on the symptoms of mental health problems, they can be diagnosed as specific conditions like depression, anxiety, and bipolar disorder.
Just as poor physical health can make it difficult to live the life you want, the same is true for poor mental health. Too many men are struggling to live with poor mental health and aren't getting the help they deserve.
What are the 4 types of mental illness?
There are many different types of mental illness, but the four most common mental disorders include anxiety disorders, depression, bipolar disorder, and psychotic disorders like schizophrenia. Eating disorders are also a common form of mental health disorder. These include anorexia nervosa, bulimia nervosa, and binge eating disorder.
Who is most likely to have a mental illness?
In 2019 20.6% of US adults experienced mental illness. That is 1 in 5 adults. In the US, suicide is the 10th leading cause of death and in 2019 men died by suicide 3.63x more often than women. Men are more likely to have mental health problems if they're single, feel socially isolated, are unemployed or underemployed, or have physical health problems.
Men and mental health: why don't men talk about mental health?
This is a complex issue with lots of factors involved, and it varies from man to man. But a big part of this is the mental health stigma that many men feel is caused by:
Society's expectation of men: This is deep, pervasive, and really difficult to counter. The chances are, all your life you've been told that men are supposed to be strong, stoic, and not overly emotional. We get it in TV, films, books, and from our family, friend, and partners. Because of this, admitting we have mental health issues, even to ourselves, may be difficult. We may think it makes us less masculine.
This is nonsense, obviously. Men can be equally as emotional as women, and having mental health issues and seeking help for them has nothing to do with masculinity. But although it's easy to say this, we know it's much harder to overcome these sorts of traditional expectations in reality.
We aren't taught to understand our thoughts and emotions: Stemming from the above issue, men are usually given less encouragement and opportunities to be introspective and to talk about what's going on in our heads. Because of this, we're often less likely to realize we have mental health problems, and we find it hard to talk about them. We may turn to drink and drugs. We might get angry and aggressive without knowing we need help and how to ask for it.
How many men have mental health problems?
Mental health statistics vary, but a 2015 study of 21000 men in America found that around 1 in 10 experience depression and anxiety, and less than half of those sought treatment.
How to improve your mental health?
Mental health issues can be tough to get over and can feel insurmountable at times. However, the good news is that there are plenty of things you can do to improve your mental health.
Everyone responds differently to treatments and a lot depends on the specifics of your condition. You may have to experiment to find out what works best for you, but the following ideas are good places to start:
Seek professional help
If you're struggling with your mental health, a good place to start your treatment is with your healthcare provider. They can make an initial diagnosis and help by:
Prescribing medications, like antidepressants and antipsychotics, which can be effective depending on your condition
Referring you to a mental health professional – talking to someone who's trained to listen and help you with your problems can be effective. A huge range of approaches are available, and you may have to take some time to find the one that suits you best
Make positive lifestyle changes
Making changes to your lifestyle to improve your overall health can also be effective for your mental health. We tend to separate physical health and mental health, but the reality is your mental health partly depends on your physical health. You can try:
Getting regular exercise (ideally 30 minutes of exercise, five times a week)
Getting enough sleep
Eating a healthy diet
Cutting back on alcohol and recreational drugs
Socialize
If your mental health is suffering, your reaction may be to socially isolate yourself. However, this often makes the problem worse. Stick to people who make you feel good and avoid people who don't if you can.
Try to relax and enjoy yourself
Your life might be busy, and you might have many demands on your time, but you need to carve some space to relax and enjoy yourself if you want to have good mental health. You need to find ways to regularly de-stress and bring some fun into your life. These will vary by person – it could be watching soccer, going to the movies, participating in extreme sports, or cooking. Whatever it is, you can't feel guilty about it, and you must think of it as an important way to look after your mental health.
Where to find support?
You don't have to face your mental health issues alone. There are a number of options if you need help and support or to talk to someone.
We recommend you talk to your doctor, as they can refer you to specialists that can diagnose you and get you the treatments you need.
There's also a wealth of support you can find online. Movember is dedicated to improving men's mental health and is a good place to start. They've also collected together a whole range of other support resources available to you.
About Now Patient
Now Patient's online services are available in the US and UK. We help you manage your prescriptions, doctor appointments, test results, health risks, and a lot more, all in one place for FREE. If you are in the United States, you could enjoy savings using Now Patient's mail-order pharmacy or use the Now Patient Rx Advantage Card at over 65,000 pharmacies, with savings of up to 90% on popular FDA-approved brand and generic medications like Ozempic, Mounjaro, clopidogrel and lots more. We do not currently handle commercial insurance, Medicare or Medicaid. UK NHS and private prescriptions are delivered FREE of charge across England & Wales by our UK NHS online pharmacy.
Sources
Disclaimer
Now Patient has taken all reasonable steps to ensure that all material is factually accurate, complete, and current. However, the knowledge and experience of a qualified healthcare professional should always be sought after instead of using the information in this page. Before taking any drug, you should always speak to your doctor or another qualified healthcare provider.
The information provided here about medications is subject to change and is not meant to include all uses, precautions, warnings, directions, drug interactions, allergic reactions, or negative effects. The absence of warnings or other information for a particular medication does not imply that the medication or medication combination is appropriate for all patients or for all possible purposes.
WHY WE BUILT NOW PATIENT
To improve the lives of everyone by making high-quality care accessible and convenient
We are here to improve lives. Our service gives you access to smart features & resources that can help empower you to take control of your health and improve your health outcomes. All this, in one place, for FREE. We strive to bring a fresh perspective to managing health. Not play by the rules. Now Patient can be accessed by downloading the App or using your web browser.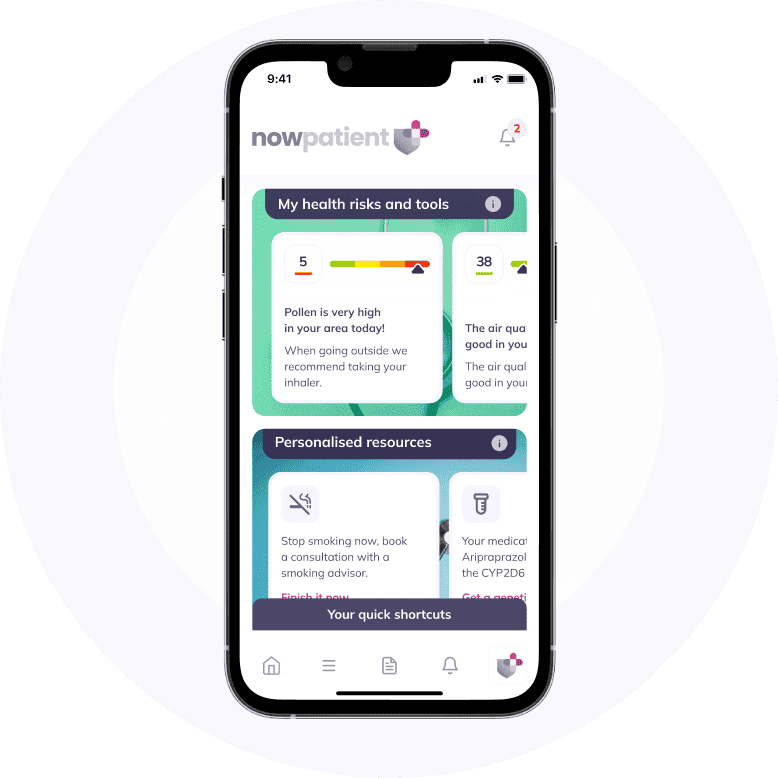 Your Questions Answered
For your peace of mind, we can answer your health questions quickly
If you want to learn more about the range of services that we provide which can help manage and improve your health, then just click the button below.
Find your answers