/
Blog
/
Can the blood thinner warfarin reduce the risk of cancer?
Can the blood thinner warfarin reduce the risk of cancer?
9 Aug 2023

Stefano Mirabello
Pharmacist / B.Pharm
A widely used blood thinner named warfarin, typically prescribed to prevent clotting and strokes, has been catching the attention of researchers across the globe. Recent studies suggest that this common medication may have an unexpected benefit – reducing the risk of cancer.
Image Source: iStock photo – MHRA-approved warfarin 1mg tablets
Unraveling warfarin's hidden potential
Warfarin, a popular anticoagulant, has been in clinical use for over half a century. It's a mainstay therapy for preventing blood clots, which can lead to heart attacks, strokes, or pulmonary embolisms. However, emerging research indicates that the drug may also harbor potent anti-cancer properties.
A Groundbreaking Study
A population-based cohort study conducted in Norway, involving more than 1.25 million people over the age of 50, has revealed that warfarin use may be associated with a lower overall risk of cancer. This was true, particularly for three of the most common types of cancer: prostate, lung, and breast.
In the comprehensive study, Norwegian researchers aimed to establish whether warfarin, prescribed to as many as 10% of adults in Western countries, was linked to cancer risk. To their surprise, they found that warfarin use was associated with a lower incidence rate ratio (IRR) for any cancer (0.84%) and, specifically, for prostate (IRR 0.69), lung (IRR 0.80), and female breast cancer (IRR 0.90), compared to those not using the drug.
Warfarin and Atrial Fibrillation: A Unique Connection
A fascinating revelation from the study was the stronger correlation between warfarin use and lower cancer risk in patients with atrial fibrillation or atrial flutter, a condition characterized by irregular heartbeats. The risk for any cancer was lower in this subgroup and was also reduced for the common sites of lung, prostate, breast, and colon cancers.
The scientific explanation behind warfarin's anti-cancer effects
The anti-cancer effect of warfarin seems to lie in its ability to interfere with the AXL receptor on tumor cells. Experimental cancer models have found that warfarin blocks the AXL receptor, which could explain its potential cancer-preventive properties.
Researchers from Columbia University discovered that warfarin stops tumors from interfering with a self-destruct mechanism initiated by cells when they detect abnormalities. This finding suggests that warfarin could potentially be repurposed to treat a variety of cancers, including pancreatic cancer, thereby providing new insights into cancer prevention.
Warfarin: A Potential Cancer Preventive Drug?
The compelling findings from these studies indicate that warfarin, used by millions of patients globally, may be associated with reduced cancer risk. However, it's important to note that these findings are based on observational studies, and controlled clinical trials are necessary to confirm warfarin's potential as a cancer-preventive drug.
The potential implications of switching from warfarin
In recent years, warfarin prescriptions have seen a decline as newer anticoagulants have entered the market. These new drugs, such as rivaroxaban and apixaban, don't require the regular monitoring that warfarin does, making them more convenient for patients.
However, if warfarin does indeed have a protective effect against cancer, a potential unintended consequence of this switch to newer anticoagulants could be an increased incidence of cancer. This is an important consideration for public health and requires further investigation.
Warfarin: A potential tool for cancer prevention?
While the evidence suggesting warfarin's potential role in cancer prevention is promising, it's crucial to approach these findings with caution. The results from observational studies need to be confirmed through prospective clinical trials and licensing before warfarin can be recommended for cancer prevention.
The future of warfarin and cancer research
These intriguing findings pave the way for more research into the potential anti-cancer properties of warfarin. Further studies are needed to understand the mechanisms underlying these observations and to confirm whether warfarin can indeed be used for cancer prevention.
In the future, we might see clinical trials testing low doses of warfarin in patients who have had cancer, with the aim of preventing recurrence. If successful, this could open up a new avenue for cancer prevention and treatment, potentially benefiting millions of patients worldwide.
Conclusion
While the idea of a common blood thinner like warfarin playing a role in cancer prevention is exciting, it's important to remember that more research is needed before any definitive conclusions can be drawn. As always, patients should discuss any changes to their medication regimen with their healthcare provider to ensure they are making the best choice for their overall health.
As we continue to explore the potential of existing drugs in treating various diseases, who knows what other surprising benefits we might uncover? One thing's for sure: the world of medicine is full of possibilities, and every discovery brings us one step closer to a healthier future.
Key Takeaways
Warfarin, a common blood thinner, might have potent anti-cancer properties

A large population-based study in Norway found a lower incidence of cancer among warfarin users

Particularly, lower risks were observed for prostate, lung, and breast cancer

The anti-cancer effect of warfarin might be due to its interference with the AXL receptor on tumor cells

Further research and clinical trials are needed to confirm the potential of warfarin in cancer prevention

Switching patients from warfarin to newer anticoagulants could potentially lead to an increased incidence of cancer

Always consult with a healthcare provider before making changes to medication
About Now Patient
Now Patient's online services are available in the US and UK. We help you manage your prescriptions, doctor appointments, test results, health risks and a lot more, all in one place for FREE. US prescriptions are available on a discounted 'cash' basis and delivered across all 50 states by our network of pharmacy providers dispensing FDA-approved generic and branded medications. We do not currently handle commercial insurance, Medicare or Medicaid. UK NHS and private prescriptions are delivered FREE of charge across England & Wales by our UK regulated online pharmacy.
Sources
Disclaimer
Now Patient has taken all reasonable steps to ensure that all material is factually accurate, complete, and current. However, the knowledge and experience of a qualified healthcare professional should always be sought after instead of using the information in this page. Before taking any drug, you should always speak to your doctor or another qualified healthcare provider.
The information provided here about medications is subject to change and is not meant to include all uses, precautions, warnings, directions, drug interactions, allergic reactions, or negative effects. The absence of warnings or other information for a particular medication does not imply that the medication or medication combination is appropriate for all patients or for all possible purposes.
WHY WE BUILT NOW PATIENT
To improve the lives of everyone by making high-quality care accessible and convenient
As technologists and clinicians, we built Now Patient to be more than just an online pharmacy. We are here to improve lives. Our service gives you access to smart features & resources that can help empower you to take control of your health and improve your health outcomes. All this, in one place, for FREE. We strive to bring a fresh perspective to managing health. Not play by the rules. Now Patient can be accessed by downloading the App or using your web browser.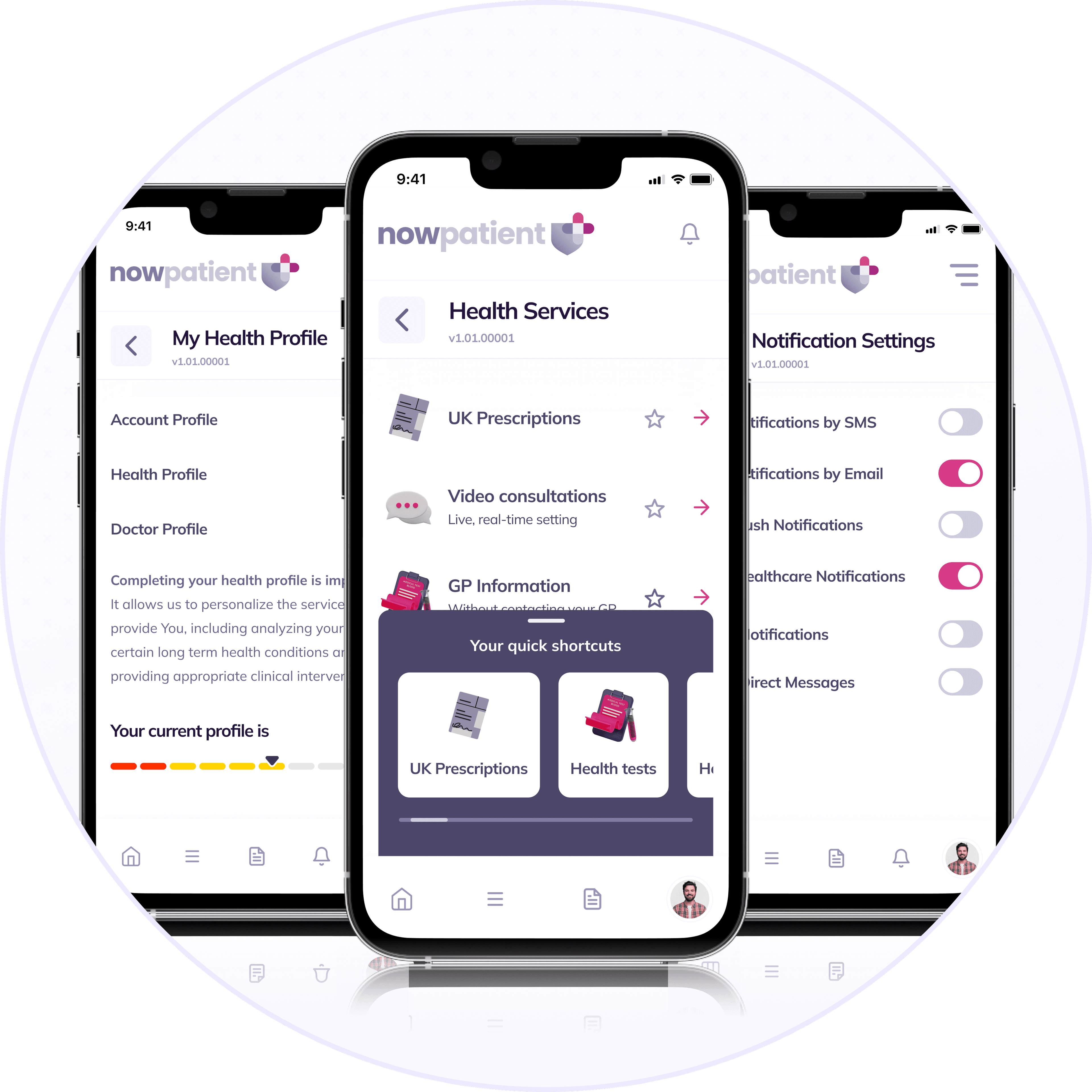 NOW PATIENT
Join the thousands of happy customers in the US and UK already using Now Patient
Manage your health and prescriptions all in one place for FREE. Available to use by downloading the App, or using your web browser.
Your Questions Answered
For your peace of mind, we can answer your health questions quickly
If you want to learn more about the range of services that we provide which can help manage and improve your health, then just click the button below.
Find your answers