Stefano Mirabello
Pharmacist / B.Pharm
World Cancer Day is an annual event held on 4th February, dedicated to increasing awareness and understanding of the disease. It is a global initiative to improve awareness and knowledge of cancer risks and better prevent, detect and treat the disease.
This awareness day is a great opportunity for those affected by cancer to come together in solidarity and fight against it. This year's theme is "Close the Care Gap" and in honour of this special occasion, here's what you need to know about cancer and World Cancer Day 2023.
Did you know?
According to the Union for International Cancer Control:
10 million people died from cancer in 2020
70% of cancer deaths occur in low-to-middle income countries
Less than 30% of low-income countries have cancer treatment services available (compared to 90% in high-income countries)
According to WHO (World Health Organization):
Approximately 734,000 individuals are diagnosed with cancer every year
Cancer is the second leading cause of death worldwide
What Is World Cancer Day?
World Cancer Day was first launched in 2000 by the Union for International Cancer Control (UICC). The event has grown exponentially since then, with millions of the world's population taking part in activities to spread awareness and show solidarity with those affected by cancer.
As part of this event, organisations like UICC host events such as fundraising walks and health seminars to help educate people about cancer prevention and treatment options. Additionally, many countries observe holidays on February 4th in honour of World Cancer Day.
Closing the Care Gap
World Cancer Day 2023 marks the second year of the three-year 'Close the care gap' campaign centred on the issue of equity.
Despite advances in cancer treatments and diagnostic tests, evidence suggests that there are still difficult inequities across communities when it comes to having access to care. From issues like lack of transport or finances to underlying social and cultural factors. It's clear that more needs to be done at both local levels and globally in order for all people affected by cancer to get the best and most appropriate care possible. This is why the theme for this year is "Close the Care Gap" in an effort to highlight disparities in care in our society and inspire real progress and equity in cancer care access.
The Impact Of World Cancer Day
World Cancer Day has had a great impact on both individuals living with cancer as well as society at large. By sparking conversations about cancer and raising public awareness, it helps reduce stigma surrounding it,while also encouraging people to seek out information about early detection methods or treatments available to them if they are diagnosed.
Furthermore, it helps raise funds for research initiatives that are essential in finding cures for different types of cancers. Finally, it serves as a reminder that we all need to do our part in fighting this illness wherever possible.
What is Cancer?
Cancer is a disease in which abnormal cells divide uncontrollably and invade other parts of the body. It arises from damage to DNA, resulting in genetic mutations that allow cells to grow and divide without normal regulation. Cancer can affect any organ system or part of the body and can have many different symptoms, depending upon the type of cancer.
Different types of cancer
While there are many different types of cancer, some major classifications include:
Carcinomas (which originate in the skin or any other tissue that lines organs and glands), breast cancer, bowel cancer (colorectal cancer), cervical cancer and lung cancer, which start in the cells that make up organs
Sarcomas (which start in the connective tissue like muscle, fat and bone) include bone cancer
Lymphomas (that originate from the immune system's white blood cells)
Myelomas (cancer of plasma cells in the bone marrow)
Leukemias (blood cell cancers)
Brain and spinal cord cancers (these are known as central nervous system cancers)
Each form affects certain organs differently, depending on what type of cell it originated from. However, they all have crucial similarities.
Signs and symptoms of cancer
Knowing the signs and symptoms of cancer is key to early detection and being able to get a cancer diagnosis sooner. Although cancer is not always obvious, it can cause several unexpected issues that include but are not limited to unreliable weight changes, fatigue, strange sensations in the body, difficulty consuming food or drinks, loss of appetite, chest pain or discomfort, coughing or hoarseness added with their respective bouts of fever and colds.
If you notice any combination of these symptoms, it is best to reach out to your doctor as soon as possible.
What are the different causes of cancer?
Cancer is an incredibly complex process with many potential causes and considerations. There are many different types of cancer, caused by a variety of factors. Some causes are environmental, such as air pollution and exposure to ultraviolet radiation from the sun or tanning bed. People's lifestyle choices like smoking and diets high in red meat can also increase a person's risk for certain cancers. Genetic mutations inherited from family members or acquired spontaneous changes in DNA can make a person more vulnerable to developing cancer. Additionally, viruses, parasites, some infections and even hormone irregularities can be linked to causing certain cancers.
Management and treatment of cancer
Managing and treating cancer is an incredibly important part of the fight against this disease. This process starts with an accurate diagnosis from a doctor or medical team, who will work to determine the stage of cancer and recommend treatments. Cancer deaths can be reduced if cases are detected and treated early.
Depending on the type of cancer being treated, management may include lifestyle changes such as diet modifications, exercise regimes, or even quitting smoking. Treatment for cancer may include several methods, including prescribed drugs, surgery, radiation or chemotherapy. Every patient's situation is unique. Your treatment plan should be tailored to fit your individual needs and take into account your preferences and lifestyle. The support of family, friends, healthcare providers and specialists can help provide comfort while managing and treating cancer.
The impact of cancer
When cancer enters our lives, the world can suddenly become an incredibly difficult place. From the cancer diagnosis through each step of cancer care, cancer takes a great toll on individuals and their loved ones. On an emotional level, cancer can bring about feelings of confusion and fearfulness as well as bouts of anxiety or depression. Physically, cancer treatments can be quite difficult. Many cancer treatments have intense side effects that can detrimentally impact a patient's quality of life in the short-term and long-term.
Cancer can have a profound impact on the quality of life for patients, their families and those who care for them. For many cancer patients, quality of life is not just about survival but also about living as fully and comfortably as possible despite being affected by the disease. Aside from any medical treatment required, quality of life activities can include enjoying time spent with family and friends, finding solace in prayer or music, joining support groups, managing stress through hobbies or exercise and finding resources to help with financial strains.
Sharing experiences with other cancer patients can offer both relief and insight in understanding the many hard aspects of living with cancer. It is important for those impacted to recognise that they are not alone in this journey, as it is one shared by millions worldwide.
What can I do for World Cancer Day?
There are many ways in which you can get involved with World Cancer Day 2023! Here are just a few ideas:
Spread awareness through social media posts or blogs
Reach out to local organisations in your area that provide resources or support for those affected by cancer
Participate in local fundraisers or events such as 5K challenges walks/runs, galas/dinners, concerts, auctions, etc
Set up a Cancer Research UK Giving Page for friends and family to donate towards finding a cure for cancer
Take part in online campaigns and post activities on social media, with the hashtags #WorldCancerDay and #CloseTheCareGap
Encourage local healthcare professionals in the cancer community to host educational seminars about cancer-related topics like early detection methods or lifestyle changes that can help prevent cancer
World Cancer Day materials are freely available from the World Cancer website for you to develop your own activities and actions around the day including toolkits, posters, how-to guides, infographics and factsheets
Awareness of cancer symbols
One of the most common cancer awareness symbols is the pink ribbon, which universally stands for breast cancer awareness. Throughout October in many countries, pink ribbons and pink merchandise are sold to support and remind people of the importance of understanding and managing breast cancer. Furthermore, research has shown that pink ribbon campaigns have been successful in increasing awareness about early detection and treatment options for breast cancer.
In addition to pink, there is an orange ribbon to symbolise childhood cancer. Wearing a colorful orange ribbon helps spread knowledge about prevention and awareness of childhood cancers, such as leukemia, lymphoma, brain tumors, and more rare forms.
Talking about these diseases freely helps eliminate stigmas and encourages people who are suffering to be brave in their fight against them. The pink ribbon and orange ribbon stand united worldwide as powerful signs of hope for individuals touched by breast or childhood cancers.
Working together
World Cancer Day is an important reminder of why we should continue fighting against this deadly disease. By working together and supporting each other, we can make great strides towards finding a cure and making sure no one has to suffer from cancer ever again. No matter how large or small your contribution may be, it all makes a difference – so let's join forces this February 4th and show our support for those affected by cancer! #MakeCancerHistory #WorldCancerDay2023
About Now Patient
Now Patient's online services are available in the US and UK. We help you manage your prescriptions, doctor appointments, test results, health risks and a lot more, all in one place for FREE. US prescriptions are available on a discounted 'cash' basis and delivered across all 50 states by our network of pharmacy providers dispensing FDA-approved generic and branded medications. We do not currently handle commercial insurance, Medicare or Medicaid. UK NHS and private prescriptions are delivered FREE of charge across England & Wales by our UK regulated online pharmacy.
Sources
Disclaimer
Now Patient has taken all reasonable steps to ensure that all material is factually accurate, complete, and current. However, the knowledge and experience of a qualified healthcare professional should always be sought after instead of using the information in this page. Before taking any drug, you should always speak to your doctor or another qualified healthcare provider.
The information provided here about medications is subject to change and is not meant to include all uses, precautions, warnings, directions, drug interactions, allergic reactions, or negative effects. The absence of warnings or other information for a particular medication does not imply that the medication or medication combination is appropriate for all patients or for all possible purposes.
WHY WE BUILT NOW PATIENT
To improve the lives of everyone by making high-quality care accessible and convenient
As technologists and clinicians, we built Now Patient to be more than just an online pharmacy. We are here to improve lives. Our service gives you access to smart features & resources that can help empower you to take control of your health and improve your health outcomes. All this, in one place, for FREE. We strive to bring a fresh perspective to managing health. Not play by the rules. Now Patient can be accessed by downloading the App or using your web browser.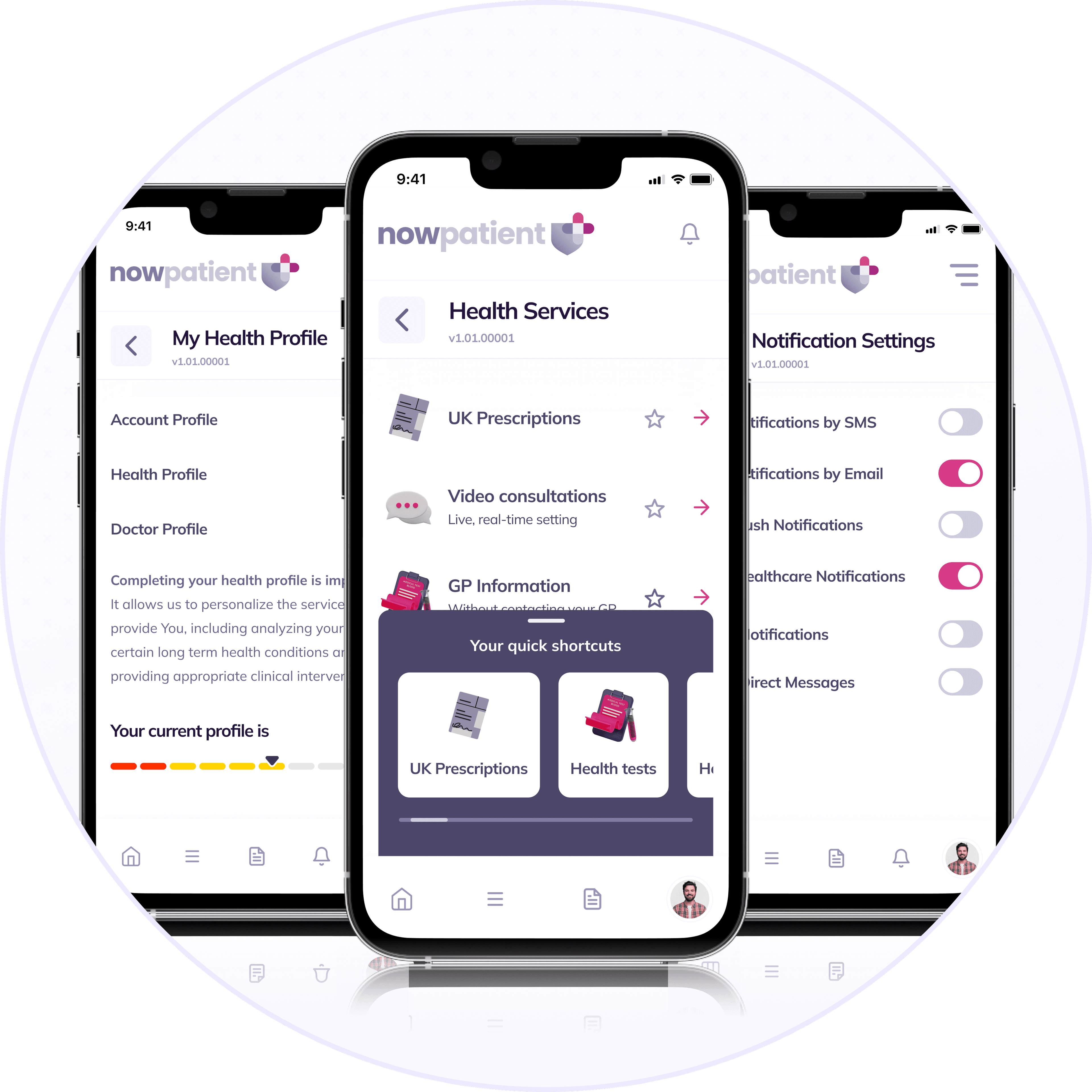 NOW PATIENT
Join the thousands of happy customers in the US and UK already using Now Patient
Manage your health and prescriptions all in one place for FREE. Available to use by downloading the App, or using your web browser.
Your Questions Answered
For your peace of mind, we can answer your health questions quickly
If you want to learn more about the range of services that we provide which can help manage and improve your health, then just click the button below.
Find your answers