Stefano Mirabello
Pharmacist / B.Pharm
World Leprosy Day 2023 is focusing on the 'Act Now: End Leprosy' theme, a rallying call to everyone across the world to raise awareness and support initiatives targeting leprosy. It takes place on the last Sunday of January to increase public awareness of leprosy. The day was chosen by French humanitarian Raoul Follereau in 1953.
The 'Act Now: End Leprosy' campaign highlights the importance of early diagnosis, timely and effective multi-drug therapy (MDT) and access to interventions that reduce disability. Together, these actions can make a real difference in helping experts achieve their mission of the elimination of leprosy worldwide. Let's take a closer look at this disease to learn more about it.
Figures on Leprosy from World Health Organization (WHO)
There are more than 200,000 new cases of leprosy diagnosed globally each year – 202,185 in 2019.
This number fell dramatically in 2020, to 127,396, due to the Covid-19 pandemic, which has led to less new case detection and fewer countries reporting on new cases. It then rose to 140,594 in 2021.
In 2021, 53% of new cases of leprosy diagnosed were found in India
What is Leprosy?
Leprosy is an infectious disease caused by the bacteria Mycobacterium leprae. It is also known as Hansen's Disease, after the Norwegian doctor who discovered it in 1873. Leprosy can cause disfigurement and disability if left untreated. It is still a major public health problem today, especially in India, Brazil and Indonesia.
Leprosy has been documented since biblical times, yet very little was known about how the infection occurred until recently. Due to advancing medical technology, the medical community now understands that the infection can be divided into three distinct groups: paucibacillary, multibacillary and indeterminate. Each of these classifications is based on the degree to which bacteria has infected a patient's body and each presents different symptoms.
How do you get leprosy?
The transmission of leprosy is through close and prolonged contact with someone who has the disease or contact with infected respiratory droplets. The risk of getting leprosy increases in crowded living situations or if living in conditions with poor sanitation.
What are the symptoms of leprosy?
Leprosy is a disfiguring chronic infectious disease. It primarily affects the skin and peripheral nerves, resulting in a wide variety of symptoms. Early signs of leprosy include areas of loss of sensation, inflamed skin lesions that may become disfigured or numb with nerve damage and skin discolouration in affected areas. In addition, people with leprosy often experience impaired vision and hearing, disfiguration around their noses and mouths, and muscle weakness due to nerve damage. In rare cases, nerve damage could lead to dysfunction and paralysis in the arms or legs.
Treatment of leprosy
Leprosy can be a confusing and frightening diagnosis to receive, but thankfully there are many reliable treatments now available. One of the most common treatments is called Multi-Drug Therapy or MDT and involves taking a combination of antibiotics over the course of 6-12 months. In addition to medications, regular skin care is encouraged to prevent complications, especially if the individual has any visible lesions. It's also important that those with leprosy keep up with regular checkups since untreated leprosy can cause serious long-term health concerns such as loss of sensation in the extremities, ulcers on the feet and hands, joint destruction and a host of other issues that decrease quality of life. Fortunately, early diagnosis and proper treatment will usually prevent further damage from occurring.
The impact of COVID-19 on Leprosy
As a result of the Covid-19 pandemic, there was disruption to health services around the world. Measures against leprosy, including new case detection and treatment affected leprosy control interventions. Healthcare workers were pulled out of service to combat the virus in some areas, jeopardising access to other critical treatments for diseases like leprosy. India has taken the hardest hit, with half a million people suffering from leprosy left without diagnostics or therapeutic assistance in 2020 alone.
Thankfully, organisations like The International Federation of Anti-Leprosy Associations (ILEP) are working hard to overcome these disruptions. ILEP is providing virtual training and educational platforms for healthcare professionals in both developed and developing nations so that diagnostic and treatment programs for leprosy can resume as soon as possible. By continuing preventative measures, such as early case detection and access to effective therapies, it is hoped that we can reduce the burden of leprosy around the globe.
Leprosy and Human Rights
Human rights remain an important topic among leprosy patients. Even today, those infected are commonly discriminated against and treated unfairly including their family members. It is estimated that there are more than a million leprosy patients living in the world today – 800,000 of which are found in India alone. In some parts of the world, persons affected by leprosy have been historically stripped of basic rights such as housing, education and employment.
Thankfully, various programs have come into place in recent years to help protect these individuals and cut down on discrimination and misconceptions related to their condition. Through these initiatives, we can work together to ensure that all people affected by leprosy experience fairness and respect for their human rights regardless of where they live and what challenges they face.
Raising Leprosy Awareness
Raising awareness isn't just important to help those currently suffering from leprosy, but also to prevent the number of new cases from rising and reduce the stigma attached to leprosy around the world. No one should face this condition alone – if you or someone you know needs assistance with leprosy, please seek professional assistance as soon as possible. By raising more awareness about this common infectious disease, we can help ensure that everyone affected by it receives effective treatment and support for their mental well-being.
About Now Patient
Now Patient's online services are available in the US and UK. We help you manage your prescriptions, doctor appointments, test results, health risks and a lot more, all in one place for FREE. US prescriptions are available on a discounted 'cash' basis and delivered across all 50 states by our network of pharmacy providers dispensing FDA-approved generic and branded medications. We do not currently handle commercial insurance, Medicare or Medicaid. UK NHS and private prescriptions are delivered FREE of charge across England & Wales by our UK regulated online pharmacy.
Sources
Disclaimer
Now Patient has taken all reasonable steps to ensure that all material is factually accurate, complete, and current. However, the knowledge and experience of a qualified healthcare professional should always be sought after instead of using the information in this page. Before taking any drug, you should always speak to your doctor or another qualified healthcare provider.
The information provided here about medications is subject to change and is not meant to include all uses, precautions, warnings, directions, drug interactions, allergic reactions, or negative effects. The absence of warnings or other information for a particular medication does not imply that the medication or medication combination is appropriate for all patients or for all possible purposes.
WHY WE BUILT NOW PATIENT
To improve the lives of everyone by making high-quality care accessible and convenient
As technologists and clinicians, we built Now Patient to be more than just an online pharmacy. We are here to improve lives. Our service gives you access to smart features & resources that can help empower you to take control of your health and improve your health outcomes. All this, in one place, for FREE. We strive to bring a fresh perspective to managing health. Not play by the rules. Now Patient can be accessed by downloading the App or using your web browser.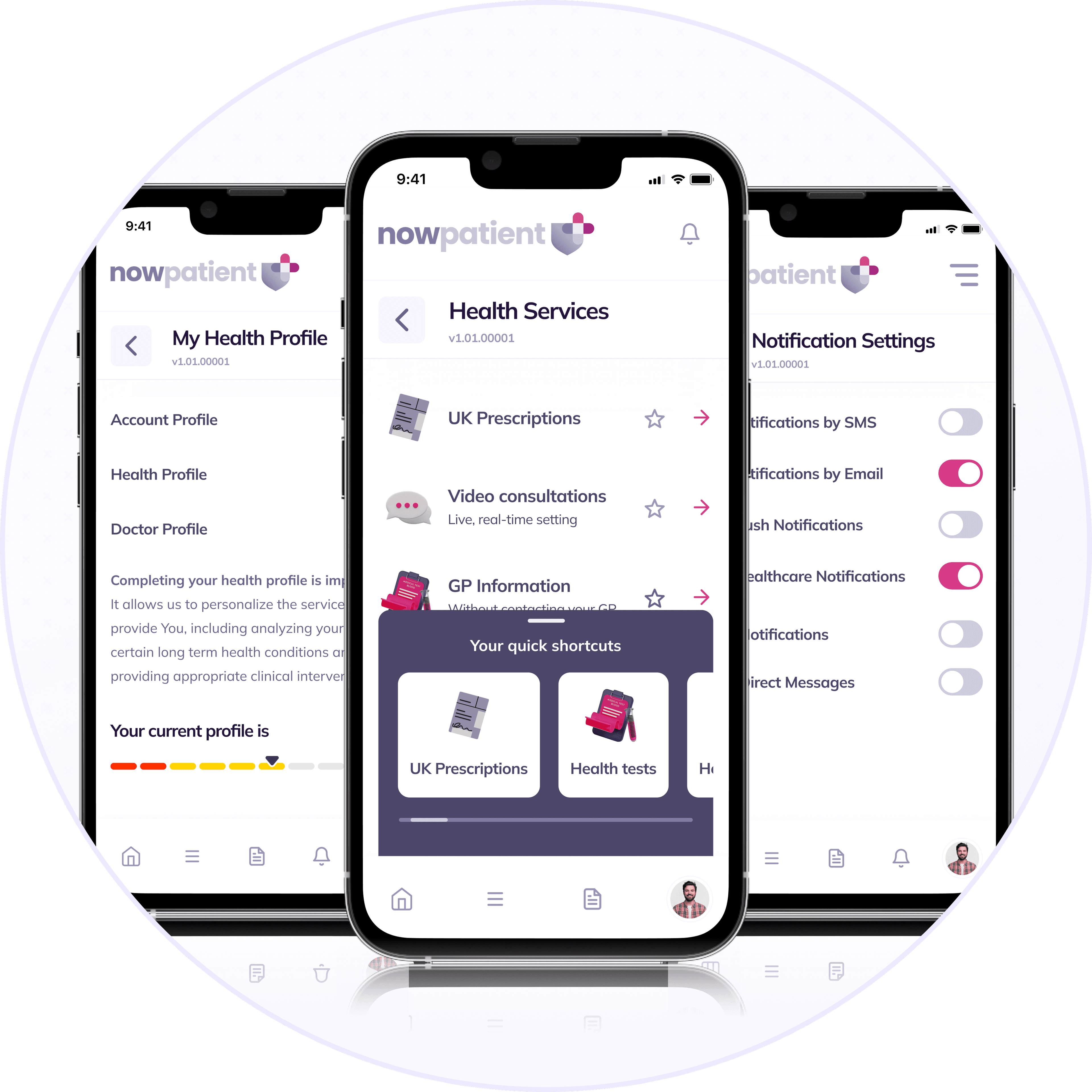 NOW PATIENT
Join the thousands of happy customers in the US and UK already using Now Patient
Manage your health and prescriptions all in one place for FREE. Available to use by downloading the App, or using your web browser.
Your Questions Answered
For your peace of mind, we can answer your health questions quickly
If you want to learn more about the range of services that we provide which can help manage and improve your health, then just click the button below.
Find your answers