/
Blog
/
Sex tips for controlling premature ejaculation
Sex tips for controlling premature ejaculation
30 Jun 2023

Stefano Mirabello
Pharmacist / B.Pharm
Overcoming premature ejaculation can feel impossible. You want to enjoy sex, you want your partner to enjoy it and you don't want the pressure of worrying you're going to come too early.
And then it happens. And it's all over before it really got going.
Relax. It happens to loads of guys and it's not even a big deal. We know it feels like one at the time, but there are plenty of things you can do to prevent PE. Even when you're between the sheets with your partner.
Your PE questions answered
What are the causes of Premature Ejaculation?
There are a lot of causes of premature ejaculation. What makes one man ejaculate too quickly can be totally different from another. It can be caused by psychological and emotional issues, like stress and anxiety. Learned behaviors can also have an impact, including masturbating too quickly and training yourself to come fast. And then there are medical conditions too, like high blood pressure, thyroid problems and diabetes.
Is Premature Ejaculation curable?
There's no perfect cure, but you can learn how to control premature ejaculation. Remember, every man is different and there are so many different causes, many that are personal. That means that what works for one man won't necessarily work for another, but there are plenty of things you can do to help control your PE, ranging from sex tips when you're in the sack, things you can do on your own and PE meds that you can take that can help you last longer.
How can i prevent Premature Ejaculation?
If you have premature ejaculation there are plenty of things you can do and try to help you last longer. You can try behavioral changes, counselling and PE meds such as Priligy. Most of these work for lots of men, but you might have to experiment to see which ones help you the most.
Which is the best medicine for Premature Ejaculation?
Priligy is a medically proven treatment for premature ejaculation. It's taken as a tablet before you have sex and it helps delay and give more control over ejaculation.
Sex tips for Premature Ejaculation
The following sex tips can help you control premature ejaculation. Not all of them will work for everyone, so you may need to experiment to find which are the most helpful for you:
TIP 1: Masturbate before you have sex
You can try masturbating a few hours before you have sex as many men last longer after they've recently ejaculated. It's a simple tip and it's effective for lots of men.
TIP 2: Masturbate for longer
You can also try increasing the time it takes you to come when you masturbate. When you feel close to ejaculating you can slow down or stop and wait until the sensations decrease before starting again. Keep this up and you may be able to train yourself to last longer when you masturbate, which could help you last longer during sex too.
TIP 3: Try wearing a condom
Many men say condoms reduce their sensitivity and this drop in sensation could help you last longer. It may help even more if you buy condoms for premature ejaculation which are coated in a substance that can numb you (a bit, not totally!). You could try masturbating with one to see if they're right for you.
TIP 4: Try the stop-start method or the squeeze technique
These may take a bit of practice, but they're proven ways of controlling premature ejaculation that have been recommended by sex therapists for decades.
With the stop-start method, when you feel close to ejaculating you stop and hold still and you wait for the sensations to die back down before you carry on again (like Tip 2, but during sex rather than when you're masturbating). You can try this over and over to make yourself last longer.
The squeeze technique is like the stop-start method, but when you stop you add an extra step where you or your partner squeezes the head of your penis as some men find this helps to bring them back from the 'point of no return'.
These techniques may not be suitable for everyone as some partners say that the repeated stopping and starting can be frustrating. You'll have to experiment to see if it works for you and for your partner.
TIP 5: Try different positions
You may find you ejaculate faster in some positions and last longer in others. Typically men come faster in the missionary and doggy-style positions, but you may be able to keep going for longer with your partner on top.
TIP 6: Concentrate on foreplay
Penetration is just one part of sex. There's a hell of a lot more you can do together in bed and although penetration can be great fun for both of you, many women don't orgasm from penetration or penetration alone. You can focus more on foreplay or oral sex as well as using sex toys to take the emphasis away from penetration. Ask your partner what they'd like some more of and get down to it.
This can be a great way to take the pressure off PE and to make sure sex stays fun and fulfilling. And if you can give your partner an orgasm or two before you get down to business you may find you last longer anyway, as you feel more confident and relaxed.
Getting control of your PE when you're with your partner is one thing, but it can also be a sign that something more serious is up with your health, especially if you develop it after not having it previously. Even if these tips help you should still see your doctor to have your health checked.
About Now Patient
Now Patient's online services are available in the US and UK. We help you manage your prescriptions, doctor appointments, test results, health risks, and a lot more, all in one place for FREE. If you are in the United States, you could enjoy savings using Now Patient's mail-order pharmacy or use the Now Patient Rx Advantage Card at over 65,000 pharmacies, with savings of up to 90% on popular FDA-approved brand and generic medications like Ozempic, Mounjaro, clopidogrel and lots more. We do not currently handle commercial insurance, Medicare or Medicaid. UK NHS and private prescriptions are delivered FREE of charge across England & Wales by our UK NHS online pharmacy.
Sources
Disclaimer
Now Patient has taken all reasonable steps to ensure that all material is factually accurate, complete, and current. However, the knowledge and experience of a qualified healthcare professional should always be sought after instead of using the information in this page. Before taking any drug, you should always speak to your doctor or another qualified healthcare provider.
The information provided here about medications is subject to change and is not meant to include all uses, precautions, warnings, directions, drug interactions, allergic reactions, or negative effects. The absence of warnings or other information for a particular medication does not imply that the medication or medication combination is appropriate for all patients or for all possible purposes.
WHY WE BUILT NOW PATIENT
To improve the lives of everyone by making high-quality care accessible and convenient
We are here to improve lives. Our service gives you access to smart features & resources that can help empower you to take control of your health and improve your health outcomes. All this, in one place, for FREE. We strive to bring a fresh perspective to managing health. Not play by the rules. Now Patient can be accessed by downloading the App or using your web browser.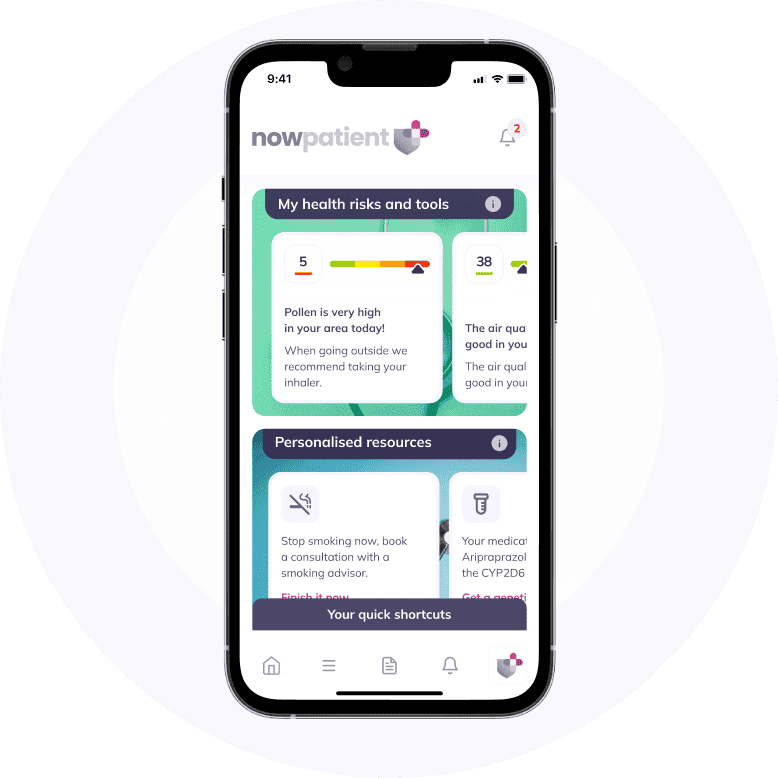 Your Questions Answered
For your peace of mind, we can answer your health questions quickly
If you want to learn more about the range of services that we provide which can help manage and improve your health, then just click the button below.
Find your answers