Stefano Mirabello
Pharmacist / B.Pharm
We know that there's loads of misinformation online about baldness. It's super hard to find out what's actually true, and it's too easy to believe the BS. So, we're going to cut through that misinformation and explain clearly and simply how baldness is inherited.
WHAT IS MALE PATTERN BALDNESS?
There are loads of reasons men can lose their hair.
Medical conditions, like thyroid disease and scalp infections, can cause baldness. Treatments and drugs, from antibiotics to chemotherapy, can cause it, and even stress can make you lose your hair. This hair loss is often temporary though, and this type of baldness isn't passed on from parents, as it's caused by something specific. So when people talk about hereditary baldness, they're talking about something else. They're talking about male pattern baldness (MPB).
MPB also called androgenetic alopecia, is the most common type of baldness in men. It's called pattern baldness because hair is usually lost in a pattern, with hair receding at the corners of your hairline and on your crown first.
Is male pattern baldness hereditary?
You may have heard that MPB runs in the family. That it's something you can inherit from your parents. But there's a lot of myths about MPB, so is it true? Is going bald genetic?
Yes, it is true, but only partly. MPB is caused by a sensitivity to a type of testosterone called dihydrotestosterone (DHT). DHT in the scalp can cause hair follicles (the holes in your skin which hair grows out of) to shrink over time. As the follicles shrink, the hair has less time to grow, meaning they become shorter and thinner, until eventually, the follicles shrink so much the hair can't grow anymore at all. This is why hair thins before you go bald.
It's not necessarily the amount of DHT in the scalp which causes the follicles to shrink, but how sensitive you are to DHT. Research has shown that a man's sensitivity to DHT is inherited, meaning it is caused by the genes you get from your parents. So yes, MPB is inherited.
So where do hair genes come from? If your father or other male relatives have MPB, does this mean you're definitely going to get it too?
Not necessarily. It's a little more complicated than that. Over 250 genes are known to be associated with MPB, and you likely have to have certain patterns of these genes to be sensitive to DHT. You get a combination of genes from both your parents, so you may not have the same patterns of these 250 genes as the male relatives in your family. This means MPB is partly hereditary. If men in your family have MPB, you're more likely to develop it too, but it's not guaranteed.
Are the genes that cause male pattern baldness inherited from your mom?
You might have heard this one about genetic hair loss too. It's commonly said that men inherit the genes for male pattern baldness through their mom, so you can't predict how your hair will fare by looking at your dad. But is this one true?
No. One of the genes that was first found to be related to MPB is found on the X-chromosome, which is inherited only from your mom, which is where this myth comes from. But as we said, we now know there are over 250 genes associated with MPB, and most of these aren't on the X-chromosome, meaning you can inherit them from your dad.
So you can inherit MPB from your dad. If he has it, you're more likely to develop MPB too (although remember, it's not 100% guaranteed).
Can you predict your hair future based on your family history?
In addition to the myth that men inherit MPB from their moms, there are also plenty of other tales about how MPB is passed from generation to generation.
You may see claims that men should look at the hair of their mom's dad, and women should look at their dads' mom, but this isn't true. The inheritance of MPB just isn't that simple. First of all, there are so many genes involved. Secondly, inheritance isn't that straightforward; you get half your parents' genes, not all of them, and you don't know which half unless you have your DNA test. That means you simply can't predict your future hair, or lack of it, from your family history.
So, how can you tell if you'll go bald? You can't really. If you have male relatives that have MPB, it's better to accept that you may inherit it, and you should be on the watch for any signs of it, as the sooner you treat MPB, the better the results.
How to treat hair loss?
Can genetic hair loss be cured? First of all, you need to know what to avoid. There's plenty of pseudoscientific advice about how to treat MPB and too many phony cures, including everything from massaging raw egg into your scalp, to using aromatherapy oils, to wearing hair loss prevention helmets with lasers. What you need to consider is the fact that there is very little evidence to support any of these. You're much better off going for a treatment which is proven to work.
Hair transplant surgery
One effective option to fight MPB is hair transplant surgery. Follicles are removed from parts of your head where the hair is still growing thick and long, and they're implanted in the areas of your scalp where your hair is thinning or has been lost. Hair transplant surgery works for many men, but it's not without its disadvantages. You may have to undergo multiple surgeries depending on how much hair you've lost and it can be very expensive, with prices ranging from $4000 to $15000. It's important to know that the results from hair transplant surgery can be temporary as the implanted follicles can start to shrink too.
MPB meds
Another effective and more affordable option is finasteride (also sold under the brand name Propecia). Finasteride is a prescription drug which is taken as a pill. It works by reducing DHT levels in the scalp, keeping hairs growing for longer, slowing hair loss, and it can even reverse thinning and loss for most men.
Remember, male pattern baldness is hereditary. But only partly. If male relatives in your family have MPB, you're more likely to get it too, but it's not guaranteed. Always try and be alert to the signs of MPB, so you can tackle it as soon as it begins, and always make sure you use a treatment which is proven to be effective.
About Now Patient
Now Patient's online services are available in the US and UK. We help you manage your prescriptions, doctor appointments, test results, health risks, and a lot more, all in one place for FREE. If you are in the United States, you could enjoy savings using Now Patient's mail-order pharmacy or use the Now Patient Rx Advantage Card at over 65,000 pharmacies, with savings of up to 90% on popular FDA-approved brand and generic medications like Ozempic, Mounjaro, clopidogrel and lots more. We do not currently handle commercial insurance, Medicare or Medicaid. UK NHS and private prescriptions are delivered FREE of charge across England & Wales by our UK NHS online pharmacy.
Sources
Disclaimer
Now Patient has taken all reasonable steps to ensure that all material is factually accurate, complete, and current. However, the knowledge and experience of a qualified healthcare professional should always be sought after instead of using the information in this page. Before taking any drug, you should always speak to your doctor or another qualified healthcare provider.
The information provided here about medications is subject to change and is not meant to include all uses, precautions, warnings, directions, drug interactions, allergic reactions, or negative effects. The absence of warnings or other information for a particular medication does not imply that the medication or medication combination is appropriate for all patients or for all possible purposes.
WHY WE BUILT NOW PATIENT
To improve the lives of everyone by making high-quality care accessible and convenient
We are here to improve lives. Our service gives you access to smart features & resources that can help empower you to take control of your health and improve your health outcomes. All this, in one place, for FREE. We strive to bring a fresh perspective to managing health. Not play by the rules. Now Patient can be accessed by downloading the App or using your web browser.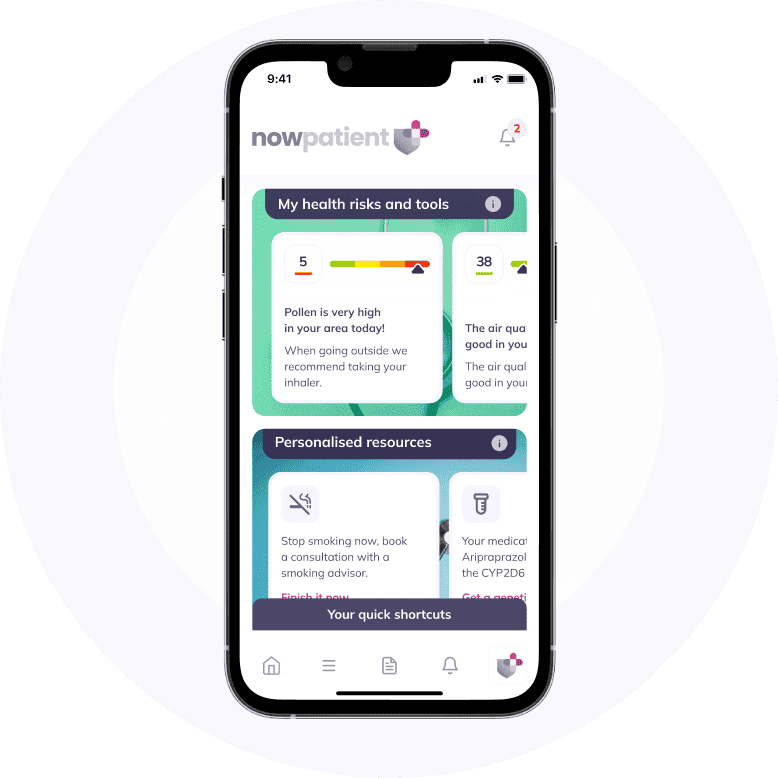 Your Questions Answered
For your peace of mind, we can answer your health questions quickly
If you want to learn more about the range of services that we provide which can help manage and improve your health, then just click the button below.
Find your answers