Stefano Mirabello
Pharmacist / B.Pharm
Your friends probably won't give you a straight answer. Your barber might make the occasional "umm" when he's back there and your other half might try and bring it up over dinner.
When you first discover (and admit to yourself) your hair isn't what it used to be, it's easy to be surprised and likely a bit upset. We don't blame you. It can be a shock.
But it doesn't have to be a big deal. There are things you can do and treatments that actually work. Remember, we've got your back. We'll help you understand what male pattern baldness is, what causes baldness, how to treat it and how to prevent going bald.
No comb-overs here.
What is male pattern baldness?
Male pattern baldness (MPB) is the most common type of baldness in men. It's a type of baldness in which hair thins and is lost in a typical pattern. It usually only affects the head, and no hair is lost elsewhere on the body.
Unfortunately, MPB is common. Around 85% of American men experience significantly thinning hair by age 50. It can happen as early as your teens and twenties though, so keep an eye out for it, even if you're young.
What are the signs of balding?
With MPB, hair thins and is lost in a typical pattern. If your hair is thinning and being lost in this way, you most likely have MPB.
Receding and M-shaped hairline
Hair is usually lost first at the hairline at the front of the head, and especially at the corners. This is what's known as a receding hairline. It often creates an M-shape in the hairline too, as hair recedes faster at the corners than in the center.
A bald spot on top
This may happen as a second step, or at the same time as the hairline recedes, or it can even be the first sign. Hair thins and starts to be lost around the crown at the top and the back of the head.
Hair loss increases and comb-overs are considered
Over time hair loss usually increases. It happens at different speeds in different people, but typically the hairline recedes further, and the bald patch spreads over the top of the head. Less hair is lost around the sides and the very back of the head, tempting some men to opt for the comb-over, where hair is grown long at the sides and back, and then combed over the top of the head to cover up any baldness.
Hair loss stops, or goes all the way
Hair loss often stops at this point, leaving a few wisps on top, with hair at the side and back. In some men it goes all the way though until all the hair is lost from the head.
what causes male pattern baldness?
There are three main causes, and they're related:
Sensitivity to testosterone
Male pattern baldness is mainly caused by a sensitivity to a hormone called dihydrotestosterone (DHT), a type of testosterone. It causes the hair follicles in your scalp (the holes which hair grows out of) to shrink. As the follicles shrink, the hairs have less time to grow and they become shorter and thinner over time. Eventually the follicles shrink so much they can't grow hair at all. There's a myth that men with more testosterone are more likely to go bald, but it's not true. It's how sensitive the follicles are to DHT which causes the baldness, not how much of it there is.
Genetics
How sensitive the hair follicles on your head are to DHT is partly caused by your genes – MPB tends to run in the family. If your dad, older brothers, uncles, and grandfathers had MPB, then you may have inherited the genes that contribute to it too.
Age
You're more likely to get MPB as you get older, but it's not fully understood why. It may simply be that it takes time for hair follicles to shrink, so although MPB might start in your teens, the effect only becomes visible years later.
What other causes of baldness are there?
Male pattern baldness is the most common cause of hair loss in men, however, unlike myths, there are other causes like:
Scalp infections
Alopecia
Diseases, like anemia
Thyroid problems
Diet deficiencies, such as not enough iron or too much vitamin A
Medications, such as blood thinners
Anabolic steroids
Radiation and chemotherapy
With these causes, the hair is usually lost quickly, rather than gradually thinning over time. The hair typically returns too, once these causes are dealt with. That isn't the case with MPB though. Hair won't return or grow thicker again unless some very specific actions are taken.
What can i do about male pattern baldness?
Act fast – First off, if you want to halt MPB and reverse it, you need to act as soon as you see the first signs of hair loss; that receding hair line and any thinning on top
Ignore the pseudoscience – There's a lot of nonsense told online and between men about how to fight hair loss. All sorts of secret natural remedies, vitamins, special light treatments, and alternative quick fixes. Steer well clear of these though. There's usually zero scientific evidence behind them, and if they really worked, then they wouldn't be secrets. Everyone would know about them and use them. Remember, treatments that actually work become popular
Try Propecia – Or the generic version called finasteride, is one of the few real treatments that can be effective in combating MPB. It's usually taken as a pill, and it works by reducing DHT levels in the scalp, keeping hairs growing for longer, slowing hair loss, and even reversing the signs of MPB for most men. Fuller, thicker hair can often be seen in as little as three months
Try other treatments for male pattern baldness – Other options which have been proven to help include minoxidil (also sold under the brand name Rogaine), which is applied directly to the scalp, and has also been proven to be effective in reversing MPB. Ketoconazole shampoos, such as Nizoral, have also been shown to be effective at fighting MPB, especially when used together with another treatment, like finasteride
It's never good when you first realize you're going bald. But it doesn't have to be the end of the road for your hair. While male pattern baldness used to be irreversible, now you don't have to accept it. Treatments like finasteride or minoxidil, can halt and even reverse it.
So, avoid the fake cures and the scams, talk to an expert, and stick to the scientifically proven treatments Now Patient.
About Now Patient
Now Patient's online services are available in the US and UK. We help you manage your prescriptions, doctor appointments, test results, health risks, and a lot more, all in one place for FREE. If you are in the United States, you could enjoy savings using Now Patient's mail-order pharmacy or use the Now Patient Rx Advantage Card at over 65,000 pharmacies, with savings of up to 90% on popular FDA-approved brand and generic medications like Ozempic, Mounjaro, clopidogrel and lots more. We do not currently handle commercial insurance, Medicare or Medicaid. UK NHS and private prescriptions are delivered FREE of charge across England & Wales by our UK NHS online pharmacy.
Sources
Disclaimer
Now Patient has taken all reasonable steps to ensure that all material is factually accurate, complete, and current. However, the knowledge and experience of a qualified healthcare professional should always be sought after instead of using the information in this page. Before taking any drug, you should always speak to your doctor or another qualified healthcare provider.
The information provided here about medications is subject to change and is not meant to include all uses, precautions, warnings, directions, drug interactions, allergic reactions, or negative effects. The absence of warnings or other information for a particular medication does not imply that the medication or medication combination is appropriate for all patients or for all possible purposes.
WHY WE BUILT NOW PATIENT
To improve the lives of everyone by making high-quality care accessible and convenient
We are here to improve lives. Our service gives you access to smart features & resources that can help empower you to take control of your health and improve your health outcomes. All this, in one place, for FREE. We strive to bring a fresh perspective to managing health. Not play by the rules. Now Patient can be accessed by downloading the App or using your web browser.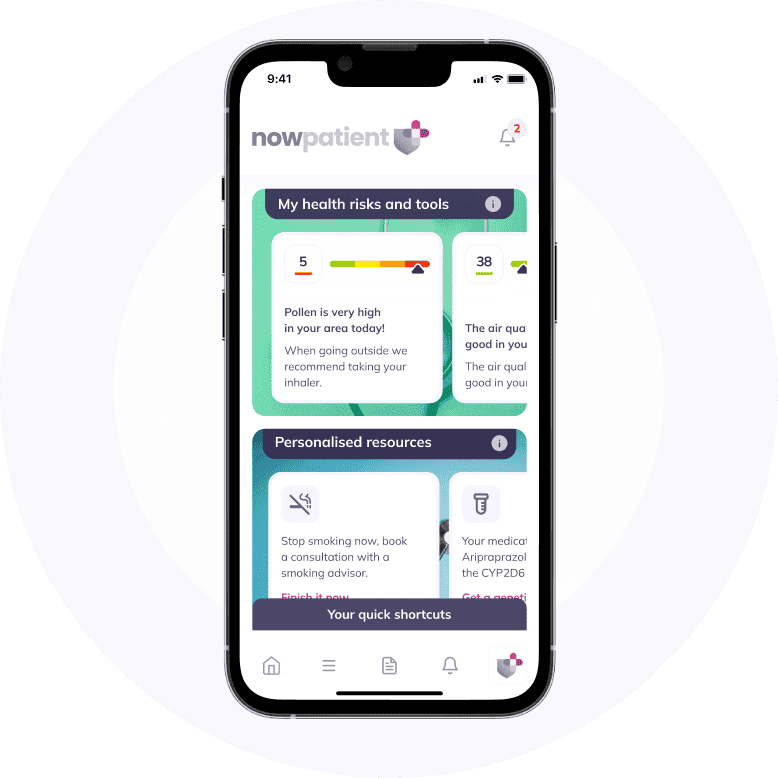 Your Questions Answered
For your peace of mind, we can answer your health questions quickly
If you want to learn more about the range of services that we provide which can help manage and improve your health, then just click the button below.
Find your answers