/
Blog
/
All you need to know about hair transplants
All you need to know about hair transplants
30 Jun 2023

Stefano Mirabello
Pharmacist / B.Pharm
Thinking about having a hair transplant? Feel like it's your only option?
First things first, you're not the only one that's going through it. Male pattern baldness affects over 50% of men by the age of 50. For some guys it happens when they're older, but for the unlucky ones it happens at a relatively young age.
For the younger guys out there, it is a big deal which makes it no surprise to learn that according to the International Society of Hair Restoration Surgery, more and more men are fighting back by opting for hair transplant surgeries.
They are usually effective, but it's a big step to take. Think about your options carefully. Here we've got the essential things you need to know.
What is a hair transplant?
A hair transplant is a surgical procedure used to treat baldness. Hair is taken from an area of your scalp where you don't have any hair loss, usually from the back or the sides of your head and moved to areas where you're going bald.
The surgery is usually done under local anesthetic and takes several hours, depending on how much hair you're having transplanted.
How does a hair transplant work?
The procedure is done by removing healthy 'follicular units' from your scalp, which are bits of skin that contain the structures needed to grow a hair, like hair follicles, oil glands, and muscle tissue.
The follicular units are then embedded back into your scalp (called grafting) in the areas where you're going bald. The surgeon may make small incisions in your scalp into which the follicular units are inserted or they may use a device like a punch needle. Once back in your scalp the follicular units receive oxygen and nutrients from your blood and they can produce healthy thick hair in the area where it was previously thinning.
Are there different types of hair transplant?
There's a wide range of hair transplant techniques available, some using the latest biotechnology, like stem cells, but most hair transplant operations fall under one of two main approaches:
Follicular unit transplantation (fut) hair transplants
The surgeon removes a strip or strips of skin from your head with healthy hair follicles in it. These strips are then cut into individual follicular units, which are then embedded back in your scalp in the areas where you're losing hair.
Follicular unit extraction (fue) hair transplants
Individual follicles are removed from the scalp, rather than a strip of skin, and then inserted into the areas where you're going bald. Because no large incisions are made with FUE hair transplants there's usually less visible scarring than with the FUT hair transplants.
Do hair transplants really work?
Hair transplants are effective for many men who are losing their hair naturally through male pattern baldness. Results will vary, depending on factors including your age and general health, how much hair you've lost, the transplant technique used and the skill of the surgeon, but anywhere from 10% to 80% of the follicles transplanted will produce hair in the new location.
How long does a hair transplant last?
If the transplanted follicles take, they'll start producing new hair, usually within a couple of months. However this hair will probably start to thin over time, just as the hair before it did. How fast the transplanted hair thins will be unique to you, but you may need to have follow-up transplants and use hair loss treatments like finasteride if you want to keep a full head of hair.
Do hair transplants look natural?
In the past hair transplants looked less than subtle. Hair was transplanted in small clumps called plugs, resulting in a bald patch covered in equally spaced tufts of hair. If you had one of these transplants everyone knew about it.
The techniques used today give more natural results as hair follicles are implanted one at a time. And given the fact it's your own hair that's used transplants can look perfectly natural. The results will depend on the expertise of the surgeon who carries out the transplant though, with more skilled surgeons producing more natural results.How much does a hair transplant cost?
Hair transplant costs can vary. They can range from $4000 to $15,000 and more, depending on the type of surgery, how much hair you've lost and the quality of the surgeon and clinic you use.
With hair transplants you generally pay for what you get, especially as a more skilled surgeon can produce better results. It can be tempting to go for the cheaper options, but if you're serious about keeping your hair and you want a natural-looking transplant you'll have to be prepared to spend some money.
Will I need more than one hair transplant?
You may need multiple hair transplants depending on how much hair you've lost and how many follicles need to be moved. It's likely that you'll also need follow-up transplants as your transplanted hair can start to thin again. All of this will depend on your individual circumstances, but if you're committed to keeping your hair, it can get expensive.
What is the best age to get a hair transplant?
You can have a hair transplant from the age of 18 and there's no upper limit, as long as you and the surgeon are comfortable with your condition.
There's no single best age to have a transplant. It depends on your individual circumstances, but if you're young it's advised to wait until your mid-20s, to make sure you have a good idea of your individual pattern of hair loss.
When in your mid-20s or older, it's generally a good idea to have a transplant sooner rather than later, as you need to have enough hair to be transplanted and you'll likely see better results if you can still grow hair in the areas you're going bald.
Is a hair transplant right for me?
You'll need to speak to a surgeon at a private clinic to discuss in detail whether a hair transplant is right for you, but consider the following:
The cause of your hair loss
Hair transplants work best for men who are losing hair naturally because of male pattern baldness. If you're losing hair for another reason, whether due to an illness or medical treatment, then hair transplants probably aren't for you.
Whether you have enough healthy hair to transplant
You need to have enough hair on your head that hasn't thinned to be moved to the areas where you're going bald. If you've lost most of the hair on your head a transplant may not be viable for you.
If you still grow hair in the area where your hair is thinning
If you can't grow any hair in the area you want the hair to be transplanted to, then the follicular units that are moved to this area may not be able to produce any hair either. Again, if you've already lost a lot of hair, a transplant may not be right for you.
If you're unsure about any of the above a surgeon will be able to make an assessment on each of these factors.
Can hair loss treatments help with hair transplants?
Yes, hair loss treatments can help with hair transplants. Your transplanted hair can begin to thin and recede, like the lost hair it replaced. To get the best results from a transplant you may have to use a hair loss treatment which can help you maintain your hair, like finasteride.
Finasteride, also sold under the brand name Propecia, is a prescription medication that reduces the amount of DHT in your scalp, a hormone which causes male pattern baldness. Finasteride can help reduce hair loss and can even help regrow lost hair.
About Now Patient
Now Patient's online services are available in the US and UK. We help you manage your prescriptions, doctor appointments, test results, health risks and a lot more, all in one place for FREE. US prescriptions are available on a discounted 'cash' basis and delivered across all 50 states by our network of pharmacy providers dispensing FDA-approved generic and branded medications. We do not currently handle commercial insurance, Medicare or Medicaid. UK NHS and private prescriptions are delivered FREE of charge across England & Wales by our UK regulated online pharmacy.
Sources
Disclaimer
Now Patient has taken all reasonable steps to ensure that all material is factually accurate, complete, and current. However, the knowledge and experience of a qualified healthcare professional should always be sought after instead of using the information in this page. Before taking any drug, you should always speak to your doctor or another qualified healthcare provider.
The information provided here about medications is subject to change and is not meant to include all uses, precautions, warnings, directions, drug interactions, allergic reactions, or negative effects. The absence of warnings or other information for a particular medication does not imply that the medication or medication combination is appropriate for all patients or for all possible purposes.
WHY WE BUILT NOW PATIENT
To improve the lives of everyone by making high-quality care accessible and convenient
As technologists and clinicians, we built Now Patient to be more than just an online pharmacy. We are here to improve lives. Our service gives you access to smart features & resources that can help empower you to take control of your health and improve your health outcomes. All this, in one place, for FREE. We strive to bring a fresh perspective to managing health. Not play by the rules. Now Patient can be accessed by downloading the App or using your web browser.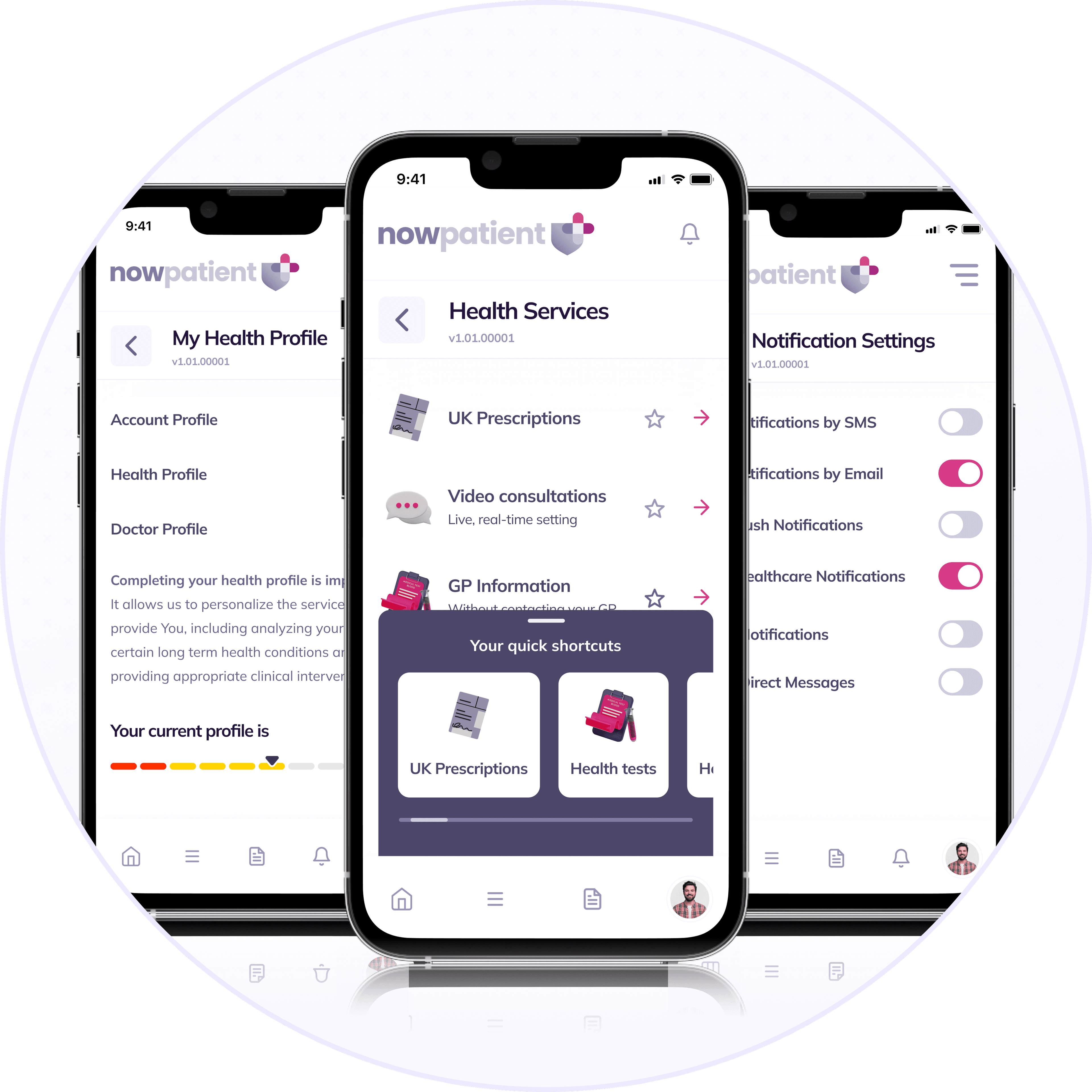 NOW PATIENT
Join the thousands of happy customers in the US and UK already using Now Patient
Manage your health and prescriptions all in one place for FREE. Available to use by downloading the App, or using your web browser.
Your Questions Answered
For your peace of mind, we can answer your health questions quickly
If you want to learn more about the range of services that we provide which can help manage and improve your health, then just click the button below.
Find your answers