Stefano Mirabello
Pharmacist / B.Pharm
From having a local NHS pharmacy to a wide range of education services across the country, the UK is more fortunate than others when it comes to residents' overall quality of life. As a result of this, the UK population has risen by over 6% since 2011.
Some areas of the country are growing at a much faster rate than others, but which areas are living the longest? We have compared data from the last ten years to find out which UK areas have seen the biggest increase in population and reveal which locations have the highest life expectancy.
Tower Hamlets has seen its population increase by 22.12% since 2011 – more than any other area in the UK
Totalling over 66 million residents, the UK population is now higher than it has ever been. But which areas have seen the biggest rise in population in the last ten years? Here's what we found.
1. Tower Hamlets – 22.12% increase
With a 22.12% increase in its population since 2011, Tower Hamlets has seen a bigger increase than any other UK local authority. This London borough has a diverse population in terms of ethnicity, including a large Muslim community when compared to other areas in England.
2. Dartford – 19.96% increase
Ranking second on our list is the English town of Dartford. With one of the lowest overall populations in this top ten, the number of residents in Dartford appears to be on the rise as this area has seen a population increase of 19.96% between 2011-2021.
3. Barking and Dagenham – 17.74% increase
Completing our top three UK areas with the largest increase in population over the last ten years is Barking and Dagenham. As the second London borough to feature in our top three, it appears that England's capital is playing its part in the country's increasing population.
With an 11.42% increase, Tower Hamlets has seen the biggest change in the number of households across England
Households can come in all different sizes, from newlyweds expecting their first child to university houses with 10+ students. Below is a list of the UK areas which have seen the biggest increase in the number of households between 2018-2023.
1. Tower Hamlets – 11.42% increase
With an 11.42% increase in the number of households since 2018, Tower Hamlets takes the top spot in our list. This London borough has been recognised as having one of the youngest populations in England, boasting a median age of just 30. Unfortunately, this area also has one of the worst child poverty rates in the country, which has negative impacts on deprived households.
2. South Derbyshire – 10.19% increase
South Derbyshire appears next on this ranking. The number of households in this area has risen from 43,846 in 2018 to a projected total of 48,312 in 2023 – an increase of just over 10%. In an attempt to assist households struggling with the cost of living crisis, thousands of families in South Derbyshire have been deemed eligible for financial support from the government.
3. North West Leicestershire – 9.64% increase
The third and final entry in this top three is North West Leicestershire. This area has seen a 9.64% increase in the number of households over the past five years which is the third highest of all of the local authorities in England.
Orkney Islands residents have a life expectancy of 74.4 years – longer than any other area in the UK
There is a huge discrepancy across the country when it comes to residents' quality of life, and this can be detrimental to people's health. Bearing this in mind, we wanted to find out which areas in the UK currently have the highest life expectancy. Here's what we found.
1. Orkney Islands – 74.4 years
The Orkney Islands have a higher life expectancy than any other area in the UK, with the average resident living to 74.4 years old. Boasting low crime and anxiety rates, this group of Scottish islands has been held in high regard for years, with some going as far as to say that it's the best place to live in the UK.
2. Wokingham – 71.1 years
Falling just shy of the top spot, with an average life expectancy of 71.1 years, is Wokingham. Located in South East England, this market town is known for its historic buildings and stunning landscapes. Away from the hustle and bustle of London, it appears that the fresh air is doing its residents the world of good when it comes to their health.
3. Rutland – 70.7 years
The third entry in our list of UK areas with the highest life expectancies is Rutland. This county may be small, but what it lacks in quantity it certainly makes up for in quality. With an average life expectancy of 70.7 years, Rutland deservedly completes this top three list.
Four things you can do to live a long and healthy life
Everyone should strive to live a happy and healthy life, but with so many potential health hazards, this can be stressful to navigate. The truth is, from your mental health to your physical health and everything in between, there are so many ways you can help to improve your quality of life – here are some of our expert tips that will help you live a longer life.
No smoking
It is no secret that smoking is an unhealthy habit, but despite this, many people still find it difficult to stop. Over the years, countless treatments and methods have been developed to help aid this difficult process. Whether you are looking to cut down or stop smoking completely, it can help to identify the things which trigger your habit so that you can work to replace cigarettes with a healthier alternative.
Physical activity
From taking a walk along the beach to having a dance party in your house, exercise can come in many different forms. By doing around an hour of physical activity a day, you can strengthen your muscles and release a whole host of happy hormones.
Adopt a good sleeping pattern
By having a regular sleep schedule, you can ensure that you are getting at least 7 hours of sleep per night which contributes to better mood and memory, as well as improving the function of your immune system. If restlessness is stopping you from getting a good night's sleep, we recommend that you ditch your phone at least half an hour before bed.
Avoid stress
Research indicates that chronic stress can be detrimental to your health, so much so that it can reduce your lifespan. Because of this, it is important to minimise stress levels wherever possible in order to live a long and healthy life. If you were to ask 100 different people how they deal with stress then you are likely to get 100 different responses, but some of the common forms of stress relief include exercise and meditation.
Methodology
We used census data to find the population of each local authority in England, Scotland and Wales for 2011. We used census data to find the population of each local authority in England and Wales for 2021, and NRS data to find the population of each local authority in Scotland for 2021.
We subtracted the 2021 population from the 2011 population before dividing this by the 2011 population to calculate the population change for each local authority.
We used ONS data to find the number of households in each of the local authorities in England during 2018, and the projected number of households in 2023.
We subtracted the 2018 household count from the 2023 count before dividing this by the 2018 population to calculate the change in the number of households for each local authority.
We used ONS data to find the life expectancy of both males and females > 1 year old for each local authority between 2018-2020.
We added together the male and female life expectancies for each local authority before dividing this number by two to calculate the average life expectancy for each UK local authority.
About Now Patient
Now Patient's online services are available in the US and UK. We help you manage your prescriptions, doctor appointments, test results, health risks, and a lot more, all in one place for FREE. If you are in the United States, you could enjoy savings using Now Patient's mail-order pharmacy or use the Now Patient Rx Advantage Card at over 65,000 pharmacies, with savings of up to 90% on popular FDA-approved brand and generic medications like Ozempic, Mounjaro, clopidogrel and lots more. We do not currently handle commercial insurance, Medicare or Medicaid. UK NHS and private prescriptions are delivered FREE of charge across England & Wales by our UK NHS online pharmacy.
Disclaimer
Now Patient has taken all reasonable steps to ensure that all material is factually accurate, complete, and current. However, the knowledge and experience of a qualified healthcare professional should always be sought after instead of using the information in this page. Before taking any drug, you should always speak to your doctor or another qualified healthcare provider.
The information provided here about medications is subject to change and is not meant to include all uses, precautions, warnings, directions, drug interactions, allergic reactions, or negative effects. The absence of warnings or other information for a particular medication does not imply that the medication or medication combination is appropriate for all patients or for all possible purposes.
WHY WE BUILT NOW PATIENT
To improve the lives of everyone by making high-quality care accessible and convenient
We are here to improve lives. Our service gives you access to smart features & resources that can help empower you to take control of your health and improve your health outcomes. All this, in one place, for FREE. We strive to bring a fresh perspective to managing health. Not play by the rules. Now Patient can be accessed by downloading the App or using your web browser.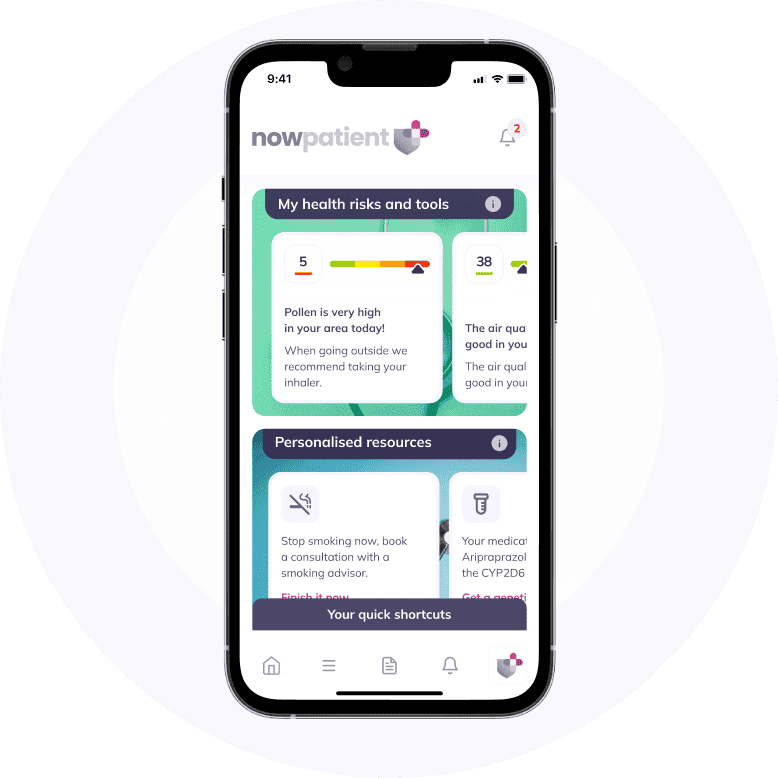 Your Questions Answered
For your peace of mind, we can answer your health questions quickly
If you want to learn more about the range of services that we provide which can help manage and improve your health, then just click the button below.
Find your answers