Stefano Mirabello
Pharmacist / B.Pharm
The National Health Service (NHS) in the UK provides healthcare services to millions of patients each year, and the cost of healthcare is an important consideration for both patients and healthcare providers. For 2022/23, NHS England expects to spend approximately £153 billion looking after our health.
This money is used to fund a wide range of health and care services, including GP services, ambulance, mental health, community and hospital services, which are commissioned by the NHS, and public health. It also funds some social care services, which are mainly commissioned by local authorities. £2.7 billion of the Department of Health and Social Care's budget is spent on administration costs for the department and the health and care system, such as departmental running costs, regulatory costs and business services e.g. the NHS payroll.
In this blog post, we will explore how much a patient costs the NHS from broken bones to missed GP appointments, including the expenses involved in primary care, hospital care, and specialised treatments. By understanding the cost of healthcare, patients can make informed decisions about their healthcare needs and better appreciate the value of the services they receive.
Diagnosis and Medical Tests
The first expense incurred by the NHS is diagnosing a patient's medical condition. This involves carrying out medical tests such as CT scans, X-rays, and MRIs. The cost of medical tests can range from £50 for routine blood tests to over £1000 for complex diagnostic tests. Such expenses are borne by the NHS as part of the free healthcare policy.
Specialists and Referrals
If the medical tests reveal a need for specialist consultation, the NHS will refer the patient to a specialist such as a cardiologist, neurologist, or urologist. The cost of treating patients by a specialist is significantly higher than a general practitioner. A patient referred for specialist consultation will cost the NHS approximately £200 per visit.
Medication and Other Treatments
The next expense incurred by the NHS is providing medication and other treatments. Costs can vary significantly depending on the type of medication or treatment prescribed. For example, a month's supply of painkillers can cost the NHS around £1.50, whilst a month's supply of expensive cancer treatments can cost over £10k. In addition to medication, other treatments such as physiotherapy, chemotherapy, or radiotherapy can cost several thousands of pounds per course.
Primary Care Costs
Primary care is the first point of contact for most patients seeking medical care, and it includes general practitioners (GPs) and other healthcare professionals in community settings. According to a report by the NHS Confederation, the cost of primary care accounts for around 25% of the total NHS budget. The expenses involved in primary care include the salaries of healthcare professionals, the rent of GP surgeries, and the cost of medications prescribed.
Hospital Care Costs
Hospital care is more expensive than primary care, and patients may require hospital treatment for a broad range of medical conditions. Hospital care includes inpatient services, outpatient services, and emergency care. According to a report by the British Medical Journal, the cost of hospital care accounts for around 50% of the total NHS budget. The expenses involved in hospital care include the salaries of healthcare professionals, the cost of equipment and supplies, and the maintenance of the hospital.
Hospitalisation is often one of the most significant expenses for the NHS. The cost of overnight hospital stays in the UK can be up to £483 per night, excluding surgery costs. The cost of surgery will depend on the type of surgical procedure being carried out, but can cost up to £5000 for more complicated surgeries such as hip replacements, and the cost of medications and other treatments.
Specialised Treatments
In addition to primary care and hospital care, patients may require specialised treatments such as chemotherapy, dialysis, and organ transplants. These treatments are expensive, and the cost can vary depending on the specific treatment and the severity of the medical condition. In some cases, patients may need to travel to other cities or countries for specialised treatments, which can increase the cost of healthcare.
Follow-up and Rehabilitation
After the treatment is completed, the NHS will follow up with the patient to monitor their progress and ensure that the medical condition is under control. Depending on the severity of the medical condition being treated, the NHS may also provide rehabilitation services such as counselling or physiotherapy.
How do I find out how much I have cost the NHS?
To provide transparency on the cost of healthcare in the UK, GoCompare.com has an interactive tool called The Bill of Health, that allows users to calculate the total amount the NHS has spent on their treatments. This tool breaks down the costs of various NHS services, including GP appointments, prescriptions, operations, and emergency room visits. It is important to note all costs listed in this interactive tool are approximate and should not be relied upon as definitive. Average costs have been sourced from a variety of publications.
Additionally, users can input their annual salary to see how much they contribute to the NHS each year. This new resource not only sheds light on the cost of healthcare in the UK, but it also serves as a helpful tool for individuals to understand their healthcare spending and contributions to the national healthcare system.
Here are some examples of NHS cost per appointment or procedure according to GoCompare.com:
Ambulance call-out – £269.00
Broken arm – £3116.00
Broken leg – £5684.00
Costs to Patients
The National Health Service (NHS) is one of the most admired organisations in the world. It provides essential medical services to people in the United Kingdom, and it's funded through taxation. Generally, most NHS services are free at the point of use, meaning that patients do not have to pay for medical consultations, appointments, or treatment. However, there are certain costs that patients may have to face, depending on the specific type of care they require.
For example, patients may have to pay for prescription costs, dental care, optical care or hearing aids. Nevertheless, those on low incomes, children, and elderly people can qualify for financial support and free services from the NHS. Patients may also pay for non-clinical items like parking fees and refreshments during long hospital visits. While it is undeniable that the NHS offers affordable healthcare, it is essential to recognize the other expenses that patients may need to pay.
Understanding the cost of healthcare is an important consideration for patients seeking medical care in the UK. Primary care, hospital care, and specialised treatments all come with expenses, and patients should be aware of these costs when making healthcare decisions. By understanding how much a patient costs the NHS, patients can make informed decisions about their healthcare needs and better appreciate the value of the services they receive.
About Now Patient
Now Patient's online services are available in the US and UK. We help you manage your prescriptions, doctor appointments, test results, health risks and a lot more, all in one place for FREE. US prescriptions are available on a discounted 'cash' basis and delivered across all 50 states by our network of pharmacy providers dispensing FDA-approved generic and branded medications. We do not currently handle commercial insurance, Medicare or Medicaid. UK NHS and private prescriptions are delivered FREE of charge across England & Wales by our UK regulated online pharmacy.
Sources
Disclaimer
Now Patient has taken all reasonable steps to ensure that all material is factually accurate, complete, and current. However, the knowledge and experience of a qualified healthcare professional should always be sought after instead of using the information in this page. Before taking any drug, you should always speak to your doctor or another qualified healthcare provider.
The information provided here about medications is subject to change and is not meant to include all uses, precautions, warnings, directions, drug interactions, allergic reactions, or negative effects. The absence of warnings or other information for a particular medication does not imply that the medication or medication combination is appropriate for all patients or for all possible purposes.
WHY WE BUILT NOW PATIENT
To improve the lives of everyone by making high-quality care accessible and convenient
As technologists and clinicians, we built Now Patient to be more than just an online pharmacy. We are here to improve lives. Our service gives you access to smart features & resources that can help empower you to take control of your health and improve your health outcomes. All this, in one place, for FREE. We strive to bring a fresh perspective to managing health. Not play by the rules. Now Patient can be accessed by downloading the App or using your web browser.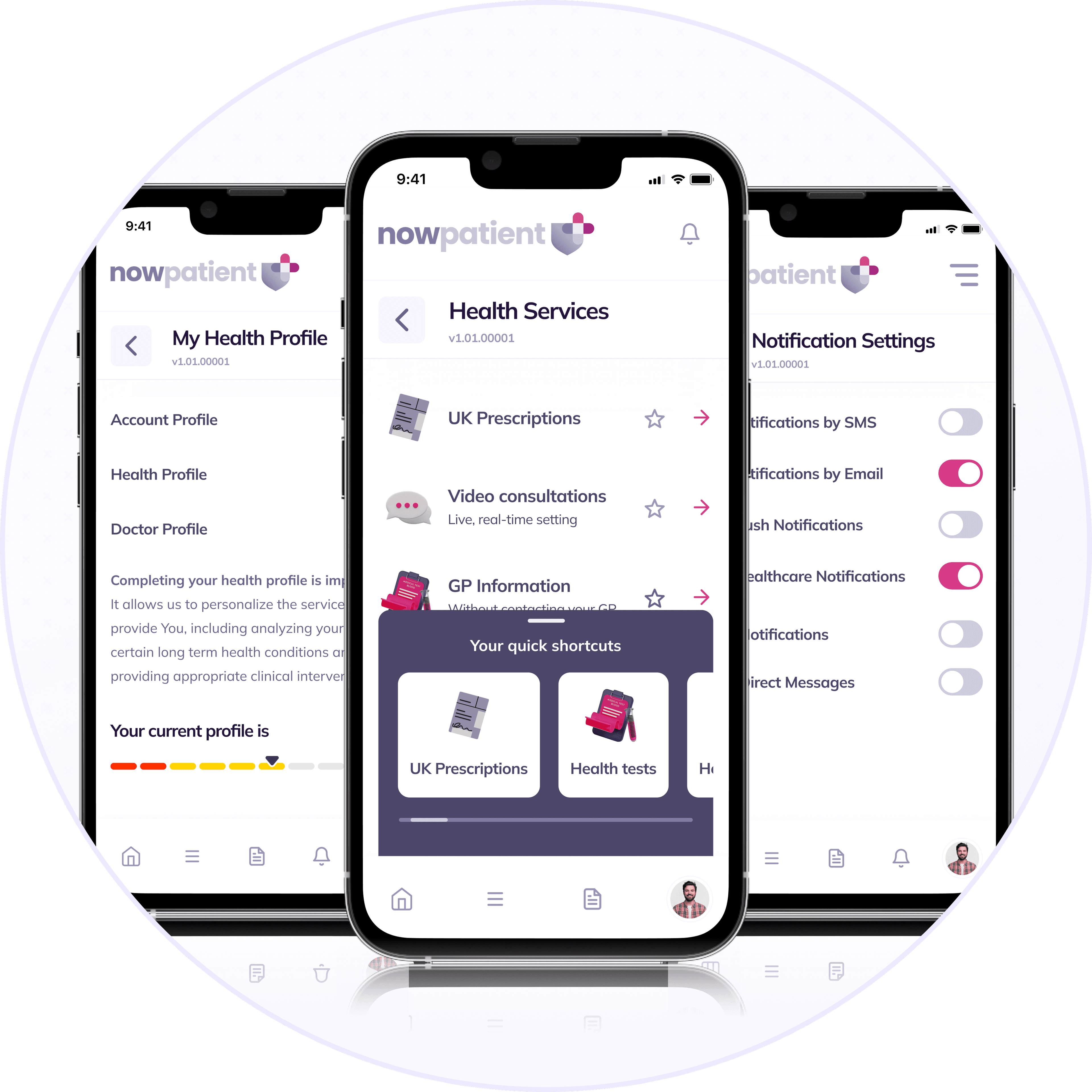 NOW PATIENT
Join the thousands of happy customers in the US and UK already using Now Patient
Manage your health and prescriptions all in one place for FREE. Available to use by downloading the App, or using your web browser.
Your Questions Answered
For your peace of mind, we can answer your health questions quickly
If you want to learn more about the range of services that we provide which can help manage and improve your health, then just click the button below.
Find your answers