Employer sponsored health plans explained
25 Apr 2023

Jamie Winn
Pharmacist / PharmD
Do you ever find yourself confused trying to decipher all the different types of health insurance plans available? If so, employer-sponsored health plans are likely something you have as part of your employee benefits package. So what exactly is an employer-sponsored plan and how does it differ from other coverage options? In this blog post, we'll deep dive into these questions and provide you with helpful information about employer sponsored health insurance. Ultimately, our goal is for you to walk away feeling more informed and empowered to select a plan that fits within your healthcare needs budget!
What are employer sponsored health plans and why is it important for employers to offer them
Employer sponsored health plans are an essential way for employers to offer their staff quality healthcare coverage. These plans cover almost 155 million nonelderly people in the United States. The plans are designed to help employees afford medical care by providing them with insurance benefits for things like doctor visits, prescription medications, and hospital stays. By offering these benefits, employers are able to attract and retain top talent and create a positive work environment. Providing healthcare coverage can also help employees stay healthy, which in turn results in fewer sick days and higher productivity. In short, offering employer sponsored health plans is not only beneficial for employees but also for businesses, as it promotes a healthy and happy workforce.
Types of employer sponsored health plans offered by employers
As an employee, one of the many benefits you might receive from your employer is access to health insurance plans. Employer-sponsored health plans are essentially selected and purchased by the employer and offered to eligible employees and their dependents. Your employer will typically share the cost of your premium with you.
Characteristics of a Employer Sponsored Health Plan
Your employer often splits the cost of premiums with you
Your employer does all of the work choosing the plan options
Premium contributions from your employer are not subject to federal taxes, and your contributions can be made pre-tax, which lowers your taxable income
Whether you're considering a job offer or trying to make the most of your current benefits package, it's important to understand the different types of employer-sponsored health plans. Generally, these plans fall into three categories: health maintenance organizations (HMOs), preferred provider organizations (PPOs), and point of service (POS) plans. Each of these options has its own unique features and benefits, so take the time to explore your options and find the plan that best meets your needs.
Benefits of employer sponsored health plans for employees
Employer-sponsored health plans are a crucial aspect of any job's benefits package. These plans are designed to provide employees with affordable healthcare, which can help to alleviate the financial burden of medical expenses. Not only can they reduce healthcare costs, but employer-sponsored health plans often offer a wider range of coverage options, including preventive services, dental and vision care, and prescription drug benefits. This coverage can allow employees to receive necessary medical care without worrying about the financial impact. Additionally, employer-sponsored health plans are often more straightforward than individual insurance plans, meaning that employees can receive the care they need without worrying about navigating a complicated healthcare system. Overall, these health plans are a valuable aspect of any job's benefits package, providing employees with peace of mind when it comes to their healthcare needs.
Key features of employer sponsored health plans
In today's workforce, having access to an employer sponsored health plan has become increasingly important. These plans are designed to provide employees with healthcare benefits that can help protect them and their families from the high costs of medical care. Among the key features of these plans, most employers offer options for medical, dental, and vision coverage. Additionally, many plans may include wellness programs, such as gym memberships or health coaching, that can incentivize employees to prioritize their health. Other common features include preventative care, prescription drug coverage, and coverage for mental health services. By providing a comprehensive benefits package, employers can attract and retain talented employees who seek the security of knowing that their healthcare needs are covered.
How to enroll in an employer-sponsored plan and what to do if you leave your job
Enrolling in an employer-sponsored plan can be the cornerstone of a successful financial future. The significance of employer sponsored health plans has never been clearer. Such a plan can offer greater financial protection than individually purchased plans, provide access to networks of high-quality healthcare providers, as well as provide stability for both employees and employers alike. Taking into account the costs and coverage available, employers now look to provide robust benefits packages that help make their employees feel secure and appreciated. As society continues to progress, it is important for employers and individuals to understand how various types of employer sponsored health plans work and how they could benefit both parties in the case of an emergency medical need. Ultimately, enrolling in an employee-sponsored health plan brings peace of mind knowing that you have a strong system of support which would be extremely beneficial for the future of you and your family.
About Now Patient
Now Patient's online services are available in the US and UK. We help you manage your prescriptions, doctor appointments, test results, health risks and a lot more, all in one place for FREE. US prescriptions are available on a discounted 'cash' basis and delivered across all 50 states by our network of pharmacy providers dispensing FDA-approved generic and branded medications. We do not currently handle commercial insurance, Medicare or Medicaid. UK NHS and private prescriptions are delivered FREE of charge across England & Wales by our UK regulated online pharmacy.
Sources
Disclaimer
Now Patient has taken all reasonable steps to ensure that all material is factually accurate, complete, and current. However, the knowledge and experience of a qualified healthcare professional should always be sought after instead of using the information in this page. Before taking any drug, you should always speak to your doctor or another qualified healthcare provider.
The information provided here about medications is subject to change and is not meant to include all uses, precautions, warnings, directions, drug interactions, allergic reactions, or negative effects. The absence of warnings or other information for a particular medication does not imply that the medication or medication combination is appropriate for all patients or for all possible purposes.
WHY WE BUILT NOW PATIENT
To improve the lives of everyone by making high-quality care accessible and convenient
As technologists and clinicians, we built Now Patient to be more than just an online pharmacy. We are here to improve lives. Our service gives you access to smart features & resources that can help empower you to take control of your health and improve your health outcomes. All this, in one place, for FREE. We strive to bring a fresh perspective to managing health. Not play by the rules. Now Patient can be accessed by downloading the App or using your web browser.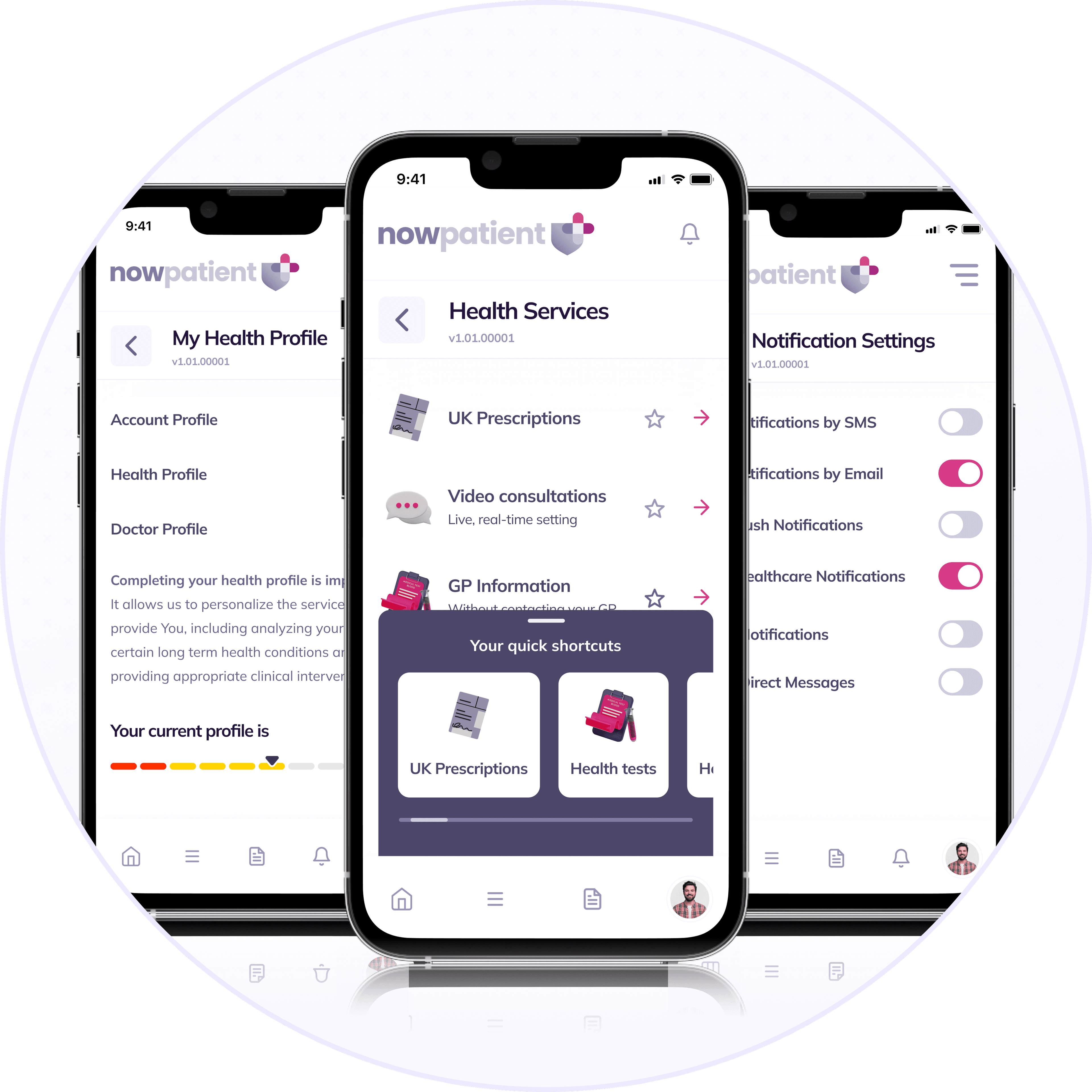 NOW PATIENT
Join the thousands of happy customers in the US and UK already using Now Patient
Manage your health and prescriptions all in one place for FREE. Available to use by downloading the App, or using your web browser.
Your Questions Answered
For your peace of mind, we can answer your health questions quickly
If you want to learn more about the range of services that we provide which can help manage and improve your health, then just click the button below.
Find your answers