Stefano Mirabello
Pharmacist / B.Pharm
The way medicines are supplied has taken on a new dimension with the development of online pharmacy services. Consumer habits have changed partly due to the COVID pandemic and using online pharmacies provides convenience alongside discretion for managing certain embarrassing conditions. Some sites also offer prescriber services, where you have an online doctor consultation and a prescription is then sent to a pharmacy for dispensing.
It is something that appeals to patients and is an increasingly common way to access medicines and health services. However, all services providing medicines must ensure patient safety and should have the necessary accreditations. Read on to find out what you should look out for to recognise legitimate online pharmacies and avoid illegal online pharmacies.
Three regulatory bodies
There are three regulatory bodies to look out for that are regarded as the seal of approval for online pharmacies: CQC (Care Quality Commission) regulated, GPhC (General Pharmaceutical Council) approved, and MHRA (Medicines and Healthcare Products Regulatory Agency) registered.
CQC (Care Quality Commission) regulated
The CQC regulation is one of the most important accreditations that a pharmacy can have because it confirms it is a pharmacy provider with the highest compliance and standards. Before using an online pharmacy check that they appear on the CQC register. A CQC inspection and rating gives you confidence that the pharmacy has adequate insurance, operates with fully qualified healthcare professionals, and meets the compulsory clinical and regulatory standards to function in the UK.
Here at NowPatient, we are proud to announce that we were the UK's first digital health provider to be recognised for a safe and quality service with no recommendations for improvement by the CQC. We also have been given a thumbs up from the NHS by placing our service in the NHS digital Library, endorsing its use.
GPhC (General Pharmaceutical Council) approved
All pharmacies and internet pharmacies in Great Britain must be accredited by the General Pharmaceutical Council (GPhC). Their logo is a green registered pharmacy icon and should be displayed on online pharmacy websites to identify them as legitimate online pharmacies. This logo gives you the assurance you are buying safe and genuine medicines online. All GPhC logos show a green cross, with the words "Registered Pharmacy" across it and a registration number.
It is important to note displaying this logo is only voluntary therefore checking the GPhC register before using a pharmacy is advised. You can also go to (NHS find a pharmacy link) and search for a pharmacy using your location.
You can also access our most recent report from the GPhC by following the link below.
https://inspections.pharmacyregulation.org/pharmacy/detail/ info health-pharmacy-1036487
The Medicines and Healthcare Products Regulatory Agency
The MHRA is an executive agency of the Department of Health and Social Care that governs the safety, quality, and efficacy of medicines and medical devices in the UK. Before the 1st of January 2021, the MHRA required online pharmacies to display the Distance Selling Logo in Great Britain (England, Wales and Scotland) on their web page. This was used to help members of the public identify websites selling medicines as legitimate.
From 1 January 2021, the EU distance-selling logo for the online sales of medicines to the public will only be used in Northern Ireland. For Great Britain, the MHRA will be considering an alternative to the use of the Distance Selling Logo in the future. However, they still have the power to prosecute those who manufacture and distribute counterfeit products illegally in the UK.
What's the difference between a community pharmacy and an online pharmacy?
A community pharmacy is what you would consider your local pharmacy. It is also known as a retail pharmacy and can also be described as a brick-and-mortar pharmacy. It is a setting where a healthcare professional i.e. a pharmacist is present and the public can access prescription medicines and other healthcare services in person. Community pharmacies can still provide online services alongside operating their store.
An online pharmacy sometimes called an internet pharmacy, works solely online. They operate through a website or app where you can order NHS prescriptions online.
Now Patient connects directly with GPs through the NHS network. This means your medication records are 'accessed' from the NHS and will be viewable on the App. Using the App, you will be able to place orders for the medications you require. This request is sent directly to your GP practice. When approved, the prescription is electronically sent via the Electronic Prescription Service (EPS) from a GP or another healthcare professional to Now Patient, and it can be safely dispensed and delivered by us. Some of the features of using an online pharmacy such as Now Patient include:
Now Patient allows, with your consent to add a loved one or a carer to the service to manage your medications. This can be useful for elderly relatives or young children, who would otherwise find it difficult to manage their medication requests and supplies.
Now Patient can also offer live video consultations with our pharmacists. This can be useful for:
Some simple checks to choose a safe online pharmacy
The risk of using unregulated websites for medicines includes receiving an inferior product with none to few active ingredients; the medicine may have serious side effects or may be toxic. Always be vigilant when using online pharmacies. You should rightly expect all online pharmacy services to focus on patient safety and deliver a service of high quality and standards, equivalent to a "bricks and mortar" pharmacy.
About Now Patient
Now Patient's online services are available in the US and UK. We help you manage your prescriptions, doctor appointments, test results, health risks and a lot more, all in one place for FREE. US prescriptions are available on a discounted 'cash' basis and delivered across all 50 states by our network of pharmacy providers dispensing FDA-approved generic and branded medications. We do not currently handle commercial insurance, Medicare or Medicaid. UK NHS and private prescriptions are delivered FREE of charge across England & Wales by our UK regulated online pharmacy.
Sources
Disclaimer
Now Patient has taken all reasonable steps to ensure that all material is factually accurate, complete, and current. However, the knowledge and experience of a qualified healthcare professional should always be sought after instead of using the information in this page. Before taking any drug, you should always speak to your doctor or another qualified healthcare provider.
The information provided here about medications is subject to change and is not meant to include all uses, precautions, warnings, directions, drug interactions, allergic reactions, or negative effects. The absence of warnings or other information for a particular medication does not imply that the medication or medication combination is appropriate for all patients or for all possible purposes.
WHY WE BUILT NOW PATIENT
To improve the lives of everyone by making high-quality care accessible and convenient
As technologists and clinicians, we built Now Patient to be more than just an online pharmacy. We are here to improve lives. Our service gives you access to smart features & resources that can help empower you to take control of your health and improve your health outcomes. All this, in one place, for FREE. We strive to bring a fresh perspective to managing health. Not play by the rules. Now Patient can be accessed by downloading the App or using your web browser.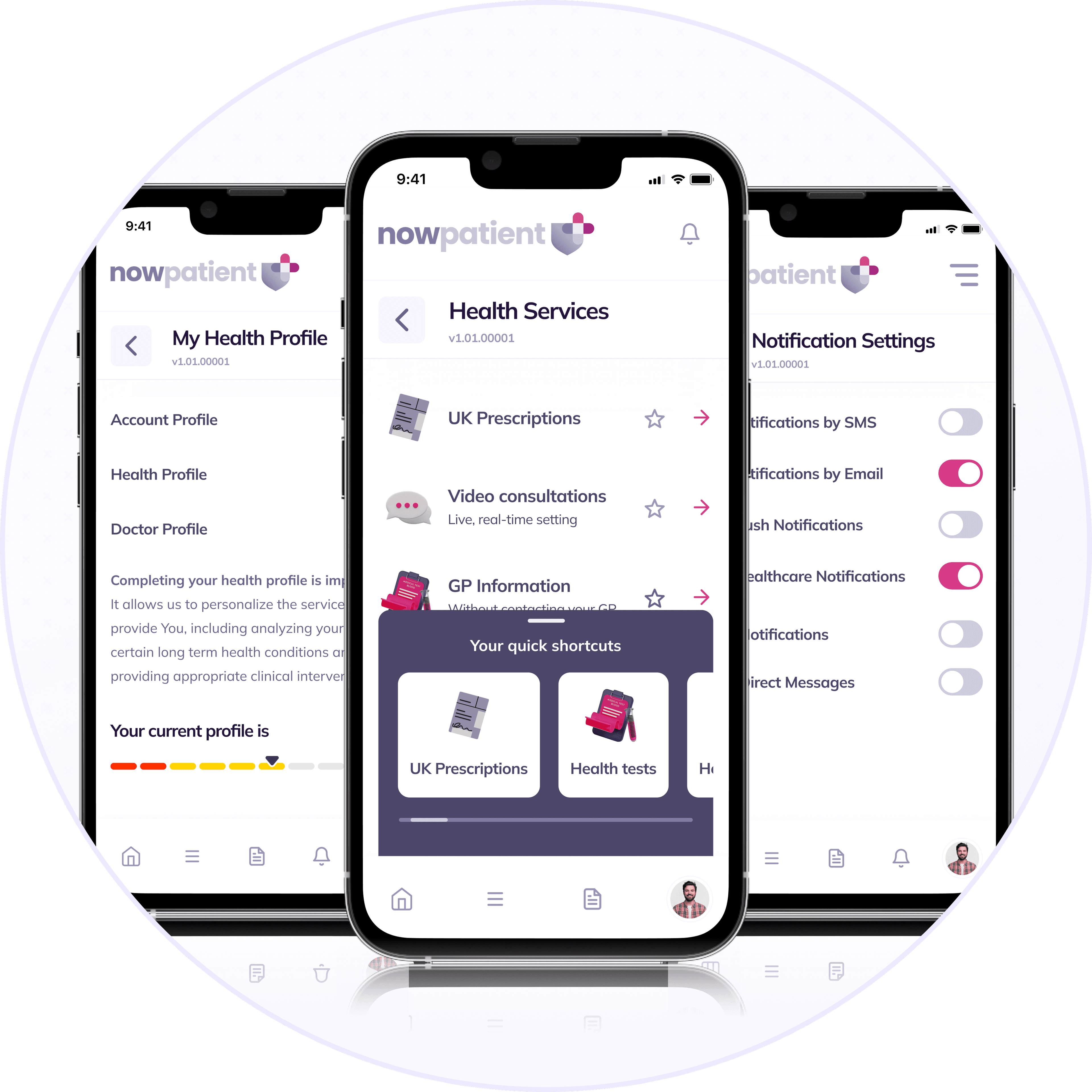 NOW PATIENT
Join the thousands of happy customers in the US and UK already using Now Patient
Manage your health and prescriptions all in one place for FREE. Available to use by downloading the App, or using your web browser.
Your Questions Answered
For your peace of mind, we can answer your health questions quickly
If you want to learn more about the range of services that we provide which can help manage and improve your health, then just click the button below.
Find your answers